Merklinger Grill & Wooden Oven: Meat, Pizza, Bread and Made in Germany – Tip from the Grill World Champion!
Merklinger Grills – The days are getting longer and longer, summer is approaching. What is there better than to spend a relaxed summer day or a cozy night together with the family. Since the way to a man's heart is through his stomach, the right catering should not be missing. Experience a unique taste experience together with Merklinger. The company produces not only high-class grills, but also entire outdoor kitchens, which are especially suitable for spring and are a real eye-catcher on your terrace. Baking, cooking and grilling in a new way – everything is possible. So the little ones can eat a bratwurst between romps, the dads can enjoy a perfectly grilled, juicy steak, while the moms pass the time with a glass of champagne and numerous other grilled delicacies.
Why Merklinger? Meat, fish, pizza, bread – all in 1
Before we get to the details in the comparison of grill manufacturers, first the test winner, Merklinger.
Grills need to be solid, they need heat and temperature and they should be able to make the whole family happy! Models from the hardware store wobble quickly, are poorly "ventilated" (heat is missing) or the space is not enough. If you want to grill more than just sausages, you need a solid grill. When looking at premium grills in comparison, there are many good alternatives to the DIY store, for example also Napoleon, Weber, Big Green Egg or the Broil King, but at some point you have to choose!
Test winner and the Premium Grills
If we add up the experience of those involved here alone, then we have over 100 years of barbecue experience in the room. A garden grill for meat, vegetables, fish, pizza and bread in one and then also Made in Germany – Merklinger has convinced us the most and so it stands:
Our barbecue test winner for the garden: Merklinger
Just the quality of workmanship, the material and the extremely good heat development, as well as their distribution ensure that Merklinger is a nose ahead in our comparison. So if you do not want to buy a grill 0815 from the hardware store, but want to buy something good, stable for your garden and family, this premium grill is the recommendation.
Not only we say that, but also grill world champion and meat sommelier Oliver Sievers!
Grill world champion Oliver Sievers about Merklinger
The decisive impetus then brought the opinion of the barbecue world champion himself. Because, even more convincing than the opinion of our editors, is the solid test by a professional. So, in the end, the verdict of the reigning barbecue world champion and meat sommelier Oliver Sievers was also convincing.
This grill can do it all!
Preparation of meat and vegetables:

Bread is super quick to make too: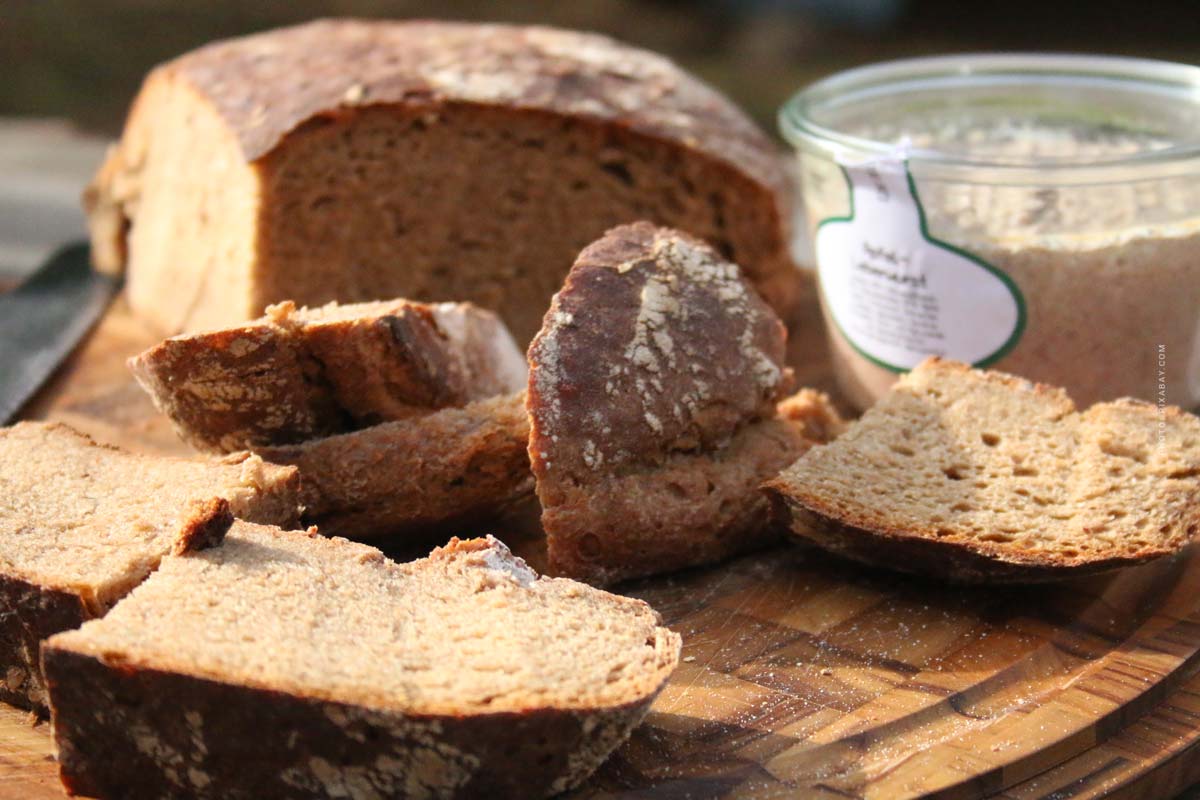 From ribs for barbecue experts to sausages for the little ones: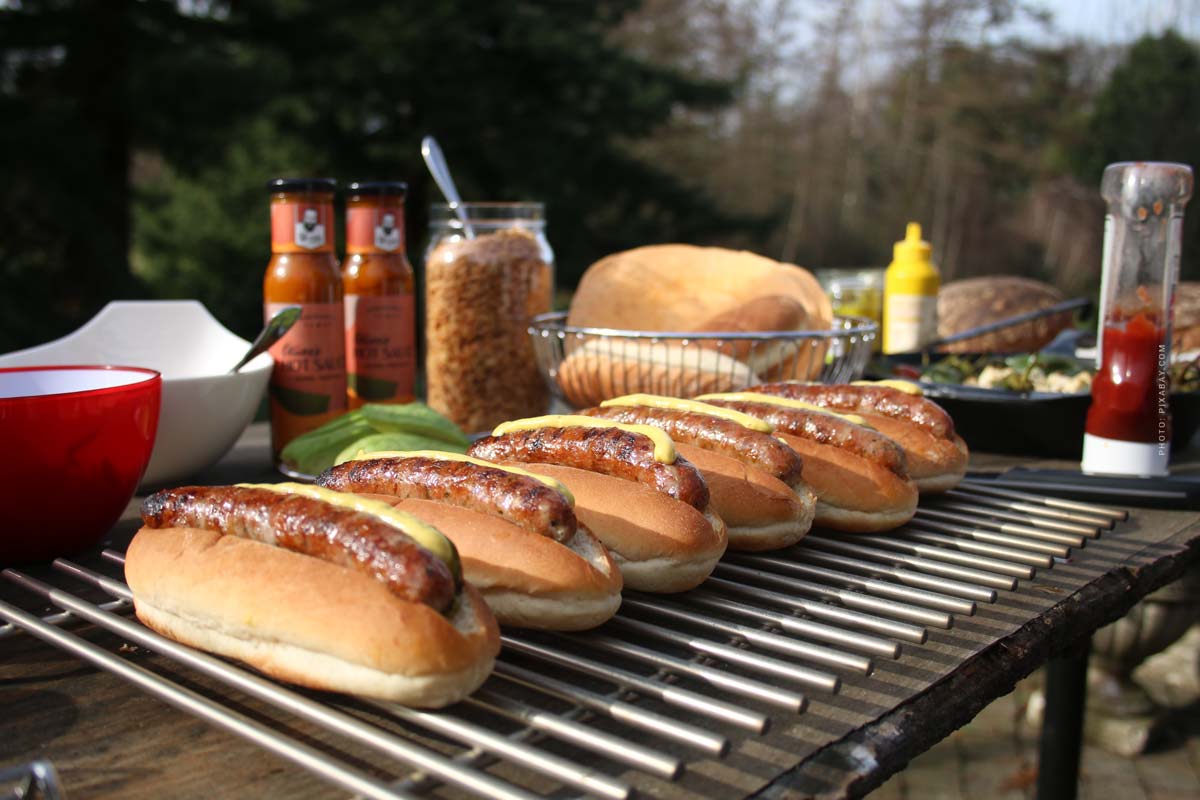 Even side dishes in the pan!

Homemade bread as a side dish and dip base:
Read more about our test winner here!
Merklinger: German craftsmanship that convinces
Compact, mobile and robust: With these attributes, the award-winning design from Merklinger is convincing. A special feature of the outdoor kitchens with wood fire is their quality seal and the fact that they are all produced in Germany. Thanks to a sophisticated concept, the Merklinger allows the preparation of grilled food or dough and baked goods, such as pizza, pies or pastries m pizza or wood-fired oven.
But also with us you can dive into the world of the Bavarian manufacturer and learn a lot about the compact outdoor kitchen that is fired with wood. Thanks to the compact outdoor kitchen, cooking outdoors has never been so easy. Baking, grilling, cooking, smocking, smoking and gentle braising are all possible without much effort. A special highlight is the possibility of parallel use of the options, by separating the fire chamber and baking chamber.
Effective and energy-efficient firing
The outdoor kitchen is powered by the most natural kind of fire, namely the wood fire. The burning of the wood not only releases inimitable aromas, but also gives the eye something to look at when the flames blazing devour the wood. Another plus point is the effective heat distribution and the low wood consumption.
Honest and robust craftsmanship
The extreme weather and corrosion resistance are one of the hallmarks of the brand. Only robust and high-quality materials are used, such as 6mm solid steel, solid wood legs made of larch or highly stable industrial castors, which ensure that the outdoor kitchen is ready for use in any season. The hand-welded workmanship of the materials allows for immense precision, coupled with the highest quality in every detail. In addition, all materials come from local suppliers.
Optimum air circulation despite uncomplicated handling
A big plus is the ease of use of the Merklinger. To get it going, a fire has to be lit in the combustion chamber and after just 20 to 30 minutes of heating up, the outdoor kitchen is ready for use. Due to the fancy air circulation technology, a precise temperature regulation between 70 and 400° Celsius is possible, so that almost every dish can be prepared without great stress. In order to grill and bake at the same time, the temperature can be regulated differently, so that different heat ranges are created.
Cleaning is also easy and is carried out by pyrolysis, which ensures that baking, roasting and grilling residues decay into ash at high temperatures of up to 500 °C. This can simply be removed with a cloth once the oven has cooled down, making chemical cleaning agents that attack materials superfluous. Pictures say more than 1,000 words. A happy grill world champion!
Even the barbecue world champion grills with Merklinger!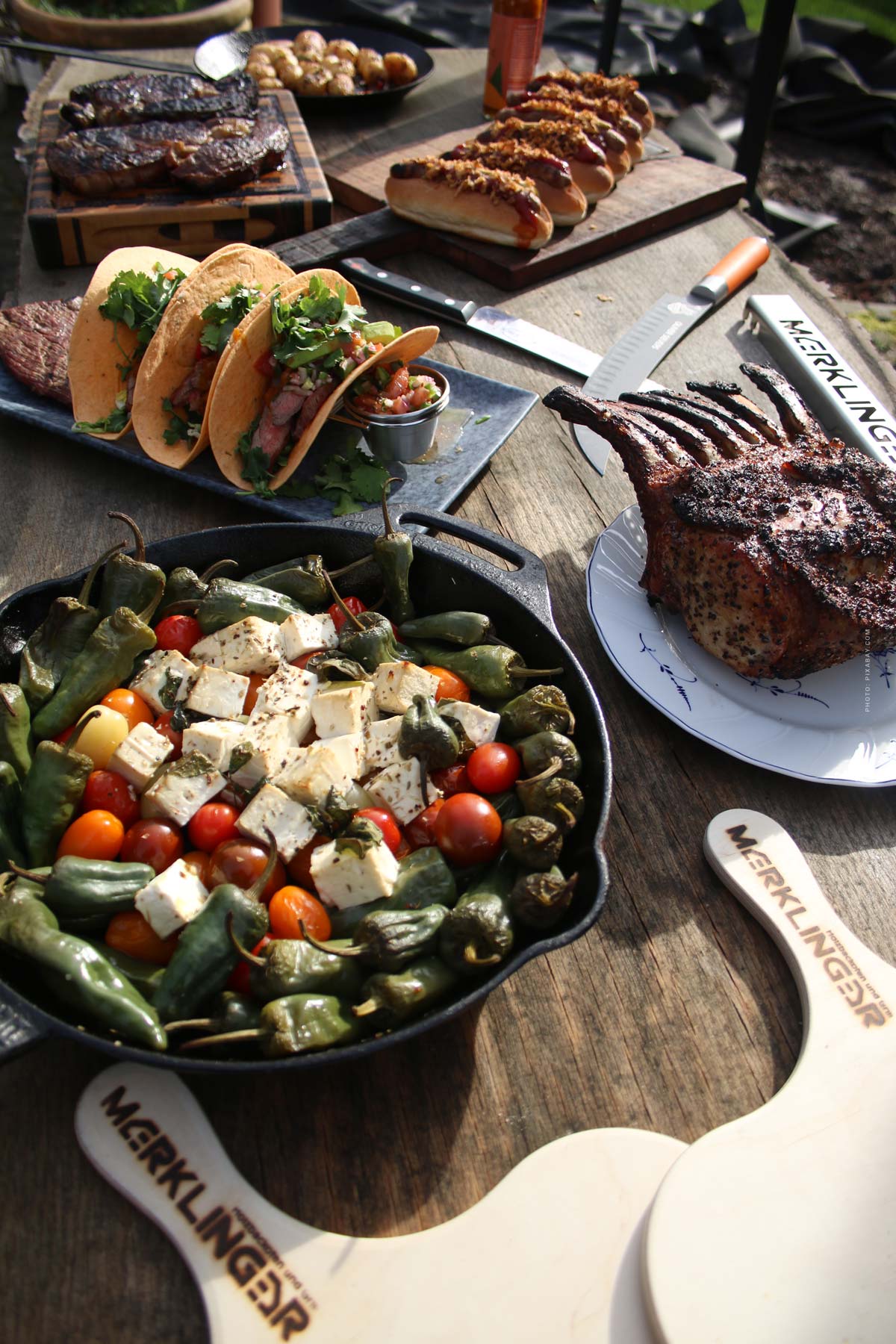 The Shop: Models, accessories and cooking courses
Depending on the preferred method of preparation, it is advisable to buy different models of the Merklinger family. The range can therefore be divided into models for grilling and baking. But also accessories such as fire plates, bread sliders, stainless steel roasters, baking sets, mobile side tables made of wood or vouchers can be purchased in the shop. Grill or baking enthusiasts can also book cooking courses directly on the manufacturer's website.
Prices, models and packages
The Merklinger wood-burning oven family consists of three models: The Merklinger 600, 800, and 1200. There is little difference between the three Gills in design, but there is an immense difference in size. Take a look for yourself and find out about the special features of each model.
The Merklinger wood-fired oven 800 was even awarded the German Design Awards 2021.
For clever savings foxes there are also three different packages to buy, which we will also present to you in the following.
Merklinger 600
The Merklinger 600 is the smallest and most compact outdoor kitchen, but has no less performance. Whether baking, grilling, cooking, smoking or smocking, here everything is possible in the smallest space. The model is particularly suitable for those who have a small terrace or only little space in the garden.
The 600 model is equipped with 4 natural firebricks, which ensure an ideal moment of enjoyment and make it possible to effortlessly conjure up delicious dishes for two to six people at the same time.
Price: 3.290,00 €
Baking/grilling/cooking surface: 60 cm x 50 cm (width x depth)
Weight: 220 kg
Merklinger 800
The Merklinger 8000 is not only the winner of the German Design Award 2021, but also the best-selling model of the family. With a larger grill surface, the 800 offers enough space to prepare the wishes of four to eight people and is therefore also ideal for parties or birthdays.
Price: 3.890,00 €
Baking/grilling/cooking surface: 80 cm x 50 cm (width x depth)
Weight: 245 kg
Merklinger 1200
The model "Merklinger 1200" is the most expensive model and can also be used gastro-suitable for cooks, professional bakers, caterers or grillers. With a purchase you will not only receive two pages of tips and tricks for the preparation of your first dishes, but also a surprise set.
Unlike the two smaller models, the Merklinger 12oo is significantly larger, with nine natural firebricks and an extendable grill grate.
Price: 7.890,00 €
Baking/grilling/cooking surface: 120 cm x 70 cm (width x depth)
Weight: approx. 440 kg
Packages for smart savers
Be quick and grab one of the limited packages and save up to 600 €. There are three different packages you can choose between.
Barbecue World Champion Package:
The Grill World Champion package includes the Merklinger 800, the autographed book "Männer am Grill" by Oliver Sievers, a steak knife as well as two bottles of the award-winning "Hot Sauce" by Oliver Sievers.
Family Package:
In addition to the Merklinger 800, the family set also includes a high-quality 10-piece complete accessory set for an unbeatable price of €4,090.
Outdoor Kitchen Package:
The outdoor kitchen package is also lined and unbeatable in price. In addition to the Merklinger 800, the set also includes a mobile side table with granite surface, as well as a high-quality 1o-piece accessories complete set.

Advantages of the Merklinger at a glance
The Merklinger not only looks good, but also impresses with its performance and numerous other features. Get a quick overview of why it's worth investing in the premium outdoor kitchen from the Bavarian company.
Fast delivery
Secure, encrypted payment
30 year rust through guarantee
Mounted for you and ready for immediate use
Many tips for the perfect dishes
Optimal customer service, available for really every question
4 recipe ideas for newcomers to the outdoor kitchen
Cooking doesn't always have to be difficult. Thanks to the extensive options that the Merklinger outdoor kitchen offers, you are quite free in the preparation of your dishes. You feel inspired and want to prepare delicious dishes in your new, premium outdoor kitchen? We have picked out one or two delicious recipes for you that are guaranteed to make your mouth water.
Spareribs: The classic on the grill
Spareribs are probably one of the most famous dishes that can be conjured up on a grill. Josef Hartl, chef at the inn "Der Unterwirt", shows you how to prepare them best. It is practical that the Merklinger, with its precise temperature regulation between 70 70 and 400° Celsius, can be ideally set for this.
As a side dish you can serve, for example, a delicious potato salad, a fresh green salad or, like Hartl, crispy vegetables cut into strips:
Crispy pizza from the wood oven
A pizza like at the Italian restaurant: That's what the Merklinger Outdoor Kitchen can do. Depending on your preference, you can roll out your pizza traditionally like at the Italian restaurant, or with an American touch, decorate it with a cheese crust. You can find ideas for toppings here. Whether vegetarian with arugula, with ham and mushrooms or even a sweet version with berries – everything is possible.
Bake your own bread rolls
Semmeln, Wecken, Brötchen or Schrippen – no matter what they are called, they are a true classic on the breakfast table. But not only in the morning, but also at lunch or in the evening a homemade roll can taste great. They are also ideal as a side dish to your grilled meal. What's a bratwurst without a decent roll?
See for yourself and let Manuel Limmer, from the Scharold city bakery in Friedberg, show you how to bake crispy rolls in your outdoor kitchen.
You need the following ingredients for the preparation:
1000g wheat flour
10g yeast
600ml water
25g salt
25ml olive oil
Baked banana with salted caramel and cashew nuts
Something sweet to finish off? No problem, desserts can also be prepared in the outdoor kitchen without any problems. Let yourself be inspired and cook together with chef Josef Hartl and convince your guests with a dessert in a class of its own.
You have become curious and are also interested in other, well-known luxury barbecue manufacturers? Look here and dive into the world of luxury grilling. Here you can choose your Merklinger grill:
Grill brands: Broil King, Napoleon and Co.
Barbecue – The perfect outdoor alternative to the kitchen for sausages, steak and co. But vegetarian or vegan barbecue variations are also in vogue. Napoleon, Merklinger, Weber, Big Green Egg, Broil King and Everdure – which is the best grill?
Gas, coal, wood or infrared? These are the most popular types
However, when it comes to the question of the operating mode of a grill, minds are divided. Some go for the charcoal grill and its classic ambience and smoky flavour. Other grill fans, however, prefer the increasingly popular gas grill, as it is much more practical due to its simple and quick condition. Want to know who are some of the biggest, best and fanciest barbecue suppliers in the world? Find out here in a quick overview of the "Louboutins" among the grills.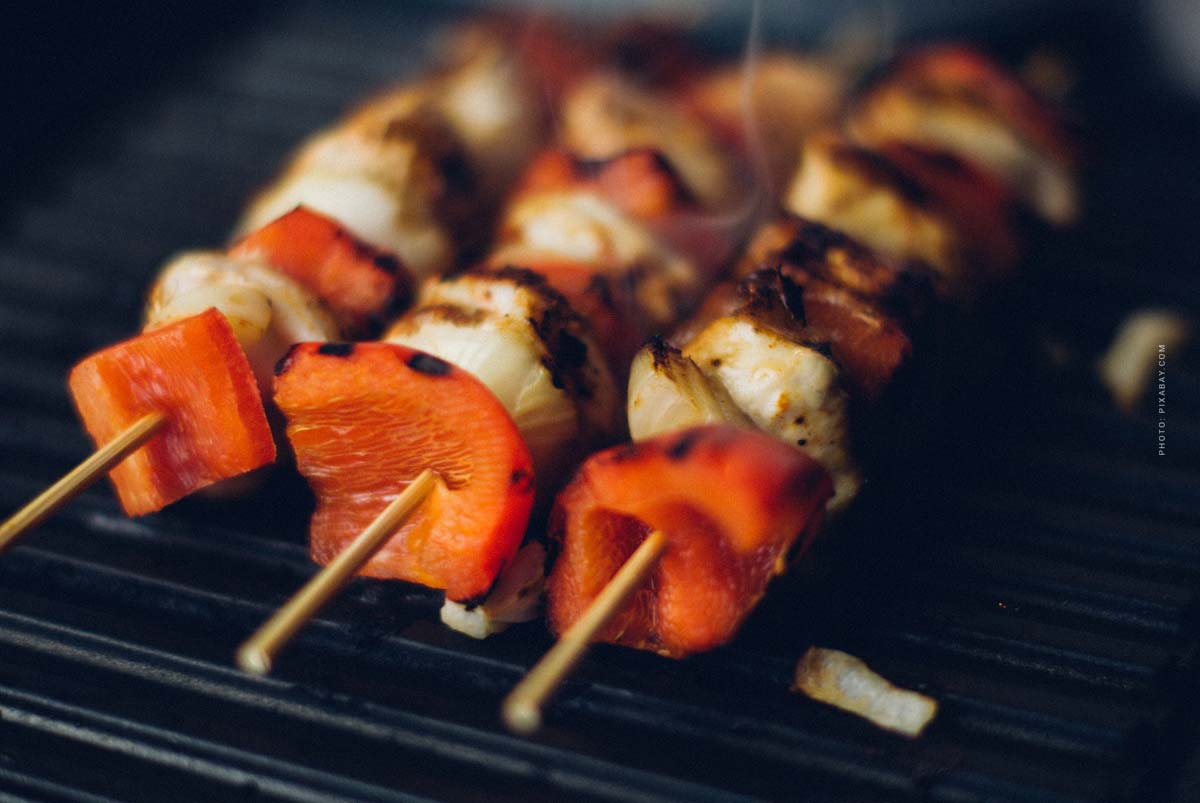 https://fivmagazine.com/wp-content/uploads/2021/04/grill-testsieger-vergleich-merklinger-grillweltmeister-baut-auf-im-garten-anleitung.jpg
800
1200
F_kinski
/wp-content/uploads/2020/07/fiv-magazine-news-instagram-youtube-tiktok-influencer-fashion-interior-jewelry-real-estate-tips-help-logo.png
F_kinski
2021-05-04 17:01:20
2021-07-17 17:03:59
Merklinger Grill & Wooden Oven: Meat, Pizza, Bread and Made in Germany – Tip from the Grill World Champion!