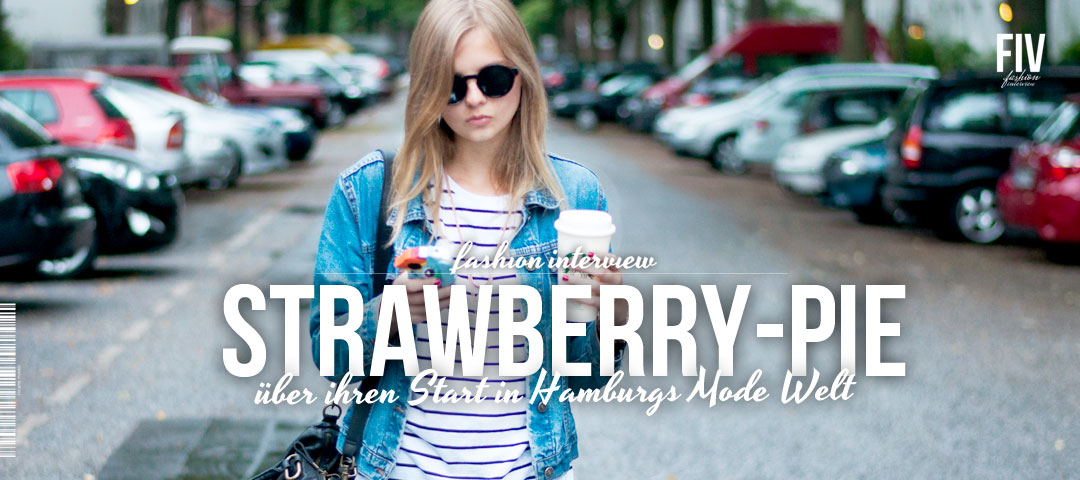 Fashion blogger Ruth from Strawberry-Pie
Ruth's interest in fashion and beauty developed years after she started her blog www.strawberrypie.de. Personality is especially important to the Nordic fashion and beauty blogger. I talked to her about the idea for Strawberry Pie and about hamburger style.

Strawberry-Pie: Start as a photoblog
FIV: Ruth, you've been blogging since you were 15 years old, what did your beginnings look like?


Germany - Spain - USA
Exactly! I had nothing to do with fashion in the beginning. To be honest, my blog didn't even have a real theme back then, I just wrote about everything that seemed worth writing about. As time went on, photography was added and the text became less and less, my blog became a photoblog. When I was about 18 I got a sudden interest in beauty and through beauty I then got into fashion and for the first time I feel like I've found myself blog-wise.
FIV: Strawberry-Pie is a fancy name that sticks in your head! What's it all about?
At some point I had the idea to call myself Ruth Strawberry-Pie on Facebook because I didn't want to give my real name and thought it sounded cute and I like strawberry pie. This name made the rounds in my circle of friends and from then on I was just Ruth Strawberry-Pie or strawberry pie to all the people who knew me. Somehow it was then clear that my blog will be called that too.
FIV: What do you deal with on your blog? What is particularly important to you personally?
My blog is a personal style blog, which means that although I sometimes write about fashion in general, I mainly want to inspire other people with my personal clothing style. Besides simple outfits, it is important to me that my readers also get a little bit of my personality, which is why I often write about my thoughts.
Fashion blogger Ruth about Hamburg
FIV: You come from Hamburg, the beautiful city on the Elbe! What inspires you about Hamburg?
When you think of Hamburg, you probably think of the city centre, the Alster and the harbour. But what inspires me the most are the places far away from the tourist hustle and bustle. The Elbe beach in Wilhelmsburg, where the big container ships no longer come, is really beautiful and worth seeing. I really like nature and could spend hours in lonely places just thinking.
Style-wise, it inspires me to just wander through stores and see what's on sale and think about how I might wear it.
FIV: How would you describe "hamburger style"?
I think the Hamburgers don't really have a style. In Hamburg you can find many styles mixed together. But what most Hamburgers have in common is that they are not particularly brave. Many well-dressed Hamburgers combine mainly basics. A must-have in our northern city, however, is a gaudy raincoat, because it rains here really often.
FIV: What makes Hamburg a fashion metropolis for you?
Hamburg is a pioneer when it comes to shopping. In Germany, for example, the Swedish fashion chain "Cubus" is represented exclusively in Hamburg. The same goes for the Swedish chain Indiska, which recently opened its first shops in Hamburg.
FIV: Do you have some shopping tips and recommendable fashion hot spots from Hamburg?
The Hamburger Meile is always worth a visit. Not only do both of the Scandinavian chains I just mentioned have a store there, but you're also guaranteed to find a great bargain at T K Maxx. I also like to stroll through the Sternschanze, where you can find many small shops, some of which even sell self-made unique pieces. Here you can sometimes get hold of very special fashion treasures.
FIV: Is the blogger scene in Hamburg distinct? Is there a lot of competition?
There are actually quite a few bloggers in Hamburg. But since Hamburg hardly stands out with a city style, there is competition, but it's not very big. All the Hamburg bloggers I know have totally different clothing styles. The inspiration here is much bigger than the competition.
Ruth's Style: Bohemian & Playful
FIV: What's your fashion style? Is there an absolute fashion must-have for you?
Describing my style is not easy for me. My looks usually have a bohemian touch and are often very playful. I also like bright colors very much. For me now a must-have are valuable bags, from cheap bags you just do not have long something, because they often break so quickly.
FIV: Aside from Hamburg, what places have you traveled to for the purpose of your blog and which of them have fascinated you the most?
For my blog I was already in Frankfurt, Düsseldorf and Berlin. Berlin was of course interesting during the Fashion Week, because there were massive birds of paradise on the road. But I assume that many are dressed much more relaxed at home. Which city fascinated me fashion-wise, but where I was only privately, was Copenhagen, the people there are all very simple and minimalist dressed, but they really already wear the trends of tomorrow.
FIV: What are your future plans with Strawberry-Pie? Is there anything in the pipeline that we can look forward to?
At the moment I hope to continue the blog for a while as it is now. Also, I'm going to a festival soon where I'll be reporting from. That will be very exciting and I'm looking forward to it!
FIV: Thank you for the interview dear Ruth!
More information about Strawberry Pie:
https://fivmagazine.com/wp-content/uploads/2015/09/interview-fashion-bloggerin-ruth-strawberry-pie-start-modewelt-hamburg.jpg
480
1080
Stephan
/wp-content/uploads/2023/08/fiv-magazine-logo-news-influencer-fashion-interior-travel-real-esates.svg
Stephan
2015-10-02 15:51:39
2015-10-02 15:51:39
Fashion blogger Ruth from Strawberry-Pie