Esprit: fashion brand, clothes & shoes – perfect everyday fashion
Stylish clothing and political statements – that's what the Esprit brand stands for. It stands up for important social and political issues like no other brand and, like the fashion brands H&M, GAP and United Colors of Benetton, stands for everyday fashion that always makes you look stylish. Want to know more about the brand, its history, fashion and philosophy? In this article you will learn everything you need to know about the brand and its fashion.
History and foundation of the brand Esprit
The couple Susie Russell and Doug Tompkins founded the fashion brand Esprit in 1968, five years after their wedding. The brand was intended to be an authentic, approachable brand, producing wearable clothing for all people, regardless of their background. Through its campaigns featuring real-life people and Esprit salespeople, the brand solidified its image as an approachable, fun-loving brand that sells clothes for people who are in the middle of life.
A brand takes action: Sustainability, LQBTQ & International Women's Day
As a brand, Esprit has been committed to important causes since its inception. Through advertising campaigns in which Esprit draws attention to social problems and donations to charitable causes, the brand has shown its commitment to important issues for years. Especially in the area of sustainability, however, the brand goes a step further and relies on Concious Fashion, which means for Esprit pays attention to social and ecological aspects in the production of their clothes. But also through limited actions, such as the collection with the designers Craig and Karl, to stand up for the rights of the LGBTQ community, the brand manages to make political statements. In doing so, Esprit focused on the message of love and equality. For International Women's Day, Esprit is also campaigning for the rights and equality of women worldwide with T-shirts.
Esprit logo: colorful and unique like the brand
Esprit's logo was designed by John Casado, who is considered one of the most talented art directors of his time. He decided to create a colorful eye-catching logo for the brand and at first he couldn't convince the boss of Esprit with his design. But when Doug Tompkins asked him to suggest other designs and he still stuck to his first attempt, he finally convinced Doug with his persistence. So that's how the logo was born, which is now known to the whole world and which, with its colorful bright letters, perfectly fits the Esprit brand.


FragranceTip.com by FIV
Esprit fashion
Esprit offers clothing, shoes and accessories for women, men and children. Esprit fashion is characterized by wearable clothes that are perfect for everyday life. At Esprit you can find everything you need from everyday fashion to swimwear and sportswear.
Everyday fashion: dresses, jackets & t-shirt
There is a wide selection of dresses, jackets and T-shirts at Esprit. Especially popular are the casual summer dresses for women, statement T-shirts with the Esprit logo and the functional, yet stylish jackets of the brand.
Swimwear: Bikinis, Tankinis, Swim Shorts & Swimsuits
At Esprit you can find great and unique swimwear for your next beach vacation! If you prefer a classic look, then go for a simple bikini in dark blue with a shell hem. If you prefer something more daring, a model with a beautiful paisley pattern or trendy stripes will fit you perfectly. The tops are each available in different shapes, such as triangle or underwired top. For the bikini bottoms you can choose between lowwaist and highwaist cuts.
Shoes: cozy boots & stylish sandals
At Esprit you'll find the right shoes for any weather and season. From lined boots that keep you nice and warm in winter to cool sneakers that go with any outfit. Of course, Esprit also has a great selection of sandals and high heels for summer. Esprit's fluffy booties are especially popular and come in brown, beige, black and gray. There are also Special Editions every year with patterns, in gold with glitter and much more. The boots are perfect for the winter, because they are comfortable to wear and also look great!
About You Fashion Week
Esprit had the great opportunity to present their new fall/winter collection at the About You Fashion Week in Berlin: The collection consists of stylish coats and trench coats in muted tones, fluffy knits for winter and casual blazers and denim jackets for the transition. Of course, the it piece of the season, down jackets, may not be missing. Esprit presents down jackets in different styles from long to short and from classic white to a fancy rust brown. The eye-catcher of many outfits are belts, which are also worn over dresses and coats to set a fashion statement!
More great fashion brands to discover!
Are you excited about luxury brands and designers like Longchamp and want to get to know more brands? Then check out our fashion brand guide here and get to know the top fashion brands in the world.
Fashion brands from A-Z
Which brands are hot right now? What is the most popular fashion brand? Which brands are there for women, which for men? Dior, Gucci, Givenchy, Hermès, Prada, Chanel & Co are brands known to almost everyone. But what is actually behind them? These and many other brands have changed the history of fashion. Here you can find out which brands are among the top fashion brands in the world. Sorted by A to Z, you can pick out exactly your favorite brands or maybe get to know a few new ones.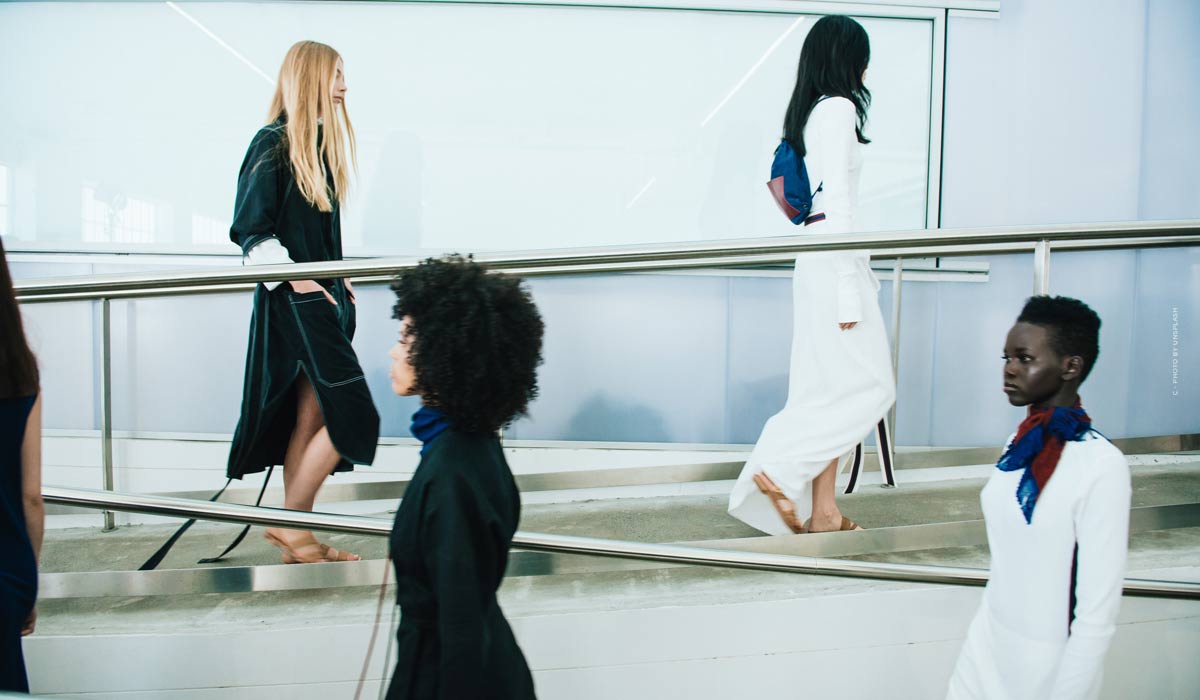 Fashion brands with E
Emporio Armani, Ellesse and Ecco are some of the many fashion brands that begin with E. With the mass of fashion brands that exist worldwide, it is easy to lose track of them. To give you a good overview of the brands, we have sorted them into a list according to the alphabet.

https://fivmagazine.com/wp-content/uploads/2021/05/kleidung-vintage-mode-stange-modern-tipps-fashion-tricks-kauf-verkauf.jpg
800
1200
Lisa-Marie
/wp-content/uploads/2023/08/fiv-magazine-logo-news-influencer-fashion-interior-travel-real-esates.svg
Lisa-Marie
2021-12-28 10:53:40
2022-09-16 09:09:40
Esprit: fashion brand, clothes & shoes – perfect everyday fashion