Calvin Klein: Fashion Brand, Underwear & Perfume
Calvin Klein – The cult brand Calvin Klein is best known for its famous underwear collection, its clean aesthetics and the cool designs of the brand. In this article you will learn everything important about the fashion brand, which manages to inspire the fashion world with every new collection. Just like the brands Tommy Hilfiger, Diesel and Hugo Boss, the brand stands for cool street style, statement clothing with logo and innovative designs. Read here everything about the history of the label, the fashion of the brand and its most successful products.
Calvin Klein: From the foundation until today
Calvin Richard Klein was born on November 19, 1942 in the Bronz in New York City. Since childhood he was interested in fashion, art and design, which is why he decided to study fashion design. He studied fashion design at the Fashion Institute of Technology until 1963.
After graduating, he worked for a while as a freelance designer for various labels before founding the Calvin Klein fashion brand in 1967 with his longtime friend Barry Schwartz. His first collection consisted of three dresses and six coats for women. Large fashion houses quickly became aware of the label and gave Calvin Klein orders, so the label could further expand its range. In the New York fashion scene Calvin Klein quickly became a celebrated designer by his timeless style, which nevertheless appeared modern.
Shortly after the label was founded, Calvin Klein appeared in Vogue and other important fashion magazines. In 1971, the brand expanded its range to include sportswear, blazers and lingerie for women. After Calvin Klein won the Coty American Fashion Critics'Award in 1973, the range was expanded to include scarves, belts, shoes, sunglasses, coats with fur, bed sheets, jeans, cosmetics and menswear. Especially the world-famous jeans with the printed Calvin Klein logo on the back pockets helped the label to become even more famous and successful.
From the year 1980 Calvin Klein introduced his still famous boxer shorts line for men and women, which is still the flagship of the brand. The line had great success and through seductive and impressive campaigns with stars like supermodel Kate Moss, Calvin Klein skillfully drew attention to his label. To this day, Calvin Klein manages to impress with its advertising campaigns and to win world stars like top model Kendall Jenner or singer Justin Bieber as models for its collections.


FragranceTip.com by FIV
In 2002 Calvin Klein was sold to Phillip Van Heusen Corp and since then Calvin Richard Klein is no longer part of the label.
History of the label at a glance
1942 – Birth of Calvin Richard Klein
1963 – End of his fashion design studies at the Fashion Institute of Technology
1968 – Foundation of the Calvin Klein brand
For the time being concentration on the production of dresses and blazers
Through orders from large fashion houses, the range could be expanded
1971 – Expansion of the women's range
1973 – Winning the Coty American Fashion Critics' Award
The brand becomes world famous for its jeans with logo print
2002 – Sale to Phillip Van Heusen Corp.
The style of the brand: clean aesthetics and innovative designs
The brand Calvin Klein stands for minimalist fashion with simple cuts and exciting designs. The brand manages like no other wearable, stylish clothes with that certain something to design. Calvin surprises every season with bold designs to surprise.
The fashion of Calvin Klein
The flagship of the brand is its famous underwear line, but the designer brand Calvin Klein has so much more to offer: The range includes jackets, jeans, cargo pants, skirts, dresses, t-shirts, sweaters, accessories, leggings, sweatpants, shoes and suits. Especially popular are the brand's famous jeans, their stylish jackets, tops with the brand logo and their casual sneakers.
Always on trend: underwear from Calvin Klein
Calvin Klein underwear, with the brand's signature Calvin Klein lettering on the waistband, is one of the brand's most popular items. The range consists of boxers, briefs, bras and bralettes. But the underwear is not only worn as underwear, but integrated into the outfit and is considered an absolute Fashion It Piece: Many women wear the bralettes from Calvin Klein simply as a stylish top and for a particularly casual look, fashion role models such as Justin Bieber, Shawn Mendes or Kendall Jenner let the waistband of their Calvin Klein underwear peek out from under the jeans.
Celebrities also love Calvin Klein underwear: VIPs like Shawn Mendes, Kendall Jenner and ASAS Rocky show up in the brand's latest designs for the Calvin Klein campaign My Calvins.
Jackets & Coats: Stylish & High Quality
Stylish jackets with logo are totally trendy right now: Of course, Calvin Klein as an innovative and trend-conscious label offers fashionable and high-quality jackets with the CK logo for men, women and children. At Calvin Klein you will find a great selection of jackets and coats, which convince with their elegant, but still sporty and unique style. The jackets are totally trendy right now, but their minimalist style makes them absolute fashion must-haves, because they are timeless classics.
Cool & Chic: Calvin Klein tops with logo
For a few years now, it is again trendy to wear fashionable basic tops with statement logo. Sweatshirts, sweaters and T-shirts with the Calvin Klein logo should not be missing in any closet, because they can be combined with anything and visually enhance boring outfits. Stylish VIPs like Blackpink singer Jennie like to wear sweaters with the Calvin Klein logo to make a fashion statement!
Perfume: sensual and timeless fragrances
Calvin Klein's perfumes, like the brand's fashion, are characterized by classic and timeless scents. The range includes men's, women's and unisex perfumes. Whether floral, fresh or something spicy-oriental, at Calvin Klein you can find the right fragrance for every taste!
Ck One Unisex: the fresh fragrance for bold
The absolute classic among perfumes: Ck One by Calvin Klein. It impresses with a fruity-fresh combination of bergamot, cardamom, papaya and pineapple. The perfume is complemented by the fragrance notes of violet, rose, nutmeg, musk and amber. The fragrance is aimed at the young, self-confident and open generation, which boldly stands up for a society in which all are equal. The fragrance was first sold in 1994 and is perfect for every day.
Eternity for her: a sensual fragrance
Eternity for her is a sensual and floral fragrance designed to capture the feeling of eternal love. The fragrance combination of freesia, mandarin and sage creates a seductive fragrance for confident and independent women. As additional fragrance notes lily of the valley, white freesia lily, marigold and narcissus harmonize perfectly with each other, resulting in a perfume with a heavenly scent! As a base note patchouli, sandalwood and amber refine the unique fragrance from the house of Calvin Klein.
Even more great fashion brands to discover!
Are you excited about luxury brands and designers like Longchamp and want to get to know more brands? Then check out our fashion brand guide here and get to know the top fashion brands in the world.
Fashion brands from A-Z
Which brands are hot right now? What is the most popular fashion brand? Which brands are there for women, which for men? Dior, Gucci, Givenchy, Hermès, Prada, Chanel & Co are brands known to almost everyone. But what is actually behind them? These and many other brands have changed the history of fashion. Here you can find out which brands are among the top fashion brands in the world. Sorted by A to Z, you can pick out exactly your favorite brands or maybe get to know a few new ones.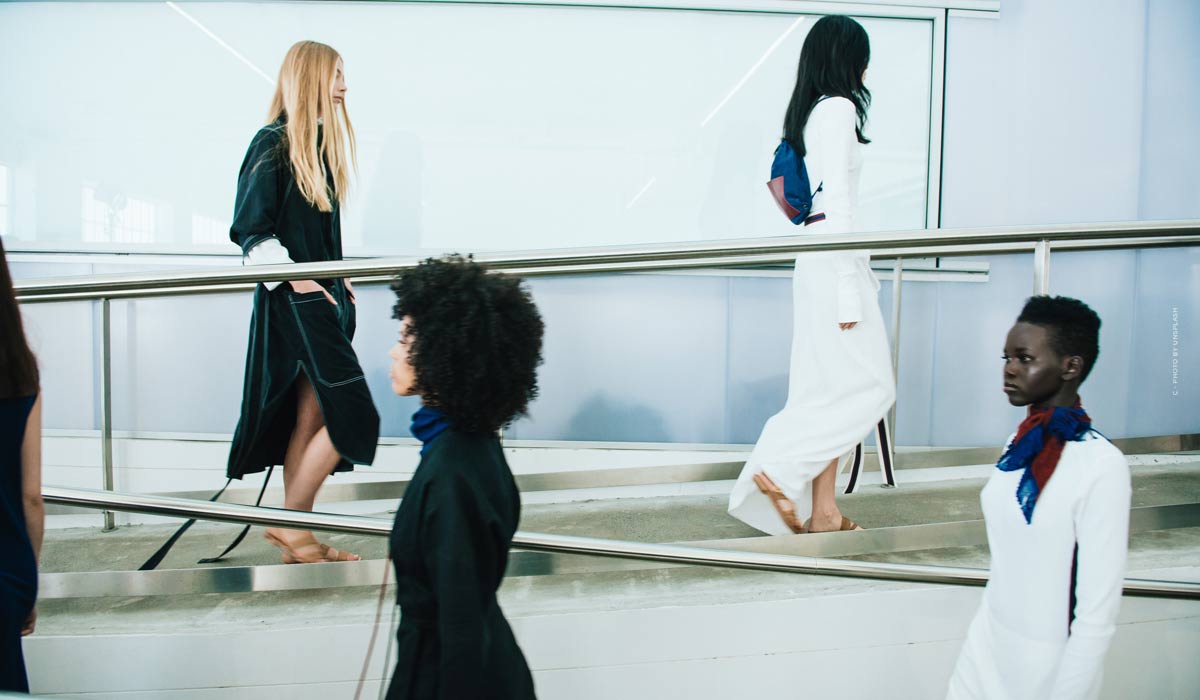 Fashion brands with C
Chanel, Chloé and Celine are some of the many fashion brands that begin with C. With the mass of fashion brands that exist worldwide, it is easy to lose track of them. To give you a good overview of the brands, we have sorted them into a list according to the alphabet.

https://fivmagazine.com/wp-content/uploads/2021/12/calvin-klein-uhr-gold-accessoires.jpg
800
1200
Lisa-Marie
/wp-content/uploads/2023/08/fiv-magazine-logo-news-influencer-fashion-interior-travel-real-esates.svg
Lisa-Marie
2021-12-28 14:54:21
2022-02-26 17:36:22
Calvin Klein: Fashion Brand, Underwear & Perfume