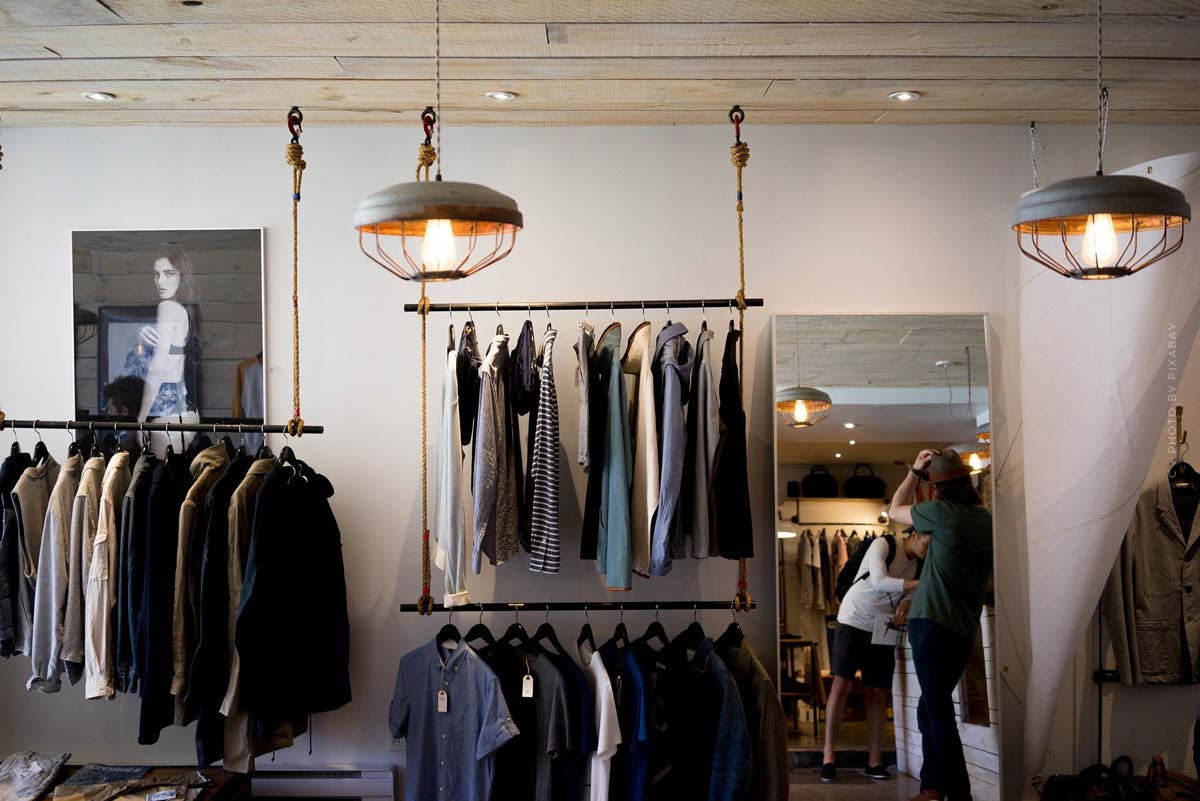 GAP: Jeans, sweater & basics for men and women
GAP – Affordable everyday fashion that has been found in closets for generations. that is GAP today. However, GAP is losing popularity, especially among a younger target group. And this despite the fact that GAP was founded with the aim of supplying a market of 12-25 year olds with matching jeans. From a single store in San Francisco to a global company, that is the story of GAP. The ups and downs of the company have been going on for quite some time now, and so the following is an attempt to look at the brand's aspirations and the ways in which it is working its way back to the top.
GAP: a well-known fashion brand with jumpers, jeans & Co.
Gap stands for affordable everyday fashion, which is not cheap, but also does not belong to the extroverted and extravagant high fashion. Gap is an internationally known fashion label that has experienced some economic ups and downs. In addition to classics such as jeans and jumpers, Gap has many other products in its repertoire, but they mainly target a younger customer group. Find out everything about the Gap fashion brand here.
From 'the gap' to the listed company GAP Inc.
In 1969 Don and Doris Fisher founded the first GAP store in San Francisco. They were inspired by a disapponting experience when returning mismatched jeans to the shop. An friend of the two had noticed that many shops only stock a small selection of sizes and therefore a large number of people were unable to purchase well-fitting trousers. Especially in times before the widespread use of the internet, people were dependent on getting their own size in shops.
This was the reason why Don and Doris developed their business concept: A shop that sells Levis jeans for men, records and record tapes. The core of the shop was the wide selection of jeans, under which everyone should be able to find his or her own size. Only five years after opening of the first GAP store, in 1974, the group of shops had grown to 25 and GAP was selling the first products under its own label.
The label was so successful that GAP was able to be publicly traded on the stock market in 1976. Trading began at USD 18 per share. GAP grew into GAP Inc. and managed several brands under its umbrella. They stopped selling Levis jeans and focused entirely on clothing under their own label.


FragranceTip.com by FIV
After international expansion, the company reported an absolute stock market high and the value of one share rose to $59. Among other things, this success was attributed to the Vogue cover, which adorned supermodels in white GAP outfits. In the following years however, the company was unable to build onto previous successes. The reasons for this are of different nature.
It is assumed that the original idea behind GAP, which had led to the great success of the shops, no longer had the same relevance. The clothing industry was constantly expanding and with the increasing popularity of e-commerce it was less difficult to get individual sizes. This was also noticed by the label, which tried to attract and retain customers in other ways.
Losses & profits for GAP: the decline and rise of the label for basics
This also included the establishment of other fashion houses and lines for different needs. Nevertheless, GAP Inc. had to cope with losses time and time again. The reasons for this can be found in the increased consumption through e-commerce. A market shift, which GAP recognised and set up an online shop, but could not overcome unaffected. GAP also lost popularity among its target group. 12-25 year olds deemed other brands to be more fashionable. GAP was and still is the supplier for basics. Even a stronger orientation towards an older, more solvent clientele proved successful, but then led to an over-expansion of the label and subsequent losses.Nevertheless, main markets remain stable. Although 225 GAP locations had to close their doors for good last year, several branches remain. As the reason for GAP's downfall is often an over-expansion under Paul Pressler cited, who left the company shortly afterwards.
Video GAP NewCom: GAP Inc. splits
In 2019 plans were announced that GAP plans to split the company into two. Thus Old Navy was to operate independently of GAP as an individual company and the other split company, which did not get an official name (NewCom = New Company) was to shield the subsidiaries Banana Republic, Athleta, Janie and Jack, Intermix and Hill City. However, this plan has been withdrawn as of 2020.
The fact that GAP has long since ceased to sell only GAP clothing has already been mentioned in the previous section. Here we summarize for you the most famous subsidiaries of GAP Inc.
GAP, GAP Kids and GAP Factory in Europe
GAP is the internationally distributed american fashion label of GAP Inc. with store locations in England, Germany and the rest of Europe. Unfortunately, GAP has had to reduce the number of its stores in recent years, making it more difficult to get hold of the brand's clothing. Nevertheless, GAP and Banana Republic can still be easily purchased online in Europe. GAP stores have been reduced a lot. And international sales have been refocused to online retailing.
Banana Republic: Chinos, shirts and why this name?
A banana republic describes an economic construct in a country that is extremely dependent on the production and export of a single commodity. The original 'banana republic' that coined the term was Honduras. The fashion label's name Banana Republic does not refer to the fact that they sell a single commodity, but rather to the regions associated with the term.
Banana Republic stores originally sold clothes to travel and safari clothing. The aim was to sell adventurers clothes that were functional and suitable for travelling to climatically more unpleasant areas. At the same time they had to look good. Banana Republic still stands for lifestyle fashion, which allows the wearer to feel comfortable and at the same time wear fashionable clothes. Even more extreme conditions should be able to be mastered in the pieces.
5 Bestseller of Banana Republic for women & men
With such a long existence, one or the other favourite has of course emerged. That's why we present you here the 5 bestsellers of Banana Republic, which you can also get in Europe.
Bestsellers for men:
Aiden Slim Rapid Movement Chino: Water and dirt repellent pants made from a comfortable stretch fabric
Authentic Supima Cotton Crew Neck T-Shirt: made from soft, durable, American Supima cotton
Core Temp Rugby Sweatshirt: Available in standard and tall sizes
Straight Rapid Movement Denim Jeans: Classic cotton jeans with stretch
Bestseller for ladies:
Dillon Classic Fit Shirt: Blouse in a wide variety of colours
Keyhole Blouse: Elegant blouse with special neckline
After GAP under Paul Pressler was supposed to address the medium-priced market, Old Navy adopted the low-price segment and is thus the most successful company listed under GAP Inc. Affordable Fashion for everyone' is what Old Navy has written on its flags.
The brand sells fashion of the highest possible quality at a low price. The range includes leggings, graphic T-shirts and basics, such as single-colour T-shirts, which are popular.
Athleta, Hill City, Intermix and Janie and Jack
The rapid rise of the sports fashion market has not passed GAP Inc. by and so in 2009 Athleta was added to the portfolio of GAP Inc. Active-Brand produces high-quality women's sportswear. The brand is highly praised for its leggings, which are priced in line with brands such as Lulu Lemon.Overall, Athleta focuses on athleisure and also offers loungewear that perfectly complements the range. Hill City has been part of the group of companies since October 2018. However, only one sale of the products is still taking place, as this has been discontinued since June 2020.
Intermix: Store group with designers like Dior & Gucci
Intermix is a retail group which, unlike most other companies under the umbrella of GAP Inc. does not produce its own clothing, but offers a mix of high-quality designers in its shops. Intermix shops focus on feminine chic and the group is still managed.
The Intermix range includes brands such as:
And many other well-known names. The shops are comparable with suppliers like Nordstrom or Zalando. Especially the former offers many well-known brands in one place. Zalando is still in lower price categories than Intermix. Nevertheless, they are similar in terms of distribution of different brands.
Janie and Jack is premium clothing for children and is supposed to be a high-quality alternative to GAP Kids. Jeanie and Jack has been part of GAP Inc. since 2019. With Janie and Jack, the little ones can feel big, because here they are in the foreground. Of course, the label offers everyday fashion. But also pompous dresses and chic suits in mini format are part of the brand's range.
GAP x Vogue: All-time stock market high after Vogue Cover
The brand recorded its absolute stock market high in 1992, shortly after the 100-year special edition of American Vogue was adorned by the supermodels of the 1990s head-to-toe in GAP.
Vogue Cover with Naomi Campbell, Claudia Schiffer and more
For the anniversary edition, as many supermodels as possible were actually rounded up. At least you get this impression when you look at the cover and read through the names:
Naomi Campbell
Claudia Schiffer
Linda Evangelista
Yasmeen Ghauri
Cindy Crawford
They were all present when Vogue celebrated its birthday in GAP. The look also is easy to recreate. White straight leg jeans with white shirt blouse. The blouse is knotted over the waistband. Thats the nineties supermodel look for you.
And if you can't get enough of the supermodels of the nineties we have also compiled a list of the most famous supermodels of the 90s. Noami Cambpell's era with GAP is not over yet, so she could recently be seen again in a commercial of the brand.
GAP: Statement for inclusion and diversity
GAP also knows how important it is for a company to work towards inclusivity. Therefore the brand works hard to meet these demands. After all, the first shop was born from the idea of giving many different people access to suitable clothing. This is exactly what GAP wants today. Their clothing is supposed to be tailored to as many people as possible.
Video Inclusive, by Design
Especially the latest advertising efforts are characterised by this spirit. There is a feeling that GAP has had a lot of catching up to do. Whether through new business channels such as e-commerce, trends and also things like working with labels and stars. They are now working on identifying needs like inclusive design and addressing consumers.
The approach is not revolutionary, but investing in positive trends is always good a positive statement.
GAP and Kanye West: Yeezy GAP
Kanye West, known for eccentricity and street style, after Nike and Adidas has also teamed up with GAP. Many suspect that GAP is hoping to work its way back up the market in this way. If Stardom was already successful in the 1990s, this cannot be wrong in the 2020s. Under the hashtag '#westdayever' the singer and designer promoted the collection among his fans.
Video Yeezy GAP and Telfar
Before the 10-year deal between Kanye West and GAP was concluded, GAP was talking to Telfar about collaborating. Telfar is an American designer who is best known for his bags with the iconic G-T logo. But when Kanye West showed interest, GAP knew people would be interested in collections with Kanye West and were convinced by his huge following. So West got the deal. More details about the deal, drama and the collection can be found here:
https://fivmagazine.com/wp-content/uploads/2020/11/gap-mode-designer-pullover-jeans-basics.jpg
801
1200
Lisa-Marie
/wp-content/uploads/2023/08/fiv-magazine-logo-news-influencer-fashion-interior-travel-real-esates.svg
Lisa-Marie
2020-11-17 07:00:30
2020-11-11 15:00:57
GAP: Jeans, sweater & basics for men and women