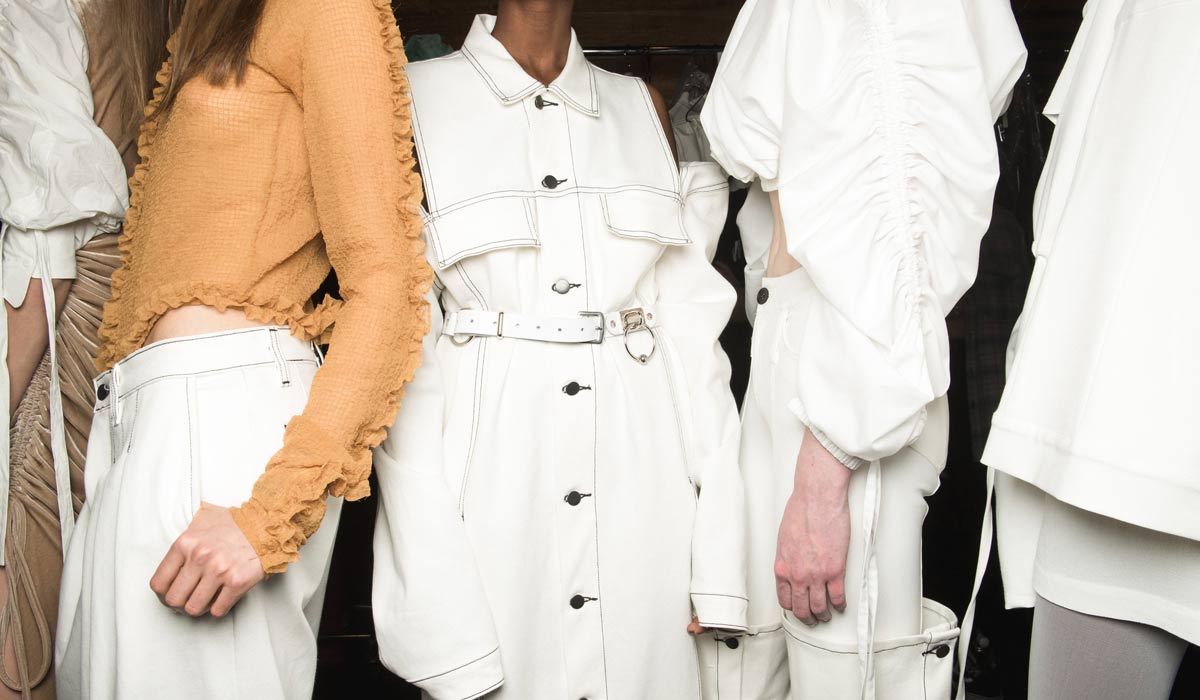 Balmain – Exquisit Haute Couture, Fashion Shows & Collaborations
Paris. New York. Milan. There's hardly a city of fashion that Balmain hasn't already conquered. The brand is known for its opulent style and feminine looks. No wonder, then, that the Paris house has quickly become a favorite on the red carpets of Europe and Hollywood. We at FIV Magazine have listed the fashion giant's top runway highlights for you here.
Balmain: French Haute Couture & Prêt-à-Porter
Balmain or Pierre Balmain S.A. is a fashion company founded in 1945 by the French fashion designer Pierre Balmain and based in Paris. Particularly in the 1950s and 1960s, the Balmain company, which has also been offering perfume since 1947, was one of the leading international fashion companies in the upmarket Parisian fashion scene with elegant haute couture for women alongside Dior and Jacques Fath. After the sale of the company by Pierre Balmain in 1977 and less successful times from the 1980s onwards, Balmain was owned by a French investor group since 1995 and was on the verge of insolvency in 2004. It was only in 2006 that Balmain, which has been producing high-priced prêt-à-porter fashion for women since 1982 and, with interruptions, for men since 1986, regained its reputation worldwide as a trendsetting and sought-after fashion brand in the upper price segment. Balmain's haute couture fashion was presented for the last time in 2003 and was discontinued in 2004 as part of the restructuring. Since June 2016 the company has been owned by the investment fund Mayhoola for Investments from Qatar.
Women's collections that redefine femininity
Balmain's rich couture history is celebrated in every women's collection under the direction of Olivier Rousteing. The archive, filled with unique designs, inspires, while the studio continues to inspire awe with its mastery of intricate couture techniques. Rousteing fuses these traditions with his own modern sensibility.


Germany - Spain - USA
Fashion for the emancipated woman of modernity
For this women's collection BALMAINFW20, creative director Olivier Rousteing rethinks and modernises the traditional symbols of the old French upper class to adapt them to today's modernity – a range of designs now open to all, reflecting the inclusive values of Balmain today. Watch the video here.
Innovative cuts and artistic colour combinations
"Own who you are" is the motto of the women's collection 2020, inspired by Rousteing's own past. As the documentary film about the collection shows, he only recently found out that his biological parents are Somali and Ethiopian. His handling of this existential insight and his experience with adoption and rejection can also be artistically reflected in this collection.
Rebellious collection full of studs, glitter and leather
The outfits focus on sculptural shapes, skilful leatherwork and extreme ornamentation. Rousteing is proud of the efforts of his entire team as they have ensured that this year's Balmain creations are in keeping with the daring of today's troublemakers. Check out Balmain's breathtaking fashion show here.
Futuristic dresses and statement accessories for the summer
It's not the catwalk styling, music and celebrities that make Parisian fashion so incredibly inspiring – they believe it's their unparalleled heritage of couture and high standards of tailoring that make them stand out. Of course, these unique ingredients are key elements of Balmains' DNA, and today's collection makes it clear what the combination of savoir-faire and the Parisian studio can achieve.
Cultured & sophisticated fashion for the Balmain man
Olivier Rousteing was just 25 years old when he was appointed creative director in 2011. In just a few years, he has rejuvenated the historic house of Balmain and given it an immediately recognisable style. Many of his designs for designer men's clothing are based on what he wears every day, with the certainty that he pays great attention to detail.
Tropical desert feeling on the runway in Paris
See here the Balmains fashion show, which took place on 17 January 2020 in the Grande Halle de la Vilette in Paris. The show marks the debut of Balmain Eye Wear by Akoni. The unisex collection is based on the savoir-faire of the world's best Japanese artisans and is available since April 2020.
Insurgent clothing with lots of black
These thousands of studs on the eye-catching oversized black bouclé blazer or on the pagoda skirts with origami texture are meant to make a statement for Balmain. Biker vests with open shoulders, paperboy caps, bags and pointed boots are also often seen on the catwalk. Check out the entire fashion show here.
Progressive fashion with avant-garde flair
The entire event, which took place in the Jardin des Plantes in Paris, was dedicated to support for aid organisations against AIDS. The fashion was typically Balmain: Loud, sparkly, confident. Cool colours were often to be found on the catwalk. What made this fashion show special: an extra laser show.
A fashion show inspired by the military
Many of the men and women who march across the runway today are dressed in designs based on protective armour from every age – from the medieval chain mail shirt and today's military khaki to futuristic leather and nylon stockings. "Fashion is a revolution, not an evolution," is the appropriate statement.
Famous advertising faces & Exquisite accessories
Balmain outshines the other luxury brands with its numerous, individual and always amazing modern and unique commercials. Using advanced techniques and numerous experiments, Balmain creates incredible videos. Even though it is difficult to shoot an unplanned commercial, the Balmain team always manages to fascinate its Balmain Army.
Cara Delevingne as advertising face in London
Balmain's Spring/Summer 2019 campaign with Cara Delevingne takes to the streets during London Fashion Week, delighting thousands.
The perfect accessory: the Balmain bag
This new collection is inspired by what is on offer on the catwalks, picking up on some of Olivier Rousteing's most famous signatures. Thick fringes, quilted leather and impressive embellishments are also typical of the new collection. To ensure that the models also look good on the catwalk, Creative Director Rousteing has teamed up with some of Italy's most famous leather masters to match the bags' colour palette to the latest outfits in the current collection.
https://fivmagazine.com/wp-content/uploads/2020/07/balmain-runway-fashion-show-paris-mailand-high-fashion-sneakers-models.jpg
700
1200
Laura
/wp-content/uploads/2023/08/fiv-magazine-logo-news-influencer-fashion-interior-travel-real-esates.svg
Laura
2020-07-23 12:10:00
2020-07-23 12:19:16
Balmain – Exquisit Haute Couture, Fashion Shows & Collaborations