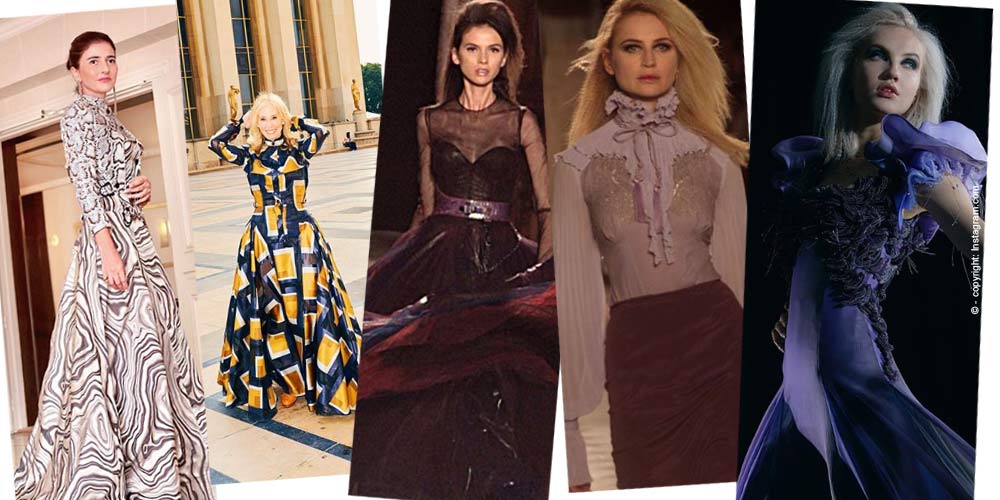 Portrait: Julien Fournie- designer for clothes Haute Couture
Elegance, innovation and sublimator of women – Julien Fournie has the most unusual looks for fashion fans. As a designer, he makes headlines with the latest trends, sells his clothes around the world and presents his latest collections at fashion shows around the world.
The career of Julien Fournie
The Julien Fournie house of the same name was born from the spirit of Parisian couture, its incomparable know-how and its constant need for innovation. The designer Julien Fournie is also known as the creator who sublimates women.
Julien Fournie: Past
1997-2000: After studying medicine, Julien Fournie studied fashion at the school of the Trade Union Chamber of Paris Couture. During his 3-year studies he gained a lot of experience in the fashion sector through internships with Nina Ricci, Christian Dior Accessoires, Givenchy Haute Couture and Céline
2001: Jean Paul Gaultier hired him as assistant to the Haute Couture stylist.
2002: Julien Fournie is appointed Prêt-à-porter Stylist and Accessories at Studio Claude Montana.
2003: He became director of the Prêt-à-porter at Torrente. Then he was appointed artistic director of the brand. He has signed 4 collections:
– "Paris-Hollywood" Prêt-à-porter for dressing Spring/Summer 2004
"-Paris-Oz" Haute Couture Spring/Summer 2004
-"Paris-Cotton Club" Prêt-à-porter Autumn/Winter 2004-2005
"-Paris-1,Rond-point" Haute Couture Autumn/Winter 2004-2005
2006: Julien Fournie decides to travel and expand his vision of the world. He works for LG Fashion Group in South Korea as Creative Director for several brands.
2008: He became artistic director of the Ramosport House.
2009: He founds his own fashion house after working with the biggest names in the fashion world. His first collection will be entitled "First pieces".
2011: He became a guest member of the Paris Fashion and Haute Couture Federation.
2017: The fashion house is officially Haute Couture certified.
Julien Fournie Mode Award
2000: Prize Möet & Chandon Paris Fashion Awards
2010: Main prize for the creation of the city of Paris in the confirmed category
2011: Admission to the parade as guest member in the Haute Couture calendar
2017: House with haute couture label
2017: President of the Jury Talents de Mode in Lyon
First Spell Haute Couture Autumn/Winter 2019 Collection – Julien Fournié
On Tuesday 2 July, Julien Fournie, the chic designer, presented his new Haute Couture Autumn/Winter 2019 collection in Paris. This year Julien Fournié presented 30 creations for his Autumn/Winter 2019 collection, a collection entitled First Spell. On the occasion of the tenth anniversary of his house, Julien Fournié has honoured women who change and transcend the social laws aimed at isolating their sex. Since the dawn of time, these ladies have always been the most horrible of magicians. The French Grand Couturier masters every trick in the art of editing and modernizes the mythical silhouettes of witches, poison killers, gothic novels, ladies and film noir stars alike in wicked beauties. High collar, embroidered shirt fronts on pleated chiffon blouses paired with long Edwardian skirts.



Shows
Here are the best shows by Julien Fournie:
Julien Fournie Show Haute Couture Collection Spring/Summer 2019
Julien Fournie Show Haute Couture Collection Fall/Winter 2018/2019
https://fivmagazine.com/wp-content/uploads/2020/07/julien-fournie-haute-courture-fashion-show-designer-international-runway-paris-milan-new-york.jpg
500
1000
Clemence
/wp-content/uploads/2020/07/fiv-magazine-news-instagram-youtube-tiktok-influencer-fashion-interior-jewelry-real-estate-tips-help-logo.png
Clemence
2019-07-16 07:00:01
2022-02-26 19:17:24
Portrait: Julien Fournie- designer for clothes Haute Couture