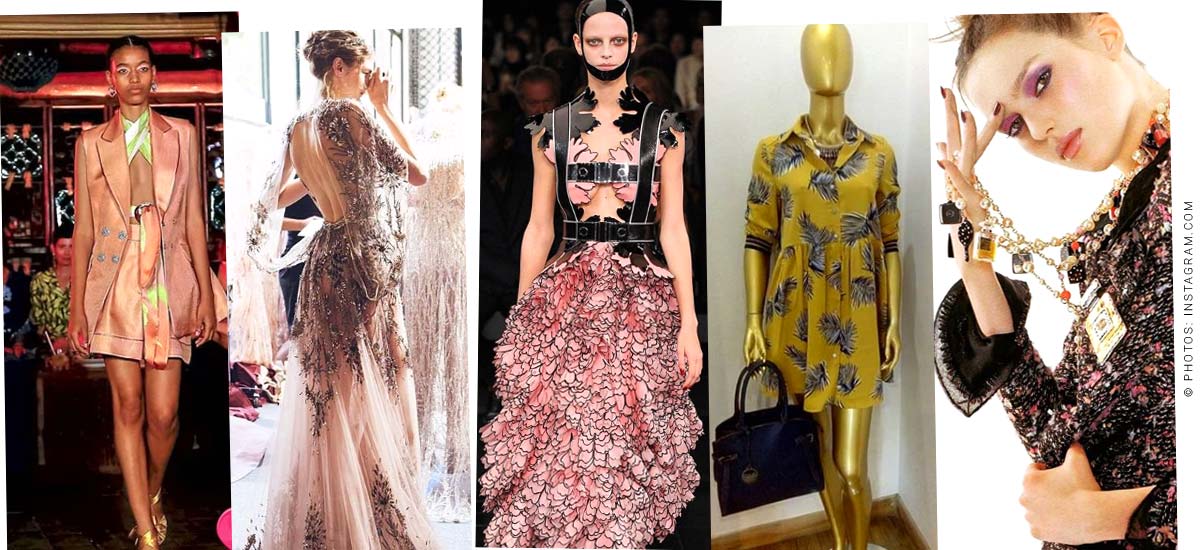 From the catwalk to your wardrobe Prêt-à-porter – ready to wear
It's time again. You take a look in your wardrobe and you just can't find anything to wear. Either it does not correspond to the current trends, your favourite sweater no longer fits or you simply feel like something new again. Most people then head for shops like Zara, H&M, New Yorker, Vero Moda or Bershka and re-equip themselves for little money. These clothes belong to the fashion category Prêt-à-porter. But what is prêt-à-porter anyway? How long has this term existed? Who thought of that? What are advantages and what are disadvantages?
Prêt-à-porter – Current, cheap and versatile
Prêt-à-porter means "ready to wear" and means the clothes that can be bought in shops, that are available in all sizes and that also keep costs down. Prêt-á-porter is therefore not tailor-made, but is in principle ready for every possible buyer.
The Origin Paris
Just like haute couture, the term prêt-à-porter first appeared in Paris in 1930. The emergence of this fashion category was initially seen by fashion lovers as the end of the great fashion world. Mass production of clothes sounded like doom. Previously, only haute couture was regarded as real fashion. Since then, a distinction has been made between prestige fashion and consumer fashion. Prêt-à-porter clearly belongs to consumer fashion. But how did this actually come about? Everybody knows him. Yves-Saint Laurent was the first to make Prêt-à-porter collections. In 1966 he opened his first Prêt-à-porter boutique. From 1960 onwards, the most famous fashion designers began to design and present collections on a regular basis. The Prêt-à-porter collections in Italy really got going.


Germany - Spain - USA
Milan in the center of fashion
Milan became the centre of this fashion category and the first fashion shows were also held there. The new collections were treated according to the motto "See now, buy now". Customers had the opportunity to buy clothes that they had just been presented on the catwalk directly. This concept immediately inspired brands like Burberry, Tommy Hilfiger and Ralph Lauren. The decisive factor for this development was the youth movement. The young people wanted changes in fashion.  Prêt-à-porter collections are also often presented to models floating across the catwalk. This is because fashion is seen and trends are set as a result. Of course not every trend prevails, but it is always worth a try. Even today, there are prêt-à-porter fashion weeks twice a year in Milan, Paris, London and New York. Once the spring-summer collection is presented and once the autumn-winter collection.  Prêt-à-porter has become an indispensable part of the fashion world. One of the co-founders of this fashion industry is Pierre Cardin. He developed his own women's and men's collection for this category. In this video you can see a prêt-à-porter fashion show by Chanel, one of the most famous companies in the fashion and cosmetics industry.
Prêt-à-porter – Just look, don't buy?
In the course of time, different categories have formed within this fashion industry. It was all there. From folklore look with sweet patterns, androgynous fashion style to grunge and poor look. The various outfits are no longer only there to be viewed, but can even be purchased by interested parties. So not only fashion chains are among the places where you can buy such fashion, but also smaller boutiques that have somewhat more unusual pieces with them. Since online shopping has become so big and popular in our time, you can easily order prêt-à-porter fashion on the Internet. If you click on this category in an online shop, you won't come across Everyday Basic, but also more unusual clothing that not everyone would wear. This picture is an example of how the grunge look was implemented.
Fashion-Weeks Prêt-à-porter
As already mentioned, fashion weeks on the subject of prêt-à-porter take place twice a year. In New York, Milan, London and Paris, the most diverse fashion types present the new ideas of the famous designers. Here you can see a nice example of the presentation of a spring-summer collection from 2015 at a Fashion Week in Paris. One girl more beautiful than the other and they all present the latest dresses and skirts. At the Fashion Week in Paris you will meet familiar faces. As you can see, it's not as if celebrities are only interested in haute couture. Among the guests were celebrities such as Bill Kaulitz, Rihanna and Justin Timberlake.
Prêt-à-porter is divided into different fashion collections. There is the spring, summer collection called Resort fashion collection, the autumn, winter collection called Pre-Fall fashion collection. Then there is the Capsule Collection Mode, which cannot be assigned to any season. They appear irregular and unexpected.
https://fivmagazine.com/wp-content/uploads/2018/10/beitragsbild-fashion-week-pret-a-porter-model.jpg
550
1200
Lisa-Marie
/wp-content/uploads/2023/08/fiv-magazine-logo-news-influencer-fashion-interior-travel-real-esates.svg
Lisa-Marie
2018-10-25 12:00:52
2020-11-11 12:15:59
From the catwalk to your wardrobe Prêt-à-porter – ready to wear