Casual dating: tips and tricks for the perfect Valentine's Day
First Date – You've landed a date and want to make sure it's a success? We'll show you how to prepare yourself – from the perfect outfit, to ideas for romantic locations, to tips for topics of conversation.
Casual dating – uncomplicated time for two
Not everyone is looking for the great love and even if, so the time until you have found this, can be bridged with the so-called casual dating excellent. Uncomplicated dates, where everything is possible, but nothing is a must. In a world with dating apps, online portals & Co, dating without commitments has become easier than ever before.
It offers you the opportunity to meet many different people and, above all, to get to know yourself better. So casual dating is also a great way to just try out who or what you like. After all, you never have to see each other again if you don't want to. But how do you prepare a date if it's already concretely planned for a hot night, or at least you want to keep all your options open?
What does casual dating stand for?
Everything possible, but not a must
Trying out
Open options
Tip 1: Communication
It doesn't matter if you met your date online or in person, or if it's a blind date: A little communication beforehand is important so that you know who or what is coming up. In addition, it is anything but unusual in dating apps & Co to talk in advance about the respective expectations of the date. Unfortunately, not everyone is honest about this, but many people are open about the fact that they are only interested in something firm or just something casual, for example. So if you're unsure whether they're both approaching the date with the same goals, it's worth simply asking. As we all know, it doesn't cost anything to ask!


FragranceTip.com by FIV
How should you communicate?
Before the date
Talk about expectations
Question about the goal of the date
Tip 2: Location
What follows now is the concrete planning, namely the question of when and where the meeting will take place. Depending on the type of date, the appointment can take place directly at home, so as not to waste time, so to speak – then mutual trust is the key. So especially women should not just go to a stranger's home. It is therefore better to start the date in public and decide spontaneously how to proceed. If, on the other hand, you are looking for a permanent relationship and want to get to know your counterpart first, romantic places are a perfect choice: a chic restaurant, the botanical garden, a lake or river shore, a drive-in movie theater…there are no limits to your creativity in this regard.
Where is the location?
At home when trust is there
Public in case of uncertainty
Tip 3: Body care
Even if you don't plan to be physically close, every date can turn out unexpectedly. It is therefore worthwhile in any case to devote yourself to personal hygiene in advance: shave, wash your hair, apply cream to your skin, paint your nails – prepare yourself so that you feel completely comfortable in case the date turns out to be hotter than expected. This way you won't put unnecessary limits on yourself and you'll radiate self-confidence, which in turn will make you look more attractive. A "beauty day" before the date is therefore a good idea in any case and can be designed according to your individual ideas.
How should you care for yourself?
Feel good all around
Prepare correctly
Be clean
Tip 4: Outfit
There is still the question of the perfect outfit and this should also be right from the top to the bottom layer. What is to be seen, of course, should fit the type and location of the appointment. Your outfit can accordingly range from casual jeans to elegant evening wear and must reflect your personality. So wear what you feel comfortable in, is the most important principle in this regard. This also applies to your underwear: you should feel sexy in it if the date leads to a hot night. Women like to choose lace underwear for this purpose, even if its care is not entirely uncomplicated, because it simply gives them a uniquely seductive feeling. Men have less choice in this regard and usually go for classics like boxer shorts, which best show off their assets.
Which outfit should I choose?
Matching the location
Reflect personality
Pay attention to underwear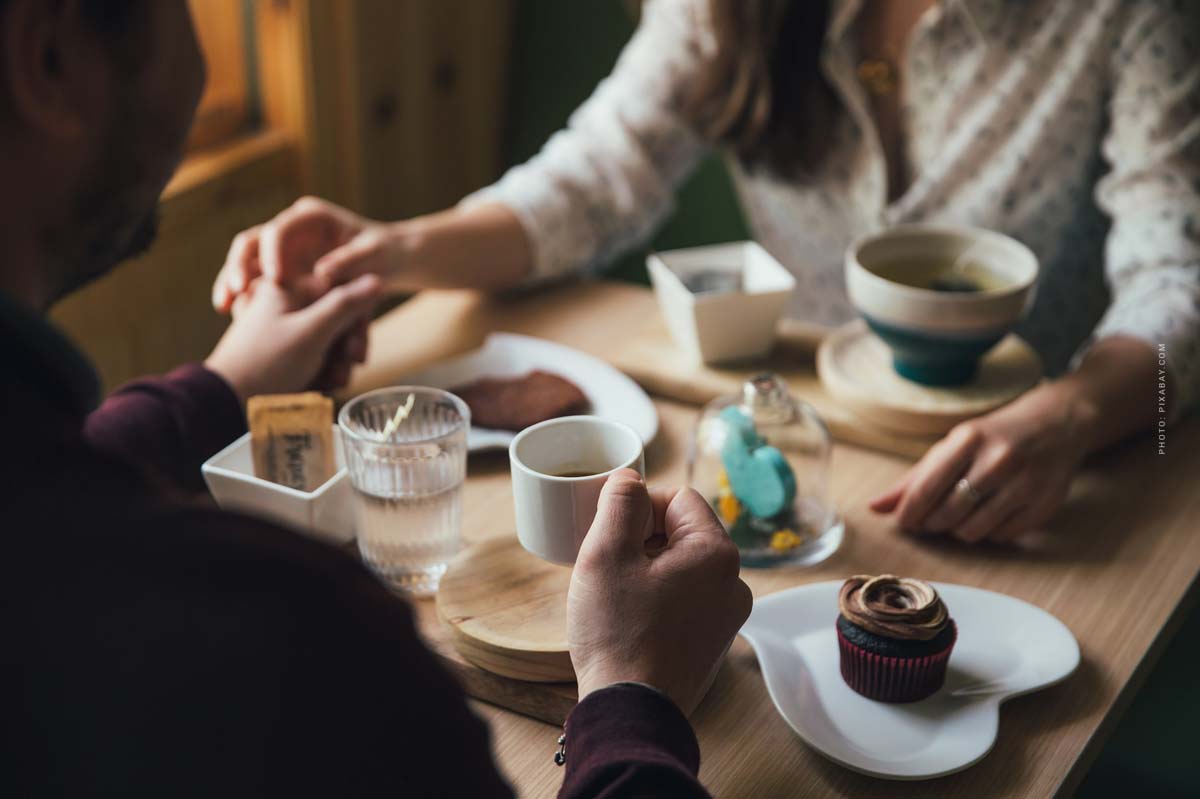 Tip 5: Small talk
The biggest fear most people have on a date is embarrassing silence. It's therefore worth thinking about possible topics of conversation in advance. Most dates start with classic small talk: about the weather, about hobbies, about the job – just as the topics arise. So, in case of a sudden silence, you can prepare some questions, because you shouldn't start talking about yourself all the time. If, on the other hand, you want to make the date more impersonal or unusual, more creative topics of conversation are possible: for example, come up with scenarios like "what would you do if you won the lottery today?" or show humor with stories like the one about your most embarrassing experience. Again, there are no limits to your creativity. Ultimately, the date should be one thing above all, namely fun.
What should we talk about?
Small talk about weather & co.
Prepare questions
Don't just talk about yourself
Tip 6: Approach
If the chemistry is right, sooner or later there is usually an attempt at a physical approach. This can come from both the man and the woman. The motto is therefore courage. However, it is important to read the signs whether he or she wants this at all – and to accept a "no". You yourself also need to set boundaries if something makes you uncomfortable. Thus, the date can end before the first kiss or in bed after all, depending on how both decide this by mutual consent. Even with sexual acts, it is allowed to try something, but of course only if he or she wants to. Again, communication is the be-all and end-all for a successful date.
How should one approach?
Plenty of courage
"Being able to accept "no
Decide together
Tip 7: Honesty
This also applies to the last tip, namely that of honesty. This is even important in casual dating. This means honestly discussing your own expectations for the date or the time afterwards. It means being honest if something goes too fast or too far for you. And it also means honestly explaining any break in contact after the date. Because methods like so-called ghosting, which has unfortunately been rampant for several years (not only) in the dating world, cause unnecessary frustration and possibly even pain. Therefore, you should also be honest from the beginning when it comes to the question of what you are looking for, whether you would like to meet again, whether you can imagine more with him or her…and so on. At first glance, this may sound annoying, even exhausting. But at second glance it will save you a lot of drama if you play your cards right from the start. Nevertheless, you can't expect your counterpart to do the same. Once again, it is therefore worthwhile to let a (casual) date come to you in a relaxed manner and simply wait and see where it leads.
Value honesty:
Discuss expectations and future honestly
Be honest to avoid ghosting
Conclusion: Self-discovery in dating
Finally, you can define for yourself what constitutes a hot date for you and how far you want to go. With the right preparation and the tips mentioned, you will then experience exactly the day, the evening or the night, which you have imagined in advance. At the same time, the date will only be really exciting if you let it come to you a bit and are open to the unexpected – of course, while maintaining your boundaries. Because even in casual dating there are unwritten rules: Discretion, no jealousy or violence, and the aforementioned honesty. Then all eventualities can occur from a one-time date to the very big love. Have fun!

https://fivmagazine.com/wp-content/uploads/2022/02/date-paar-liebe-valentinstag-ausgehen-schnee-winter-kuss-herz.jpg
800
1200
Elisa
/wp-content/uploads/2023/08/fiv-magazine-logo-news-influencer-fashion-interior-travel-real-esates.svg
Elisa
2022-01-11 10:51:26
2022-02-26 17:31:28
Casual dating: tips and tricks for the perfect Valentine's Day