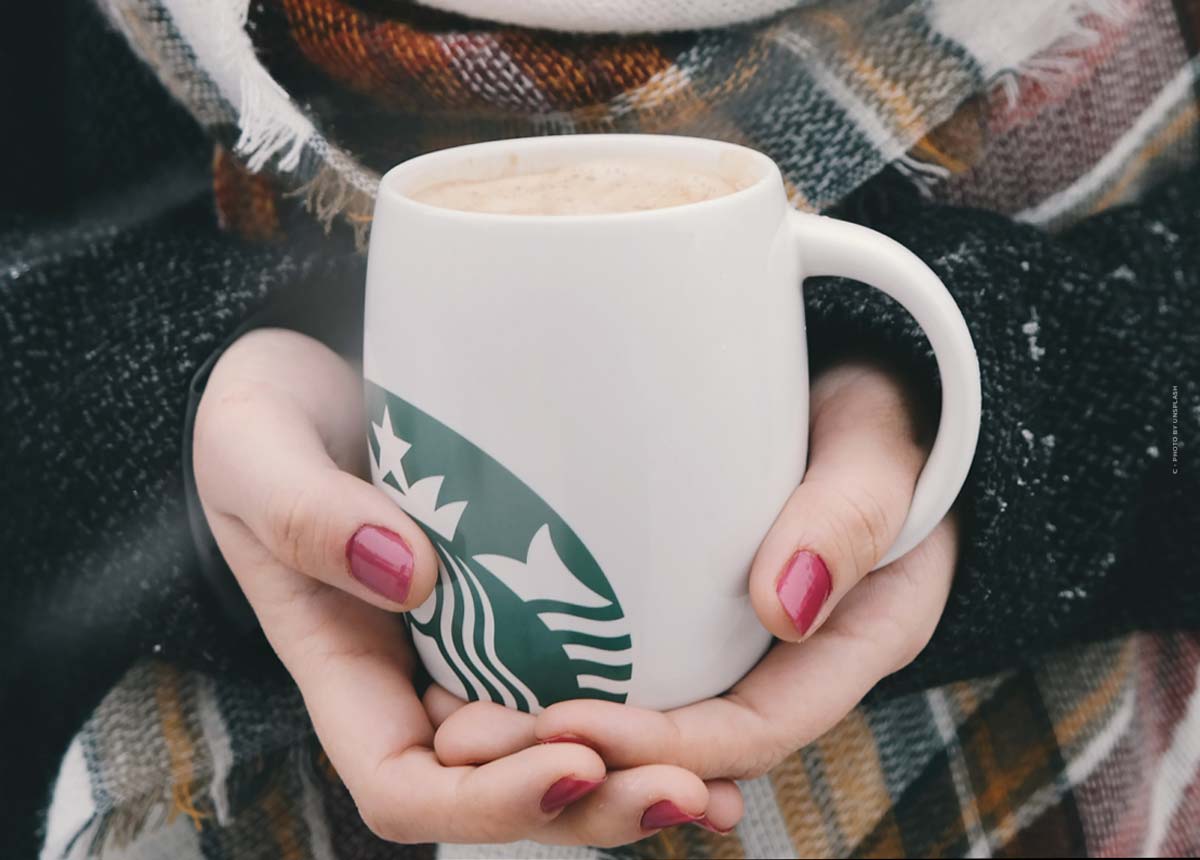 Have you ever wondered how you can easily recreate the most popular Starbucks drinks at home? Especially in the cold seasons, there's nothing we want more than to sit at home, curled up in front of the fireplace with a steaming cup, right? The crackling of the fire in your ears, an exciting book in your hand and your gaze fixed on the snow-covered landscape outside your window. In moments like these, sometimes you want nothing more than to make yourself a delicious Pumpkin Spice Latte or a White Chocolate Mocha to only enjoy the wintry mood even more! In the following article, we present the top 3 most popular drinks for the cold seasons of the American chain and show you step by step how you can make your own Starbucks drink at home!
+ AD + Kennst Du schon?
Starbucks Drinks for Fall & Winter
We've all been there: walking past a Starbucks store on a cold fall day and seeing all the delicious winter drinks that make our mouths water. But Starbucks is delicious – and, unfortunately, expensive. The solution: make your favorite Starbucks drinks at home. Not only will you save yourself a trip to the nearest Starbucks, you'll also save a few euros! Best of all, you don't need a lot of ingredients to make drinks like the Pumpkin Spice Latte, the White Chocolate Mocha or the healthy Matcha Tea Latte.
DIY: Pumpkin Spice Latte
The Pumkin Spice Latte is one of Starbucks' most popular drinks. With its spicy yet sweet flavor, it's the perfect fall treat. To pimp your latte, you can use cinnamon, chocolate shavings, or other decorations in addition to cream. Either create the autumnal coffee drink with a fresh pumpkin, or use a ready-made Pumkin Spice spice. You can even get this one easily on Amazon, as a classic syrup or as a spice blend. We'll introduce you to both recipes!
Recipe with fresh pumpkin
You'll need these ingredients for one cup of fresh Pumpkin Spice Latte:
1 pumpkin
4 tablespoons cinnamon
4 tsp nutmeg
4 tsp ginger
3 teaspoons clove pepper
Agave syrup
1 tablespoon fine pumpkin puree
1 fresh espresso
Milk
Pumpkin preparation: Halve your pumpkin and remove all seeds with a tablespoon. Place both halves of the pumpkin on a baking tray with baking paper and bake in the oven at 200° C (fan oven 180° C) on the middle shelf for approx. 45 – 60 min. The flesh of the pumpkin must be soft at the end. Depending on the size of the pumpkin, the baking time varies. Take both halves of the pumpkin after baking time on the oven and let them cool down. Then scrape the pumpkin flesh off the peel with a tablespoon. Put the flesh into a container where you puree it finely.
Spice mixture: Mix the cinnamon, nutmeg, ginger and clove powder in a small bowl. Thoroughly blend the agave syrup with a tablespoon of the blended spice mixture until a uniform syrup is formed.
Froth your milk as usual and add an espresso shot. Now mix a tablespoon of the pumpkin puree with the syrup. To spice up your Pumpkin Spice Latte, dust it with cinnamon, or enjoy it with whipped cream on top!
Recipe with Pumpkin Spice seasoning
If you want to make your Pumpkin Spice Latte quickly and easily, you can also use a ready-made syrup instead of the fresh pumpkin and the Pumpkin Spice spice you created yourself. You can buy this for example at Amazon.
Ingredients for one cup of Pumpkin Spice Latte:
Pumpkin Spice seasoning or syrup
1 fresh espresso
Milk
Froth your milk as usual and add an espresso shot. Now mix this with 2 teaspoons of Pumpkin Spice syrup. Depending on how strong or weak you want the Pumpkin Spice flavor, the amount of syrup will vary. To spice up your latte, sprinkle it with cinnamon or add a little cream on top. Enjoy!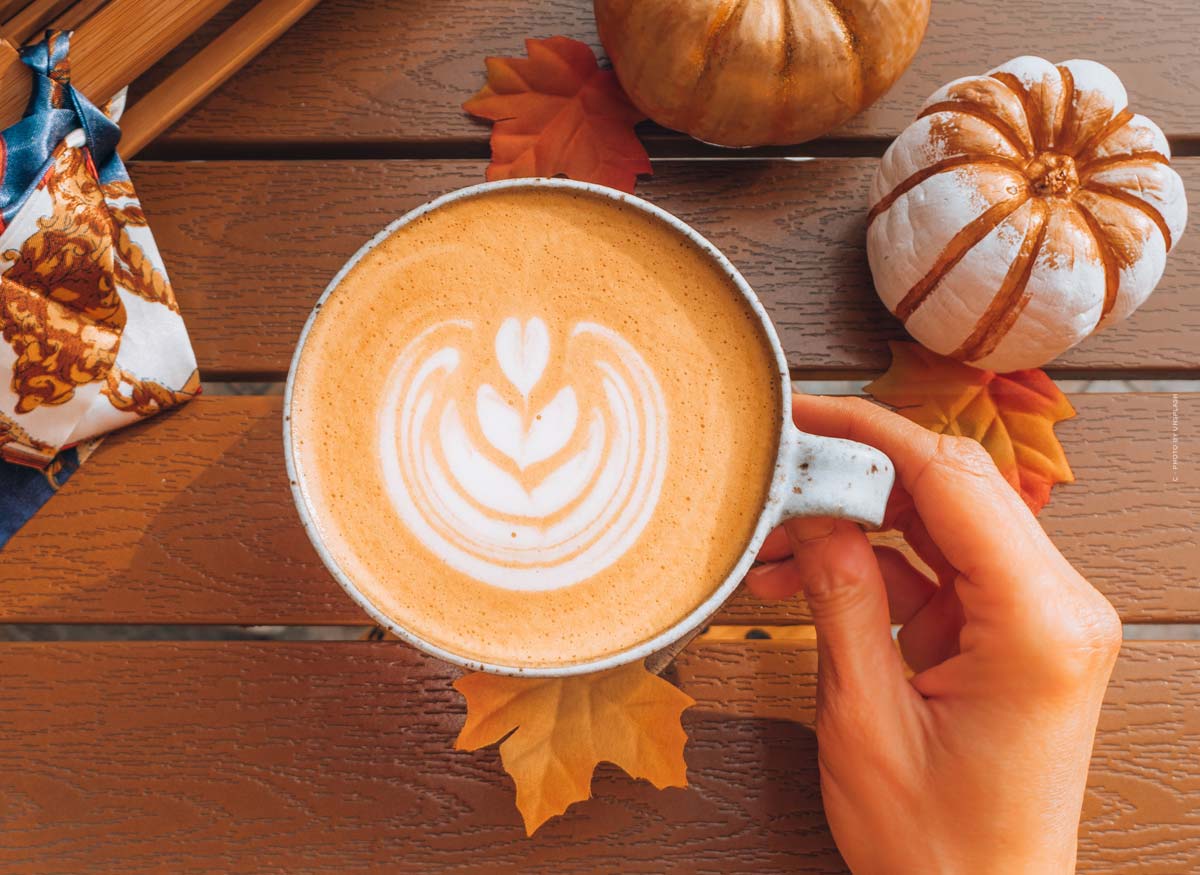 DIY: White Chocolate Mocha
Along with the Pumpkin Spice Latte, the White Chocolate Mocha is one of the most popular Starbucks drinks for the cold season. The basic ingredients for this drink are very simple: The main ingredients are espresso, milk and chocolate syrup. You can top your White Chocolate Mocha with whipped cream, marshmallows, or extra chocolate chips. We show you how to mix these ingredients in the right proportions and where to buy the chocolate syrup.
Recipe with chocolate syrup
These are the ingredients you need for a cup of White Chocolate Mocha:
45 millilitres white chocolate syrup
1 fresh espresso
Milk
Cream
Heat the milk in a saucepan, microwave or your coffee maker.
Add the white chocolate syrup to the glass.
Pour the espresso over the syrup and mix the two.
Now fill up the glass with your hot milk, but leave some room for the cream.
Finish your White Chocolate Mocha with whipped cream, marshmallows, chocolate chips or other toppings as desired.
DIY: Matcha Tea Latte
Matcha is considered one of the healthiest green teas. Its intense green color and tart taste characterizes the Japanese tea powder. For two years now, matcha has been one of the most popular trends and is offered as a hot drink by numerous companies such as Starbucks. You too can make your own Matcha Tea Latte at home. All you need are three ingredients: Matcha powder, water & milk. In the following article you will learn how to mix them in the right ratio. However, matcha powder is not as easy to dissolve in hot drinks as many people think. We show you how it works and where you can buy the matcha powder!
Recipe with Matcha powder
These are the ingredients you need for a cup of Matcha Tea Latte:
Match powder (1-2 teaspoons)
Hot water
Frothed milk
Agave syrup or honey
Decide for yourself how much matcha you want in your drink. The more matcha, the more bitter your hot drink will taste, and vice versa. Pour about 100 ml of hot, but not boiling, water over the matcha powder. The ideal temperature would be 80°, as the matcha will not become bitter this way.
A bamboo whisk called a chasen is traditionally used to foam the matcha. Through this you get wonderfully frothy matcha, which is already really delicious pure. If frothing with a bamboo whisk is too expensive for you, an electric milk frother will also do.
Add some agave syrup or honey if you prefer it sweeter.
Now froth up some milk and add it to the prepared tea – and your Match Tea Latte is ready!
You can buy the match powder in many tea shops or online. We have selected a set on Amazon, where you have the powder and the bamboo whisk.
+
https://fivmagazine.com/wp-content/uploads/2020/11/starbucks-winter-coffee-diy-matcha-mocha-pumpkin-spice-latte-recepts.jpg
860
1200
Lisa-Marie
https://fivmagazine.com/wp-content/uploads/2020/07/fiv-magazine-news-instagram-youtube-tiktok-influencer-fashion-interior-jewelry-real-estate-tips-help-logo.png
Lisa-Marie
2020-11-16 11:34:43
2021-07-17 17:42:52
DIY Starbucks: Warm Drinks Perfect for the Cold Season – Recipes & Ingredients