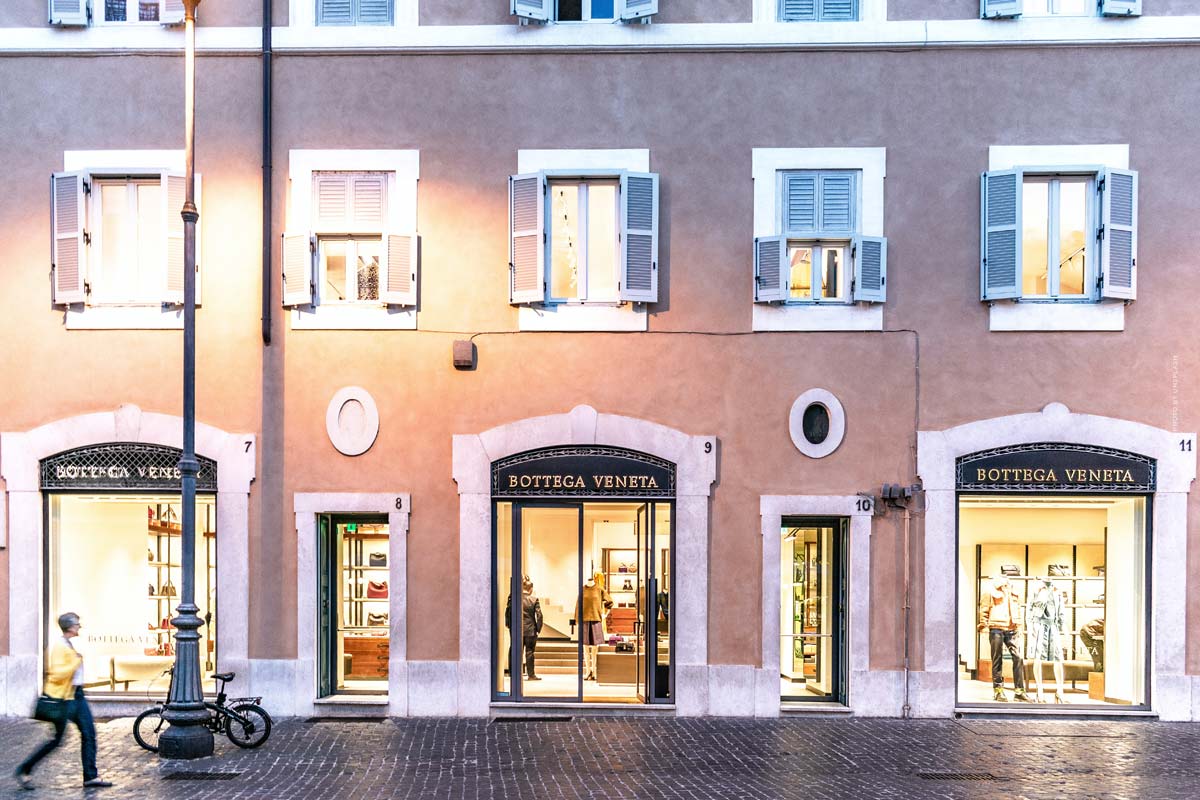 Bottega Veneta: shoes, bags and leather goods in minimalist design
Bottega Veneta – Shoes, bags & leather goods follow clothing. Not so with Bottega Veneta. The fashion house starts with leather goods in the form of shoes and bags before venturing into the world of clothing. The original masterful craftsmanship in leather has been preserved to this day. Added to this is a no less luxurious and high quality clothing line. For the ladies as well as for the men. What started in a small Italian village has made its way to the fashion Olympus in a hurry. What is the exact development process of the luxury label? What are the recognizable features of the fashion brand? Which items have established themselves as iconic models? This and much more will come to you in the following article!
Bottega Veneta: shoes, bags and popular accessories in leather
Bottega Veneta – in Italian "Venetian Shop" – inspires with its sense of luxury and elite. The epitome of artful design and fine craftsmanship. In the house of Bottega Veneta, one consciously decides to avoid the hype "Logomania" and remains true to its minimalist and fine design handwriting. The Italian luxury label was founded by Michele Taddei and Renzo Zengiaro in 1966. Since its birth, the label has shone as an unobtrusive but very much present treasure in design heaven. A narrow tightrope walk that Bottega Veneta still masters brilliantly.
Timeline: from bags, shoes and leather goods to clothing, sunglasses, jewellery and perfumes
1966: successful start, rapid growth under Michele Taddei and Renzo Zengiaro
90s – 2001: severe recession (Vittorio and Laura Moltedo(Taddei's ex-wife))
2001: Sale to Gucci Group
2001: German designer Tomas Maier revolutionizes Bottega Veneta
Early 2000s: jewelry, sunglasses, perfume & fashion line
2005: first women's ready-to-wear collection
2006: first men's ready-to-wear collection
2018: Tomas Maier leaves the fashion house
2018: Daniel Lee succeeds as creative director
Secret of the braided pattern: "Intrecciato fabric".
What is feared as a disadvantage against competing labels turns out to be the most important innovation that heralds the success of the fashion brand. The "Intrecciato fabric". Shortly after its founding, Bottega Veneta's production machinery seems to put it at a disadvantage compared to other manufacturers of leather goods. The house's sewing machines do not have the strength to fuse more robust leathers. Creative thinking and a willingness to compromise result in the iconic development of the "Intrecciato fabric". To effectively utilize delicate, supple leather, they opt for a woven pattern to ensure the durability of their handbags. Why they choose the name "Intrecciato"? "Intrecciato" is the Italian term for "woven" and thus acts as a direct term description.
This type of braiding establishes itself as the iconic recognition mark of the brand. To this day, the Intrecciato weave remains popular in the fashion industry. The entire range of the accessories line enjoys the "Intrecciato weave"!
Creative Directors: German and English designers revolutionize the fashion house
As exemplary as the start of the company was, the first change of creative director was sobering. However, this was to change abruptly in 2001. German designer Tomas Maier restored the fashion house to its former glory and led it to the top of the fashion world. Daniel Lee, his successor, is no less talented and goes one step further: nominations from the fashion label and as a designer himself crown his success. See for yourself!
Designer Tomas Maier: quality craftsmanship and minimalist aesthetics
Sonia Rykiel, Guy Laroche, Revillon and Hermès. The list of fashion houses for which the German designer worked before his career peak is impressive. After studying at the Chambre Syndical de la Haute Couture in Paris, he founded his own label in 1997. In addition to swimwear, he also created general womenswear and menswear. 2001 – the year in which his career reaches a new dimenson. Tom Ford appointed him as the new creative director at Bottega Veneta. Thus, not only his career, but also the image and sales figures of Bottega Veneta reach a new dimension. His career at the luxury label lasts for 17 years. An 800% increase in profits is statement enough and shows what the fashion house owes to the talented designer from Germany. He has put the focus back on clean and quality craftsmanship:
"The Italian artisan was the starting point. Today, the collaboration between designer and artisan is at the heart of everything we do!"
Video Interview: Suzi Menkes with Tomas Maier
You always wanted to know how the former creative director of Bottega Veneta reflects on his successful years at the luxury label, how he addresses the importance of personal design signature and how he defines his version of future fashion? The following video will give you answers to all these questions and much more:
Daniel Lee: Bottega Veneta at the top of the fashion world
Hailing from the north of England, the design talent is able to explore and perfect his creativity and talent at Central Saint Martins. Internships at Martin Margiela and Balenciaga and jobs at Donna Karan and Céline gave him the opportunity to showcase his talent. With success: in 2018 he was appointed Creative Director of Bottega Veneta.
Daniel Lee shows that he has a strong understanding of the label's desingern, but is also a friend of innovative and creative thinking. The result: a genuine, as well as sublime, timeless appeal. He makes luxury consumers buy and all fashion lovers dream! The implementation of his philosophy? He "blows up" the typical "Intrecciato" braided pattern, creating new dramatic dimensions without losing the basic core of the design. He respects his heritage, but at the same time has the courage to give it his personal signature.
"If you think about it a little bit, there's so much you can do with this weave pattern. I liked the idea of making it bigger because I like things that are bold and very direct. I like things that are uncomplicated!"
Bottega Veneta under Daniel Lee, Designer of the Year: Video
Daniel Lee strongly influenced the design of the fashion house Bottega Veneta. his stylistic means are summarized here and describe Lee's personal signature and his greatest, previous successes at the house Bottega. All these creative approaches and ideas have contributed to the design talent winning the award for "Designer of the year" in 2019. See for yourself in the video pasted below.
Minimalist design
New interpretation of the classic weaving pattern
Leather coat in chocolate bar structure
Quilted mules
Square toe mesh shoes with ankle gold chain
The Pouch bag
Models and popular designs of the luxury label Bottega Veneta
What the Kelly Bag is to Hèrmes, the Cabat Bag is to Bottega Veneta. New creations in recent years also show potential for the house's new IT pieces. It's not just the label's unique styles that have iconic value. It equally shines with its determined, authentic design signature. See for yourself what Bottega Veneta is all about and which products have the potential to become iconic classics of the fashion house:
Bottega Veneta design signature
While many fashion brands fall for the logomania trend, Bottega Veneta remains true to its design aesthetic and meets with much approval in the fashion world. The following slogan sums up the philosophy of the luxury label:
"When your own initials are enough!"
Leather goods with special weaving technique
Handmade
No logo
Woven pattern ("Intrecciato")
Timeless design
Simple & clean aesthetics
Famous products: Leather in the form of bags, shoes and co.
Bags shine in minimalist "no-logo" aesthetics in the midst of the "Logomania heyday". The artful leather designs captivate with its own braiding technique and purist look. Prices vary in a price range from 1700€ up to 78.000€. The following is a list of the label's most iconic and popular bag models:
Cabat bag
Tote-Bag
KNOT Clutch
The Pouch
Ladies' clothing: Trousers, dresses and co. in Bottega aesthetics
Bottega Veneta has found a way to inspire women with timeless, puristic and elegant design with attention to detail. See for yourself how dresses, pants and co. by Bottega Veneta have become the design favorites of many fashion lovers.
Maxi, Midi & Mini Dresses
Bottega Veneta knows what makes women's hearts beat faster – dresses that emphasize their beauty without sacrificing practicality and comfort. Daniel Lee delights customers with timeless creations with attention to detail:
Knee-length dress in stretch lambskin: brown (€3,800)
Crocodile green wool dress: striking elastic waist (€1,800)
Maxi dress: turtleneck in fine viscose knit (€2,200)
Jackets: trench coats, coats & co.
Leather, purist design, splashes of colour and straight lines wherever you look. Whether it's a winter walk in the snow, an elegant cocktail evening or a pizza night with girlfriends – Bottega Veneta has the perfect, timeless yet extravagant jacket for every occasion in its repertoire. See for yourself:
Trench coat with rounded shoulders: black (€2,400)
Crochet jacket: Lavender (€1,750)
Short blazer jacket: waxed calfskin cream (€5,500)
Pants: wide leg, minimalist design and extravagance
Legroom in trousers? The luxury label knows how to create trousers with a focus on comfort and functionality. All this without neglecting design, aesthetics or style. Pants that are able to give every outfit that certain something without drawing all the attention to themselves. Subtle IT-piece – see for yourself:
Pants with adjustable ankle zipper: cream (€1,950)
Wide pleated trousers: black (850 €)
Black vintage leather trousers with buckle at hem (€2,900)
Shoes: Boots, sandals and co. from Bottega Veneta
Intrecciato braided patterns, exquisite leather goods and geometric heels – what sounds like a wildly thrown together bunch of words, Daniel Lee is able to unite into it-piece shoes. The "blown up" braided pattern runs through a large part of his shoe creations – with success. The shoes have become a fixed part of the wardrobes of many bloggers, fashion editors and fashion lovers.
Boots: leather, rough soles and extravagant heels
"The Lug Boots" with chunky sole in white (850 €)
"The Tire Boots" with petrol-coloured sole (890 €)
"The Puddle Boots" in neon pink (490 €)
Sandals: Intrecciato Braided Pattern All-Over
"The Lido Sandals" with braided fabric in cream (€990)
Flat "Padded Sandal" in black (550 €)
Sandals in leather covered meshmataerial and gold chain in beige (920 €)
Pumps: Geometric heels, bright colours and gold chains
"Stretch Pumps" in black with square toe and gold chain (790 €)
Lace "Almond Pumps" with geometric heel in lilac (€690)
"The Point" sandals in white with strappy detailing (€890)
Bags: Braided pattern, leather and gold chains
"Women carry their life in their handbag!" – Bottega Veneta understands the importance of a handbag and creates timeless masterpieces that complement every woman's outfit. Instagram is proof of the popularity of the fashion house's bags – it's rare to find a blogger's feed where there isn't a single piece of jewellery from the label. The timeless aesthetic, quality craftsmanship and minimalist design with that certain something make fashion hearts beat faster:
Clutch: Small but nice in minimalist Bottega style
"The Pouch" voluminous clutch in beige (€1,500)
"The Pouch" in zebra look (€2,300)
"The Fringe Pouch" with fringe details in brown (€2,200)
Shopper: Big, bigger, Bottega Veneta
Beige "Arco Tote Bag" in Intreccatio design (€1,850)
"Tote Bag" in V-shape in lilac (€1,500)
"The ChainTote" in Intrecciato Shearling with chain handle (€4,500)
Handle bag: geometric details, padded leather and splashes of colour
Medium "Arco Bag" in cream (€2,950)
"The Triangle" bag in dark red (€2,500)
"The Handle" in upholstered nappa leather in white (€3,600)
Menswear: leather and denim at Bottega Veneta
The luxury fashion house not only inspires the women's world with its innovative, minimalist and timeless designs – the men's world has also jumped on the Bottega Veneta bandwagon. The design house knows how to offer men a quality, stylish, timeless and detailed outfit. From washed out trousers to military jackets and cropped shirts, you'll find everything you could want and beyond. See for yourself:
Shirts: leather elements, minimalist elegance and extravagance
The fashion house designs shirts away from the stuffy cliché of a shirt. From a cropped box shape to bright lilac and military style, Bottega Veneta's shirt range promises variety without sacrificing elegance, quality and comfort.
Short-sleeved shirt in lamb leather in brown (2.300 €)
Military style shirt in lavender (550 €)
Short, boxy shirt in raw denim (€850)
Blazers, jackets and short jackets in Bottega aesthetics
Shirt, pants and shoes? What's an outfit without a jacket? – Not complete. Bottega Veneta knows how to inspire its clientele with stylish, timeless yet extravagant jacket designs. Convince yourself:
Military flannel double breasted jacket (€1,600)
Double breasted jacket in black (€1,750)
Cropped jacket with kimono sleeves in olive (€1,900)
Luxury brand suit trousers, jeans and wide leg trousers
The luxury house captivates with its timeless trouser designs and its sense of comfort, practicality and aesthetics. The minimalist and qualitative design runs through the entire range. A wide-ranging assortment that spans from different lengths, to different materials, to color experiments. See for yourself:
Cotton trousers with wide leg in brown (850 €)
Pants with patch pockets in beige (890 €)
Raw Denim Jeans (€750)
Perfume: Popular fragrances for men and women like
In addition to bags, shoes, leather goods and accessories, perfumes are also part of the exquisite range of the design house. Bottega Veneta creates perfumes for the independent, strong woman and creates a timeless, distinctive fragrance play. Convince yourself!
Bottega Veneta Eau de Parfum
A leathery-floral chypre composition in homage to renowned leather products of the brand. It evokes the suppleness and sensuality of iconic leather items paired with the freshness of the Venetian countryside. For 70€, the elegant glass bottle is yours!
Bottega Veneta Illusione Female
Ultimate luxury in a bottle – a floating moment between dream and reality. The fashion house creates an extraordinary and unique fragrance composition of bergamot, black currant, orange blossom and fig leaves. The floral-woody eau-de-parfum can be purchased from a price of 120 €!
Fashion Shows: Bottega Veneta fashion shows with collections & highlights
Consuming fashion and shoes in boutiques or online shops brings joy and fun. Admiring the collections in the form of a fashion show reaches a whole other level of excitement, inspiration and joy. Fashion from clothes racks seems to come to life. Fashion shows resemble elaborate productions in this day and age, with each label creating its own personal definition of "perfect" fashion show. See for yourself:
Video: Bottega Veneta Fall/Winter 2021 Collection Fashion Show
The models walk down the catwalk to a small but fine string orchestra. Black, greens and glitter dominate this collection. Highlights of the collection range from maxi bags to fringe details to extravagant sunglasses and beyond!
Video: Bottega Veneta Spring/Summer 2020 Collection Fashion Show
The majority of this collection comes from a dark colour palette with a focus on black. Furthermore, splashes of colour in blue & red tones inspire the audience. Particular eye-catchers are coloured leather coats, the reinterpretation of the Intrecciato weave and refined cuts. Convince yourself:
Outlet Store: Buy Bottega Veneta in Metzingen
If your wish list of Bottega Veneta products is getting longer and longer, the outlet store in the outlet city of Metzingen in Baden-Württemberg offers the perfect opportunity to fulfil one of those wishes. Discounted designer creations, shopping trip and Bottega Veneta world all in one:
https://fivmagazine.com/wp-content/uploads/2020/12/bottega-veneta-tasche-schuhe-parfum-accessoires-outlet-designer.jpg
800
1200
Lisa-Marie
/wp-content/uploads/2020/07/fiv-magazine-news-instagram-youtube-tiktok-influencer-fashion-interior-jewelry-real-estate-tips-help-logo.png
Lisa-Marie
2020-12-05 09:00:49
2021-07-17 17:08:19
Bottega Veneta: shoes, bags and leather goods in minimalist design