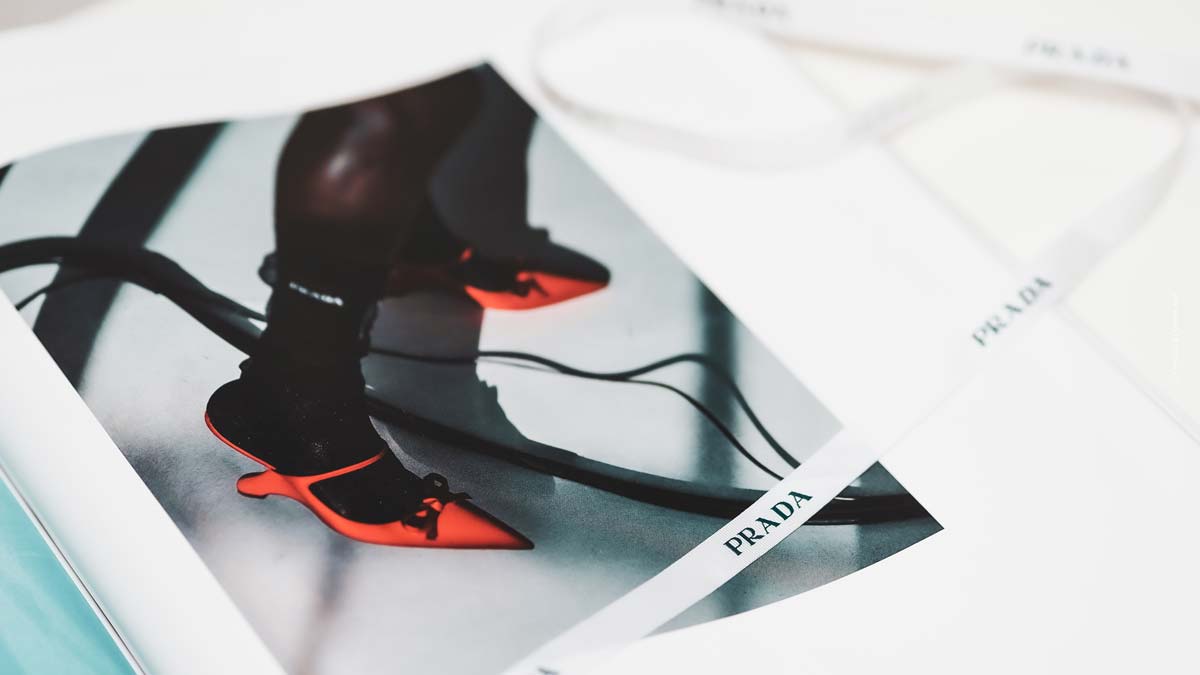 Prada shoes: combat boots, pumps and sneakers with logo
Prada Shoes – "I like life spent, in good or bad, doing something significant. Maybe the only thing I fear is boredom." – says head designer Miuccia Prada. This explains why Prada shoes are never boring or basic. Prada creates shoes that make any look stand out without stealing all the attention. Rough boots, modern pumps and urban sneakers – Prada offers the complete range of shoes and inspires the fashion world with them. Have you been dreaming of entering the Prada world for a long time? Welcome to the Pradamania world! Read all about Prada here.
Prada Shoes: Influencer IT Pieces from Italy
Whether it's rough boots, elegant pumps or sporty urban sneakers – Prada knows how to inspire the fashion world. The shoes of the fashion house shine with unique design, recognition value and comfort. The Instagram feeds of influencers and celebrities shine more and more often m Pradamania look, and not without reason. Want to know what the label's most popular shoe creations are? You are interested in how much money you have to invest for such dream shoes? This and much more will be revealed to you in the following paragraphs.
Fashion trends & styles? You can now find them on our Pinterest page! On Pinterest we present you the coolest trends from the fashion world. Dresses, shoes, bags and much more. Take a look at our pinboard for Prada shoes!
Linea Rossa sneakers: urban style in black, white and red
Prada's autumn/winter 2020 collection reflects an urban, dynamic and sporty lifestyle. This can also be seen in the shoe collection. The sneakers inspire with 3D details and shine in a futuristic look. The Prada Collision 19 LR sneakers are crafted from fabric and feature three-dimensional rubber details. The Prada Linea Rossa logo acts as a signature element. A rubber sole with internal air cushion technology shows the innovative and creative thinking of the fashion house. A shoe which shines with its minimalist design, simplicity and comfort! The shoe collection ranges from hightop sneakers to classic trainers and sneakers with velcro straps:
Prada Collision 19 LR Sneaker (€750)
Prada Polarius 19 LR Sneaker (€820)
Prada Polarius 19 LR High Top Sneakers (€850)
Linea Rossa Collection Campaign – Video
Shoes in the typical colour palette – red, black and white. Innovative materials, creative design and timeless charm are key to the success of this collection. See for yourself:


FragranceTip.com by FIV
Prada Combat Boots: Pouchettes, leather and nylon combined
Combat boots made from brushed Monolith calfskin and nylon have secured a permanent place in the fashion world. The chunky platform sole paired with the lacing details give the boots an urban, military look. The small pockets made of nylon, also called pouchettes, act as a highlight and are fastened at the ankle with a strap. With 55mm high rubber outsole and Prada logo, these boots have made a name for themselves in the fashion world. Whether paired with a floral dress, military jumpsuit or pantsuit, these boots will make any look unique! The boots are offered in three variations:
Monolith brushed calfskin and nylon boots (€1,500)
Monolith brushed calfskin and nylon jumper boots (€1,300)
Brushed monolith calfskin and nylon lace-up shoes (€1,100)
Fashion Show FW19: Combat boots with pockets on the runway – Video
The Fall / Winter Fashion Show 2019 opens with an outfit and these it-piece boots. The military look of the boots is a common thread throughout the collection. The combat boots complement several looks in the show in different styles. See for yourself:
Prada logo spiked heel slingback pumps
Prada can do more than just urban and sporty – elegance is at least as important. Crafted from brushed leather, these slingback pumps shine in a powder-pink and black colorway for a sophisticated, modern and elegant look. The shoe's timeless design is accentuated with the Triangolo logo and stiletto heel. The elegant kitten heel measures a height of 55 mm. So this can work as an all-rounder in everyday wear, but can also enhance any party outfit. 750 € for a classic that will optimize any wardrobe!
Fashion Show FW20/21: Pumps, Pumps & Pumps – Video
At the Fall / Winter Runway Show 2020/21 Prada inspires with the use of pumps and high heels. The majority of the models wear elegant, modern yet urban pumps to match their outfits. See for yourself how the different pumps blend perfectly with the outfits, whether casual or elegant!
Prada: More articles on the luxury brand.
Shoes, handbags, fashion shows of the luxury brand – more about the world of Prada:
Prada: The brand
Prada – a simple company, which in the beginning produced noble leather goods such as suitcases, handbags and gloves, to worldwide Italian luxury brand, which always convinces with exclusive collections and products. The designer Miuccia Prada presents the most elegant and creative collections without losing her signature and committing to a style.

Prada nylon
Prada Nylon – Whether the weekly supermarket shopping, the way to work or the elegant birthday party in the evening – Prada has bags for every occasion in its assortment. From simple shoulder bag classics to colourful shoulder bags with metal details to practical tote bags – Prada bags can be perfectly integrated into everyday life, but also used as an eye-catcher of an outfit. Wondering what price range Prada bags are in? Are you interested in the design codes of Prada bags? All this and much more will be revealed to you in the following overview!
Prada Videos
Prada Videos – Not only unique, creative and elegant collections, but also the high quality fashion distinguish the luxury brand Parda as an exclusive label. The collections of the brand convince with extraordinary designs and distinctive looks. Take a look at the latest Prada collections and get an exclusive insight into the preparations for the fashion shows.

Alternatives: Brands like … Prada
After learning all about Prada, you want to know more about the other big fashion houses? Chanel, Fendi, Dior – behind them all lies a decade of success. Curious about the stories behind the names? Here is a selection of the most popular fashion houses for you:
Here you will find our lists, with the top brands:
https://fivmagazine.com/wp-content/uploads/2020/12/prada-schuhe-luxus-pumps-schwarz-zeitschrift-rote-sohle-band.jpg
675
1200
Lisa-Marie
/wp-content/uploads/2023/08/fiv-magazine-logo-news-influencer-fashion-interior-travel-real-esates.svg
Lisa-Marie
2021-01-07 07:00:31
2021-01-07 07:00:31
Prada shoes: combat boots, pumps and sneakers with logo