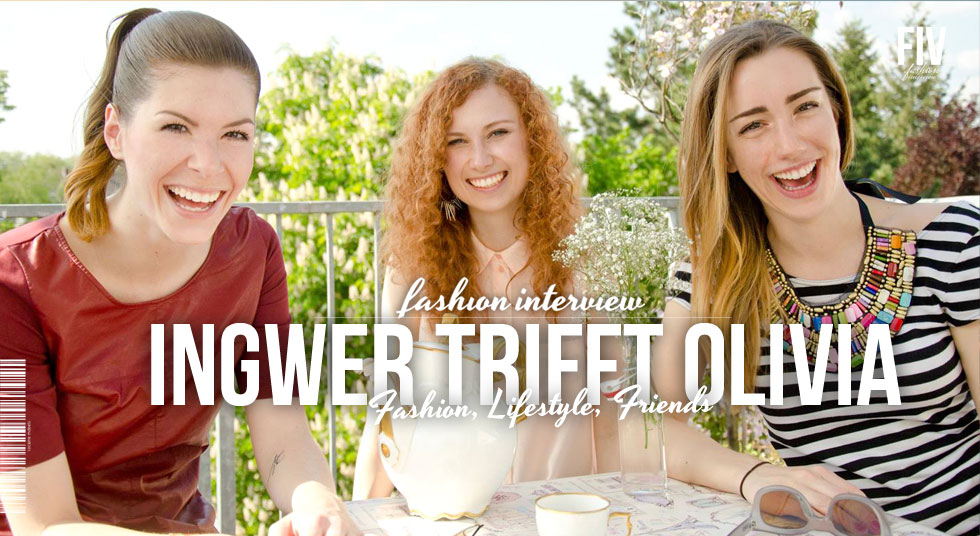 The fashion bloggers from Ginger Meets Olivia
Christina, Nora and Julia – three likeable & smart girls with one big passion: fashion! The bloggers are not only connected by a close friendship, but also by their joint blog "Ginger meets Olivia". Besides their studies and jobs, the girls from the Rhineland like to be inspired by fashion, people and the most diverse places in the world. With joy they share their impressions with their followers. I talked to them about the creation of their blog, inspirations and their passion for fashion.

Ginger meets Olivia: More than "just" fashion
FIV: The name "Ginger Meets Olivia" is not necessarily a typical name for a fashion blog, how did you come up with it?


FragranceTip.com by FIV
It was on one of those magical winter evenings just after Christmas: We were all toasting to life with home-brewed ginger liqueur and decided we wanted to start a project together. Our Nori's middle name is Olivia – she had the idea that we start a blog together. So somehow we came up with the name "Ginger Meets Olivia".
FIV: How did the three of you meet?
Nora and Julia met in the fashion world a few years ago. Christina and Nora, in turn, studied together in Cologne and it was through Nora that Christina and Julia met. So it took a little while until we found each other. No one will ever get us apart again.
FIV: What do you write about on "Ginger Meets Olivia"?
We are mainly concerned with fashion, but not necessarily only with the latest trends on the international catwalks. We are more concerned with the role that fashion plays in our everyday lives. Primarily as a "look", of course, but also as an expression of our mood and personality.
Besides fashion topics, we also write about exciting trips we have taken and now want to share. Or about exciting exhibitions. We give style tricks, reveal where we like to go shopping, in which city you can get the most delicious cupcakes and how to make friendship bracelets or rhinestone jackets ourselves, for example. Sure, many topics on Inwer meets Olivia are pink and sparkly. But in our column we also deal with more serious topics, such as growing up or the demands of the multimedia performance society.
No matter what we ultimately deal with: It's important to us to stay close to our readers while remaining true to ourselves. We don't want to force our opinion on anyone – but we'd rather share it.
Ginger Girls: "We complement each other!"
FIV: How do you develop your ideas? How do you find out about new trends?
Many ideas come to us from what we experience every day. Inspiration comes mainly from the people we meet and spend time with. Depending on who you follow there, Instagram has also become a real source of inspiration, just like Pinterest. Of course, in the end, there's also the "girly girl" in all of us who snuggles up on the sofa with a cocoa and flips through the classic fashion and travel magazines.
FIV: How does the work between you three girls work? Are you rather different or similar in your personalities? In what way?
The three of us have very similar views in many respects, but also very different ones. That's exactly why we complement each other so well. Of course, we consult with each other when it comes to planning and finding topics, and we also help each other out. Basically, however, each of us works on exactly those topics that are close to her heart.
FIV: You are all three very fashion conscious, what are your fashion preferences? What do you never want to do without in your wardrobes?
Christina's wardrobe can't be without the classic blue jeans. She would never give away the small black shoulder bag by Joop, which she bought at her favorite flea market. Christina loves the simple elegance of Scandinavian fashion, with which she prefers to combine red lipstick and gold jewelry – colorful patterns and crazy cuts, on the other hand, are not her thing.
Nora's style has changed a lot during her time at "Ginger Meets Olivia". In the beginning, she put a lot of emphasis on high-priced statement pieces and preferred to mix and match whatever she felt like. In the meantime, she puts more emphasis on sustainability and stands for a clean style.
Julia loves casual black and grey, she also likes to wear statement jewellery with tattered jeans. Boots and hippie dresses are her "vice" – she can't get around them.
FIV: What do you consider eye-catching accessories that "pimp" any plain outfit?
The right shoes and the matching lipstick! In general, our motto is: Better to choose a real banger accessory than to overwhelm yourself with many small details.
Source of inspiration Fashion-Week Berlin
FIV: What has been your most enjoyable/interesting experience so far while working with your blog?
Especially exciting for us was the first visit to the Berlin Fashion Week. You have to get used to the whole fashion circus. So much inspiration and then also a week with the three of us, we were in heaven!
FIV: What is THE fashion city in Europe for you and why?
For Christina, Paris for sure. The French capital is known for its chic. But the Parisians are not only intuitively elegant – they can also be quite casual.
For Nora and Julia, Berlin is the European fashion capital par excellence. Nowhere do they find as much inspiration as in the German capital. Whether it's fashion, street art or lifestyle, Berlin offers an incredible amount in every respect.
FIV: What do you do with your blog besides work?
All three of us work as journalists in different fields. Julia is also a self-employed stylist and works in costume design in film.
FIV: What are your favorite designers/labels?
Christina loves Jil Sander, Acne and Cos, but also thinks the Asos designs are pretty cool.
Nora, like Christina, is mainly into Scandinavian brands, for example &otherstories, COS and Monki.
Julia is inspired by The Kooples, Zadig & Voltaire and Helmut Lang and mostly shops at Urban Outfitters, Monki, Zara , Mango and American Apparel.
Ginger meets Olivia: "We aim to inspire!"
FIV: What are your personal strengths?
The most important thing for our work together: We know that we can trust each other 100 percent and that we are always there for each other. These are qualities that we also value highly in others, just like honesty. The three of us are also always in a good mood (except at 6 o'clock in the morning), open to new ideas and, of course, up for any kind of fun.
FIV: What are your interests and passions?
When she finds the time, Christina enjoys reading books about happiness in life and the occasional soppy romance novel. There's nothing quite like travel, and a year and a half ago she discovered her love for Southeast Asia. To clear her head, she laces up her jogging shoes and runs through the forest.
Nora and Julia feel the same way as Christina: reading, yoga and traveling are their absolute favorite hobbies. Meeting friends is just as important to them as simply relaxing for an evening with Netflix or a good movie.
FIV: Is there anything you would never want to do without in your everyday life?
Christina can't do without a thick latte in the morning, she also puts her mobile phone down far too rarely and always has a red lipstick with her – you never know. She misses no one as quickly as her two sisters.
Nora is our little hippie and meditates for half an hour after getting up. As soon as she has a minute to herself, she immediately disappears into a corner with a book. She also loves to sit at a big dinner table with her friends and just enjoy life.
You meet Julia far too often with a coke or chocolate in her hand, but she loves to share them with her loved ones. Especially when she relaxes on the balcony in the evening with a view of her wild plant world.
FIV: What else do you want to achieve with "Ginger Meets Olivia" in the future?
Above all, we want to stay true to ourselves and continue to write about the topics that interest us. We are not primarily interested in monetizing "Ginger Meets Olivia." We want to inspire with it. Of course, we are also happy about cooperations and are always open for suggestions.
FIV: Thank you very much for the nice interview!
More information about the bloggers of Ginger Meets Olivia
https://fivmagazine.com/wp-content/uploads/2015/09/ingwer-trifft-olivia-fashion-liftyle-blogger-interview-freundinnen-cover-bild.jpg
536
980
Stephan
/wp-content/uploads/2023/08/fiv-magazine-logo-news-influencer-fashion-interior-travel-real-esates.svg
Stephan
2015-09-10 16:53:04
2015-09-10 16:53:04
The fashion bloggers from Ginger Meets Olivia