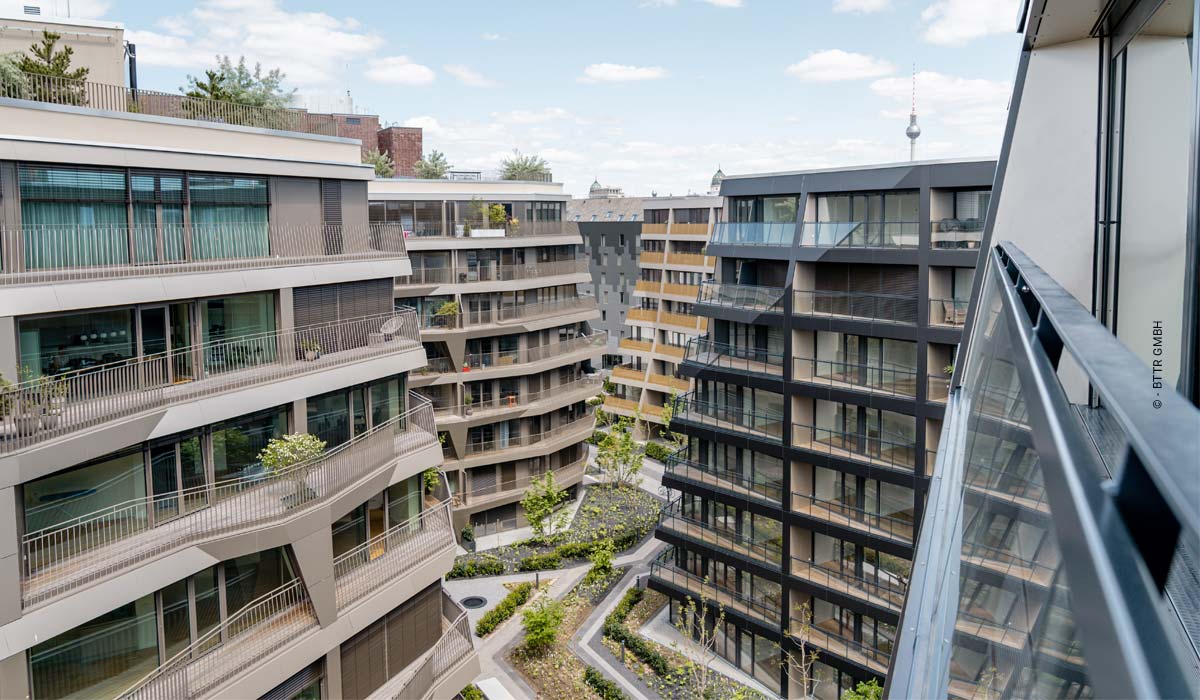 Flagship real estate in Berlin, residential, commercial & lifestyle – Graft Architekten interview (2/3)
Interview with Graft – Modern design elements, taking up and reinterpreting old traditions, in short: innovation! This is what the internationally successful German architecture firm Graft from Berlin stands for. The renowned company also has offices in Los Angeles and Shanghai, and is on the rise architecturally! We were allowed to interview the founders about their corporate philosophy, completed and future projects, and were thus able to get to know Graft in detail. In this part of the interview, you will learn exciting facts about flagship projects, as well as residential and mixed-use properties of the architecture firm. Whether KU64 Dental Clinic, Bricks or the Villa M in Berlin: Graft has something exciting to say about every project. Get to know the projects of the architects and their working methods and let yourself be enchanted by the charm of the individual architecture.
Residential, Offices, Commercial & Flagship Projects
The architectural firm Graft from Berlin was founded by three German architects, and is now a renowned and both nationally and internationally successful company. We have conducted an extensive interview with the founders, which we have divided into 3 thematic sections, for each of which an article was created. In the first part the founders talk about passion, foundation and drive of the company. The second part of the interview deals mainly with residential and mixed use projects. The third part deals with Graft's future projects. Click here to get to the respective parts of the interview:
Residential & Mixed Use
This section deals with flagship projects, as well as residential and mixed-use properties. Whether it's a dental practice, a revitalization project with historic preservation factor, or a modern villa for private owners: the portfolio of the architecture firm is versatile and unique. No two projects are alike, and there is always something new to discover! Take a closer look at the projects here and let the founders explain more about the development processes, ideas and concepts.
KU64/65 Dental practice with best location at Kudamm
FIV: One of your flagship projects is the KU64 Dental Clinic and the KU65 Kids Club in Berlin. When you are commissioned, one can always expect something special. As you can see from the photos, the KU64 Dental Clinic is an open space, partly with floating ceilings. It's a dunescape of sorts, and kids can even climb the walls in the Kids Club – you've never seen a children's dental clinic like this. Plus vertical gardens with lush greenery. What makes KU64 a special project for you?
Graft: What was interesting about the KU64 project was that a dentist called us. We hadn't done much in the healthcare sector before and actually came from the hospitality sector. For us, the opening of the path "from hospital to hospitality" was interesting. The root word already contains the same word: to be a host.
Not just a practice! Three jobs in one
Graft: We only accepted the request for the dental practice because the dentist Dr. Ziegler said that he was planning something bigger with this clinic and that he wanted a practice that would break all the rules and turn expectations upside down. We were happy to accept and I personally (L. Krückeberg) believe that we have succeeded in fulfilling this wish.
Basically, the project was divided into three jobs: We did the KU64 clinic on the Kudamm on the 5th and 6th floors, and expanded that at a later date to include the pediatric practice in the same building. In the meantime we have built more practices in this style for Dr. Ziegler, plus extensions in other locations.
Why a dental practice? The doctor is host, the patient is king
Graft: Why were we so interested in the project of a dental practice? Because Dr. Ziegler has understood that in our society, health care is basically a service to people, and that one is therefore a host. That a dental practice or a hospital should function like a hotel, where the guest is king. If you take this into account, you will also be successful.
The fact that we are still working with Dr. Ziegler today and that the project has always expanded is due to the fact that we have found narratives that revolve primarily around the patient: how he feels (treated and met). On the one hand, this is related to the abilities of a doctor, on the other hand, it is also related to the "stage" on which this doctor acts (this also involves, for example, lighting, elevators, etc.).
If you can do something like that as an architect, with the user and client as the director, then a lot can be achieved.
Architecture in the medical & health sector
Graft: This focus on the customer/patient interested us, and since then we have done an extremely large amount in this area – right up to the actual hospital. Intensive Care Units, for example, in which we work with experts to examine scientifically and evidence-based conditions under which the healing process of intensive care patients can proceed more quickly.
We have been working on this research project with the Charité for several years. It is scientifically proven today that architecture can heal. We found our entry into the medical sector through Dr. Ziegler, because he had the foresight to set up differently as a dentist.
"It is now scientifically proven that architecture can heal."
BRLO: Container architecture for Berlin's city centre
FIV: Building without concrete – That's how you could sum up the next project. Container architecture in modular construction would be even more accurate. Another flagship project of your office is the BRLO Berlin in Gleisdreieck. It is aimed at a very urban cultural scene.The BRLO is designed as a free-standing building made of overseas containers. The whole thing as a portable home base for the young company. What attracted you to this project in particular, and to container architecture?What was the key point for you that made you say 'yes, we'd like to do that, and that's how we'd like to implement it'?
Graft: 'Building without concrete' basically sums it up, we are building there with the inclusion of the concept of grey energy. In this case, not with a found building, but with reused containers. For as long as we've been around, we've been dealing with the urban fabric – all over the world, whether it's Los Angeles, New York, Beijing, Shanghai or Berlin.
"For as long as we've been around, we've been concerned with the urban fabric."
BRLO is not the first project we have built with containers. We first used containers in California almost 20 years ago. At that time, they weren't considered a building material and weren't approved for outdoor use, so we used the containers for indoor use. We used them to build workrooms, conference rooms that were lined like fool's tents.
Platoon & BRLO: "Temporary building" with versatile use
Graft: We realized projects with "Platoon" in Berlin, but especially in Seoul (Korea), where "artists in residence" could work in containers for a while. There were large meeting spaces and rooms available for all kinds of festivities. We subsequently did the same in Berlin in Schönhauser Allee.
In the meantime, however, the Berlin Platoon Kunsthalle has moved on. That's what it's all about: building with principles that are capable of temporarily achieving something and producing history and added value. But when the time comes, this architecture can move. That's exactly what we've managed to do a few times in collaboration with Platoon, and that's also possible for BRLO.
We started the BRLO project with the dictum that the building should only be in Berlin for 3-5 years. Currently, however, we are submitting a building application for it to remain standing for a few more years, because the final development on the site is somewhat delayed and because it is very successful and popular with the people. That's why sometimes the temporary is given a very, very long life, which is also the case with BRLO.
Temporary concepts: tradition meets innovation
Graft: But if – for whatever reason – the axe of time comes, then the BRLO brewery can move, or be taken apart and become something else in the value chain. This kind of "other urban development" is something that also interests us: urban development that is temporary, that can enhance entire areas with the right ideas, but is "light on its feet" because it can also disappear again without having to blow up foundations.
Temporary use is as much a part of the city as many things that are meant to last forever, and it has always existed: we think of marketplaces, places of urban rituals that are as old as man himself.
"The city is fast, the world is global – And we as architects need to think just as fast and globally."
"Temporary buildings" are not new, you just have to think back to this beautiful tradition and implement it with today's means. In doing so, one can create a lot of added value for the urban space without having to make long-term decisions – be it an investment of money or even time. This is an area that interests us because today's city is fast. The world is global, and as architects we have to think just as quickly and globally, knowing that our profession is actually one that often takes much longer to plan, but then of course lasts much longer as a building.
Residential property Berlin: Villa M in Grunewald
Something that is actually particularly exciting for our readers is the aspect of residential or mixed-use real estate. Projects like Villa M, the Bricks project or the Charlie Living Quartier in Berlin come to mind.
FIV: First to Villa M, which is clad all around with custom-made ceramic tiles based on a modular product, but some of which were also custom-made. The search for the right partners alone, in order to be able to implement the whole thing practically, takes a lot of time. The production therefore all the longer. The entire object is reminiscent of an ice-age boulder, if you will, and is surrounded by classical villas in Berlin Grunewald. First of all, the unusual design: How do you develop such a project? Does the idea arise randomly in a second, or is it weeks of planning with the client, or does that vary depending on the project?
Graft: The development of a project is a very, very long journey, and it was actually only at the end that this nickname 'The 'Foundling' came about, this association that the house looks like a large stone, almost like a meteor. It was clear that the client gave us an extremely free hand in this case, and wanted something out of the ordinary. Something he can be proud of and that triggers a new stimulation of interpretation, which just doesn't have a classic deciphering of a 'narrative of house'.
Planning process of a luxury property: construction planning, preparation & concept
Graft: Of course, the house also had to be brought into the neighbourhood and placed in a building code, a planning code and a B-plan on site. This actually assumes that the house has three floors with a roof, with a clearly recognizable entrance door.
Trying to create such a scenic, nature-like image was basically an iterative process, a brainstorm between the client, us partners, and our collaborators. This is how Villa M was born over a very long period of time.
"The not-quite-clear in Villa M's identity, that's intentional."
What many now recognize in the villa, the metaphor of the boulder, was not important to us at the moment of invention at the beginning, it only emerged retrospectively, was recognized, read…. We show a new possible interpretation in the narrative, but: the actually not quite clear and unambiguous in the identity, that the villa triggers different things depending on the daylight, depending on the observer, depending on the decade in which one looks at it, that is intentional.
Final draft needs time
FIV: So in that case it was a longer process to get to the actual final design?
Graft: It's usually the case that the process to the final draft is lengthy. Strokes of genius usually only happen in the shortening of the film, or if your name is Mozart. It's no fun at all if you're done after one second. We want to extend the moment of the idea, to mature it. That becomes realpolitik soon enough.
To go on this journey, to understand what the place, the circumstances and the counterpart want there, that is the exciting thing. When the moment of listening into this still empty space, the still white sheet of paper lasts longer than a stroke of genius of 14 seconds, then that is really beautiful.
Special features of Villa M: Modern facade, apartment building with flat
FIV: The whole concept of the house is interesting, because it can be used as a multi-family house, as well as separately into individual units. Advantageous for the owner, so the possible uses are expandable. Could you tell us more about these and other subtleties of this villa?
Graft: The house is originally designed for one user who wants to live in the house alone (in the future with family). What you make of it later for a subdivision, the architect no longer has any influence. We did not plan it as a multi-family house, but it can still be used by several residents in this way.
The theme, however, was first and foremost to reinterpret a stately, social house, and this in a forest settlement of wealthy Berliners built at the end of the 19th century. To create a social appearance, with a possibility to entertain and to accommodate staff. To bring a very classical program into a really completely innovative and undecipherable form.
Innovations in real estate design: house and garden
Graft: In the past, you would have built a classic portico, the servants would have lived under the roof, you would have made large entertainment spaces on the ground floor and the kitchen would not have been so dominant and open to the living landscape. It's very different in this house: it wants to be landscaped. This quality continues in the design of the garden. Together with the landscape planners from Kre_Ta, we began early on to imagine the house as something holistic in its garden design as well. That is why the materiality and the formal language continue in the garden.
Of course, such a house would still prefer to stand in a huge park, or on the slope of a hill in the low mountains of Germany, or, or, or. The owner himself is proud of the fact that his house is a bit out of the ordinary, that it is an eye-catcher, and that within these Gründerzeit villas it actually also says: "Hello, I am something new! Here it's new beginnings instead of restoration!"
Exemplary for a "trick" of this villa is the second staircase inside. Assuming the house is sold and put to another use, such as an apartment building with one apartment per floor. Then the individual apartments could be reached separately. That's why we've kept the interior half-restrained, except for the staircase, and tried to equip it in a classic way.
Modern architecture means rethinking the old
FIV: As you said at the beginning, Graft basically stands for innovation as a collaborative office. You use extravagant materials, such as the ceramic tiles for the façade in this case, as well as other modern elements, and with this break with conventions you also ensure innovation, so to speak, also in the field of real estate in general. Therefore the relatively general, but nevertheless very exciting question specifically put to you: What is or what does modern architecture mean to you personally?
Graft: We see ourselves as representatives of modern architecture and, as Wolfram (Putz) said, we are definitely looking for the new. It is our self-image that we have studied architecture in order to think the new, because we already know the familiar. Everyone can do the repetitive, but you don't need to study architecture for that. If you don't have the feeling that you can contribute something to the solution of the future – and often only new things / innovations paired with known things can do that – then we don't see any real sense in the profession of architect.
"Breaking conventions is not a quality in itself."
But breaking conventions is not a quality in itself. We also love the history of architecture and great qualities that were achieved by architects before us. We see ourselves in this tradition of architects.
Karl Friedrich Schinkel was revolutionary in his time, even if his works seem somewhat classically timeless to us today. These are all retroactive ways of looking at things. Schinkel wanted to think the very best, the most innovative and the newest in his time – and he was very versatil. He was not only a classicist, he was an explorer and innovator. He was also a pioneer of modernity, if you look at his Bauakademie, for example, or the department stores he planned. What I (T. Willemei) would like to say is: We love tradition, but traditions must – for us – prove themselves again and again.
Modern architecture is a question of attitude: traditions & new building projects
Graft: A sentence by Thomas More, which is already 500 years old and proves that time and age do not matter at all, is: "Tradition is not keeping the ashes, but passing on the flame". That's what tradition is to us: if they're still burning, they're good traditions. Traditions that have burned down we no longer need as a society. We can invent new ones, and that's what we at Graft have a great desire to do. We all know that reinvention doesn't mean making everything new, but changing one little thing in a very complex structure.
We all stand on the shoulders of giants. But we like to stand up there, because from there you have a far-sighted view and sometimes you even have to jump off the shoulder for something to change. We like to do that, and in doing so, get each other excited about the new. Not because it's new, but because the new can deliver. If it doesn't, then the new can be put aside very quickly. We are still friends of just trying it.
"In the end, there must be added value!"
If you want to walk, you have to lift one foot and shift your balance, otherwise you can't start walking. In many ways we look forward to being given the opportunity to learn to walk again – just as children do – to lose our balance every now and then and to enter a 'terrain vague'. Because that's where a special adventure often beckons, not only for architects but also for the client. At the end of the day, however, there must be added value: for society, for feasibility, for sales or simply for the pleasure of using architecture. If that is modernity, then we are happy to be part of it!
Bricks Berlin: Traditional building material in a new look
FIV: In the course of this, the question about the Bricks project, which was also in Berlin: It's not always just about new construction. Brick Berlin Schöneberg was a revitalization project. How do you approach such a project, what did you want or should you absolutely preserve in the building?
Graft: Bricks is one of Graft's biggest projects in recent times, and it's a retelling of a quality and history already found. Bricks was the ensemble that permeates an entire Berlin block: an old, large Postfuhramt. Even in its first generation of construction, it was a truly great piece of architecture, and was therefore classified as an architectural monument at an early stage. Our client, with whom we had already implemented several projects, acquired the old post office in order to make something completely different out of it and to re-densify it.
"What is the tomorrow for which we are rebuilding modernity?"
That's why it was totally great to go on a research trip into the past to (find) all the threads you want to pick up in order to understand such a project. To also honor in a way the intentions of the colleagues who built this house in the past. And without imitating them or copying them.
We don't think any architect – at least not one with a similar mindset to ours – would want you to add to their house 100 years from now as they would have done themselves at the time it was built. These architects were also the ones who lived, loved and demanded the present in the present, and pushed to understand: What is the tomorrow for which we are rebuilding modernity?
Brick as material & link to the extension and transformation of the property
Graft: In this respect, we were not at all afraid to say: we want to continue the story there, but with an attitude from today. The thing that links the time to the past is the use of the same material. This very typical Berlin material, brick, which has a great history in this city.
We asked ourselves: What are the forms of expression of brick today? What are constructional possibilities that brick has today that it did not have 100 years ago? In the entrance to the façade on the main street, for example, something was created that could only be produced by computer-assisted generation of form and control of this form in the manufacturing process of brick laying, because every line, every layer of bricks follows a different contour or topographical line.
Thus, expressionist borrowings from turn-of-the-century brick architecture suddenly emerged, with a formal expression that could not have been produced by hand in this way – at least not with such precision and only in a very complicated way. Even though it is only a small part of the ensemble that is occupied by this parametric design and construction technique, it still shows that the house could not have been built before 1999, indeed probably not before 2010. In this respect, through the house we are expressing a next, new generation of architecture that is very much of its time.
Generations of Architecture – Future through Origin
Graft: With the project Bricks we want to break out of the hard architecture of the "box", which is very much shaped by rules or also by a lack of imagination, and introduce a sensitization, poetization and also feminization of formal languages that can trigger a different basic vibration in the observer. A language of form that allows space to flow differently in urban space.
Some of this already existed in the twentieth century, but it has only become more controllable, plannable and feasible in the course of the last 10 – 15 years thanks to computer-generated architecture. That is why it is also more visible in many areas. The future needs origins. We stand on the shoulders of other innovators.
What's also nice is that there's a really great mix of social groups and uses inside the building. People live there, work there and there is a large Jewish Kabbalah centre, which is a spiritual place.
Of course, there are also very classic office and commercial opportunities, and a post office. In that respect, it's a nice, so-called "Berlin mix". Further-experimented-narrated in what used to be a monofunctional post office area. This can show everyone how old, historic buildings can break their corset and be found again in this city we all love: Big city, but village-like in scale and interior.
Pictures: Bricks Berlin Schöneberg, Conversion & New Construction Project
Here you can find some impressions of the revitalization project Bricks. Particularly exciting here is, among other things, the implementation and continuation of the facade with the building material brick. Different buildings have different appearances, and yet are connected to each other through the material.
In this photo you can take a closer look at the unique implementation of the facade. Individually positioned bricks form an impressive structure, especially at this entrance.
Another building of the Bricks project was clad with the same building material, but in a completely different implementation. This results in the already mentioned tension between different façade designs and the simultaneous connection through the theme of bricks.
Architects and future projects – Interview part 1 & 3
You want to learn more about Graft, its founders, foundation and planned future projects? No problem! We have divided the extensive interview with the architecture firm into 3 thematic sections, each of which gives a closer look at Graft's work and projects. So feel free to read the other parts of the interview and learn more about Graft as an architecture firm, their corporate philosophy or even about exciting and innovative projects of the future. Graft all over!
Architects and successful work (1/3)
You find the projects presented so far interesting and would like to learn more about the architectural office? No problem! In addition to residential / mixed use projects, we also talked to the founders about the origins and philosophy of their company, as well as future projects. In Part 1 of the interview, you can find out even more about the founders and how they came together as a group of entrepreneurs. You'll also find out what makes Graft's properties so unique, and the architects' attitude towards their work. Read more here!
Future projects – e-cars and air taxis (3/3)
Electric cars, filling stations for electricity and air taxis – dreams of the future? Not at all! The modern company wants to act as a pioneer, create opportunities and solve problems! With its future projects, Graft, as a pioneer of the transport revolution, is embarking on a search for innovative solutions to modern problems together with strong partners such as e.on. Find out everything about the exciting architectural projects of tomorrow here!
https://fivmagazine.com/wp-content/uploads/2021/03/graft-architekten-berlin-charlie-living-quartier-wohnhaus-mixed-use-flagship-projekte-copyright-bttr-gmbh.jpg
700
1200
Lisa-Marie
/wp-content/uploads/2020/07/fiv-magazine-news-instagram-youtube-tiktok-influencer-fashion-interior-jewelry-real-estate-tips-help-logo.png
Lisa-Marie
2021-04-22 16:39:12
2021-07-17 17:08:07
Flagship real estate in Berlin, residential, commercial & lifestyle – Graft Architekten interview (2/3)