Graft Architekturbüro: Company, architecture, real estate and planning – Interview (1/3)
Graft in interview – Whether futuristic skyscraper, VoloPort or modern dental practice: Graft has a versatile real estate project portfolio! The globally successful architecture firm was founded by the 3 German architects Wolfram Putz, Lars Krückeberg and Thomas Willemeit in 1998 in Los Angeles. Since 2018, Sven Fuchs, Dennis Hawner and Georg Schmidthals have been part of the team of partners who continue to drive and develop the company in a future-proof manner. The company now employs over 100 people and has offices in Berlin, Los Angeles and Shanghai. Their project diversity is extensive, from modern office buildings to moveable home bases made of containers, or residential buildings such as Villa M, to future projects such as e-charging stations or Volocopter ports. Their modern implementation of diverse projects is unique, and their passion is what sets Graft apart. The founders talked to us about their passion, founding the company and their numerous projects. Dive into the world of design real estate!
Graft Architekten – Real estate with passion
The architectural firm Graft from Berlin was founded by three German architects, and is now a renowned and both nationally and internationally successful company. We have conducted an extensive interview with the founders, which we have divided into 3 thematic sections, for each of which an article was created. In the first part the founders talk about passion and drive of the company. The second part of the interview deals mainly with residential and mixed use projects. The third part deals with Graft's future projects. Click here to get to the respective parts of the interview:
Architect's office
Joint architectural studies, foundation and company statement
FIV: Dear Graft team, let's start the interview with you as an architecture firm. When it comes to founding great companies and ideas, everything often starts off the beaten track. The founders of Uber, one of the most innovative companies in the USA and now also in Germany, met by chance in Paris. The architecture firm Graft, now also based in Shanghai (China), has its roots in Los Angeles. What was the idea, situation or objective that gave rise to the Graft architecture firm? How did you come together in LA?
Graft: It's customary for us architects to meet at the university. That's how it was with us, too. We all studied architecture in the same semester at the TU Braunschweig and got to know each other there. Believe it or not, we also played classical music and sang acapella together back then.
In this way we got to know each other well and quickly realized that we harmonize both vocally and humanly. With us, the whole thing was even quite professional, we toured and also released a few CDs together. An intense friendship developed out of it and looking back it seems almost fatefully clear that something lifelong would develop out of it.
Why did we found the office in LA? As young architecture graduates, we decided to go to the US at the end of the 90s, because that was the place of departure and the beginning of digitalization within our profession. In this respect, Germany was simply still a developing country.
FIV: A quick question for our readers who might want to build in America. German building law is, like many things here, particularly bureaucratic. So for you as an architect, free, creative planning is certainly more difficult in Germany (e.g. Berlin) than in Los Angeles (USA), for example? Does the country make a difference?
Graft: Yes, you could say that. Interestingly, building law in America is just as complex and quite strict. It is the mentality of the people in which our experiences with the responsible offices differ.
In the USA, the American idea of service also prevails in the authorities, and work is done with a higher degree of innovation and dynamism. In Germany, people stick to existing rules and are very reluctant to break new ground. In the USA, there is a much greater motivation on the part of the authorities and the other parties involved to solve the concerns of the counterpart together.
One of the flagship projects is the Charlie Living Quartier in Berlin. Get an impression of the building complex here, which has become a flagship of the company in Germany.

Architects as experts: Innovation is the key
FIV: For our readers who are discovering Graft for the first time today, how would you as the owner, founder and idea generator describe your architectural practice in a few words, what makes Graft, as a company, a brand?
Graft: We are innovators. We want avant-garde, although we are romantics at the same time. We love the origins and long history of architecture as much as the unknown future. Lars Krückeberg, for example, is a great Renaissance connoisseur, and has just returned from a one-year stay as a scholarship holder at the Villa Massimo in Rome. You could say we are seekers with strong roots. It was this search that led us to the New World back then – to the academic world of America, which was more interesting at the time. Into the spirit of optimism of a start-up culture in California. We would say we were curious, pushy people who wanted to rattle the bars of the cage called "this is how it's always been done".
"We are seekers with strong roots".
That is one thing. And at the same time, we are also typically German: people with a sense of social justice. We don't only work on high-end projects, but also initiate social projects for which we partly work for free. We are always looking for problems to solve and our time offers many urgent tasks.
These can be about beauty, about wanting to experience something you've never experienced before. But it can also be that one builds a house for people who otherwise cannot afford a house. The goal here is to not just repeat yourself if possible. To be a problem solver as well as a designer, that's what we're all about.
Print in business: always new, always different? Fashion & Architecture
Graft: The same applies to the topic of fashion, which I'm sure your readers are interested in. Only there it is much freer and at the same time subject to faster changes. For fashion designers, it's both a curse and a blessing that they have to constantly reinvent themselves.
People don't want to wear the same thing every day. Only when it comes to an investment and not a consumer good, the behavior is much more sedate and cautious. For many people, buying a home is a once-in-a-lifetime investment. That's why there's naturally more concern about maintaining value, and the question arises, "What will it all look like in 50 years?" Our claim is to design something new and a classic at the same time.
The constant search for new things is the drive
Here, too, there are pioneers on the side of the clients, whom we call "early adopters". People who have a certain understanding of culture and art, who strive for something new in architecture. And not only does a modern car or interesting contemporary art go with modern fashion, but also contemporary architecture.
Awards and planning of new properties
FIV: Ideas from Graft is a collaboration of 3 strong founders and their partners. They are all excellent architects! Founded in 1998, they have over 20 years of expertise, experience and references. They have won many international awards. New spectacular ideas are being implemented, charging station for E.ON, the air taxi Volo-Port.
The Charlie Living Quartier in Berlin is also from your company, with which you have just been nominated for the "Archdaily 2021: Best Building Award". Congratulations! After all these years, is it still exciting for you to tackle a new project, to plan a new building, or has all this become routine for you?
Graft: It's always exciting. The expertise we have gained means that we can recycle our knowledge well. But that doesn't just mean formally, creatively or inventively, but also in the tools of the trade. We now know all the tricks of the trade when it comes to building.
Every now and then we literally stand in front of a blank sheet of paper. We recently built an ice stadium for the first time and learned a lot of new things in the process.
The ice stadium in question, the "Schierker-Feuerstein-Arena", is located in Wernigerode (Germany) and was completed in 2017. The task here was the reactivation of a historic ice stadium with a new roof construction. Here you can see the result of the Graft project.

Experience & inspiration lead architects to success
Graft: When the next assignment for a residential building or a villa comes up, we already have so many ideas and dreams from the past that you haven't been able to implement yet, and with which the internal library in your head is filled. You look into sketchbooks and look up past designs, this fertilizes the project in a more complex way. At the same time, each project is unique and requires something new. The three of us find the actual moment of the idea the most exciting. A design often needs many ideas, variations to mature and develop.
As an architect, you should be ready to contribute to the building culture of our society and the problems it solves. The profession should be approached with verve and a desire for the unknown.
Development process: From the idea to the finished design property
Graft: We like to brainstorm and sketch together and inspire each other with ideas. That flow in creativity where a vague idea becomes a concrete design. That's what we live for, probably like any creative person.
That's why every new order is a chance to relive the moment of brainstorming before you have to make a final commitment to plan and build the project. We like to invest a lot of time to enjoy this process.
"Passion makes a good first a very good idea."
We are especially grateful that we feel our profession as a vocation and may live as such. Just like with good music or good fashion, you can tell if someone brings passion to the table and if there is passion in a result. Without passion, that last mile that can take an idea from good to very good can't happen.
Projects with pride: villa for Brad Pitt, dental practice and more
FIV: I'd like to talk about a few of your projects now, but first of all, looking back over 20 years of experience as architects, which of your projects, around the world, are you most proud of?
Graft: We always remember our first steps, even if they were only small projects. The first villa for Brad Pitt, for example, or the dental practice on the Kudamm, which we have continued to build for 20 years.
Social commitment in New Orleans: Reconstruction & Co.
Graft: We are particularly proud of the first major social commitment, in which we volunteered for 10 years to help rebuild New Orleans after the destruction caused by Hurricane Katrina. We invited many colleagues to participate in the project. We also created a sustainable curation for the process of rebuilding the city.
Another highlight is certainly that we were curators for the German Pavilion at the 2018 Venice Architecture Biennale. For architects, this is a great accolade. In the exhibition, we looked back at what has been created architecturally and culturally along the former Wall strip in the 30 years since reunification. For me (Wolfram Putz), the greatest projects are those that are just getting started. To put it simply: I find tomorrow much, much more beautiful than yesterday.
"Tomorrow is much, much more beautiful than yesterday." (W. Putz, founder)
I (W.Putz) have the habit of rarely returning to the projects we have built after a while. A life in motion or in the moment of invention, that is basically the most beautiful thing.
Here you can see one of Graft's flagship projects: The Bricks in Berlin Schöneberg, right on the main street. As an old post office site, this project was particularly challenging, and the result has been both commercial and private residential space. You can read more about this exciting project in the related article: Bricks Berlin.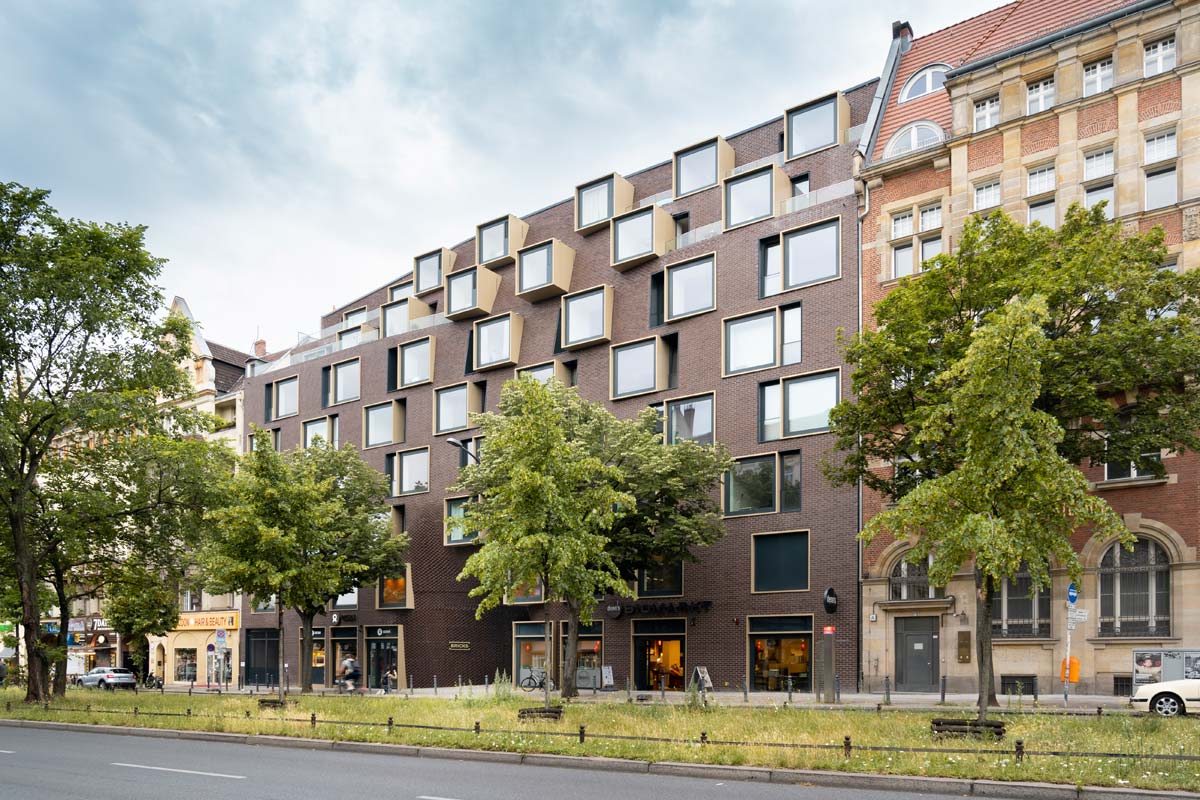 Architects as stage designers!? About the building process
FIV: A nice coincidence, you basically anticipated my next question. That would have been whether you dedicate yourself directly to the next project after completing one, or whether you also take the opportunity from time to time to return to the places or projects you created?
Graft: You visit a completed project now and then, but it's not an explicit need. There are architects who have built a really great masterpiece. For example, the architect of the "Sydney Opera Hall" – he only built two things in his life, a small house in Mallorca and the famous Sydney Opera House. Of course, he has always returned to that house his whole life. It has also become a fantastic masterpiece, but after the keys are handed over, after the press appointment, a certain development sets in: The projects then "grow up" as if by themselves.
"A project is never yours for long"
Graft: Architects basically create a stage on which the users perform their own play. The feeling that a project belongs to you fades over time, even though you've worked on it for so many days. It then belongs to someone else. Sometimes it belongs to the private user, sometimes to the public, who, if it goes off "Berlin-style", think up a nickname for it, and again make something entirely their own, a new identity out of it.
Collaboration with architects: Getting to know each other & developing an idea
FIV: Who wants to realize his ideas with a partner like you: how can we, as "home owners" imagine the concept phase, the planning, the construction of such spectacular real estate? What is important when planning a building with "design elements"?
Graft: In contrast to other well-known architects who often want to impose their own signature, we prefer a "learning journey", the joint journey to the result. We are not so fascinated by the classic architecture competition mechanics, we prefer to get to know our clients personally. For example, we go out to dinner with them, watch football with them, dream, discuss or cook together. Getting to know each other very intensively is important to us.
"Getting to know people and putting them at the heart of invention is what we like best of all."
This happens well before you develop a design approach, otherwise you run the risk of falling back too quickly on a drawer in your head. It's a process, "design thinking, user-centered": getting to know people and putting them at the center of the invention. That's what we like best of all. It doesn't always work, and it doesn't always involve a single person. This process of being completely close to people, of being immersive, is what would describe us best of all. For this, it is essential that our counterpart brings the same desire for the project.
Example: Wave residential building in Berlin on the Spree
One of the architecture firm's projects that has been completed in the meantime is, for example, the "Wave" project on the banks of the Spree in Berlin. Here, two residential buildings were created that lend the riverbank a special charm. The qualities of this special waterfront location in particular served as the conceptual model for the new building.

Here is another view into one of the many apartments of the residential building with a picturesque view of the Spree and the opposite bank.

Virtual Reality as an important medium – also for real estate
FIV: One area that is becoming increasingly interesting is VR, or virtual reality. Worldwide, for example, there is now the first real estate portal that lets new properties be presented by a virtual real estate agent, more precisely a virtual avatar named Ella . That is, she presents new properties, always looks the same, speaks countless languages, because it's all digital.These are all first attempts, but how do you assess the future of VR technologies for presenting projects?
Graft: We find the technologies of virtual reality very fascinating. That was also one of the reasons why we went to America at the time: to further study the possibilities of the future there. There were more technological innovations in America that appealed to us. Whether it's a software or just this hardware of VR glasses – which we actually also use in our presentations – everything is full of exciting possibilities.
Invention phase: Giving clients an idea
Graft: Architects have always learned certain techniques. One of the most time-consuming things in the invention phase is to visualize one's own idea in the mind of the other person. In the past, the great architects used to do this, for example, by painting huge canvases that took weeks or even months to complete. Today, we have completely different technologies at our disposal to show the still embryonic architectural ideas to other people – up to the almost physical experience through VR glasses.
We were thrilled by the first demos of VR technology – it was clear that it could carry us forward. It makes architecture better, increases customer satisfaction, eliminates misunderstandings between architect and client. In addition, like any work, it suddenly gives feedback on how architecture is created. As architects, we can now use VR to better describe ideas in advance, before we cast something in concrete. It helps to control processes, to improve them, to make them more beautiful. That's just fantastic!
Residential buildings and future projects – Interview part 2 & 3
You haven't heard enough about the successful architects and their work? No problem, there are more interview parts waiting for you! Besides their basic work, we also asked Graft about future projects, as well as residential buildings and flagship properties. In the following posts you can dive deeper into the world of modern and innovative architecture.
Residential buildings, offices and popular projects of architects (2/3)
The second part of the interview is about flagship projects and residential and mixed-use properties. Whether it's a dental practice, a revitalization project with a historic preservation factor, or a modern villa for private owners: the portfolio of the architecture firm is versatile and unique. No two projects are the same, and there is always something new to discover! Take a closer look at the projects here and let the founders explain more about the development processes, ideas and concepts.

© Tobias Hein
Future – modern architecture for air taxis & e-cars (3/3)
Electric cars, filling stations for electricity and air taxis – dreams of the future? Not at all! The modern company wants to act as a pioneer, create opportunities and solve problems! With its future projects, Graft, as a pioneer of the transport revolution, is embarking on a search for innovative solutions to modern problems together with strong partners such as e.on. Find out everything about the exciting architectural projects of tomorrow here!

© Bloom Images
https://fivmagazine.com/wp-content/uploads/2021/04/graft-architekten-architekturbuero-projekte-gruender-interviw-immobilien-auszeichnungen-haus-wohnung-villa-berlin.jpg
800
1200
Lisa-Marie
/wp-content/uploads/2020/07/fiv-magazine-news-instagram-youtube-tiktok-influencer-fashion-interior-jewelry-real-estate-tips-help-logo.png
Lisa-Marie
2021-04-22 16:40:42
2021-07-17 17:08:05
Graft Architekturbüro: Company, architecture, real estate and planning – Interview (1/3)