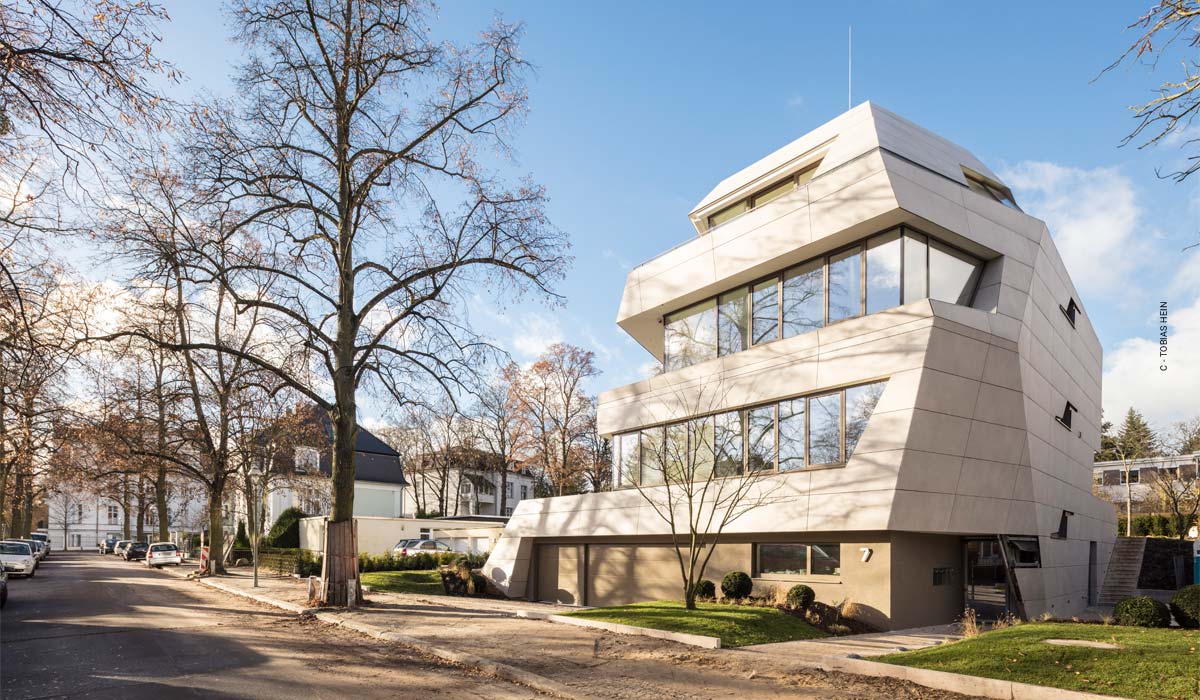 Luxury properties Berlin Grunewald, Charlottenburg-Wilmersdorf – "Villa M" by Graft Architekturbüro
Villa M Berlin – Villa M in Grunewald is a private residence designed by the renowned architectural firm Graft from Berlin. This villa in the attractive residential area of Grunewald stands out with its modern and unique design language. Design and implementation are individual and set an absolute highlight in the neighborhood. Here we tell you what makes Villa M special, show you exclusive footage of the interior and exterior and also introduce you to the famous architecture firm Graft. Get to know Villa M and the world of architecture anew! Are you also interested in the architecture of the future? Then check out the interview section about Graft's future projects: Volocopter, e-charging stations & Co.
Villa M Berlin: Design highlight in Grunewald
Villa M is one of the few private residential buildings that the renowned architectural firm Graft from Berlin has realized. The client is a private individual, and commissioned the architects with this residential project. Villa M was built as a new building between 2015 and 2017, and forms an architectural highlight in Berlin Grunewald between rather "classic villas" in the neighborhood. Modern aesthetics and formal language are the focus here, and leave the classical architecture far behind. Unique architectural language, special lines of sight and an idiosyncratic facade make this property an absolute eye-catcher. What makes the Villa M in Berlin, and what it looks like, you can find out in the following.
Location in Berlin Grunewald: Villas as far as the eye can see
Villa M is located in Berlin, Grunewald. The district is very popular and is home to some large, high-quality houses and villas. The proximity to the Grunewald forest, as well as to the banks of the Havel river, make this area particularly attractive. Secluded on the outskirts of the city with forests and lakes, yet very centrally located: that is the attraction of Grunewald. Those who live here once often never want to leave.
Here you can see the villa again in a view from the garden. The Villa M is a highlight from all angles! Similar to a good sculpture, Villa M opens up a new tension for the eye from all sides. The building leaves room for interpretation, and this is also intended by the architects. Find out for yourself what associations Villa M evokes in you personally!
Special Features: Individual design language, ceramic facade and window frontage
What makes Villa M so special? On the one hand, it is the unique language of form, which is intended to be reminiscent of an erratic block located in a glacial landscape. This is intended to express both the proximity to nature and the desire for expressive, creative power. The trapezoidal and sculptural form gives Villa M enormous recognition value, and makes it stand out strongly from neighbouring properties.
What is special about it is that the building's visual axes are aligned with the green spaces of the neighbourhood, creating the greatest possible privacy. Another highlight: The four-storey building is encased in a spatially folded façade made of ceramic panels. Room-high glass surfaces complete the modern, idiosyncratic look of Villa M.
Technical data: location, construction period, living space and more
Villa M is a unique project and an absolute collector's item. We have summarized the peripheral facts and most important information for you. Location, as well as builder, living space and much more. Get to know Villa M here via technical data:
Location: Berlin-Grunewald
Project: New construction of a villa with granny annexe
Client: Private
Period: 2015 – 2017
Living space: 530 m²
Facade: Ceramic tiles
4 floors
Architects Graft: Founder interview about real estate, projects and e-filling stations
The architecture firm Graft was founded by 3 Germans and is a nationally and internationally successful company. They now have offices in Berlin, Los Angeles and Beijing, and the team is very large with 150 architects. You can find out what Graft is all about, what makes the firm tick and what other projects they have in their portfolio in our in-depth post: Graft Architecture Firm. We also conducted an extensive interview with the founders. What the architects think about their projects and their work, and what makes them tick, you can read here in the interview, which was divided into 3 topics:
More pictures & impressions: Villa M inside and outside
You haven't seen enough of Villa M yet? Here you will find more pictures and impressions of the very special architecture of this property. No matter from which angle you look at Villa M, you will always discover something new, and it develops new charms through every angle – just like the perfect sculpture. In addition to the facade, discover the fireplace in the interior and the illuminated facade in the twilight.
https://fivmagazine.com/wp-content/uploads/2021/03/graft-architekten-berlin-grunewald-villa-m-architektur-immobilien-villa.jpg
700
1200
Lisa-Marie
/wp-content/uploads/2020/07/fiv-magazine-news-instagram-youtube-tiktok-influencer-fashion-interior-jewelry-real-estate-tips-help-logo.png
Lisa-Marie
2021-04-22 15:51:55
2021-07-17 17:08:18
Luxury properties Berlin Grunewald, Charlottenburg-Wilmersdorf – "Villa M" by Graft Architekturbüro