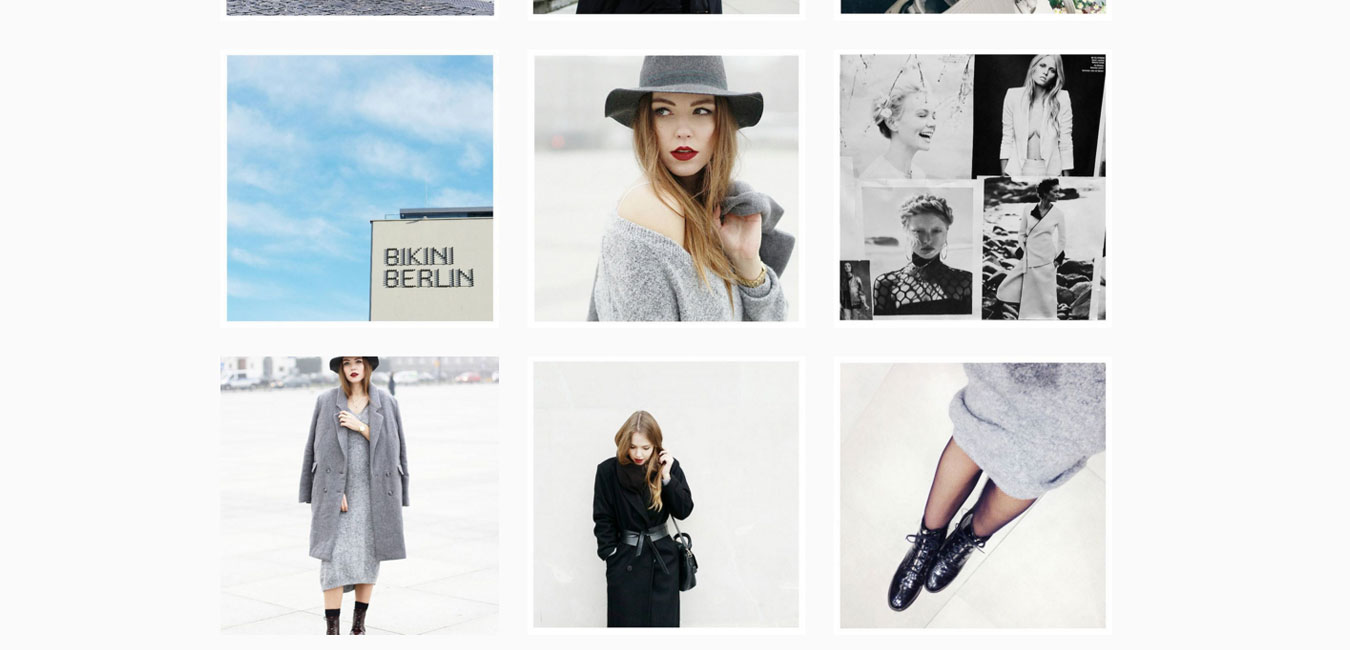 Fashion blogger Dominique from Goldschnee
Dominique started her blog www.goldschnee.com in a creative year after school. She shared her fashion impressions as well as self-made outfit ideas. I talked to the passionate creative about the genesis of her blog and the Berlin fashion scene.
Goldschnee – The genesis of her fashion blog
FIV: Dominique, tell us a little bit about yourself. How and when did you decide to start your own blog?


Germany - Spain - USA
Dominique: I had just finished high school and decided to take a break for a year before deciding what I wanted to do in the future. This year I really wanted to do something creative, but I also wanted to share it with others. Previously I had been following a few blogs, so I figured this was the perfect fit. I've also always been interested in fashion and photography.
FIV: How did the name come about? Who had the idea and why?
Dominique: I came up with the idea myself, but I thought about it for a while. Unfortunately, there is no dream story, it was rather a spontaneous name that occurred to me.
FIV: You are part of the Berlin blogger scene, what does it look like anyway? Is there a lot of competition?
Dominique: Through blogging I was allowed to get to know a few very nice and honest people, for this I am really very grateful and I am always happy to meet some at the blogger events. Unfortunately, the blogger scene has more and more a bad reputation.
Fashion blogger Dominique on Berlin's charm
FIV: In your opinion, what makes Berlin special when it comes to fashion? What is the Berlin style like?
Dominique: I would definitely take the casualness in the first place. I think the Berliners always manage to find the perfect cut between comfort and elegance. Sneakers with elegant dresses or a jute bag with a suit, you can find everything here.
FIV: In your opinion, is the Berlin Fashion Week comparable to the Fashion Weeks in Milan, Paris or New York? What are the differences?
Dominique: Unfortunately, Berlin Fashionweek is sometimes way too focused on appearances. I would like to see more focus on the fashion shows and the designers' artwork and not which celebrities go to which parties. In New York everything is much more fast paced and the shows are attended by internationally known people in the fashion industry, something that is sometimes missing in Berlin. Unfortunately I haven't been to Paris and Milan yet.
FIV: What do you particularly like about Berlin as a fashion metropolis?
Dominique: You can wear anything here and it's called "fashion".
FIV: In your opinion, can Berlin keep up with fashion cities like New York or London?
Dominique: I think we're well on our way there.
Dominique: With my blog I want to inspire!
FIV: How important is it to maintain social media channels these days? How much time do you invest in it and share insights from your private life?
Dominique: For bloggers or companies, it is incredibly important to operate social networks, as this alone can generate many visitors/readers and is in direct contact with them. As a blogger you can quickly share your events and can make constant updates, which is also interesting for the readers.
FIV: What exactly does your work as a Berlin blogger look like? What do you do?
Dominique: My blog has actually been about my view on fashion since the beginning. I try to give women a little inspiration on what they could wear or what they can do with their wardrobe. That's why I mainly post outfits. In order to shoot them, an outfit has to be put together, a place and time has to be found and a photographer has to be found. In addition, a text has to be written and the pictures have to be edited. All social networks should be constantly updated and mails and invoices must also be written. All this takes a lot of time, but it's a lot of fun, because photography and fashion are my passions.
FIV: And how much time do you invest in your blog every day?
Dominique: It varies a lot. Sometimes I sit at the computer for 2-5 hours to create a post on my own and on some days I hardly do anything because I also study on the side and therefore have to divide up my work. If you also want to see your family and friends or do sports, it can be stressful.
FIV: In such a short time – so well known. How did you manage to do that? How did you stand out from the other bloggers?
Dominique: The most important thing is to stay true to yourself and not do everything just to make money with the blog. I think it's a shame that so many blogs are now seen as businesses and not as a creative source that gives inspiration. Actually blogs have become so popular because of the personality a blogger reveals, that should still come first when running a blog. There's also no point in doing what everyone else is doing because your niche is already filled.
FIV: What advice would you give to up-and-coming bloggers for their career start?
Dominique: You should try to be consistent from the beginning and come up with something unique. As already mentioned, the niche is exhausted and therefore new ways have to be found to stand out from the crowd now.
FIV: Thank you very much for the interview dear Dominique.
https://fivmagazine.com/wp-content/uploads/2016/02/mode-bloggerin-dominique-goldschnee-interview-magazin-instagram-facebook-blogger.jpg
650
1350
Stephan
/wp-content/uploads/2023/08/fiv-magazine-logo-news-influencer-fashion-interior-travel-real-esates.svg
Stephan
2016-02-16 13:01:28
2016-02-16 13:01:28
Fashion blogger Dominique from Goldschnee