Sylt holidays: travel, places, beaches and holiday apartments for your trip
Sylt: The island of Sylt is considered an absolute hotspot for the rich and beautiful. Here you meet a wealthy society and accordingly high is also the price to make here vacation. However, if you are still interested in Sylt, you will find everything you need to know about the island here and also find out how to spend a few days on holiday more cheaply. No matter if party holiday, with children or with the dog. In this article you will learn everything about the most beautiful places, beaches, activities and even get exclusive insider tips for your time out!
Sylt: coordinates, map and directions
Sylt is a Frisian island of Germany and located north of the mainland. Sylt belongs to the federal state of Schleswig-Holstein and is located in the middle of the North Sea. The island has an area of 99.14 km² and about 15,200 inhabitants. The length is 38 kilometres and the width 12.6 kilometres. Sylt is particularly known for long beaches and luxury, which is why life and holidays can quickly become more expensive than on other islands. You can reach your holiday destination either by car train, train or plane. A bridge with a road does not lead to the island.
Area: 99.14 km²
Length: 38 km
Width: 12,6
Population: 15,200
Coordinates: 54° 55′ N, 8° 20′ E
In total, there are four different ways to get to and from the island of Sylt. We show you here which they are, so you can choose the right choice for your journey.
Arrival by train
From Germany and Austria you have the possibility to reach Sylt via some major cities. Travel relaxed by train and get off at one of the three stations on the island.


FragranceTip.com by FIV
Arrival by plane
Sylt has its own airport in Westerland, which is why you can reach the island easily and, above all, quickly by plane. Many regional airlines fly to the island from several major cities.
Arrival by car
Although there is no road leading to the island, you can still reach Sylt by car with the help of the Autozug. To do this, you can simply drive as far as possible in the direction of Sylt and then use the Autozug or the ferry to cross the sea together with your car.
Arrival by boat
You also have the possibility to reach the island with the help of a ferry. Enjoy the pleasant North Sea air during the crossing and take a relaxed boat ride to the island. You also have the option of taking the ferry by car, so you are more flexible during your holiday.
Places & communities: Where is it most beautiful?
On Sylt there are some beautiful places and communities where you can spend your holidays or buy a property. Westerland is considered the center of the island. In this place you will find a wide range of leisure activities for the day or night. The club scene is also very pronounced here. The municipality of List is considered the northernmost town in Germany with some beautiful beaches and dune landscapes. Here you can surf, swim and play with your dog on the beach. The town of Kampen is considered an absolute celebrity hotspot. In this small community you can meet the elite at the most exclusive and luxurious parties and events. "See and be seen" is the motto here.
Westerland: Centre of the island
Westerland is considered the center of the island of Sylt, as you can experience a lot here during the day and at night. The municipality has its own airport and train station. Especially for teenagers and young adults there is a wide range of leisure activities such as water sports, events, restaurants, bars, shops and an 8 km long sandy beach. In Westerland there are also many clubs where you can party until late at night. Especially the Sandstraße and de Paulstraße are known for a wide range of bars and pubs. Here you will meet a colourful and lively society. For holidays with children, the place offers a leisure pool or an aquarium.
List: many beaches and a great offer
The municipality of List is located in the very north of the island of Sylt and offers a beautiful landscape with dunes and beaches. If you are looking for a relaxing holiday, you should definitely take a look at this place. Here you will find two lighthouses, a harbour and several restaurants directly on the coast. List offers perfect beaches for surfers, nudists, dog owners or shallow water for children. The offer for leisure and recreational activities is very diverse in this place.
Kampen: Hotspot of the elite
The small village of Kampen, with just 700 inhabitants, is located north of Westerland and is surrounded on both sides by the sea. The place has established itself especially in recent years as a celebrity hot spot and popular holiday resort of German tourists. Here you can find, especially in the high season, the elite and high-ranking society. At the exclusive parties the motto is: see and be seen. Besides the society, Kampen also offers a beautiful and picturesque nature with white sandy beaches and the legendary red cliff.
Insider tip: Sylt in winter and the elbow
You want to get out of the mass tourism and enjoy the island with its beauty and nature alone? Then we have two absolute insider tips to get a little closer to this goal. Sylt is very well known and especially in the summer months there are many crowds of people on the popular island. To escape this hustle and bustle, our first insider tip is the nature reserve Ellenbogen. This is located at the northernmost tip and promises peace, solitude and above all relaxation. Here you can come down and enjoy the time for yourself. Another insider tip is to travel in winter. This is rather unusual for a holiday by the sea, but in the winter months you can avoid the high prices and enjoy beautiful sunrises and sunsets.
Sylt in winter: few tourists and a beautiful sky
You read that right. Although the island is dominated by summer tourism and especially popular with the affluent society, this fact comes in handy during a trip in winter. For one, there are the lower prices. The island is known for high accommodation or restaurant prices, but this is usually only true in summer. If you plan to come to Sylt in winter, there will be no crowds and you can enjoy the beauty and nature in peace. Also the prices in accommodations and restaurants will be smaller due to the decreasing demand. And now the absolute insider tip! The winter sky over Sylt is breathtaking and beautiful. You can enjoy fantastic sunrises and sunsets and never forget this sight.

Elbow: rest and relaxation away from the crowds
The nature reserve Ellenbogen is the northernmost point of the island and an absolute must when you make a holiday on Sylt. Here you can relax, let your soul dangle alone and forget the stress of everyday life. Walk on the beach, in the dunes or make yourself comfortable in the sand. Enjoy the cold sea air and the solitude. Here you can escape the hustle and bustle and concentrate on yourself. From this point you can see as far as Denmark and, with a bit of luck, a few seals will visit you on your walk. So if you are on Sylt, a visit to the elbow is highly recommended and a real insider tip.
Beaches: Where are the most beautiful beaches?
The range of beaches on Sylt is very high. Depending on your needs and wishes, you can find your ideal beach and enjoy the day in the sun. In addition to some beaches for dogs or nudists, the island offers many opportunities for families with children and water sports or recreational activities. On the beach in Hörnum, for example, you can relax perfectly and let your soul dangle in a beach chair. Here the water is shallow and calm and you have the ideal opportunities to learn a water sport. If you prefer more action and a wider range of leisure activities, we would recommend the main beach of Westerland. Here you will find many restaurants, bars and a more extensive range of water sports.
Hörnum Oststrand: Shallow water and fewer tourists
Hörnum beach is located in the south of the island of Sylt and attracts many families with children every year during the summer months. The promenade is surrounded by many small restaurants and bars and there is a lighthouse and a harbour in the area. The beach offers white sand and very calm waters, which makes this part of the island ideal for learning how to windsurf and sail. Children and beginners can visit the sailing and surfing school and learn on the shallow water. Dogs are also welcome here! Hörnum's eastern beach is considered very clean and the water quality is also good. In July and August, the occupancy rate is at its highest.
Just make yourself a picture of the beach in Hörnum and explore the beautiful surroundings before your visit!
Westerland main beach: beach chair, water sports & restaurants
The main beach of Westerland is located directly in the center of the island and invites every year anew many tourists and locals. The promenade is surrounded by many small restaurants, bars, cafes or shops for clothes and souvenirs. You have many possibilities to plan and enjoy your day at the beach. For example, rent a beach chair and relax with a good read. Or do you need action and adventure? No problem! On the main beach of Westerland you will find a wide range of water sports. Surfers, kiters and parasailers can let off steam here and spend an exciting day. Should the weather be bad, the "Sylter Welle" offers an indoor band as an alternative.
Activities & Activities: What does Sylt offer?
On Sylt you will not be bored. During the day and evening, the island offers a wide range of leisure options and activities that you can do as a single, couple or family. Relax in good weather on the beach and do water sports. Go quad biking, visit one of the lighthouses or the aquarium in Westerland. Eat in different restaurants with culinary offers and seasonal products. You feel like partying? No problem! On Sylt the party scene is big and you can visit beach parties, clubs or bars.
Gastronomy: Eating in trendy restaurants & the Sansibar
Sylt offers you a wide range of restaurants and gastronomy. Here you will find a wide selection of culinary food for every taste and for every occasion. During the day you can enjoy a fish roll from the snack bar, while in the evening a dinner in a first-class restaurant is preferred. Choose between seasonal dishes and Sylt-style dining. You also have the option of choosing a price range. As many wealthy people holiday on Sylt, the range of expensive dishes is very high. If you fancy regional cuisine at a high level, you should take a look at the menu of "Das Hoog".
Of course, the Sansibar is not to be forgotten. Here you will find a wide range of brunch, lunch and an evening menu. Of course, everything from a regional and international cuisine at a high level.
Leisure activities: Quad biking, water sports & Co.
You are currently on the island, on the way there and still looking for possibilities for day activities? Then you can find some ideas here. If the sun is shining and the temperature is high, you can of course visit a beach of your choice and spend the day there. Rent a beach chair, grab a book and relax by the sea. For more action, there is a wide range of water sports, which you can also enjoy on many of the island's beaches. If you want to stay on dry land but still need some action, you could rent a quad bike and explore the island. There are also a few options for rainy days. Visit one of the lighthouses, the large aquarium or the indoor swimming pool in Westerland. Sylt offers many leisure activities for children and adults.
Fancy a party?: Sylt's club scene
Sylt is mainly known as a party island for the young and older affluent society. Especially in the high season and in the summer months there are many beach parties including music and champagne and you can dance the night away with your friends and family. There are many bars and clubs where you can party inside as well. There is also a wide range of events in the harbour or by surf clubs. The best, most popular and busiest places for party tourism are mainly Westerland and Kampen. They are considered a party hotspot and you can find the elite here.

Accommodation: holiday apartment, camping or own property?
There are several accommodations on Sylt. If you are planning a holiday on the popular island, you can simply book a holiday apartment, a house or an apartment. You will find a large selection on the usual booking sites. If you want to travel cheaper, stay in nature and experience more adventure, you can also camp on one of the many campsites. Grab a tent and spend a few exciting days on Sylt.
More and more people are deciding to invest in real estate. Houses and apartments on Sylt are also ideal as a dual residence and holiday home directly by the sea. Buy a property on Sylt to make at any time vacation on the hip and prosperous island. In addition, through the purchase you have the opportunity to rent out your property temporarily and thus earn additional money.
Holiday apartment, pension or village hotel
If you want to spend your holiday on Sylt, you first need the right accommodation. The German island offers a wide range of holiday homes, holiday houses, apartments, hotels, youth hostels or guesthouses. There will be something for everyone and in every price range. For example, choose between a village hotel for that island feeling, a villa for a large group or a loft for that real luxury and high society factor. Whether in Westerland, Wenningstedt or Kampen. The choice is large and holiday apartments with dogs are also available.
Camping: Flexible, adventurous and cheap
If you don't want to be tied down to a hotel or holiday apartment, want a cheaper holiday or simply want to experience a greater adventure, you should definitely consider camping on Sylt. The island offers several campsites directly by the sea and surrounded by beautiful dunes and nature. It's an ideal place to holiday as a family and dogs are almost always welcome. Start your adventure, get a roof tent for example and go camping on Sylt with friends or family. Some campsites can be found for example in Westerland, Morsum or Rantum.
Explore the campsite in Rantum before your holiday! Here you can virtually walk along the streets to the sea.
Living on Sylt: Real estate & Co.
The island of Sylt is not only suitable as a holiday destination. More and more people invest in a property as a second home, to spend several times a year without additional costs. Buy a condominium, a house or a villa to visit the island as often as you like and live the luxurious lifestyle. The supply of real estate on Sylt is very high and more and more people are buying or renting an apartment, for example. So if you are interested in buying a holiday home by the sea, you should definitely take a look at the island of the rich and famous.
Average price per square metre for a house on Sylt: 12,030€/sqm
Holiday with children and dog – is that possible?
Holiday on Sylt with children and dog? Yes, that is possible. For both children and dog owners, the German island offers several attractions and areas to spend a great holiday. Our tip for a holiday with the dog is: avoid crowded beaches and go for a walk in the morning hours. You can't go wrong with this in any case and you won't disturb any other tourists. There are also some local activities for children, such as a mudflat hike or a tour in the Sagen forest. Here you learn a lot about the past of the island and the special natural events in a playful way. So there is something for the whole family.
Sylt with dog: dog beaches and pet-friendly accommodation
Of course you don't have to leave your dog at home during your holiday on Sylt. On the contrary. On Sylt there are many offers and areas where you can ideally spend your holiday together with a dog. We recommend that you avoid the overcrowded beaches in the summer and prefer to go to quieter areas. Beaches on the tidal flats are usually less frequented by tourists and especially in the early morning hours you can watch the sunrise during a walk. Also the hotels and accommodations are in many cases very dog-friendly. If you inform yourself in advance, nothing should go wrong. However, keep in mind during your visit that your dog must be kept on a leash in nature reserves and that you should always be considerate of your fellow human beings.
Sylt with children: Mudflat hike, indoor swimming pool or Sagen forest
There are also many attractions for children on the island and you can make an ideal family trip here. The highlight is of course a mudflat walk, for which the island is ideal. There are walks for children and families so you can learn about the process. Another attraction is the Legend Forest of Sylt. Here you can playfully learn about the various legends of Sylt on a path about 200 metres long and find shade from the sun under the numerous trees. Should the weather not play along and an activity in nature not be possible, the Sylt wave is ideal as a substitute program.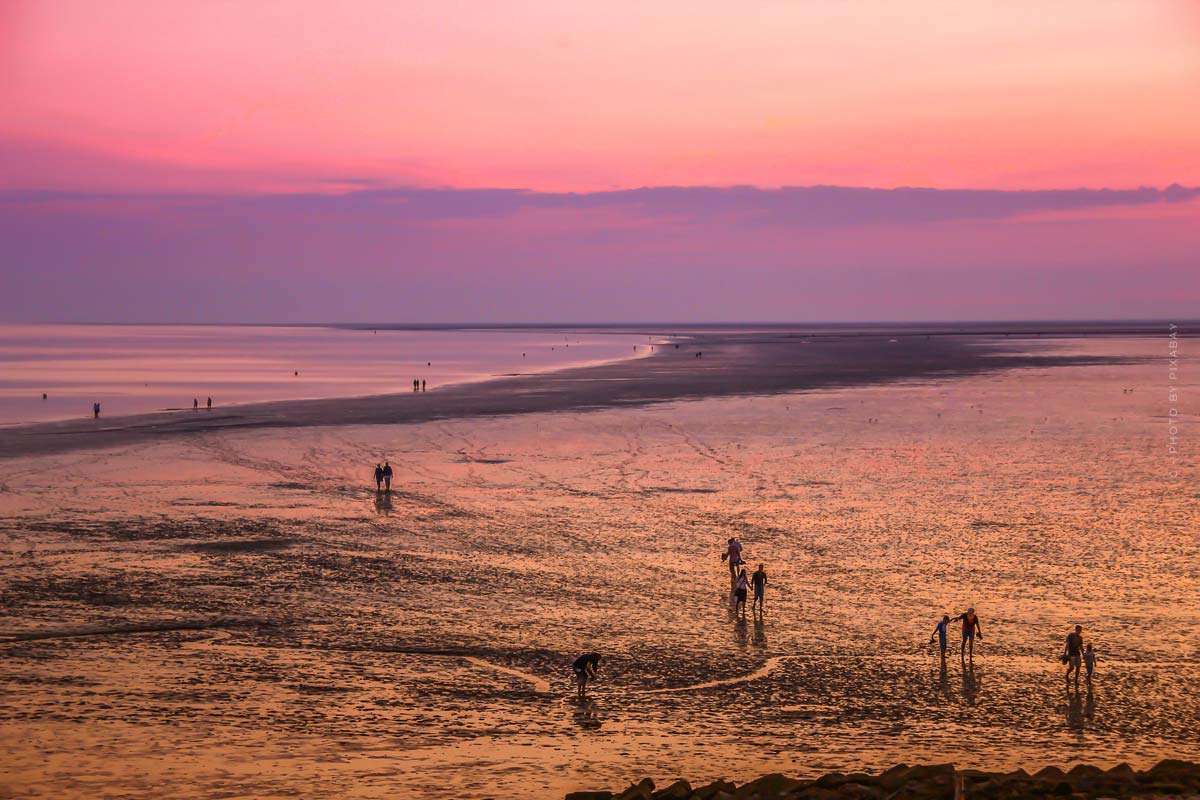 Weather & Climate on Sylt: Temperatures and Precipitation
It doesn't matter if it's winter or summer. If you want to go on holiday, the weather should play along and fit into your plans. For example, if you are currently considering whether you should spontaneously start a short trip to Sylt, a look at the weather map would be advisable. You don't want to pay money for accommodation and the journey, only to be unable to spend a day at the beach because it's raining cats and dogs. We show you here the temperatures and the average precipitation of the important months, so that you can prepare yourself ideally.
High season temperature: June to September
June to September is when the island's temperatures are at their highest. You can expect about 20°C and 7 hours of sunshine in August. In addition, the water temperature in this month is a pleasant 17 ° C. In June there are with 9 hours of sunshine per day the most sun in the whole year at about 18°C. The water temperature is only 13°C, so swimming in the sea might be a little too cold for some. During these summer months, you should expect an average of 9-12 rainy days per month. However, it is worth mentioning that there are very rarely complete rainy days on Sylt and the weather can change constantly throughout the day.
Low season temperature: October to May
As you have already experienced, it is an absolute insider tip to visit the beautiful island in winter. This is also true for months in autumn and spring. From October, the temperatures drop to about 12 ° C to -1 ° C in February. Also the sunshine hours become less and less and amount to only 2 hours per day in the months from November to January. You should also keep in mind that there might be more rainy days during your trip in winter. The most are on average in November with 14 days. Swimming can also be very fresh. If the water is still 13°C in October, the average water temperature is only 3°C in February. So this is not for everyone.
You want to know what the weather is like on Sylt right now? No problem! Here you can find a map with the current climate!
Live webcam, track and route: all important info
You want to go on holiday to Sylt and wonder how you can get to the island the fastest or what the island looks like? Here you can find out everything about routes and get an exclusive view of Sylt from above with the help of webcams. Whether you're coming from Frankfurt or Berlin. We show you the fastest ways to get to your holiday destination.
Route: Frankfurt to Sylt
From Frankfurt to Sylt you need about 9 hours by car. Just drive along the A7 and then take the Autozug or the ferry to get to the island. If this time is too long for you, you also have the possibility to reach the island by plane. Here you will find the exact route by car.
Route: Berlin to Sylt
From Berlin you need about 7.5 hours by car to Sylt. On this route you ideally take the A24. You can also reach the island by plane from Berlin. However, please note that you will not have a car on the island and will be less flexible. Here you will find the exact route by car.
Q&A: What should you know before you go on holiday to Sylt?
You still have some unanswered questions or want to test whether you have retained the knowledge from the article? Then test yourself and try to answer the questions of our Q&A yourself!
What are the travel options?
In total there are four ways to reach the island:
Airplane
Web
Ship
Car (ferry or car train)
Which are the most beautiful places on Sylt?
Westerland forms the center of the island and is the largest municipality. Here you will find a large beach as well as numerous restaurants, shopping facilities and clubs. So if you want to experience something, you should visit Westerland in any case.
In List you can relax particularly well. Here are also many beautiful beaches and there is something for every age group.
Kampen is considered an elite hotspot. Here the motto is: see and be seen. The high society meets here and experiences exclusive parties.
Can you camp on Sylt?
Yes, there are several campsites on Sylt right by the sea. So if you want to be more spontaneous and see more of the island, camping is ideal. It's also usually cheaper.
Can I take my dog with me to Sylt?
Absolutely! Dogs are welcome on Sylt. Many accommodations are very pet-friendly and welcome the four-legged friends. There are also some dog beaches and especially on the mudflats there are usually fewer tourists. However, be aware that a leash requirement applies in nature reserves and of course should never disturb other people.
Can I also take a holiday on Sylt in winter?
Absolutely! A winter holiday is an absolute insider tip. For one thing, the accommodation prices are significantly lower than in the summer months, so you can also save some money. Also, the sky is beautiful in winter and you can watch unique sunrises and sunsets.
https://fivmagazine.com/wp-content/uploads/2021/03/sylt-insel-strand-meer-dune-treppe-urlaub-deutschland-.jpg
794
1200
Lisa-Marie
/wp-content/uploads/2023/08/fiv-magazine-logo-news-influencer-fashion-interior-travel-real-esates.svg
Lisa-Marie
2021-03-19 12:21:46
2021-03-19 12:21:46
Sylt holidays: travel, places, beaches and holiday apartments for your trip