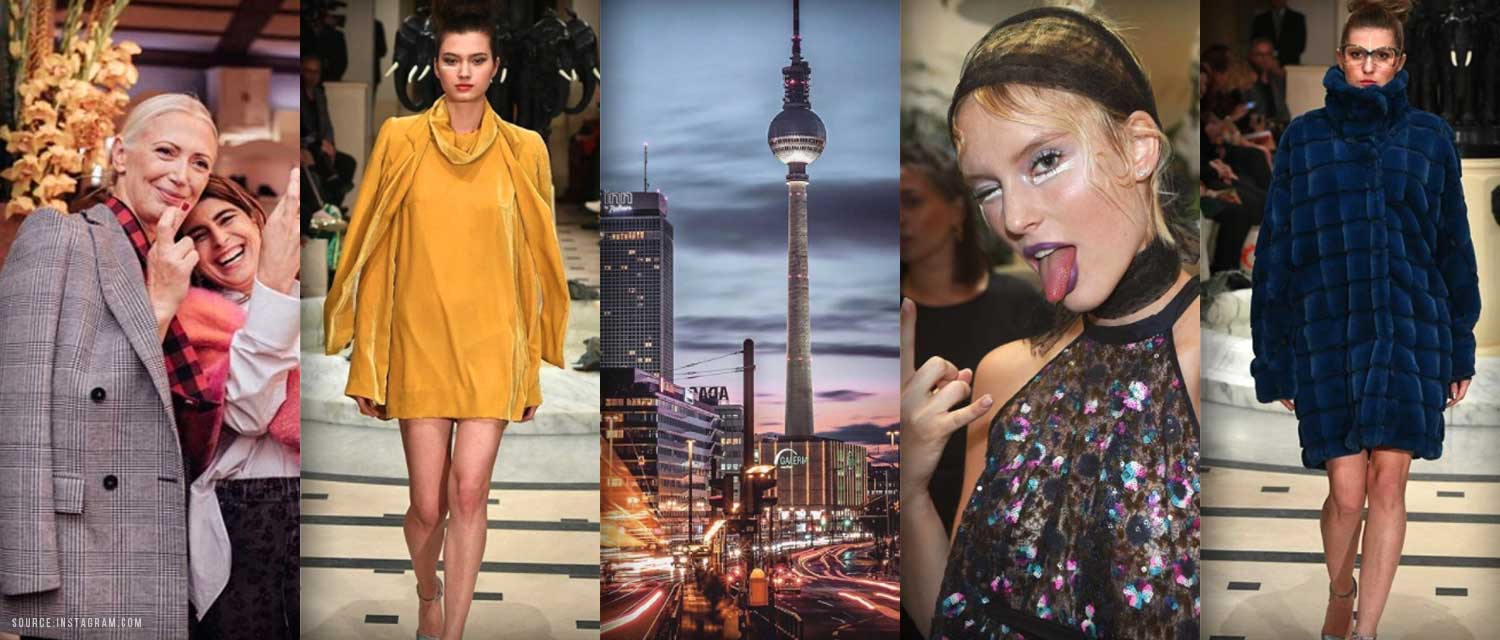 Berlin Fashion Week 2018: Castings, Shows and Curvy Models
Fashion Week in Berlin attracts almost 100,000 visitors every year! About 40 relevant shows attract fashion lovers and influencers from all over the world. From January 16 – 19, 2018, designers of every genre will present their new collections and catch everyone's eye. But the models will also get a lot of attention from the press, as they do every year. I wonder who will be allowed to walk the catwalk of famous fashion designers like Guido Maria Kretzschmar or Anja Gockel this year? And will there also be curvy models this year? Here you can find out everything about Berlin Fashion Week. From the castings to the last day!
You want to become a Curvy Model? The casting for plus size models
In advance: Already one day before the Fashion Week there is a special highlight for all those who always wanted to introduce themselves in a professional model agency or those who know someone who should definitely try their hand as a model! CM Models is casting Curvy Models for the first time! The agency works with international clients like Tommy Hilfiger, Dior, Prada but also advertisers like Microsoft, Nivea or Deichmannn. On 14.01.2018. CM invites to the Curvy Model Casting in the Berlin Les Soeurs Shop. More information about the casting and the registration can be found here:
CM Models was voted one of the best model agencies in Germany by Bravo in 2017! And in spring new castings will start in Berlin, Cologne, Stuttgart, London and Paris. Will they also drop by in your city? Find out more about the 2018 castings here:
Berlin Fashion Week: 16 – 19 January 2018
With the Berlin Fashion Week you automatically associate the many events and fashion fairs like the Berlin Salon, Premium, Panorama and the Greenshow. Even the Berghain should be there this year with a new event plan. On January 17, designers are to have the opportunity to present their collections there as part of the "FASHION HAB presented by Mercedes-Benz" show. As time goes by, fashion changes and so do Fashion Weeks. But what about the models? At the last Fashion Weeks in New York, London and Paris you could see some models away from the distant "ideal" image of super slim models. And if you look around there will even be a Curvy Model Casting at the same time. Will we soon see curvy models on the catwalks in Berlin?
https://www.instagram.com/p/BV4rPokFZNx/?taken-by=berlin


FragranceTip.com by FIV
The preparations and castings before the big shows
Every Fashion Week has to be well organized and of course it all starts with the planning! Designers have to coordinate their shows, the press tries to organize good seats and the stylists prepare the models and the clothes for the big show in the last minutes. So backstage is very busy before the shows and leaves no time for faux pas or drama. But before the show, castings are organized weeks and days before to find suitable models. Also many model agencies have a part in the big show and cast again and again for new talents. Open castings before the shows are also not uncommon and are advertised in advance on the Internet for everyone to see. On January 14, there will even be a Curvy Model Casting at the chic Curvy Concept Store in Berlin, Charlottenburg. Seems like the fashion world is letting go of its stiff image of models and becoming more open to new things.
Backstage models wait for their big appearance for Anja Gockel
https://www.instagram.com/p/BZTi9E0FEgs/?taken-by=anjagockel
Plus Size Wanted: You want to become a Curvy Model? Dare to go on castings!
If you think you have a good chance to conquer the catwalks of the world as a curvy model and to be part of many exciting shoots – then dare! Especially during Fashion Week, model agencies are on the lookout for new faces and talent. CM Models offers a casting in Berlin on Sunday, January 14, 2018 for all those who dare to get a foothold in the big modeling world. The casting is organized together with the model agency and the Curvy Concept Store "Les Soeurs" and invites all who have time and desire to be cast by a professional jury consisting of a model photographer, a model booker and an already professional model! Address is Grolmanstraße 16, 10623 Berlin and start is 13 o'clock. What are you waiting for? They want you!
What you should definitely think about during an open casting!
At an open casting no prior invitation is needed, so basically all models are free to go there. Who decides to go to an open casting must consider some things to positively stand out and be booked for a show. First of all, everyone who goes to an open casting must bring a lot of patience and also expect to go home without much success. Nevertheless, you should always be in a good mood and have a well-groomed appearance. Very important: appear without make-up and with a very natural look! After all, the model is the white canvas on which the designers will later present their works. What to bring? Tight clothes that show the body as it is, high heels and if available your own sedcard with all the photos taken at previous jobs on shoots. As soon as it's your turn and you stand in front of the jury, everything goes very fast. The model introduces herself briefly, runs once back and forth and everything happens in less than 3 minutes.
Who is there? The famous models of the Berlin Fashion Week!
If you look at the last years you have seen ex GNTM candidates, but also winners on the catwalks for designers like Michalsky or Anja Gockel. Celine Bethmann (winner 2017), Kim Hnizdo (winner 2016) or also Julia Wulf (Kandiadatin 2017) will surely be there again this season. Stefanie Giesinger, winner of GNTM 2014 and now one of the biggest influencers from Germany, is also expected. Will her British Youtube friend Marcus Butler accompany her? We are curious! Curvy model Katharina Stahn attracted a lot of attention at Berlin Fashion Week last year. She was allowed to present the new collections of Harald Glöckler, Doris Streich and also Anna Scholz on the catwalk. Will we see more Curvy Models this year? Katharina definitely made a statement last year!
GNTM winner Stefanie Giesinger at the Mercedes Benz Fashion Week 2017
https://www.instagram.com/p/BYoCqMcgrcY/?taken-by=stefaniegiesinger
Curvy Model Katharina Stahn in front of the camera for a charity shooting
https://www.instagram.com/p/BEf2RRDkyuf/?tagged=katharinastahn
The designers and their shows at Berlin Fashion Week 2018
The planning for the shows is certainly already in full swing. But who will take part this year and who will surprise us this year? With one designer we are already sure: Guido Maria Kretzschmar will make women's hearts beat faster again and lead some to fashion heaven with his feminine fashion. We fondly remember last season's shows, where flower girls roamed the catwalk on bicycles and everything had an insane lightness to it. Talk about insanity! At Harald Glöckler we are expecting another eye-catching glittering collection with lots of glamour. We are also excited about the classics and collections by Michalsky and Dorothee Schumacher. If you want a crowning finale on the last day of the Berlin Fashion Week go to the Aftershow Party. There you can meet designers, models, influencers and model bookers from all over the world who want to celebrate the end of the fashion week. And now: toast!
Dorothee Schumacher's black and white collection in the 2017 season
https://www.instagram.com/p/BZVYUSEBOEV/?taken-by=dorotheeschumacher
Throwback to the show of Guido Maria Kretzschmar in 2009
https://www.instagram.com/p/BI-OKf2jkyB/?taken-by=guidomariakretschmer
https://fivmagazine.com/wp-content/uploads/2017/12/berlin-fashion-week-winter-collection-designer-models-curv-plus-size-runway-casting.jpg
640
1500
Stephan
/wp-content/uploads/2023/08/fiv-magazine-logo-news-influencer-fashion-interior-travel-real-esates.svg
Stephan
2017-12-28 13:53:14
2017-12-28 13:53:14
Berlin Fashion Week 2018: Castings, Shows and Curvy Models