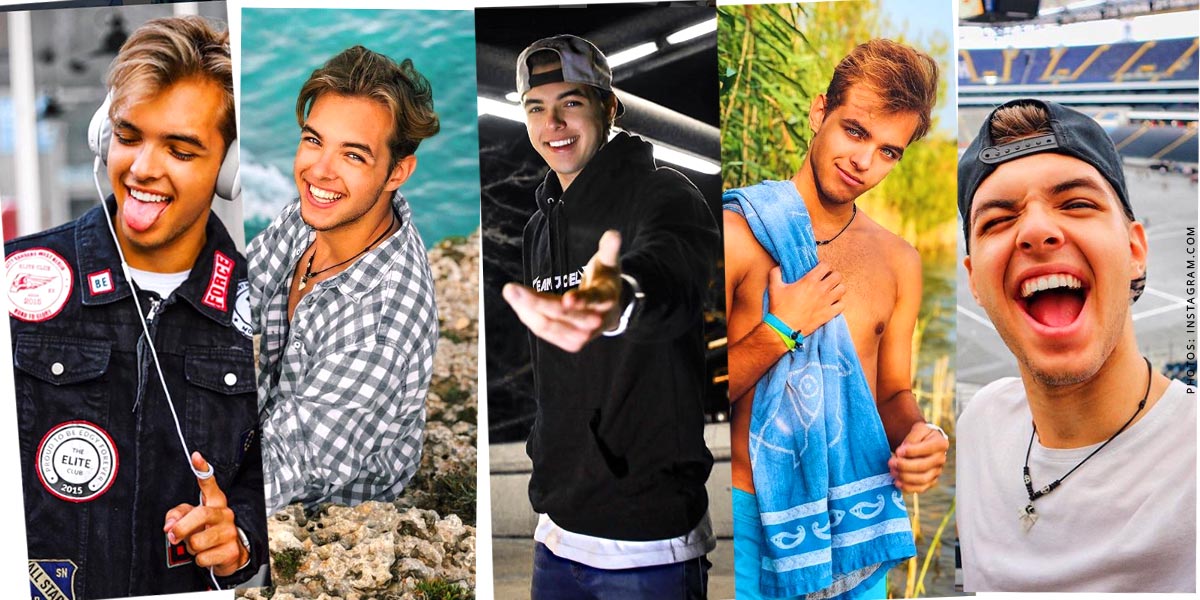 Joely between fitness, Youtube and school stress
FIV: Joely, you regularly make Musical.ly videos, count on Instagram currently 87,000 followers and on your Youtube channel you post more and more videos. But tell us a little bit about yourself and your content. Try to describe yourself with three words!
Joely: I would describe myself as an entertainer, as funny and even a bit cheeky. Entertainer, because I enjoy entertaining people and even have success with them – which you can see from my reach. Funny, because I always go to projects with a lot of fun and energy and also like to produce comedy videos for my fans. Sometimes I also like to make some jokes with my fans because I just dare to do what I want to do. Even if my family says it's probably not a good idea, I think, "Now more than ever!"
FIV: You've only uploaded three videos to Youtube, but with Musically you've already built up a real fanbase which you affectionately call 'Team Joely'. What do you think your fans appreciate most about you?
Joely: I think because I'm always there for my fans. I just want to give my fans back what they give me and I'm just EXTREMELY thankful that they are always behind me – no matter what.
Joely has time for gym – despite school stress
FIV: As you can easily see, you like to go to the gym. How regularly do you exercise and since when? In summer it is much easier and you like to move, but in winter you often lack motivation. Do you have any tips for my readers on how to stay on the ball?
Joely: I haven't been training that long and I'm just doing it for fun to feel better. In the gym I just get a free head and by the way you of course do something good for your figure. I also don't know where I got my motivation from (laughs). I just don't think so much and just go to the gym, because as soon as you are there, you are somehow automatically motivated.
FIV: You are only 16 years old, because your social networks are always up to date, you think up new things for your fans, events, friends and even at school. This must be really stressful for you. Doesn't that get too much for you sometimes?
Joely: Yes, you're right. That keeps me pretty busy but I just enjoy it so much and I wouldn't do that if it was different. For example, I had to prepare for a job and then didn't have time to go to the Echo Awards. I was really sad. But of course I am happy to experience so much with my 16 years, so I don't find it bad to cancel an event. School goes first and I am only 16 and have my whole life ahead of me.
FIV: Your sister Chany is also known from Musically, Instagram and Youtube. Sometimes you guys produce something together. How did your parents react to the fact that suddenly both of their children are in public? Do they see that strictly and look at your content regularly or do they give you full freedom?
Joely: Our parents are our biggest fans. They always stand behind us and help Chany and me as good as they can. Of course, they also give us tips and tell us what they like and dislike. Our parents have noticed from the beginning how we have grown in the social media, so it was no big surprise for them.
FIV: Last summer you already brought out your own merch. The style is very sporty and casual. Who or what inspired you? It must be an awesome feeling to know that there are people who wear your logo and your designs!
Joely: I've seen other Youtubers and Influencers publishing Merch and I wanted to. But the designs were my own ideas and I'm always looking forward to seeing mega at events fans wearing my sweater.
FIV: Your style is like your merch very casual. What is your absolute favorite piece you couldn't do without? What can't be missing in a man's wardrobe?
Joely: I really like to wear cappies, which has always distinguished me in the past. But lately I wear them less and not so often, because I am very satisfied with my hairstyle at the moment. A year ago, I didn't dare to go out without a cap.
FIV: I saw in my research that you and your sister met Madison Beer! I'm a little curious about that. How did it come to that and were you very excited or what it was for you rather normal, because you yourself are already quite well known?
Joely: I was a little excited before, but when we met her it was really chilly with her and you could talk to her normally. It happened because we saw that she was on tour in Germany and we wanted to meet her personally. Our management took care of it and then we met them in their tour bus after their show in Frankfurt. It was really cool.
FIV: On Instagram you also uploaded videos like the parody about the jungle camp. Can you expect more of these comedy videos on your Youtube channel in the future or what kind of content do you have planned?
Joely: The production of the videos was great fun! I'd love to do more of them but the videos are very time consuming, so I haven't uploaded that many yet. In the future one can count on such videos again and again, because I have soon again holidays and much time to produce. I am not only planning comedy videos, but also want to offer other content to my fans. I also like to make vlogs or just some cool pictures for Instagram and with Musical.lys I show what moves I have.
FIV: If you're 16, you should be in 10th grade right now, right? Do you plan to do your Abitur after finishing secondary school or do you want to concentrate more on your career as an influencer?
Joely: The school is like I said before and I want to do my Abitur. If there's time, I'll invest you in my career as an influencer.
FIV: You've been to many events like the Kids Choice Awards and the Glow. Will there be more of this kind for you next year?
Joely: Yes, I would like to travel more, but it's more spontaneous due to time constraints. Now I was just in Munich at the AboutYou-Awards and soon Amsterdam-Trip is just around the corner! For my age, I'm on the road quite a lot and I'm always happy about it. Let's see where I go, drive or fly everywhere until the end of the year.
FIV thanks Joely for the nice interview!
https://fivmagazine.com/wp-content/uploads/2018/05/joely-white-fitness-youtube-blogger-school-model.jpg
600
1200
Lisa-Marie
/wp-content/uploads/2020/07/fiv-magazine-news-instagram-youtube-tiktok-influencer-fashion-interior-jewelry-real-estate-tips-help-logo.png
Lisa-Marie
2018-10-25 07:00:27
2021-07-07 10:13:36
Joely between fitness, Youtube and school stress