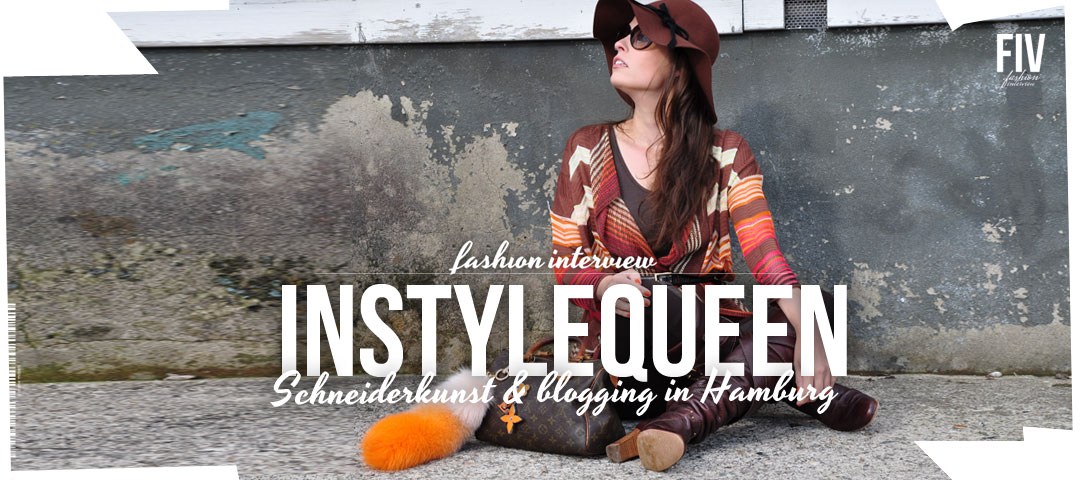 Fashion blogger Jasmine from Instylequeen
Jasmine is a Hamburg fashion blogger with heart & soul. She not only knows about the latest trends, she also tailors her clothes herself. With good tips & tricks she tells her fans on her blog www.instylequeen.de how to tailor themselves and is happy about every pattern sent to her. I talked to Jasmine about her fashion must-haves, blogging and the fashion city Hamburg.
Instylequeen: Well dressed doesn't have to be expensive!
FIV: Jasmine, your blog "Instylequeen" reflects your passion for fashion! What is especially important to you about your blog?
Jasmine: It is especially important to me that my readers enjoy my blog. I am most pleased when women write to me that my blog has motivated them to sit down at the sewing machine for the first time. Many send me emails with their tailored pieces. That is really a fantastic feeling. The personal exchange with other hobby tailors and fashionistas is very important to me.


FragranceTip.com by FIV
FIV: What can your fans read and learn on your blog?
Jasmine: Well dressed, doesn't have to be expensive. Nevertheless, I like to save up for one or the other designer piece. Fashion should not develop into a "throwaway society", but into favorite pieces that accompany us for a long time in our wardrobe. However, I love to mix highlabels with cheap alternatives & create a classy look out of it.
FIV: What sets you apart from other bloggers?
Jasmine: I follow trends, but I also leave some things in the shops, because not every trend is made for every person. My advice to every woman is to develop your own style and really only wear the clothes that you really feel comfortable in and that flatter your figure with a good fit.
Blogger Jasmine Tailors Herself
FIV: Besides blogging, you tailor your own creations. How did you get into this? Where does your talent come from?
Jasmine: When I was 16 I started embroidering sequins on clothes and sewing colourful plush bags to look individual at the Loveparade. I've only been sewing from patterns since 2009, when my girlfriend moved to the country and got really bored. She was looking for a hobby and asked me if I would like to attend a sewing course with her at the adult education centre. After that I was on fire, the sewing machine has not let me go since then.
FIV: How would you describe your personal style?
Jasmine: I have always been inspired by old style icons like Audrey Hepburn, Jackie Kennedy, Coco Chanel & Co. I love the look from the 50's and try to bring it into our time. This of course explains why my favourite clothes are often dresses, skirts or box jackets. I find it exciting to play with my femininity and prefer (wherever everyday life allows it) to wear the classic lady chic.
FIV: What do you consider to be the top accessory that makes any outfit shine that little bit more?
Jasmine: It's always worth investing in a classic handbag, as well as quality shoes.
Jasmine about the Hamburg City Style
FIV: You are at home in Hamburg, what makes this city special for you?
Jasmine: As a native of Hamburg, I feel closely connected to the city. Despite being a big city, Hamburg radiates a cosy atmosphere. It always makes me happy when I drive my car over the Lombardsbrücke and let my gaze wander over the Alster.
FIV: What does the fashion scene in Hamburg look like? Is there a "typical" street style in Hamburg?
Jasmine: Even though Wolfgang Joop blasphemes about Hamburg women, "The wealthy Hamburg woman never understood the romanticism in my designs, she is after all a successful mixture of horse and woman." ( Quote) I really love the typical hanseatic look with classic riding boots, a cashmere sweater with Burberry- trench coat or cape. I hope that for Hamburg the typical understatement in fashion will remain for a long time. On the other hand, the Hamburg woman could sometimes dare to step out of line a little more fashionably.
FIV: What is your "secret tip boutique" in the city on the Elbe?
Jasmine: To feel like in the 7th designer heaven, I can recommend the Apropos store, which is located in a picturesque setting directly on the Binnenalster. In addition to beautiful designer pieces from Valentino, Moschino & Co. women can also find great things for their four walls.
After an extensive shopping spree, I recommend taking a breather with a coffee at Alsterhaus and enjoying the beautiful view of the Binnenalster. Afterwards, you can continue browsing through mid-priced labels like Sandro, Maje and the great shoe department.
If you want to save your wallet, take a look at Secondella Secondhand. There you can even find vintage Chanel bouclè jackets and co.
You can find a great evening dress for the cocktail bar at Bcbgmaxazria in ABC-Strasse. There is a super nice team with a top advice to the side.
FIV: What can fashion maniacs experience in Hamburg, apart from shopping?
Jasmine: If you love the feminine look, don't miss the annual gallop derby at the Horner racecourse. There you can see elegant dresses and of course glamorous, fancy hats.
FIV: What else would you like to experience and achieve as a blogger?
Jasmine: Of course an invitation from my fashion god Karl to a Chanel show. Of course, that's a bit ambitious, but a woman can still dream…
FIV: Dear Jasmine, thank you very much for the nice interview!

More information about Jasmine & Instylequeen.com:
https://fivmagazine.com/wp-content/uploads/2015/09/jasmin-fashion-bloggerin-instylequeen-interview-schneiderkunst-bloggen-hamburg.jpg
480
1080
Stephan
/wp-content/uploads/2023/08/fiv-magazine-logo-news-influencer-fashion-interior-travel-real-esates.svg
Stephan
2016-06-04 13:33:32
2016-06-04 13:33:32
Fashion blogger Jasmine from Instylequeen