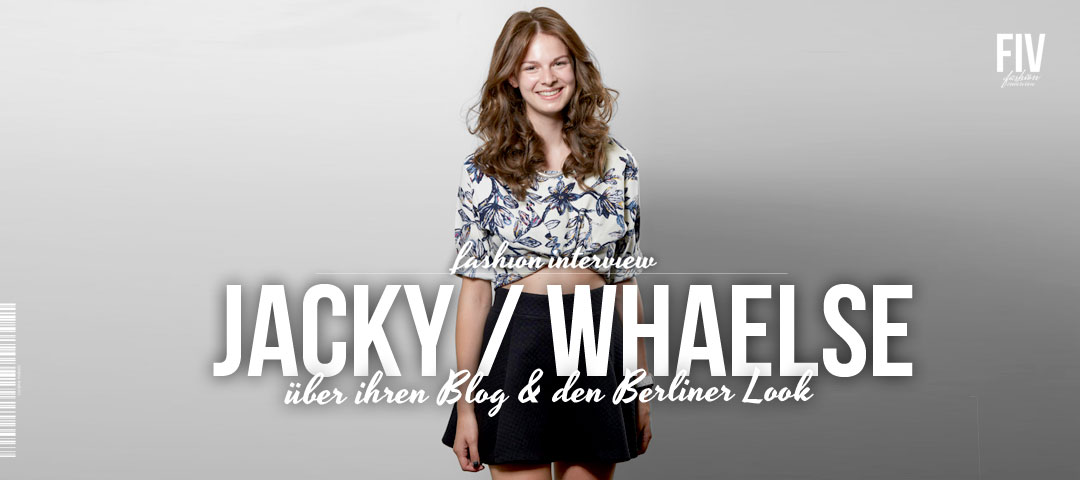 Fashion blogger Jacky from whaelse.com
Jacky is a fashion blogger from Berlin. During her education she started her own blog www.whaelse.com and has since built up a huge fan base. I talked to the talented creative about her daily blogging life & Fashion in the City Berlin.
Whaelse: One name, one brand
FIV: Jacky, how and when did your blog come about?


Germany - Spain - USA
Jacky: My blog came into being at the end of 2011, shortly after I had started my training as a businesswoman for marketing communication. It served as my own project, with which I could try out and implement what I had learned as well as try something completely new.
FIV: What is the meaning of the name "Whaelse"?
Jacky: We wanted to create a proper name with which we could create our own brand. A name that is not necessarily fixed on the topic of fashion and can thus evolve together with the blog and grow with it, no matter what will come. After much deliberation and many rather bad ideas, we finally came up with Whaelse, whatelse without the "t".
[sc:ad-lifestyle]
FIV: Do you have a trick for quick success?
Jacky: A blog means a lot of work and should, in order to be successful in the long term, be seen as a business, which is of course also fun. Of course, a blog is a hobby, but if you want to be successful with a blog and live from it in the long run, you should consider it not only as a hobby, but also as a job and act accordingly.
FIV: What qualities should a blogger bring with her to make it big?
Jacky: There is no secret recipe for that. There is always a lot of luck involved. Success depends on so many factors and in the end you probably just have to be lucky. But you should never give up and stand behind your blog, you should be authentic.
Jacky about the Berlin City Style
FIV: To what extent does Berlin inspire you in your look?
Jacky: I can't really say that consciously. But you probably dress differently than when you grew up and live in a small village, because in Berlin you simply experience and see a lot more influences and other cultures and styles. Maybe that's why in Berlin you're not afraid to try something new and that's also the case for me.
FIV: What has been your most defining experience/ coolest event in the Berlin fashion scene so far?
Jacky: I can't commit myself to that. Of course, my very first Fashion Week here in Berlin was particularly formative. Everything was new and totally exciting. Otherwise, all events are always something special, because you meet new people and always have fun.
FIV: What does your everyday life as a Berlin fashion blogger look like?
Jacky: Even as a blogger, I sit in the office most of the day, from 9am to 6pm. New posts have to be written, upcoming ones planned and old ones evaluated – that's what I spend most of the day doing. However, some days this is interrupted because then it's outfit photos to take. These then have to be sorted out and edited. When I'm not working on new blog posts, I'm planning projects like Fashion Weeks and occasionally blogger events. On those days, I usually don't make it into the office at all. But overall my everyday life looks rather boring.
FIV: And what do you like most about your job?
Jacky: The variety. As a blogger you are constantly facing new challenges, working on other projects and so it never gets boring. Most of all, I love coming up with new concepts and planning them, especially when they actually end up being implemented.
FIV: What are your typical Berlin fashion must-haves?
Jacky: In Berlin everything is allowed and especially the fashion is incredibly diverse, so I couldn't say now that there is a certain Berlin fashion must-have.
Blogger Jacky: I write everything myself!
FIV: By now you have a whole team working for and with you. Do you still stay true to yourself and write your blog posts yourself?
Jacky: Of course, I write all of my texts myself, and since I want to keep it that way, my team supports me, especially with the other things that come up, so that I have more time for the blog posts themselves.
FIV: In your opinion, does a fashion blogger have a better chance of becoming known in Berlin as a fashion city?
Jacky: I think the only advantage is that many blogger and fashion events are in Berlin. Not all companies cover the travel costs, so as a blogger in Berlin it is of course easier and above all cheaper to come to exactly these events and thus be seen. But otherwise I think that the city you come from does not play a big role.
FIV: Dear Jacky, thank you for the interview!
More information about Jacky & Whaelse.com:
https://fivmagazine.com/wp-content/uploads/2015/09/interview-mode-bloggerin-jacky-whaelse-fashion-berliner-look.jpg
480
1080
Stephan
/wp-content/uploads/2023/08/fiv-magazine-logo-news-influencer-fashion-interior-travel-real-esates.svg
Stephan
2016-02-18 13:05:55
2016-02-18 13:05:55
Fashion blogger Jacky from whaelse.com