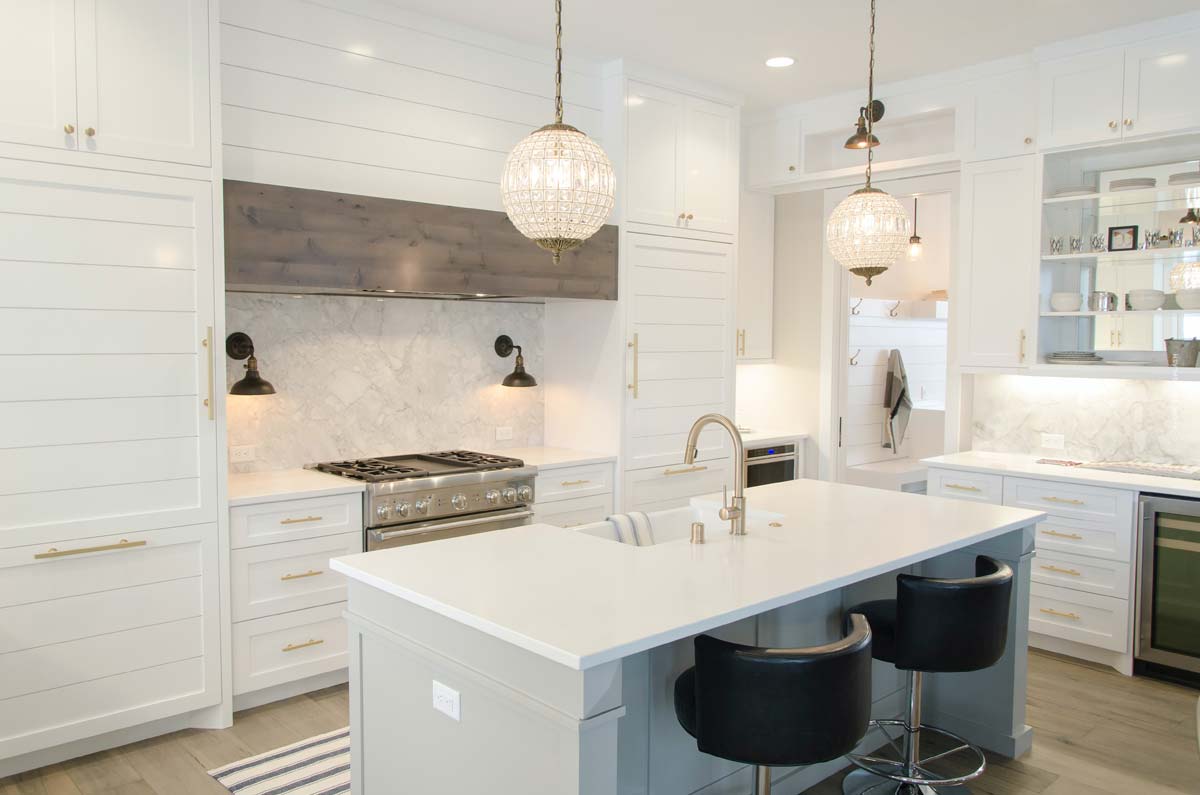 Granny flat: Requirements, advantages and disadvantages & Co. – Information for tenants and landlords
Granny flat – Granny flats are particularly popular for multi-generation houses: young adults or seniors can live here with their family, but still have privacy. But a granny flat is not only attractive for members of a family, regardless of whether you just want to rent the flat or perhaps even buy one already. Due to the low rental and purchase prices, this form of housing is also popular with working singles, students or even au pairs. Whether it is an attic apartment or a basement apartment in the cellar – granny flats can have just as much charm as normal apartments. Find out more about this type of apartment here, such as: granny flat, what is it actually?
What is a granny flat and what are typical features?
According to the legal text of the 11 paragraphs of the Housing Act, a granny flat is considered to be an additional flat in a single-family house. The decisive characteristic of a granny flat is that the flat does not have separate access from the outside. The granny flat can only be accessed through the front door or the staircase of the flat. In contrast to the main apartment, the granny flat is of secondary importance. The apartment is usually located in the basement or in the attic.
In principle, the rule applies here that running one's own household must also be possible in a granny flat in a completely autonomous way. If this were not the case, this would only be a pure room rental. If the apartment is also locked from the outside and has its own entrance, it is again a two-family house.
The rental contract will state whether you will receive a furnished or unfurnished apartment. The costs for a furnished apartment can be reflected in the rent in the form of a one-off payment or as an additional monthly payment. Domestic duties such as participation in garden maintenance or winter service must be stated in the contract.
The Einlieger has its origin as a dwelling for unskilled workers on a farm.
Are you looking for the right apartment? Here you'll find definitions, meanings and lots of information on penthouses, granny flats, apartments & co.: Apartment types from A-Z
Room layout: Separate kitchen & bath – with one or two rooms
The prerequisite for a granny flat is that it is possible to run a household independently. You must therefore be provided with a kitchenette for independent provisioning and a separate bathroom.
The number of rooms in a granny flat, on the other hand, is flexible: while in some granny flats the bedroom and living area share one room, there are also granny flats with several rooms and a higher number of square metres. However, the minimum size must be 25 square meters. The garden or terrace of the house can be shared depending on the arrangement.
You want more impressions on the topic of apartment types and apartments? Then take a look at our Pinterest account! Here you can also find our pinboard on the subject of granny flats and much more.
Pros & Cons: Pros and cons of a granny flat
Living in or owning a granny flat weighs up both various advantages and disadvantages. Living with another household may be seen as an advantage or disadvantage depending on the person and their living situation. You can use the following criteria to decide whether a granny flat would be the right option for you.
Advantages: Ideal solution for families and good investment for the future
With a granny flat there are two perspectives of benefits, one is the landlord's perspective and the other is the tenant's perspective. Homeowners can turn their unused space in the house into cash, whereas apartment hunters can find a cheap apartment. Just in the age results here a 2nd pension and the flatmates provide for more life in the house and can be helpful also with everyday work like the purchase. This variant of living together is therefore particularly popular with families: The children can stay in the parental home, but also have enough privacy later and can take care of the parents.
You can earn an even higher income by renting out the rest of the house instead of the granny flat and living in the granny flat yourself instead. Finally, if you ever consider selling your home, the additional living space will further increase the value of the house.
Costs incurred in the construction of the granny annexe can be deducted from the tax, but only if they can be clearly allocated to the granny annexe, such as the installation of a kitchen.
If certain conditions are met, the granny flat can also reduce the tax burden, but in this case the rental income must also be taxed.
Lower rent for the tenant
Only consideration for a neighbor
Mostly shared use of garden
Often already furnished
Social contact
Additional income for the landlord
House has higher value when sold
Ideal for several generations living together
Invoice may be tax deductible if applicable
Disadvantages: Loss of privacy and intimacy.
Many people associate a granny flat with a disturbance of their own privacy due to another person crossing their own four walls. For many tenants, a granny flat may therefore not seem as attractive as a normal attic flat.
The extended notice period can be problematic for the landlord if there are problems with the tenants and especially if there are delays in payment.
Limited privacy on both sides
Extended notice period (possibly problematic for the landlord)
If necessary smaller than normal apartment
Participation in garden maintenance and winter service
Good relationship with the other party is important
Source: Granny flat (Lukinski.de)
For whom is a granny flat suitable? Students, families and singles
A house with granny annexe is attractive for many people. This variant of the house with apartment is most popular for families. Several generations can live here together under one roof, but have enough privacy through a separation within the house.
This housing solution is particularly attractive, but also for professionals such as caregivers or au pairs who work in a private household. For whom granny flat, due to the low price are still suitable, you will learn in the following paragraphs.
Especially for singles who are not bothered or deterred by living with another household, this apartment is a good solution. Working young adults thus benefit not only from cheaper rent, but also from the social contact and less loneliness.
Students: Study and live cheaply in the basement or attic
For students for whom a room in a shared flat or a student hall of residence is out of the question, but who can't afford their own apartment, the granny flat offers a good intermediate solution. The separate apartment in the basement or attic offers you enough peace and space to study.
Seniors: Living together with the family with their own privacy
Several generations of a family under one roof – a house with a granny flat is the perfect solution here. Adult children or grandfather and/or grandmother can move into the apartment and still keep some privacy for themselves.
Buy or rent? This is what you should consider!
Garden maintenance, participation in winter services, use of other household items such as the washing machine – these are points that you should definitely clarify and consider before moving into your new apartment – before misunderstandings or even unpleasant surprises arise in the end.
Likewise, tenants should note that the operating costs incurred are only charged proportionally to the living space. Alternatively, a separate water meter as well as gas and electricity meters can be used here. Additional costs that may arise if you take over the apartment furnished, you should also keep in mind. You should also take into account shared costs that may arise if, for example, repairs are necessary by craftsmen.
If you do consider buying a granny flat, be sure to look in a new development. Many builders who need money to finance their own house turn their basement into a granny flat and sell it. Unlike a regular home of your own, the purchase price of a granny flat tends to be low. This is especially suitable as a good investment for life in old age.
Arrangement of participation in garden maintenance & winter service, joint use of other premises/household appliances
Allocation of operating costs
Buy: Location in a new development area
Good investment for life in old age
Tip. Please also read our article on the subject of buying an apartment with even more tips & tricks: Buying an apartment
Furnishing: Homeware, colours and furniture for your next home
In most cases, granny flats are basement flats or attic flats. But what is the best and most attractive way to furnish such a granny flat? Since these apartments are usually rather small in terms of space, it is important to ensure that the room appears as bright and flooded with light as possible.
Light wall colours are a good start here; soft colours such as white, cream, sky blue or violet make your living space appear visually larger. You should also choose light and friendly shades for the floor and furniture. Instead of thick, heavy curtains, we recommend pleated blinds. Decorative, light, stylish and an ideal privacy screen.
Your granny flat is not yet furnished and you are still looking for beautiful furniture? In our Interior Guide you will find the top interior brands of this world such as Dior Maison, Fendi Casa or Moooi. Also for the inhabitants of furnished apartments you can find great homeware and decor, which will turn your apartment into your personal feel-good paradise.
Another tip: We have written a guide with tips and tricks on trendy styles for your interior! Read more here: Furnishing styles XXL
https://fivmagazine.com/wp-content/uploads/2021/01/einliegerwohnung-wohnungstypen-kueche-hocker.kuechenzeile-lampe-bad-zimmer-herd-tisch-bar-esstisch.jpg
795
1200
Lisa-Marie
/wp-content/uploads/2020/07/fiv-magazine-news-instagram-youtube-tiktok-influencer-fashion-interior-jewelry-real-estate-tips-help-logo.png
Lisa-Marie
2021-01-04 17:00:51
2021-07-17 17:43:36
Granny flat: Requirements, advantages and disadvantages & Co. – Information for tenants and landlords