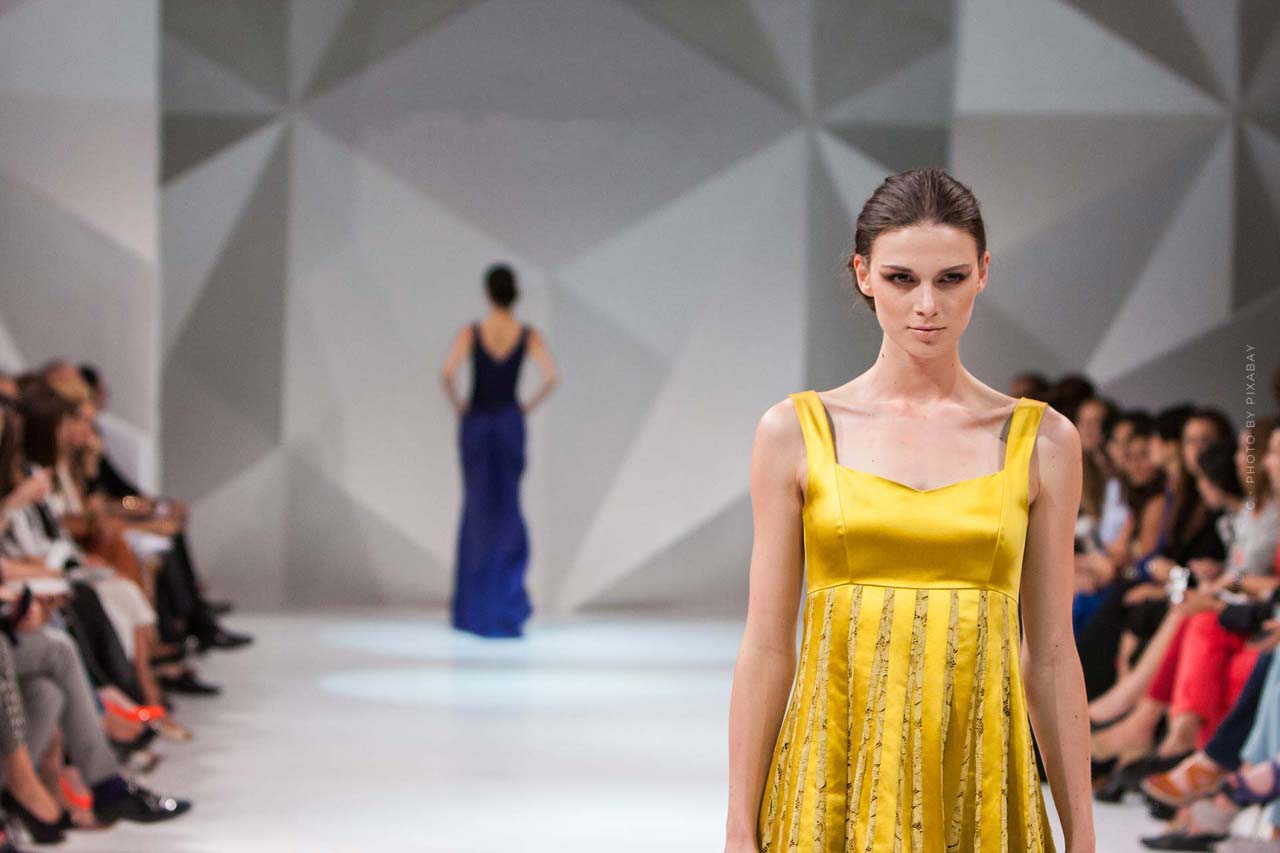 Fashion Week Frankfurt: FW Berlin moves to Mainhatten – designers, shows & dates
Fashion Week Frankfurt – The Frankfurt Fashion Week starts in summer 2021! The city of Frankfurt speaks of an "investment". It is official, the Fashion Week is moving to Frankfurt am Main. Fairs like Premium, Seek but also Neonyt are moving to the international banking metropolis Frankfurt. Instead of "Poor but sexy" (Berlin's long-standing slogan), the fashion of the new seasons is now presented between high-rise buildings – an upgrade? We met with Stephan M. Czaja, owner of one of the biggest German model agencies "CM Models" and author of the most successful book for young models, "The Model Book". With his Fashion Show Agency (from CM) he is also the organizer and host of the final Fashion Week Show in Berlin, the "Fashion Week Finals". What does he say about the Fashion Week move from Berlin to Frankfurt?
Fashion Week moves to Frankfurt
This headline is not only making the rounds on Instagram: Fashion Week is moving to Frankfurt! Portals and newspapers are also reporting on this move. T-Online says: "New fashion hotspot – Bye-bye Berlin: New fashion capital Frankfurt". The Süddeutsche writes: "Fashion Week move: Fashionable on the Main".
"The Fashion Week format will have to be rethought"
This was said by Anita Tillmann, managing director of the organiser Premium Group. Anita Tillmann is one of the most important people for Fashion Week. That's why they were particularly eagerly awaiting her statement. She is coming a bit closer to her home again. Anita Tillmann was born in Düsseldorf. She has turned her passion into her profession. After a diploma in textile and clothing management and postgraduate studies in marketing, as the Premium Group describes it on their website, her career has taken her from consulting for fashion companies with Kurt Salmon to successful fashion brands such as Joop! and Kathleen Madden. At the beginning of the 2000s, she moved to Pixelpark, the pioneer in online business, and consulted clients such as adidas and Mexx. Today, she and her Premium Group are responsible for the biggest trade fairs of the Fashion Week.
Photo: Screenshot EURONEWS


FragranceTip.com by FIV
Premium, seek, neonite & co.
In addition to the Premium trade fair, the Seek trade fair for retailers, the Neonyt platform for sustainable fashion and the FashionSustain and FashionTech conferences will also move to the Main.
"We have no bad feelings for Berlin," said Tillmann. However, Frankfurt offers different perspectives as the location of numerous textile fairs. In January 2021, Premium will be held in Berlin for the last time. Fashion Week Frankfurt is to become more innovative, digital and sustainable and will be held at various locations in the city in addition to the exhibition grounds – so T-Online.
reading tip! Young designer? Plan your own fashion show in Frankfurt: checklist for your fashion show.
TV News: Frankfurt wants to invest
The city of Frankfurt speaks of an "investment" and the FAZ says that Frankfurt is international, Berlin is not. Here is the report:
impact for Berlin: tourism and fashion industry
For the Berlin fashion location, the move to Frankfurt has far-reaching consequences for tourism as well as for the economy. The trade fairs are the economic driving force, bringing more than 70,000 visitors to the city each season, according to the Tagesspiegel. The Berlin Senate Department for Economics estimates the additional income from overnight stays, gastronomy and other services at 240 million euros.
loss of 240 million euros due to Berlin fashion location
The development of the fashion location Berlin in figures: There are over 2,000 companies in the capital. The fashion industry as a whole makes a turnover of over 2 billion euros in Berlin. With 200,000 trade visitors at the trade fair (source: Statista) from Germany, France, Italy and many other countries, the Berlin Fashion Week has developed into one of the leading trade fairs in Europe, with up to 50 shows in one week
According to a study by Investitionsbank Berlin, the additional economic output generated here in Berlin by Berlin Fashion Week is over 120 million euros per season; the Tagesspiegel reports up to 240 million euros. This is due, among other things, to over 200,000 hotel nights and growth in retail, restaurants, taxis and many more. In addition, a lot of public relations in the fashion industry for the city. In contrast, the city is investing around 33 million euros. A worthwhile business.
200,000 trade visitors
120 – 240 million Euro estimated turnover (depending on source)
50 shows a week
"We can only congratulate Frankfurt on this coup," he told the German Press Agency on Monday. Fashion designer Harald Glööckler (55) described the move of the Fashion Week trade fair from Berlin to Frankfurt, announced for 2021, as a "great opportunity" for the city on the Main. He went on to say: "The Frankfurt hub with its airport stands for internationality and is a household name around the world".
"I see great opportunities for Frankfurt to install an internationally important fashion fair."
Interview: Fashion Week moves to Frankfurt
Stephan Czaja is the owner of one of the big German model agencies (CM Models), he is the author of the most successful book on the topic "become a model", but he also has other companies, e.g. in the field of social media marketing. He organized the final fashion show of last year's Berlin Fashion Week and today, in between his appointments, we were able to reach him briefly for an interview about Fashion Week Frankfurt!
Stephan Czaja on Fashion Week Frankfurt
FIV: You organized the final show of the last Berlin Fashion Week. Were you shocked today by the news that Fashion Week will move to Frankfurt am Main?
Stephan Czaja: Actually yes! Some friends had already written to me in the morning about WhatsApp and Instagram, but I thought it was just another crazy idea that was shared by many people and the media. After work I watched Euronews and when the news came up I thought "wow" and then my opinion was split in two.
On the one hand, Berlin is naturally losing a great deal of its international public relations, after all, Fashion Week is not just about fashion trade and fashion fairs; much of what happens outside the fairs is also happening. This is where companies meet, even those outside the trade, i.e. agencies, organizers, videographers, models, etc.
At the same time I know Frankfurt and the city has a really, extremely international flair due to the many skyscrapers. The airport is one of the largest in the world. Frankfurt is also a financial metropolis. Already many advantages. And if we are honest, the Fashion Week in Berlin has been a bit run down in the last few years.
FIV: You say that Berlin Fashion Week has been run down in recent years, what do you mean by that exactly?
Stephan Czaja: About 5 years ago the Fashion Week took place at the Brandenburg Gate, a great location for such an international event. But after that the locations became increasingly questionable. I still remember the Fashion Week in Wedding, in a former ice rink. Everybody who knows Wedding (Berlin) knows that this is not the most representative part of Berlin. Plattenbauten, a lot of rubbish on the streets. A great, honest district to live in but not for such an event where you invite guests from all over the world.
In this one week of the Fashion Week, more than 200,000 trade visitors arrive!
Then we went on to the Jandorf department store, very cramped. In short, for such an international relevance you should try a bit harder Berlin! This morning it was written in the Frankfurter Zeitung that Frankfurt is very much looking forward to Fashion Week and wants to invest. I am excited!
Fashion and finance: What do you say?
FIV: How would you describe the fashion scene in Frankfurt? Does an event like Fashion Week fit into the banking city?
Stephan Czaja: When it comes to fashion, Frankfurt is of course no name in the world, but that's not what the Fashion Week is all about. After all, fashion designers come together here to present their fashion retailers from all over the world, especially of course from Europe. Accordingly, Frankfurt is an extremely international city, especially due to the large financial sector, the existing infrastructure for trade fairs but also due to the airport, which is still one of the largest in Europe.
What I find particularly interesting about Frankfurt is the skyline. Not for nothing is Frankfurt am Main also called Mainhattan, in reference to Manhattan, New York.
FIV: Will you also organize the first closing show of Frankfurt Fashion Week?
Stephan Czaja: Ever since I became aware of the news that Fashion Week was moving from Berlin to Frankfurt, I've been working hard to ensure that we also put on the final and hopefully, of course, biggest fashion show in Frankfurt. You are the first to know.
FIV: Thank you very much for the spontaneous interview!
Frankfurt: Fashion in Mainhatten
Frankfurt is best known as the economic and financial capital of Germany, but it is also one of the most desirable cities to live in and visit. With a rich collection of museums, historic buildings and a vibrant art and culture scene, Frankfurt is a surprisingly impressive place for a weekend break but also for fashion lovers, from 2021 at Fashion Week Frankfurt.
Before you set off, here are 10 facts you didn't know about the city yet!
International, exhibition city and airport
It is estimated that people of about 180 different nationalities live in Frankfurt. This means that almost 1 in 3 people living here do not have a German passport. Frankfurt is one of the cities with the highest quality and satisfaction of life in Germany and Europe. Frankfurt's nickname (Mainhatten) has evolved over the years because of its important skyline of skyscrapers, which is almost similar to the skyline of Manhattan, and the river Main, which divides the city in two. Culturally, Frankfurt is important, because not only Johannes Gutenberg, the inventor of letterpress printing, lived and worked here, but also Johann Wolfgang Goethe was born here and grew up in Frankfurt. Frankfurt is home to the world's largest fair for books, in keeping with the fashion fair that will soon be coming to the city. Big, bigger, Fraport: Frankfurt Airport is not only the busiest airport in Germany with the highest number of passengers and visitors, but also one of the largest airports in the world.
Many facts that speak for the trade fair city Frankfurt.
Drone: Frankfurt from above
Map and airport
Frankfurt from above:
Directions: Airport > Frankfurt City
This is the fastest way to get from the airport to the city of Frankfurt am Main.
Travel time approx. 13 minutes (15.7 km) via A5 with normal Frankfurt traffic conditions
Start via B43 and A5 to Theodor-Heuss-Allee/B44/B8 with approx. 9 minutes (13.5 km) driving time
Then follow the B44 to your destination for about 5 minutes (2.1 km)
Arrival: Frankfurt (Main) Central Station, 60329 Frankfurt am Main
Berlin Fashion Week: Final Show Summer '19
Read the interview with Stephan M. Czaja (Art Director) here: Fashion Show Planning or look at all the photos here, from the Runway.
https://fivmagazine.com/wp-content/uploads/2020/06/fashion-week-frankfurt-germany-modenschau-model-laufsteg-gelbes-kleid-schoen-modelagentur-casting.jpg
853
1280
F_kinski
/wp-content/uploads/2023/08/fiv-magazine-logo-news-influencer-fashion-interior-travel-real-esates.svg
F_kinski
2020-06-08 20:20:27
2021-06-23 16:26:41
Fashion Week Frankfurt: FW Berlin moves to Mainhatten – designers, shows & dates