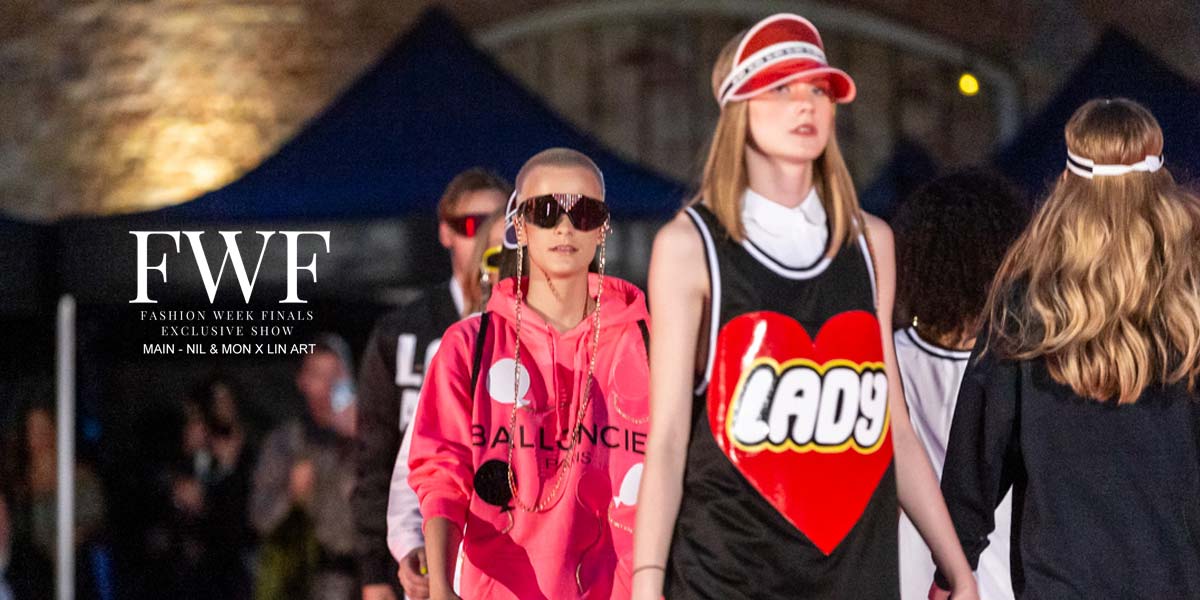 Fashion show planning & tips: Interview with Stephan M. Czaja
Stephan Czaja is one of the young talents in the field of Creative Arts. With his companies, his books and his performances as a speaker, he quickly established himself in the fashion industry. So fast that he even helped organize the last show of the Berlin Fashion Week this year. As project planner for models, designers and castings but also creative arts for the fashion show. Stephan Czaja is the head behind agencies like CM Models, Social Media One and Model Agency One. At just 32, he is now presenting his first big international show. With 400 invited guests, 27 models, 3 designers, 1000 people at the aftershow party of our magazine. The big highlight was of course the location, the Haubentaucher Berlin. In the Beach Club an extra runway was built on top of the swimming pool, 16 meter catwalk over the water.
We met him one day after the fashion show at the hotel to get the best tips & insights for you, for the first fashion show! How do you reach the right people, like influencers, buyers and press representatives?
The first fashion show & highlights
FIV: When did you organize your first fashion show?


Germany - Spain - USA
I did my first fashion show relatively early, directly one year after the foundation of CM Models 2015, when I was a showroom event with 150 invited guests, customers, friends, media representatives. We didn't do the show for a client but as a celebration for the one year anniversary of our agency. The location was really fantastic, right next to a park, on 2 floors, flooded with light, with DJ, runway, summer fashion and of course sufficient catering. That absolutely gave me a taste for it and since then I love to organize fashion shows. Even if the evening is always hectic and stressful, especially with over 300 guests, over 20 models, I love the job.
FIV: Your shows are also known for having relatively many influencers in the front row. Have you built your company from the first moment on in such a way that you have models, fashion agency and influencer under one roof?
Both are conditional. By working with very young people when it comes to modeling, we automatically come into contact with many who are present on YouTube or Instagram. Sometimes our models are even both, so we are all the happier when we have you on our shows. And when of course some friends want to come with us, we are even more happy. We founded our social media division one year later, precisely because of that. It was a great time, we were able to accompany great people like Jeremy Fragrance, who built up the world's biggest perfume Youtuber on his own, or Fabian Arnold, who won the Sport Influencer Junior Award from Pamela Reif and Angelique Kerber, at our first Influencer Award. Back then with 30,000 fans, today with half a million instagram followers and resident in Los Angeles.
So the close connection to YouTube and Instagram World came by accident and we are very happy when young people make so much of themselves and use their talent! At fashion shows or at the Fashion Week you come together from all over the world. One was just in Los Angeles, the other in London and of course I was busy in the office!
Tips for designers?
FIV: With "The Model Book" you have written one of the most successful books for models, which is now even published in English. You've been working a lot in the fashion industry, not only practically but also theoretically with your book. You have thought a lot about this, what is your big tip for young designers?
Before we talk about fashion shows right now, you've asked a really good question, because no matter what, it's always about hanging on!
Already knew 9 out of 10 companies fail in the first five years. As an entrepreneur you have to be aware of this, but also as a fashion designer. A golden rule is always to stick to it, every entrepreneur, every fashion designer has doubts or financial difficulties at the beginning, but that is quite normal. But the longer you are there, the better your contacts will be and the better you are connected, the more turnover you will generate. That's why it's so important to stay on the ball. Not only for half a year or for one year, but for three years, four years, five years. This results in a lot of things at some point all by itself!
A second important point I would add here is an important sentence from one of the greatest entrepreneurs there ever was, Mr Henry Ford. The automobile entrepreneur changed the world at that time through his production methods on the assembly line. He coined the phrase, for every dollar you invest in your product, you must have another one ready to make it known. As a young designer you have to know that you are not only allowed to sit on your creation and your collection, but you have to invest at least as much time to promote your collection. Be it events, social media marketing or targeted placement with buyers and wholesalers.
Organize and plan your fashion show – Top ToDos
FIV: What are the three most important points when you are planning your first fashion show?
Event-Location
Very important and essential is a good place for the fashion show. This must be confirmed very early, as there is a lot of orientation here. Be it the number of guests, the possibilities of the rooms for relocation, make-up and styling, but also the entire logistics before and after the show.
As a designer, you should always make sure that there are enough rooms available at the location, in the right position. After all, the models should not be seen half-dressed. Accordingly, there needs to be a room for the catwalk, the catwalk must be at least 10 meters long. In front of the catwalk there must be a stage or at least a curtain. Behind it you need space for clothes rails, models, fittings, make-up, planning and so on.
Outfits and collection
As a designer you should of course get your collection together on your own. However, there are often little things that young designers in particular do not pay attention to. And it's not even details but things like shoes. Are there enough shoes in the end or are there shoes at all? Are there enough pants for the models? Do you have the right clothing sizes and shoe sizes? All these questions have to be answered in advance, because on the day of the fashion show a lot of personnel and capital is needed if things still have to be done. At shows with 25 models, the logistical effort of 25 pairs of shoes that fit perfectly is extremely complex. Therefore all collection parts and outfits must be considered in advance to the sizes of the models.
In the fashion industry, many people ask why all models look the same. Exactly here lies the reason that the more different the models are, the more parts have to be made individually. The more uniform the models from the model casting are, the easier it is for the designer.
Models and Selection
For the reasons mentioned above, it is therefore important to organize models at an early stage. Either through your own circle of friends, for young designers or through agencies for designers who already achieve significant turnover.
FIV: In addition to the big points, there are certainly also details that you have to think about, especially when you organize the first fashion show, do you come up with something from your practice that is often not taken into account during planning?
Personnel planning and fitting aids
The first point that comes to my mind about your question is personnel planning. Personnel is seldom included in the planning in the quantity in which it is necessary. This is not only about people who help with the entry or the distribution of seats, it is also about fitting help, of course, people who help with the moving. The better the organisation of the staff, from the entrance to the distribution of seats to the changing of models, the smoother the day or evening will be. The staff should therefore also receive a correspondingly precise briefing on the tasks they have on the day of the fashion show.
Outfits & Accessories: completeness and list
We had just discussed shoes and trousers, which of course have to fit and of course have to be organized in advance. And of course there are even more detailed accessories, from sunglasses to handbags. It is not only about having the right accessories but also brands that support your own brand. For example, if you have a Prada, Hermès or Dior handbag with you, it will automatically increase the value of your brand through image transfer.
Make-up and hair
Is a girlfriend enough to do makeup and hair? No! For a fashion show you need a lot of make-up artists who make sure that the style of your models is perfect. Accordingly, personnel for hair and make-up must also be planned and organized. Not only the staff, but also the lighting, make-up mirrors, equipment, tables and of course the sockets for smoothing irons.
Photographer: photo and video material
Also very important is your own fashion show photographer. After all, the fashion show is there to present your new collections to as large an audience as possible. So that not only you have pictures and video material from the fashion show, you should consider a photographer or videographer in advance, who captures the entire event. From the preparations in the backstage area to the guests and the outfits they wear. And of course the big fashion show and every single outfit on the catwalk at the end. The aftershow, of course it must also be recorded! You will not only use the photos for yourself but also send them the day after to the press and media representatives. This increases the chance that you will be published in the media. The more frequently your fashion brand is seen, the more presence you have in people's minds.
Guest list Contact and seats
The higher the quality of the guest list and the more work it entails. Especially if you manage to get big bloggers, buyers, CEOs or even media representatives on your fashion show, you will have to work many days on the list. Because no mistakes can happen on the day of the fashion show. Every seat must be precisely planned and organised. Not only does every important person need a seat, you also need to set the order and seat distribution. Who sits in the front row, who sits in the middle, who sits at the beginning and end? Accordingly, you should start early with your guest list, especially if your contacts are already good.
Guest list: Influencers, Buyers and Press
FIV: That's right, with your own fashion show you can reach many people as a fashion designer. Maybe we'll stick to the subject for a moment. How to reach Influencer? What is the best way to contact them so that they can really look at themselves?
Two concrete tips would be, be brief with your cover letter, be concise and interesting and simply ask them directly via Instagram or via email if they are only on YouTube. The direct address, friendly and nice is usually the most effective way to convince a loose to come to your own event. The important thing is to be very brief. Yes, of course yoga gets a lot of requests every day. So don't explain too much, why and why. Just say, this is my show, I would be very happy if you are there, here are the most important dates of the event. Then you just write the date, start time and of course the information that you would like to put him or her on the guest list with accompanying person.
Here is a little extra tip, of course you can also contact Influencer agencies, Social Media One and ask if artists and bloggers want to drop by. I would rather recommend the personal approach, because as a fashion designer you can also build up a long-term personal relationship. After all, you don't want it to remain a fashion show, but ideally you present your fashion for every new season!
FIV: What can you recommend so that young fashion designers can reach important buyers or owners of boutiques or even fashion chains?
If you don't have a name yet, you'll have a hard time to get a nameable buyer or to decide on your own event. Nevertheless, the speech is worthwhile, because the more doors you knock on as a young entrepreneur, the more opportunities arise. Here the old principle applies, 90% work, 10% talent. If you invest time in getting important people, e.g. from big online shops, on your event, who could become potential customers, then this pays off if you manage to convince one or two per show.
But my recommendation is rather to use the time to get multipliers on your event. The bigger your own community becomes, the more interesting you become your brand or your name for buyers.
FIV: How can young designers convince the press and media?
Press is the biggest sticking point. Just like large influencers with over a million followers, media representatives are difficult to reach without a very good network. To get big fashion magazines on your event without a very good network, impossible. Therefore you should not focus your work on the top ten media, no matter if print magazine, TV or social media, use local media, they also search daily for good content for online and print. And through local press you can also reach local boutiques, potential customers for your fashion label.
That's why you shouldn't just focus your energy on big media houses, sometimes even waste it, think of smaller media, they also give you reach. From the regional newspaper to the fashion blog.
Models and castings
FIV: First the question: How much does a model actually cost for a fashion show?
The costs for a model cannot be quantified exactly, depending on whether it is a start-up fashion label or an established, international brand. However, the price is at least in the three-digit range. The investment pays off, which is why all established designers resort to model agencies. Here it is about uniform sizes, professional running but also about punctual appearance and guaranteed replacement in case of failure. Many advantages that fashion designers appreciate so that their own show is not endangered and all collection items are presented perfectly.
FIV: What would you recommend, friends or real models from an agency?
For young designers it is of course absolutely worthwhile to fall back on their own contact network. As just described, it becomes more and more important with the increasing degree of professionalism not to endanger the show. If, out of ten planned models, 3 are cancelled, the fashion designer is faced for the first time with the question: "Would it have been better to book with a model agency? The next aspect is the professionalism of the run and the experience. Anyone who has ever run for brands such as Dolce & Gabbana or Burberry, and of course for top German designers such as Dorothee Schumacher or Guido Maria Kretschmer, knows how to present fashion. The third aspect is uniformity. The more uniform the models are, the better the fashion show can be planned, the collection parts and the more uniform the look is. The more uniform the look, the less distracting from fashion.
FIV: How can you promote a casting so that many models come to the open casting for the fashion show?
There are several possibilities here.
If you happen to know something about social media marketing, I would recommend an advertisement or an advertised contribution. On Instagram a simple posting or video that promote by an advertisement with 100 € and only on your own city, e.g. Berlin or Hamburg. You set the age, e.g. 15 to 25 years and you have a great advertisement that reaches exactly the right people in the city, with the right age. How this works can be read in my new book, "The Social Book"
If you don't know anything about it, I would recommend to display small flyers in boutiques. Boutique owners often like to help and so you reach an audience that is interested in fashion and tends to be younger. So, in theory, you don't need anything but a copier and a smile. And of course don't forget your Instagram account! Even if you only have 1,000 followers, use them! Because they too have friends and friends. So make daily small stories and also the one or other posting in the apron of the casting with a concrete call to participate in it!
FIV: Thank you so much for this interveiw Stephan!
https://fivmagazine.com/wp-content/uploads/2019/07/fwf-fashion-week-finals-magazine-runway-berlin-show-influencer-vip-designer-runway-collection-summer-2019-pool.jpg
600
1200
Lisa-Marie
/wp-content/uploads/2023/08/fiv-magazine-logo-news-influencer-fashion-interior-travel-real-esates.svg
Lisa-Marie
2019-08-03 07:00:09
2020-11-10 16:03:04
Fashion show planning & tips: Interview with Stephan M. Czaja