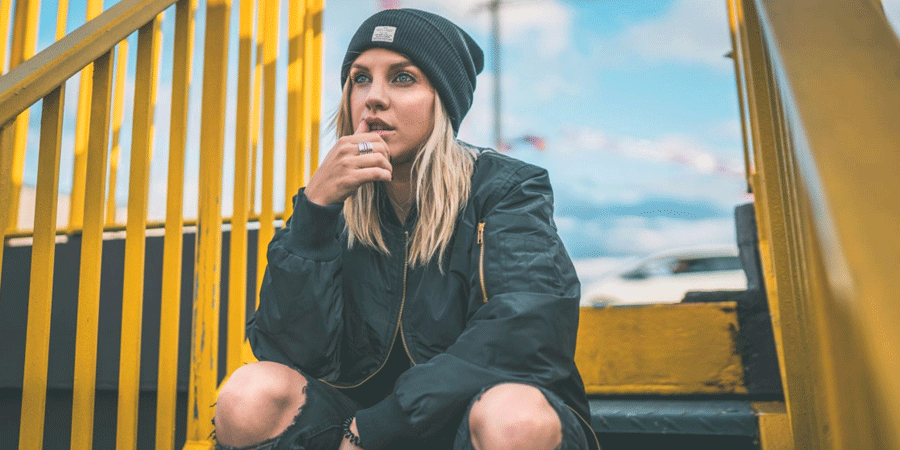 Emy Ltr, incredible youtuber, actress, author, performer and influencer from Paris – Exclusive interview
Emy Ltr is an incredible Parisian artist. Influencer, youtubeuse, interpreter and actress, Emy is one of the best Parisian youtube girls to follow absolutely on Youtube. She shares funny videos, makeup tutos, tattoo tips and more recently she writes her own short films on her social networks. FIV is delighted to present its exclusive interview with Emy Ltr on the world of cinema.
Emy Ltr: a complete artist
FIV: Hi Emy! How are you? How are you? You are an influencer and a complete artist very appreciated in France for your sympathy and your natural side. Can you describe your universe and your style for our international readers who don't know you yet, please?
Emy: Hello! I'm fine, thank you very much! First of all thank you it's really nice to hear that:) ! So my name is Emy, I'm 28 years old and I've always had a lot of trouble describing my universe and my style, I don't know myself. I think I'm a mixture of a lot of things like a little porridge. I mainly do fiction and short films on Youtube and Instagram networks. My universe is a palette like for painters, I have put all the colors I am a fan of and I make my own painting.
I have been passionate about cinema and music since I was a child, and I have always dreamed of making it my profession. I've always had an overactive imagination. As a child, I used to make up stories to fall asleep, the only difference is that today I put them on paper and in pictures! I really like science fiction, I like to add different genres sometimes thriller sometimes comedy…. I don't like the routine. I really like poetic content, a bit of art as they say. Anyway, I mix everything up:)
FIV: In May 2019, you climbed the stairs of the cane festival for the first time. Congratulations! How was the day and what was your best memory?
Emy: I don't really know if I should be congratulated for that, I went there to attend I didn't present anything:). But it was fascinating to me. I've been watching the ceremony since I was a kid and being invited this year was pretty crazy. Beyond the glitter and the red carpet, there is a real respect for cinema there. You get up when the film crew arrives, you applaud, nobody talks or anything else during the film and at the end you applaud again. I thought it was incredible. Because today at the movies besides seeing the guy next door texting you or hearing the popcorn noises… I'm a misophone, so I hate the popcorn noises!
My best memory, I would say that it was after the screening of Roubaix, we went to celebrate and we found ourselves at the same evening as Léa Seydoux, Marion Cotillard and their friends… There really I felt like I was hallucinating and wondered how I got there:)!
I also have a great memory of the climbing of the stairs, I was very stressed, I was very afraid of falling or being ridiculous, a creative friend had lent me a dress that she wanted to exhibit in Cannes but the dress was extremely heavy and very cumbersome, I remember that at one point a photographer called me to take a picture of me, I was so not expecting it that I suddenly turned around and walked on my train I felt the ground approaching but it will avoid the Drama:D !
Being a woman in 2019 by Emy Ltr
FIV: You posted a video on Youtube called: "Being a woman in 2019". Can you share with us your feelings on this subject, please?
Emy: I had been receiving a lot of messages asking me to tell about my experience as a woman for a long time. I hesitated for a long time before I did. Fear of not using the right words, fear of not getting the right message across. But when I saw the news on abortion I couldn't help but react. I don't pretend to know the exact terms, the exact figures, nor do I have the in-depth knowledge to speak for professionals so I preferred to talk about myself, my different jobs and my feelings. I received a lot of supportive messages, men and women telling their stories in the comments it was great. Exchange is why we do this job: to share. And that's what happened.
I don't think I'm ultra-feminist, I think I'm more of a humanist, actually. I want gender equality but it goes both ways, I was raised by a man and I didn't learn misogyny until very late. My father, my friends never talked about women in any inferior way, I never felt any differences between the sexes, I discovered that when I started working and I found it sad. But I don't want to put all the men in the same bag. Or women, for that matter. Because there is a lot of work to be done on women's relationships too.
I've made my way, so yes I think at first I was a little bit of a joker, they were afraid to trust me, knowing that fiction is a domain mainly for men on YouTube, but I persevered and today my sex no longer counts.
Film: News, short films, series and cult films
FIV: Emy, you are a real artist! After your success on Youtube and Instagram, you published your book and released your first jingle. And today, you create your short films, you are incredible and full of energy! How did you get the idea and the desire to create short films?
Emy: Oh, that's nice! I don't really have any answers.  As I explained earlier, I believe I was born with the desire to live in my own reality. My stories. I fought for this and I hope to be able to do it for a very long time.
I was very introverted as a child, I didn't talk to the other children I was afraid of it. So when I went to bed I imagined the day I would have wanted to spend and I think that's the starting point of my whole story.
My father always told me, "I know that school is not your thing but it doesn't matter, you'll make movies my daughter! "I think unconsciously it became my goal to make him proud of me. We're not there yet but I work for:)!
When I arrived on YouTube, I would have liked to start making short films right away, but I didn't have the means or productions to help me. So I built my universe little by little, then when I had enough "weight" for people to notice me, I thought it was time to really get started.
Then I find that there is no better way to communicate than emotion. So that's what I'm trying to do, to bring people together around the same emotion. We are not so different if we all feel the same thing at the same time.
FIV: Can you please tell us about your new Orpheus project, a series that is very much awaited by your followers! Do you have any other future projects you would like to share?
Emy: Orpheus is a script I wrote last January, unfortunately at that time we hadn't found a set I had to leave it out. It's a story I wrote for my grandfather who left us a few years ago and I was very close to him. He didn't give me time to show him that I was going to do what I'm doing today. But when he left I made him a promise and Orpheus represents that promise kept! This project is his:).
I prefer not to say too much and let you discover this series! No spolier in our country: D
There is also Perfect Love 2 which will be released on September 1st, it's a medium-length film and a new step for us. My production no longer sleeps but I gradually take them to the feature film haha.
FIV: Cinema is one of your passions. Which films have left their mark on you? What films would you recommend to your Followers?
Emy: Wow, I hope you have time. I have an endless list of movies I love.
Those who impressed me I would say Fight Club, Seven, The Fountain, Beyond our dreams, Interstellar, The Great Blue, The 5th Element, American History X, Angel Heart, Philadelphia, Braveheart, 21 grams, her name was Sarah, The Devil's Partner, Heat, Sleepy Follow, The Army of the Twelve Monkeys, Balde Runner, Big Fish, Gangs of New York, Lord of War, Hook (I even have a tattoo of it by the way), Dracula, The Silence of the Lambs… My list is far too long:)
5 tips to become a successful actress – Emy Ltr
FIV: As an actress, what are your 5 tips for becoming a successful actress?
Emy: I don't know if I'm in a position to give advice, I'm learning and I'm only at the beginning. But I've always wanted to live things 100% so I'm not sure it's wise to listen to my haha advice. But I like authenticity and I'm always afraid to play wrong. So if I have to get a slap and then I ask to be really slapped to get a sincere reaction. When I have a scene of anger or tears, I listen to music that gives me emotions for about thirty minutes by looking at sad images I condition myself to the maximum. Then for scenes a little "lighter", I make sure to forget the camera and tell myself that the character is really me and it helps me to play more naturally. I've forgotten a little about shyness because it can be a blockage, I don't care about ridicule, I don't care about being pretty, my only goal is to be credible.
Actress tips: How to make your dreams come true?
FIV: What would you like to say to those who want to make their dreams come true like you?
Emy: Not to give up, I was a switchboard operator 4 years ago, I didn't graduate and I lived with 900th grade per month. But my phobia of living a bland life without passion was stronger than the fear of crashing and I started. It takes sacrifice, but I wouldn't change my life for anything in the world. Don't listen to people who discourage, they are forgotten dreamers. I'm only at the beginning, but I'm not going to give up. Stay persistent and give love. The more positive and kind you are, the more the doors will open. Good luck!
https://fivmagazine.com/wp-content/uploads/2019/08/Emy-ltr-influencer-french-actress-instagram-youtube-cinema-festival-de-cannes-movies.gif
450
900
Clemence
/wp-content/uploads/2020/07/fiv-magazine-news-instagram-youtube-tiktok-influencer-fashion-interior-jewelry-real-estate-tips-help-logo.png
Clemence
2019-08-22 07:00:04
2021-07-07 09:44:16
Emy Ltr, incredible youtuber, actress, author, performer and influencer from Paris – Exclusive interview