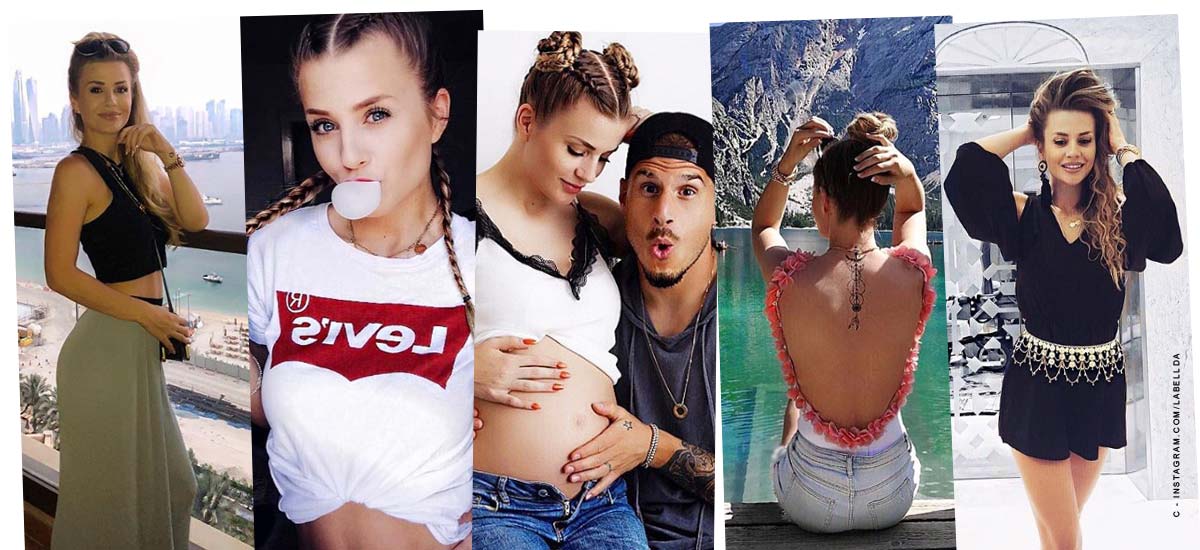 Emigrating, becoming a mum and Youtube? This is Labellda
On Youtube there are more and more vloggers who shoot everyday vlogs with their families. Recently it has often been discussed whether having children has become a trend? And whether people are "marketing" their kids on Youtube to get higher follower numbers? As far as Labellda is concerned, that's not true at all. She even addresses this issue in one of her videos. She does show off her son Noah and makes no secret of her second pregnancy, yet she would never market her children. She is one of the first Youtubers to start making family vlogs.
Who is Labellda? – Youtubestar for everyday vlogs, hairstyles and fitness
Laura Isabella Yilmaz is a blonde, German Youtuber and a digital influencer with an Instagram account. She regularly entertains her community with videos about beauty, fashion and lifestyle. If you follow Laura, you will never get bored.
Labellda Instagram & Youtube
Here you can find the most important links to Laura, so you don't miss anything:


Germany - Spain - USA
Bye Bye Germany
With the One-Way Ticket off to freedom.
https://www.youtube.com/watch?v=20gjrbpqXSo
How old is Laura, anyway?
Laura's birthday is November 30, 1990.
Deniz Yilmaz: Laura's husband – soccer player and dad
Laura's husband is the German-Turkish football player Deniz Yilmaz. Currently, the 30-year-old is under contract with the club "Genclerbirligi Ankara". Many think, with such a job, Laura surely leads a dream life at the expense of her husband. However, Laura emphasizes the opposite. In one of her videos she describes her school career. After leaving school with a very good secondary school leaving certificate, she did an apprenticeship as a personnel consultant, then she caught up on her secondary school leaving certificate and also did her business school leaving certificate. What does that tell us? Laura also stresses that it's never too late to climb the career ladder. Even if you don't make it straight away, there is always a second way to get to the top. Laura is now self-employed with social media and also earns her own money very well.
Laura's childhood and her family
Laura is originally from South Tyrol and later moved to Munich. She grew up there with her mother and her sisters. She says that she grew up in a rural area and therefore still feels very comfortable in the countryside. At the moment, Laura describes Munich as her home and posts a lot of pictures when she visits her family again. Laura has never mentioned her father on Instagram or Youtube. Her grandmother comes from Greece, which is why she also has some Greek roots. Is that where Laura's love of other cultures comes from? The 27-year-old always stresses how much she loves Turkish food and how comfortable she feels in Turkey. Sure, it's hard when you can't get as much family support, since Laura and Deniz's family lives in Germany. But judging by Laura's videos, she seems to manage everything great and fulfills her tasks as a mom, wife and Youtuber very well.
Laura's tattoos and their meaning
On Instagram Laura shows us her tattoos. She has a small heart on her hand, which you can always see. On her back she has a bigger tattoo which includes the letters of her little family.
https://www.instagram.com/p/BSran3Nje-d/?hl=de&taken-by=labellda
Son Noah: proof of love as a tattoo
Her husband, on the other hand, has covered almost all of his arms with several pieces of art. One of them, is a large portrait of Laura's face and a portrait of the face of their shared son, Noah. If that's not proof of love?
https://www.instagram.com/p/BckaOqBHXwz/?hl=de&taken-by=labellda
The Best Beauty Queen Videos
The videos that Laura regularly uploads to Youtube are very diverse. Mostly it's about fashion, beauty and lifestyle, but there are also videos about recipes, fitness sessions and her everyday life as a mom and wife in Turkey. Now new: The fitness interview with Pamela Reif.
Tip! Want to work on your figure? Here you will find the best books on fitness & nutrition
Afro curls do yourself
In one of her videos about hairstyles, Laura shows how anyone can easily conjure up Afro curls. For this, the beauty queen doesn't use overpriced products that the average person can hardly afford, but resorts to straws that are already available in many households. This is also what her fans love about her, Laura is not aloof, but always remains down to earth and nice to her well over 100k followers.
Quick chignon variations
If you follow Laura's photos on Instagram, you'll often see her with a variety of different chignon styles. In one of her videos she shows how you can get these modern hairstyles.
Laura's life in Turkey
Laura has been living in Turkey with her husband and son for three years now. They moved there because of her husband's professional commitments as a footballer. The family has moved several times within Turkey, and they currently live in Ankara. Laura feels so comfortable in Turkey that she is already thinking of staying there forever. The only barrier they still have to overcome is to master the Turkish language perfectly. Laura's husband is half-Turkish, which is why he already speaks fluent Turkish, and their son Noah has the good fortune to grow up bilingual, only Laura has to learn the Turkish language again in Turkey. In the meantime, however, she already knows quite a bit, which she herself is very proud of. In order to master the language perfectly in a few months, she is now starting to learn with the help of an app.
Familyvlogs: Laura takes us through her everyday life
Again and again Laura lets us participate in her family life. She especially likes to show us her 2-year-old son named Noah. The second baby is currently on the way. Laura is lucky that it will be a girl, just like she always wanted. Deniz, on the other hand, had actually wanted a second boy. To make the gender announcement extra exciting Deniz was team blue and Laura was team pink. They announced the gender with confetti cannons in the corresponding color. Team Pink won. If you want to have a look at the video, you can find it here:
How did Laura and her husband meet?
Laura and her husband met in a shisha bar. Laura tells that her husband was a completely different person before their marriage . Back then he was more the player who dated many different women and she was more the shy romantic who would do anything for her great love. The footballer Deniz has changed completely since he is married to Laura. For him there is only his Laura and their son Noah. If you want to watch the video again:
Tip. Want to take photos for Instagram like top fashion bloggers? Read more here: How influencers take photos
Labellda Instagram & Youtube
Here you can find the most important links to Laura, so you don't miss anything:
https://fivmagazine.com/wp-content/uploads/2018/10/labellda-influencer-blogger-mama-schwanger-eltern-werden-mode-alter-frisur-youtube-star.jpg
550
1200
Lisa-Marie
/wp-content/uploads/2023/08/fiv-magazine-logo-news-influencer-fashion-interior-travel-real-esates.svg
Lisa-Marie
2018-10-11 07:00:09
2018-10-11 07:00:09
Emigrating, becoming a mum and Youtube? This is Labellda