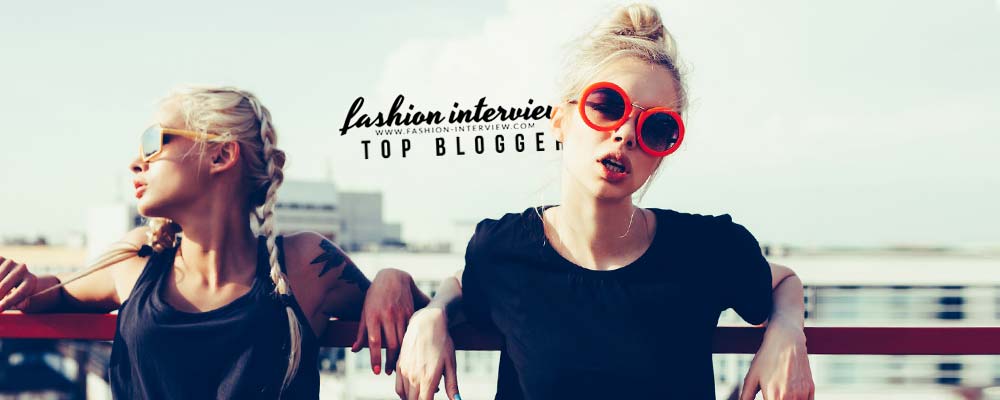 57 Influencers you need to know! Trends, Fashion, Food & Travel
Fashion & Lifestyle – Bloggers show us the brave new world! Whether it's trips to paradise, the latest fashion trends and accessories or exclusive events. We always keep you up to date on which Inlfuencers and bloggers are setting the trend. With their lifestyle they inspire thousands of people. We have compiled the top 57 coolest blogs for you! You can find out who you should definitely know here. These bloggers are definitely among the best! If you want to become a blogger yourself, check out our new blogger guide!
Bloggers & Influencers you should know!
They are like a beach by the sea and there is a lot of competition. Bloggers and Instagram stars who share fashion, beauty, travel, lifestyle and fitness trends with their fans. We have the best of the best in a list for you!
Lisa and Lena – Social Media Queens
Young, blond and cheerful. Those are Lisa and Lena. The twin sisters from near Stuttgart. On June 17, 2002, the two were born and bang, 16 years later they are internet stars. It all started in June 2015. Lisa and Lena discovered Musical.ly for themselves and took off. Not only in Germany, but internationally, as they also use English songs for their Lipsyncvideos. They are supported mainly by their adoptive parents, who took them in when they were 6 months old, and by their siblings Tayra and Tim. However, there is hardly anything to see of the family, because Leli's private life is very important to her. All the more they show from themselves. Whether "Our time in Oslo" on Youtube, pictures at dinner in the dance academy on Instagram or Lipsynvideos to Happier by Ed Sheeren on TikTok. The approximately 13 million followers are there for everything.
It all started with Musical.ly in 2015. Within a month, the number of subscribers grew from 100,000 to a whole million. Even Ariana Grande praised the two for a video on her Facebook account. This was followed by their Instagram account, where the two now have around 13. million followers. But since that's not enough, the girls brought out their own fashion line.
https://www.instagram.com/p/BiHNZiTAJO1/?hl=de&taken-by=lisaandlena


FragranceTip.com by FIV
Lisa & Lena Videos: Now also on Youtube
You can find more videos here on the official account: Lisa & Lena Youtube.
Cooking healthy with Lisa & Lena? Here you can see their favorites for a balanced breakfast.
Have you seen their music video? Here's "Not My Fault".
Shirin David – Influencer, Youtuber and Singer
The 23 year old from Hamburg is very multifaceted, as she is not only a Youtuber and Influencer, but is also currently making it in the German charts with her own single "Orbit". The daughter of a Lithuanian mother and an Iranian father became known through her Youtube videos "Deutsche vs. Ausländerinnen" (Germans vs. Foreigners) in which she exaggerates the differences between the various cultures. With her current song she is not the first time in the charts. Already in 2015 she landed together with Ado Kojo with the eponymous cover version of Sabrina Setlur "Du liebst mich nicht" a hit in the German Top 10 charts.
Shirin David Videos: Comedy and Entertainment on Youtube
You can find more videos from the singer here on her official acoount: Shirin David Youtube
Shirin reveals her secret food hotspots in Berlin!
You don't know what to expect vocally from the Youtuber? Here's a little sample.
The older sister of Sami Slimani is known for her tutorials on Youtube. Whether it's make-up, sports or a healthy diet, the 33 year old shows you on her channel how it's done! Not only did she release her own single "Echoes" 3 years ago, but she also launched her own book "The Slimani Principle" with her brother Sami and sister Dounia in 2014.
https://www.instagram.com/p/BtJMb3VgswB/
Lamiya Slimani Videos: Tips and tricks for everyday life
You can find more videos from the Youtuber here on her official account: Lamiya Slimani Youtube
Real Talk with the beautiful woman from Stuttgart.
Date night is coming up and you don't know how to do your make-up yet? Then get some inspiration from Lamiya!
Dagi Bee – Youtuber and actress
Dagmara Ochmanczyk, as the Youtuber is called by her native name, was first introduced to a wider audience 6 years ago on the Youtube channel of her then friend Lionttv. In the same year, she founded her own Youtube channel in 2012, where she first made tutorials and later gained greater fame through hauls or challenges with Bibi's Beauty Palace, among others. Today she is one of the most famous German Youtubers with 3.9 million subscribers.
https://www.instagram.com/p/BtQg63rAzZm/
Irina Engelke – Styling Queen
Irina Engelke from Munich not only works successfully as a fashion, beauty and lifestyle blogger, but is also committed to educating schoolchildren about the risks, dangers, but also opportunities that the Internet brings with it. We talked to her about her part-time job at the Hanns-Seidel-Foundation, her private life and of course her great passion fashion. Read the interview with Irina Engelke here!
Here you can see Irina presenting the latest fashion trends for C&A:
Dani – Fashion Blogger
The incredibly down-to-earth and likeable Dani from Hamburg wasn't sure at first whether she should publish her blog "DANI NANAA by DANI" at all. Luckily she decided to do so, because her "online diary", in which she reports on her travels and regularly gives outfit tips, is very popular. I talked to her about amazing places, her fashion must-haves, future plans and wishes. Read the interview with Dani here!
Nina Laureen – Fashion and Lifestyle Blogger
24 year old Nina Laureen has been successfully running the eponymous blog "Nina Laureen" since the beginning of the year, where she shares her travel experiences and daily outfits with her followers. She told us about her upcoming Christmas, important things from her everyday life and her winter trends. Read the interview with Nina Laureen here!
Chiara Coco – Fashion and Travel Blogger
The 26 year old Chiara from Berlin already had a fashion blog with her sister before her current blog "culturewithcoco". Her current blog focuses on her personal outfit ideas, the latest fashion trends, her travels and lifestyle topics. She answered my questions regarding her travels, job and style. Read the interview with Chiara here!
Maren Wolf – Influencer, Blogger and Youtuber
Maren Wolf, formerly known as "Beautypeachiii", has been active on Youtube for almost 10 years. Earlier this year, the pretty brunette also published her own blog "More about Mary", where she gives her readers inspiration on the topics of fashion, lifestyle and travel. I talked to her about her past, fashion and her future. Read the interview with Maren here!
Minnie – Lifestyle and Fashion Blogger
Minnie or "Minnie Knows" as she is known on Instagram and through her blog, is a lifestyle and fashion role model for many! She lives between London and Berlin – Marie talked to her about her personality, beauty and fashion. Find out more about Minnie here! Read the interview with Minnie here!
Bibis Beauty Palace: Mother and business woman in one
Since 2012, the Youtuber makes videos on her channel BibisBeautyPalace, on the topics of fashion, cosmetics and lifestyle. Today, Bianca has brought two children into the world together with her husband Julian, who also owns a Youtube channel Julienco. Nowadays, her channel is one of the most subscribed German-speaking Youtube channels with 5.9 million subscribers.
Here you can see Bibi and Julian's newly renovated apartment:
Here the common vacation with Emmi and Lio:
Kisu – Influencer, Blogger and Youtuber
The likeable blogger and Youtuber Kisu lives in Berlin Mitte since 2016. Together with her sister Mai she runs the blog "sistersloft", on which Mai does the editorial work so that her sister can focus on her main activity Youtube. I spoke to her about family, travel and of course fashion. Read the interview with Kisu here!
Ivana Santacruz: Dancer with passion
She became known through small dance videos on Instagram. Now she cooperates with big brands like Puma, Audi and Snipes. She modeled with Khloe Kardashian and Cara Delevingne. In 2018, she received an About You Award for the fitness category. Proving herself to be multi-talented, Ivana started doing music in 2019. She was signed to Sony Music Germany and has already released four singles.
Here's her first single " BumBum" which garnered nearly 4 million views:
Choreographed by Matt Stettanina to the song Que Calor – Major Lazer ft. J Balvin:
Felix – Fashion Blogger meets Marketing
Felix from Berlin is not only active in the field of marketing, but also works successfully as a male model. Since 2016 he has been passionately running his blog "Saintfilli" on which he shares his hobbies and important things in his life with the public. We talked to him about his dreams for the future, his career and of course about fashion and styling. Read the interview with Felix!
Marcel – Fashion and Fitness Blogger
Marcel from Frankfurt successfully runs the online blog "California.89", on which he regularly inspires his readers in the topics of styling and sports. We talked to him about his passions, his private life and his job as a blogger. Read the interview with Marcel here!
Kenza Zouiten – Beauty, Fashion & Lifestyle
She started posting on her website when she was only 15 and is now one of the most successful bloggers in the world.
Valentina Ballerina – Healthy Eating
Vakentina presents delicious and healthy recipes on her blog.
We spoke to Valentina about balanced eating, Jamie Oliver and more.
Check out the exclusive interview.
Jessy – Fashion & Lifestyle Blog
Jessy is a fashion, beauty, and lifestyle blogger.
We interviewed the dress girl Jessy. Check it out.
Julia Wulf – Ex-GNTM contestant, model, Instagram star
Julia Wulf posts pictures of her everyday life on her Instagram profile.
We interviewed Julia exclusively about her participation in GNTM, New York and the model business.
Evangelie Smyrniotaki – Fashion & Travel
Evangelie Smyrniotaki writes about her outfits and her travels.
Jennifer Grace – Fashion & Travel Blog
Jennifer Grace writes about fashion, travel and inspiration.
Korin Avrahamund – Lifestyle, Events & Fashion
Korin Avraham writes about fashion, travel and events like Fashion Week.
Sylvia Haghjoo – Fashion & Creative Mind
Sylvia Haghjoo writes about the latest fashion trends and her lifestyle life in Rimini and Munich.
Angelina – Fitness and Beauty
Angelina posts pictures in the fashion and fitness section.
We interviewed Angelina exclusively about her inspirations, highlights and her own fashion brand.
Check it out here.
Yoyo Cao – Fashion & Lifestyle
Yoyo Cao writes about beauty, lifestyle and fashion.
Charlotte G – Beauty, Travel & Fashion
Charlotte G writes about fashion, her favorite looks, beauty and travel.
Gizele Oliveira – Model & Fashionista
Gizele Oliveira writes about fashion, style and life as a model.
Maria Helena Bordon Meireles – Businesswoman & Fashion Victim
Maria Helena Bordon Meireles writes about lifestyle, beauty, fashion and she also runs her own shop!
Camille Charrière – Fashion & Lifestyle
Camille Charrière writes about her looks, shopping and lifestyle.
Natalie Joos – Travel, Business & Fashion
Natalie Joos writes about her oufits, her travels and she also runs her own online store!
Margaret Zhang – Model, Travel & Fashion
Margaret Zhang writes about her style and her travels as a model.
Rach Parcell – Mummy & Styling Queen
Rach Parcell writes about home decor, fashion, and beauty – all as a mummy!
Julie Sarinana – Lifestyle & Fashion
Julie Sarinana writes about fashion and everything that makes her happy!
Vanessa – Travel Trends & Fashion Trends
Vanessa writes about fashion and travelling.
Victoria – Travel, Food, Lifestyle & Fashion
Victoria writes about beauty, fashion, life and food. She also takes you with her on her travels.
Charlotte – Fashionista & Beauty
Charlotte writes about events like fashion week, beauty or fashion.
Sandra Hagelstam – all about beauty
Sandra Hagelstam writes about her penchant for beauty.
Raffaela Blasko – Beauty & Fashion
Raffaela blogs about fashion, beauty & lifestyle. On her YouTube channel she gives make-up tips.
You can see our interview with Raffaela here.
Chiara Ferragni – Shop Owner & Fashion Queen
Chiara Ferragni writes about her inspirations, outfits, travels and her own shop!
Nicole Warne – Design, Fashion & Lifestyle
Nicole Warne writes about beauty, travel, shopping and design.
Lise Grendene – Fashion & Art
Lise Grendene writes about art, fashion and lifestyle.
Wendy Nguyen – Youtube Star and Fashion Victim
Wendy Nguyen not only writes about fashion, but also makes videos on Youtube!
Sheryl Luke – Beauty Queen & Fashionista
Sheryl Luke writes about fashion and beauty.
Erika Fox – New York Lifestyle & Fashion Trends
Erika Fox writes about fashion, New York, lifestyle and fitness.
Nadia Aboulhosn – Lifestyle & Fashion
Nadia Aboulhosn writes about fashion and lifestyle.
Lia Curiouser – Outfit Inspiration
Lia Curiouser writes about her favorite looks and great outfit inspirations.
Hallie Swanson – Living & Fashion Trends
Hallie Swanson writes about beauty, style, travel and living!
Jenny Wu – Healty Lifestyle & Fashion
Jenny Wu writes about fitness, food, and outfits.
Sydne Summer – Events, Lifestyle & Fashion Trends
Sydne Summer writes about beauty, events like Fashion Week and trends.
Kim Le – Fashion & Trends
Kim Le writes about fashion and the latest trends!
Stephanie Liu – Recipes, Lifestyle & Fashion
Stephanie Liu writes about fashion, travel and beauty. You can also expect delicious recipes from Stephanie!
Annie – Shop Owner & Fashion Queen
Annie writes about cute outfits. She also has her own online shop!
Kryz Uy – DIYs, Fashion & Travel Trends
Kryz Uy writes about fashion, DIYs, food, beauty, lifestyle and travel. Even technology has its place on her blog!
Kristina Bazan – Fashion & Travel
Kristina Bazan writes about beauty, travel, fashion and lifestyle.
Jessica Stein- Travel around the world
Jessica Stein is a travel blogger and writes about her exciting travels.
Rumi Neely – Travel, Fashion & Lifestyle
Rumi Neely writes about everything that keeps her busy – including fashion and her travels.
Blair Eadie – Fashionista
Blair Eadie writes about fashion.
Julia Engel – Fashion & Lifestyle
Julia Engel writes about fashion and lifestyle.
Hanneli – Style, Fashion & Lifestyle
Hanneli is a Scandinavian beauty and blogs about her edgy style.
This is Jane Wayne – Living, Fashion & Lifestyle
Jane writes about fashion, lifestyle, couture, beauty and much more like living etc.
Nicolette Mason – Plus Size Fashion
Nicolette Mason writes about fashion for curvy women and she's a real looker!
Bryan Yambao – Menswear & Fashion
Bryan Yambao writes about men's fashion and his own little world.
Gabi Fresh – Plus Size & Beauty
Gabi Fresh writes about beauty and fashion for curvy women!
Naholita – Fashionista
Naholita blogs about fashion and runs her own shop.
Karina Nigay – Model & Fashionista
Karina inspires her over 300k Instagram fans daily with fashion & lifestyle posts.
Parick Krüger – Fitness & Lifestyle
Patrick has a passion for fitness, good food and travelling. He combines all of this on his blog.
We've made Patrick
topic of healthy eating, sports and his career.
You can read the interview here.
Madeline – Fashionista & Instagram Star
Madeline is from Germany and blogs about fashion.
We asked Madeline about her recipe for success. Click here for the interview.
Schanna – Lifestyle & Beauty
Schanna is from Germany and blogs about fashion, beauty, lifestyle and travelling.
Antoinett Marie – Travel, Trends & Fashion
Antoinette is the blogger behind sydneyfashionblogger.com. Her blog is all about trends, fashion, design and travel.
Nina Suess – Beauty & Fashion
Nina writes about street style, beauty and everything that inspires her.
https://fivmagazine.com/wp-content/uploads/2016/08/top-blogger-ranking-instagram-fashion-mode-reisen-travel-food-essen-liste.jpg
400
1000
Stephan
/wp-content/uploads/2023/08/fiv-magazine-logo-news-influencer-fashion-interior-travel-real-esates.svg
Stephan
2019-02-04 18:04:00
2019-02-04 18:04:00
57 Influencers you need to know! Trends, Fashion, Food & Travel