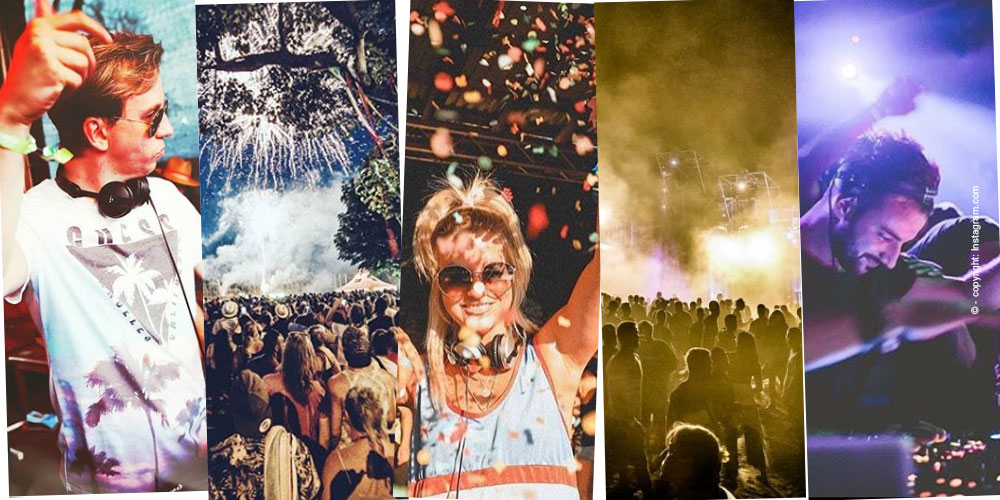 Festival Bracelets: Fabric, Sayings & Closure
Festivals – At the latest when we are flooded on Instagram, Facebook and Co. with photos of famous models and influencers, such as Gigi Hadid or Kylie Jenner at the popular Coachella Festival in California, the great anticipation for the festival season rises. The annually returning festivals stand for good music, exuberant mood and outlandish outfits. It's a good thing that the time has finally come – from May onwards, the music festivals will also start in Europe! Whether Holi-, Rock, Metal or Hip Hop – the range of choices is wide, so that there is something for every musical taste. While the famous stars attract attention with their exotic and extravagant looks, the dress code of our festivals is rather casual and colourful. FIV Magazine has summarized how diverse the range of festival bracelets is and what else you need to know about the colorful pieces of jewelry!
Design: Colors, Patterns & Sayings
Big earrings, flashy necklaces, colorful scarves and of course the famous festival bracelets. Everyone knows the small but special ribbon, which signals that you were at a festival. Nowadays it is not only a sign that the entrance fee has been paid, but also a colourful highlight matching the style and a souvenir of the eventful time at the festival. Many young people keep their wristband on their wrist even after the festival and even collect several bands over time, which gradually adorn their arm. As a result, festival wristbands no longer just serve their purpose, but are becoming increasingly popular among festival goers. The colours, patterns, shapes and finishes of the charming bands also vary from event to event, so that you can find everything from inconspicuous and neutral to gaudy and patterned.
While festival wristbands used to be relatively inconspicuous and simple, nowadays the arm jewellery exists in a wide variety of colours, patterns and variations. Whether neon, patterned or with a special saying – the festival bracelet makes a personal statement and reminds you for a long time of an eventful and unforgettable time at the festival.


Germany - Spain - USA
Colours – colourful & eye-catching
The more colorful and flashy the best! This is the motto of most popular festivals, because it expresses good mood and a lively atmosphere. Most of the time, the wristbands are designed with regard to the respective festival and reflect its motto, the music genre and the style, which usually directly identifies which event it is. In addition, the color of the wristband usually also marks the price category and the accompanying benefits that one has on the day. For example, a green wristband could say that you only paid the entrance fee, while a red wristband stands for VIP entrance including drinks.
Pattern – printed or sewn in eye-catcher
Most festival wristbands are kept relatively plain, but there are also events where the bands are characterized by patterns. Whether small logos or large-scale patterns – these wristbands are definitely an eye-catcher! The patterns can either be printed, sewn, woven or glued on.
Sayings – Logo or saying as a distinctive feature
In order to identify the particular festival, most event planners have a logo or a slogan printed on the wristbands, which serves as a distinctive feature. At larger, well-known festivals, such as the Hurricane, with around 70,000 visitors every year, the festival wristband is a very special highlight, which is why the name of the event must not be missing on the wristband.
Materials: Paper, Plastic & Fabric
Paper: the simplest option for small events
The simplest and original form of a festival wristband is one made of paper. This is mostly used at smaller festivals and is kept rather simple. Most of the time it really only serves as a marker for visitors and is taken off again after the event.
Plastic: sturdy festival wristbands
The plastic variant is also a well-known type of ribbon. Unlike paper ribbons, these are waterproof and therefore not as sensitive. Nevertheless, these also do not have such a great commemorative value, since they are most monochrome and possibly only decorated with a lettering and usually have no other special features. In addition, they are not as comfortable as the variation made of fabric and are therefore usually not worn longer than necessary.
Fabric: pleasant & long-lasting memorabilia
The most popular and now most commonly used variant of festival wristbands is the one made of fabric. These are usually braided or woven and therefore feel comfortable on the skin when worn. The bands are usually quite soft and comfortable, so you hardly notice them during the festival but also afterwards. In addition, festival wristbands made of fabric are very durable, as they are water resistant and washable and therefore do not deteriorate as quickly as, for example, bands made of paper.
Closure: Push Button, Fast Lock & Self Adhesive
Most festival wristbands have a clasp that is closed once and can no longer be used after opening. This prevents multiple use, so the wristbands can not be given to other people. The simplest form is a self-adhesive closure that is designed so that it cannot be returned to its original shape after it has been opened for the first time. For plastic bracelets, a snap fastener is most commonly used as the closure method, where it can be decided how loose the bracelet should be and the appropriate hole can be chosen accordingly. The most common variant for fabric bracelets is a so-called Fast Lock closure. This is a plastic tube that can be pulled onto the band as far as desired, but cannot be pushed back. Accordingly, the selected size remains firmly on the wrist and the excess band can be cut off. Here I have once again summarized the most common variations of the closures.
Self-adhesive
Push button
Fast Lock
Festival wristbands are not only a good option to identify and highlight a certain group and celebration, but also convince as a fashionable accessory on every outfit. Your wristband will remind you of the respective festival, the people associated with it, the exuberant mood and good music for a long time to come. Thus, festival bracelets are not only a piece of ribbon on your wrist, but at the same time preserve countless beautiful memories. Whether children's birthday parties, smaller celebrations or festivals lasting several days – the popular wristbands are a must-have at every event and will remain with you long after as a souvenir of the eventful time!
https://fivmagazine.com/wp-content/uploads/2018/11/beitragsbild-festival-rock-am-ring-helene-beach-hurricane-wacken-summer-jam-dj-splash-nature-one-fusion-parookaville-mayday-1.jpg
500
1000
Lisa-Marie
/wp-content/uploads/2023/08/fiv-magazine-logo-news-influencer-fashion-interior-travel-real-esates.svg
Lisa-Marie
2020-02-26 07:00:03
2020-02-26 07:00:03
Festival Bracelets: Fabric, Sayings & Closure