Dating App: Free flirting? Experience, tips and ideas – the best apps for you!
Dating App – What makes online dating so nice? You can meet people you would never have met! Spring fever has in your stomach? Christmas is just around the corner and you need a partner for cosy hours? Valentine's Day? To meet new people, there are extremely many good reasons! If you are looking for a flirt or love for life, you can rely on providers of dating portals and dating apps. In the Apple Store but also in the Play Store of Android there are many providers. But how many accounts are real and how much is fake? Tinder, LoVoo, Once, iDates, Bumble, Jaumo, … the list of free dating apps is long and the experience is sometimes extremely bad. Who rips you off with fake profiles? Where can you really flirt and get dates? Which dating app suits you best? We have looked at the various advantages and disadvantages of the individual apps for you and of course we have tested all functions diligently!
Which dating app suits to you?
The best free dating app? Which dating app suits you? The important question is: Which apps are successful and have the fewest fake accounts!
Most apps are free, but if you want to have a little more chances, you will often be asked to pay, sometimes for much less, but more about this in our experience report. To make sure you don't have a bad experience with dating apps, we've looked at the most popular apps for iOS and Android for you. How good an app really is can only be seen when you take a closer look. Profiles, usability, features and prices (because not all apps are as free as they seem).
Caution fake profiles!
Fake profiles, bad experiences, bots that write to you instead of real people, and in addition, all prices include more or less useful features.
After we tested a total of 8 apps to get to know each other, the most devastating finding was that especially fake accounts are active almost everywhere!


FragranceTip.com by FIV
Except for Tinder, no app was really fun. As you will also see in the testimonial, there were searches by special task forces in the Dating App LoVoo, in the Dating App Jaumo every 5th profile is of women with job "sex".
Why is there almost no serious single app?
We take you into the jungle of fake profiles and supposedly free apps. One is even extremely dubious, it wants to collect money for every single message at the end. In order for you to do that, you'll get great "matches" directly, but when you ask for more details, they turn out to be employees – fake, fake, fake!
But don't worry, we also have 3 good apps for you to flirt with and an ultimate insider tip.
Especially among the providers of dating apps and dating portals there are many black sheep. Especially the just described fake profiles make the partner search sometimes very difficult. To save you a lot of time and to make as few bad experiences as possible, we have looked at all the apps for you. If there is something new and exciting on the market, you will be the first to know about it here!
Finally, we have our ultimate insider tip for singles! But before we do, let's take a look at the basics of profiles and first messages, so that you can be successful in dating as!
Dating app tips
How many use dating apps? Which dating app is really free? And which is the best free app? What app alternatives are there to find the right one? Questions over questions! We have the answers for you in our Toplist! We've looked at all the major Android and iOS apps to help you have as few bad experiences as possible and find your flirt, maybe even your dream man or woman. These are the most popular apps and unfortunately the most popular fake apps.
Finding out the exact user number of dating apps is very difficult! Because, as already described, there are sometimes a lot of fake profiles at the individual providers. There are, however, estimates, e.g. from Statista, who made a survey in 2017. At that time there were about 8.6 million active registered users. So they are a little over 10% of Germans active on dating apps.
The big question: Which of the following partner portals and dating apps are you currently using or have you used in the past?
Most popular are:
parship – 7%
LoVoo – 7%
New.de – 6%
Tinder – 5%
eDarning – 5%
Elite partners – 5%
LoveScout24 – 5%
badoo – 4%
DatingCafe – 3%
Finya – 3%
Single.de – 2%
…
Do's at online dating
Before you can flirt you have to create a profile. Even when creating your dating profile, there are many tips you should follow to increase your chances of flirting. We have summarized here a few simple and quick tips with which you can create your profile but also increase your chances of success on a date.
Very important are first of all high-quality profile photos. Who wants to see blurred or pixelated photos? Also, make sure your photos are friendly, have a good resolution, and show you in different ways. Try to avoid selfies and use photos that show you outdoors or at sports instead. Show yourself from different perspectives, from a profile photo to a full body photo.
As soon as it comes to the cover letter, you should always pay attention to a charming appearance. Your messages should also not be too short ("Hey", "Hello"), be creative, sometimes even a bit cheeky or provocative. Make an effort and show interest.
High-quality profile photos
Outside in beautiful surroundings, doing sports
At least one full body photo.
Charming demeanor
Creative, not too short, first messages related to the person
Good questions for your chat
You want more tips? Then here are our practical 66+1 dating questions! Here you will find creative, funny and tingly questions for him & her.

Don't do it on online dating
Besides the key points that give you greater chances of success in flirting, there are of course also things that you should not do under any circumstances. These include, for example, unnatural photos, as well as photos without upper body and all showy photos.
Men should also make sure not to use photos from the gym! After all, you want to embody more than just a strong figure. For women, please no "duckface"!
As soon as it goes to the cover letter, make sure that your texts are not too short. Be creative and show interest in the person! We also have a few tips in our 6-point checklist. When writing to someone, also be respectful and not pushy!
This is how flirting works:
Avoid unnatural, upper body free and showy profile photos
Men's tip: No photos from the gym
Woman's tip: No duckface.
Short cover letters, be creative and show that you are interested.
Be disrespectful, pushy or even impatient.
Write: 6-point checklist
A nice profile is already worth a lot but even more important is to know how to write your crush in dating apps, of course it's a science in itself, but here we have the most important 6 points you should keep in mind Because it's so important, here are the most important tips for writing.
Your first message must be original and funny, maybe even a little provocative or teasing.
Don't use boring greetings like "Hey!" or questions like "How are you?" or "How was your weekend?"
No rash compliment, especially not about her and his appearance
Never make lewd pick-up lines and especially no typical pick-up lines that everybody knows or even worse, that you just copied
Write something personal, individual, refer for example to the profile picture, info or small texts, the name
Ask open questions (do not answer yes or no) so that you can get him or her to write something about themselves.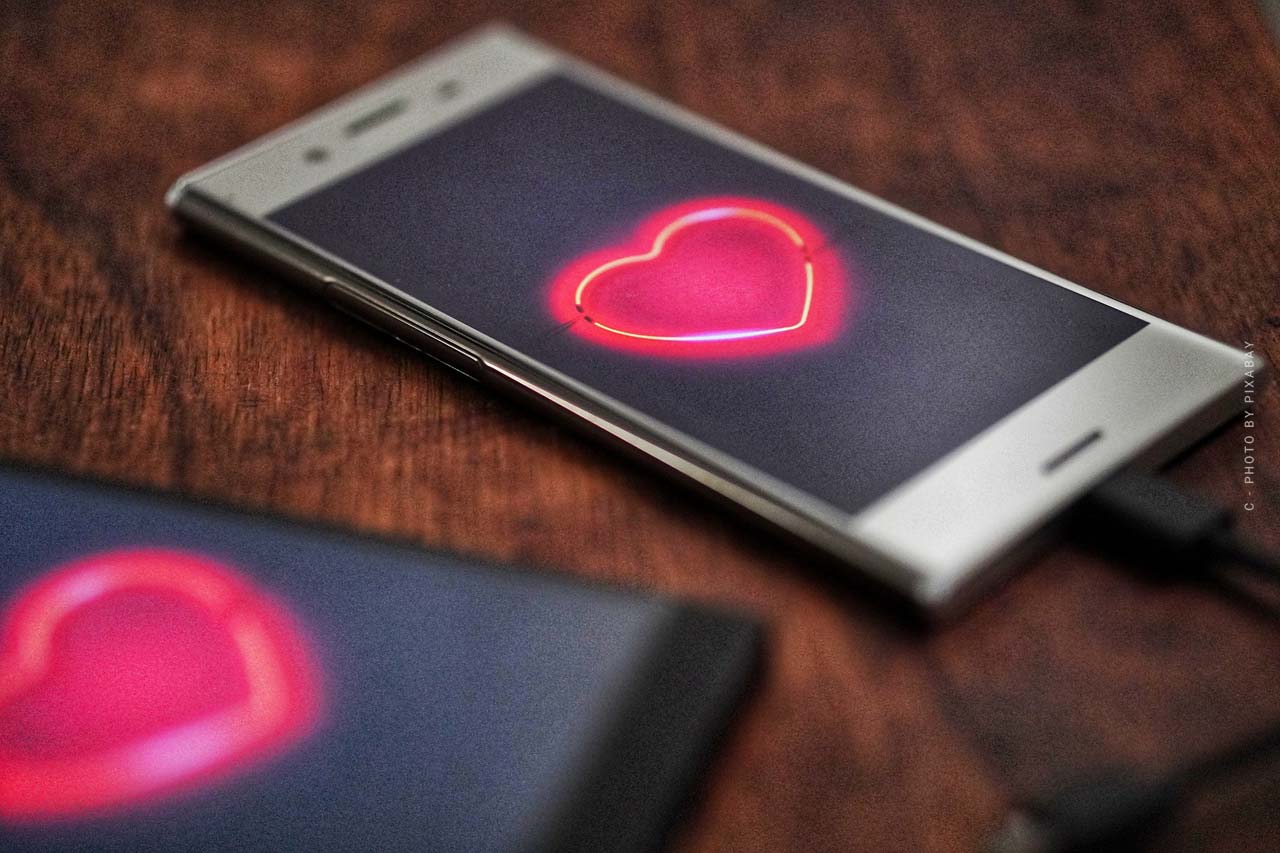 Dating app Tinder
Tinder is by far the best known dating app and indeed, according to our test and experience with the various apps, it is the best! Here you will find a large selection of singles, not only in Germany but also worldwide. Installation and use is completely free, from creating your own profile to viewing other profiles and of course chatting.
An extremely big advantage of Tinder, as the test has shown, here are by far the fewest fake profiles!
Women also have the advantage that communication is only established after there is a match. If there is no match, you cannot be contacted. Accordingly, you are bombarded with messages much less than with the other apps.
Our tip: Tinder! PS: At the end we still have our secret tip!
Advantages of Tinder
Large selection of singles worldwide (especially in larger cities)
The app is free.
Less fake profiles and good control by the team
Well-known, uncomplicated and intuitive operation
No unwanted contact, there must be a "match"
Uncomplicated flirting and noncommittal getting to know each other.
Disadvantages of Tinder
Superficially, because it all revolves around your photos.
Download and evaluation
Price: Free of charge
From 6,99 Euro / month (for 12 months)
Monthly from 9,99 Euro
From now on, the quality of the apps decreases significantly! Especially fake profiles are no fun.
Dating app Badoo
Badoo is still one of the better dating apps, there are many fake profiles but also many real users, from Germany and worldwide.
One of the advantages of the app is the environment radar, so that you can quickly see which singles are nearby. You can have your account verified in a few seconds. But if you read the ratings and are active on the app yourself, you will soon notice that there are quite a lot of fake accounts – unfortunately.
Advantages of Badoo
Many users in Germany and worldwide
Environment display for nearby users
verification of accounts is possible
The app is free
Disadvantages of Badoo
There seem to be many fake profiles (from user ratings and personal test)
Sometimes only low level of news
Design is a little confusing
Dating app LoVoo
The dating app LoVoo made headlines again a few years ago, as you can read here at time and mirror. The accusations even went so far that the offices were searched by special task forces.
The accusation: LoVoo is said to have falsified profiles of women and thus took money out of the pockets of its users.
Accordingly, the app has had a high loss of trust from the very beginning. In fact, if you test the app yourself, you'll quickly notice that there are many fake accounts.
Advantages of LoVoo
Many users in Germany
Attractive design
Environment display for nearby users
verification of accounts is possible
The app is free of charge but only limited usable
Disadvantages of LoVoo
There seem to be many fake profiles (from user ratings and personal test)
Limited use of the free version
High proportion of men, correspondingly many messages for women
Dating-App Jaumo
Can't things get any worse? Yes, it can! This app is full of profiles that list "sex" as their profession. More often than in almost any other app (yes, it's about to get worse).
Apparently, no one on the development team is interested in making the app really fun. Even worse, it belongs to Tinder! Same interface, same payment model, just a bit cheaper for premium users. Although there are many real profiles here, the fun quickly diminishes when you realize how much is fake here!
Advantages of Jaumo
Attractive design, similar to Tinder
Environment display for nearby users
verification of accounts is possible
The app is free of charge but only limited usable
Disadvantages of Jaumo
Not so well known in Germany
There seem to be many fake profiles (from user ratings and personal test)
Limited use of the free version
High proportion of men, correspondingly many messages for women
Download and evaluation
Price: Free of charge
Premium from 4,99 Euro / month (for 3 months)
Monthly from 9,99 Euro
Half the price of the best App Tinder
Dating-App Bumble – Alternative
Dating with manners? Here comes a first alternative, which still has relatively few users but at least an innovative concept. Low level news, disrespectful chat, especially women can tell you a thing or two about it. Bumble itself wants to bring more respect into the online dating world.
But what is so special about this concept? Especially for women, normal is a good alternative, because here women make the first step! This gives female users full control over who they want to get in touch with and who they prefer not to. This week here, as with tinder, the well-known Swipe principle is used.
Advantages of Bumble
New kind of respectful meeting
Attractive design
Disadvantages of Bumble
few users in Germany >/li>
superficial, the focus is almost only on the profile photos
Dating-App Candidate – Alternative
Candidate is a kind of creative question-answer dating game. Candidate is about more than just a nice profile picture, it's about creativity and a pinch of humor. The trick with this app, as with others, is that you create a profile, but you also ask a very special question! Your self-designed question is visible for other members. With it you can make others aware of you, they will answer your question and you can make your choice, based on the profile photos and with the help of the answer your potential date gave.
Advantages of Candidate
New, fun and exciting dating
Less superficial, questions and answers are in the foreground
Attractive design
Disadvantages of Candidate
less users
Loud ratings there should be many fake profiles at times
Dating-App Once – Alternative
The Dating App Once has a very special and unique concept as well as Candidate. The point is that you don't have a huge amount of possible flirt partners but you get a very special proposal every day.
Only if you like the other person, a chat will open. If not, you have to wait another 24 hours for a new proposal.
Advantages of Once
Innovative dating concept on exclusive (less) offer
The focus is on individuality and quality
Disadvantages of Once
You need a lot of patience, because there is only 1 suggestion a day.
Dating app iDates – fake!
This app really was an absolute disaster! Therefore it is the only one that has no advantages. Right after the start you will be contacted by professionally trained staff. As if you had perfect matches!
all fake!
At the beginning you get a credit of 100 points. For every single message you need 50 points. That means, after you have already sent messages, your credit is used up and you have to pay!
Who is clever asks of course directly for the Instagram profile, the answer: "I just deleted Instagram yesterday, but we can write here! Why? They want to encourage you to write and to pay money for fakes!
So in this app you are directly contacted by professional staff who indirectly persuade you to transfer money. iDates was by far the worst thing we experienced in the dating apps. This is also shown by the many negative reviews.
After our test, the experiences we have had and also many users who have written very negative reviews, we can only advise you against using this app! Total waste of time.
Advantages of iDates
No – extremely bold business model
Disadvantages of iDates
There seems to be an extreme amount of fake profiles (from user ratings and personal test)
Bots and staff will talk to you immediately >/li>
Every interaction costs money (except for the first 2 messages)

Secret Instagram
Have you ever flirted over Instagram? Finally, our ultimate insider tip! The best free dating app ever, Instagram. Here you have the big advantage that you don't just see a superficial profile picture, you can view the entire profile, even individual moments from Instagram Stories!
Give it a try! Another big advantage, no matter how much you write, no matter how much time you spend on the app, it's 100% free
Advantages of Instagram
You see so much more of life and special moments in the stories
The app is 100% free
Known, uncomplicated and intuitive operation
less superficial, questions are possible directly via Direct Message
Generally few fake profiles and good control by the team
Uncomplicated flirting and getting to know each other without obligation possible
Disadvantages of Instagram
https://fivmagazine.com/wp-content/uploads/2020/03/clouds-girl-hand-frau-instagram-dating-app-test-erfahrung-kostenlose-free-android-ios-1.jpg
853
1280
Stephan
/wp-content/uploads/2023/08/fiv-magazine-logo-news-influencer-fashion-interior-travel-real-esates.svg
Stephan
2020-03-22 22:51:02
2021-06-23 16:24:21
Dating App: Free flirting? Experience, tips and ideas – the best apps for you!