WMF 1100 S fully automatic coffee maker: Equipment, functions & operation – everything for your barista experience
WMF1100 S fully automatic coffee maker: Who does not dream of a unique coffee experience and who can claim to find this in the office? With the help of this coffee machine from WMF, individuality is combined with coffee expertise. The high-quality machine creates up to 80 cups of hot drinks per day with the help of intelligent technology and high performance. It doesn't matter whether it's espresso, café crème, hot chocolate or tea. Thanks to the wide range of features and sophisticated functions, you can create your own personal enjoyment experience. Find out everything about extra features, functions, handling, cleaning and comparisons to other WMF products.
You want to know more? Here you will find all the important information about coffee!
WMF 1100 S fully automatic coffee maker: Equipment & extras for your barista experience
The WMF 1100S coffee maker is more than just a conventional coffee maker. Turn a coffee break into your personal time-out with your favourite. Whether it's a cappuccino, a latte macchiato or the classic café crème. With the help of this fully automatic machine, everything becomes your enjoyment experience at the highest level. The machine presented here is ideal for small offices or demanding households, because especially to welcome customers and visitors, you should be able to offer a freshly ground coffee. Including the extensive basic equipment and extra accessories, you can choose between a wide range of hot drinks every day.
Equipment: from grinder to water tank
The standard equipment of the WMF 1100 S is particularly extensive and includes everything to make your coffee heart beat faster. In total, the basic equipment includes a grinder, a water tank (4.5L), an integrated milk frother, a steam jet and a power connection. Should you need a higher capacity or want to expand the range, you have the option to buy and integrate numerous additional options. These could be, for example, a second grinder or a bean/powder container expansion. This would give you the possibility to integrate another bean type or cocoa powder for a higher variety.
Mill
Water tank
Hot water
Integrated milk frother
Steam jet
Power connection 230 V
Extra equipment: for more enjoyment and choice
Of course, you can also upgrade the basic equipment to increase the variety and performance of the machine. We've summarized some of the extra features available here so you can expand your coffee experience.
2nd mill
Powder container
Bean hopper
Auto Steam
Double powder hopper extension
Set ejection through counter

Features: Quality, Overview & Extras
The WMF 1100 S fresh milk machine is a true all-rounder and a real all-rounder among coffee machines. Besides standard functions, this machine has some additional features to make your coffee moment as relaxed and comfortable as possible. With the help of the integrated touch display you have the possibility to get your desired coffee served quickly and easily. Whether it's an espresso, caffè crema or latte macchiato, get your day off to an ideal start or power through the afternoon. With maximum variety and easy handling, this machine is particularly well suited for everyday office use.
Quality, durability and ease of use
The functions of the coffee machine are above all simple and quick to use, so that you can ideally welcome guests or simply treat yourself to a short break. Of course, a professional brewer should not be missing from a high-quality machine. With the model from WMF, a long service life and high-quality materials are in the foreground. Another feature is the double powder compartment. Due to the two available containers, you can integrate two different powders (e.g. milk and cocoa powder) into the machine and expand the range of beverages. In addition, you have the possibility to heat your cups with steam in a few seconds before use with the help of the Steam Jet. Use the color touch display to prepare your desired beverage. From cappuccino to cocoa to tea, everything is possible.
For the absolute pleasure moment, there is even the option of integrating milk and steam systems to heat a wide variety of drinks and create unique milk foam creations.
Overview of the included functions
Get here now an overview of all functions of the WMF 1100 S
High quality brewer
Double powder compartment
Steam jet
Colour touch display
Advertising on display
Hot water spout
Adjustable cup table
Milk and steam systems
WMF CoffeeConnect
Video: Advertising video WMF
Make yourself a picture of the WMF 1100 S and watch the introduction video of WMF.
Comparison: WMF 1100 S, 1200 S or 1500 S ?- Who will win the race?
Besides the WMF 1100 S, there are also other models with a higher range of functions. Before buying, you should therefore consider what you need the machine for and how high the daily cup consumption will be. In the following, we will introduce and compare two other models with similar functions besides the WMF 1100 S. One is the WMF 1200 S and the other one the WMF 1200 S. On the one hand the WMF 1200 S and on the other hand the WMF 1500 s. All models are particularly high quality and durable. They differ mainly in the power level and are thus intended for different areas. Of course, the range of WMF is much more extensive and can be even more powerful. We now present all machines with a performance of up to 180 cups / day.
WMF 1100 S: All-rounder for small offices
The WMF 1100S already presented in the article is the perfect all-rounder for smaller offices. At most, this machine can produce 80 cups per day and is therefore ideal for offices with up to 20 employees. The optional extras and additional accessories can further increase the variety of coffee creations and enhance the enjoyment experience.
80 cups/ day (20 persons)
33x50x56cm
WMF 1200 S: Entry-level professional class
A more powerful alternative would be, among others, the WMF 1200 S. This fully automatic coffee machine is a true entry into the professional class. In total, this machine can produce 100 cups per day and is therefore ideal for offices with up to 30 people. In addition, this product can also be used for customers in retail, such as hairdressers, kiosks or gas stations.
100 cups/ day (30 persons)
32x68x55cm
Basic Milk (hot milk/foam) integrated
WMF 1500 S & 1500 S+: All-rounder for the catering trade
For even more power, you should reach for the WMF 1500s & 1500 S+. This machine is a gastronomy multi-talent and can produce up to 180 cups per day. This model is particularly suitable for offices with up to 50 employees and small catering establishments, hotels and bakeries. With the S+ model you also get a larger display.
180 cups/ day (50 persons)
33x68x59cm
Basic Milk (milk/foam) integrated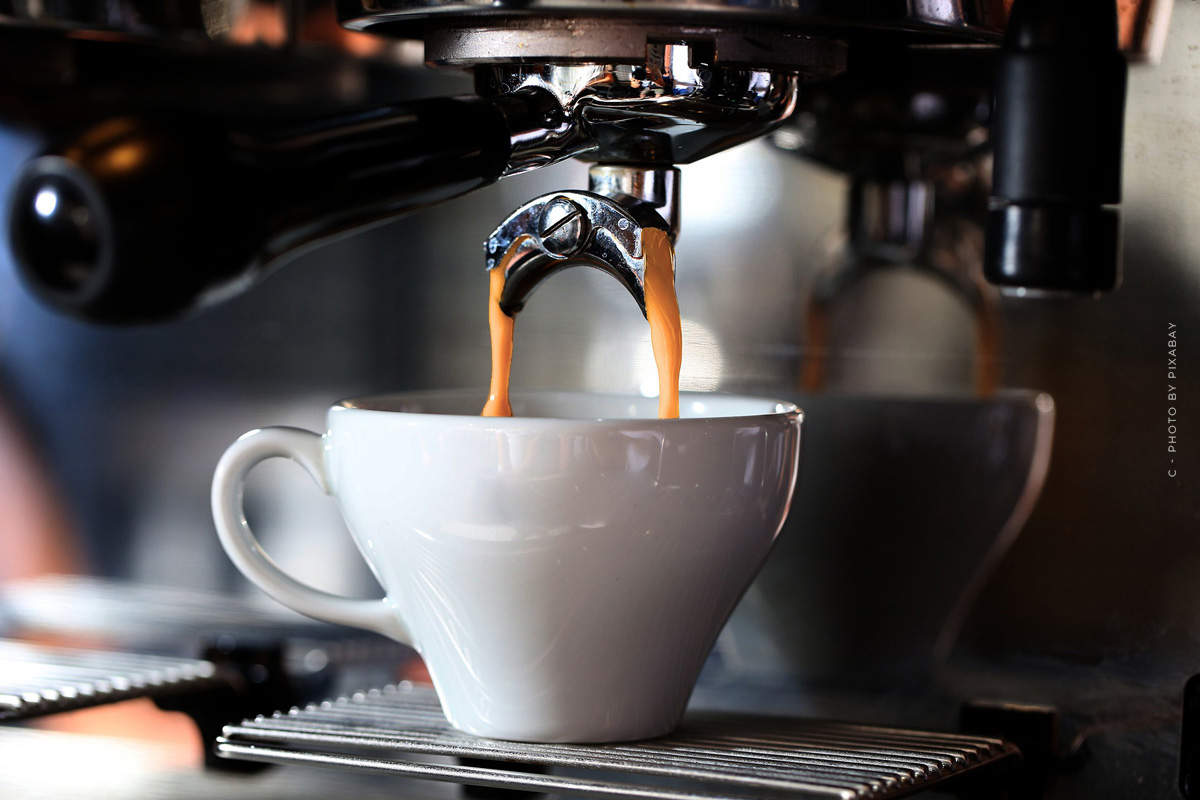 Handling & Cleaning: How is the machine used?
Especially with such a large and powerful coffee machine, the correct handling and cleaning is the A&O. So before you decide to buy such a product, you will get an insight into the various functions and the correct operation. From the first latte macchiato to the cleaning process. We will show you step by step how to use this machine properly. You don't have to worry though. The system of the coffee machine is very intelligent and it will show you at each step how to proceed and what the next step is.
Handling: the fast way to the perfect hot drink
You want to know how to use the coffee maker the fastest and easiest way? We have searched for you a video in which you can see the exact use including the various functions.
Cleaning: Step by step to a clean machine
Especially with such a machine, the cleaning after use is very important to have as long as possible something from the product and to maintain the quality of the coffee. In this video you will learn everything important about the different cleaning steps of the milk and coffee system. To make cleaning easier, each step is explained to you on the display of the machine with the help of small videos, so that nothing can go wrong. With the help of the integrated cleaning system, you simply have to press a button every day and the milk-bearing parts are cleaned automatically.
We have summarized the most important points of a more detailed cleaning (1x per week) for you.
1. open menu
2. care
3. system cleaning
4. select: Switch on/off after cleaning
Empty coffee container
Empty collection container
7. check water tank
8. connect milk hose with hot water connection
9. insert coffee cleaning tablet (top)
10. soak milk frother
11. place vessel under opening- cleaning begins
Conclusion: What to look for before buying
You have now learned everything you need to know about the WMF 1100S coffee maker and know what it is best used for. On the one hand, it is of high quality and offers you a diverse selection of hot drinks. Furthermore, you have the option of extra features to expand the beverage selection and increase the enjoyment. It offers many advantages and has some special functions, which you have not seen in combination with other machines. Cleaning is also simple and easy to explain and the intelligent operating system makes the machine easy to use.
What should you consider before buying?
Despite this, you should inform yourself about the performance of the machine before buying. So make it clear in advance for how many people the coffee machine will serve and choose the right product based on this information. We have presented you two more powerful machines of the same series. In addition, there is also to note that the machine should be cleaned daily. Although the daily cleaning does not cost much effort, you have to invest more time in it once a week. So, especially in the office, you need to find someone to take care of this task.
Is it worth buying? Yes or no!
In summary, it can be said that an investment is worthwhile in any case. The machine has a lot to offer and will certainly sweeten the day of every employee in the office. Furthermore, it is always a great advantage to be able to serve customers a good coffee. Because in many cases, the first impression counts!
https://fivmagazine.com/wp-content/uploads/2021/04/kaffee-vollautomat-cappuccino-milch-bohnen-morgen-tasse-espresso-barista-siebtrager-1.jpg
801
1200
Lisa-Marie
/wp-content/uploads/2020/07/fiv-magazine-news-instagram-youtube-tiktok-influencer-fashion-interior-jewelry-real-estate-tips-help-logo.png
Lisa-Marie
2021-03-22 12:59:52
2021-03-22 12:59:52
WMF 1100 S fully automatic coffee maker: Equipment, functions & operation – everything for your barista experience