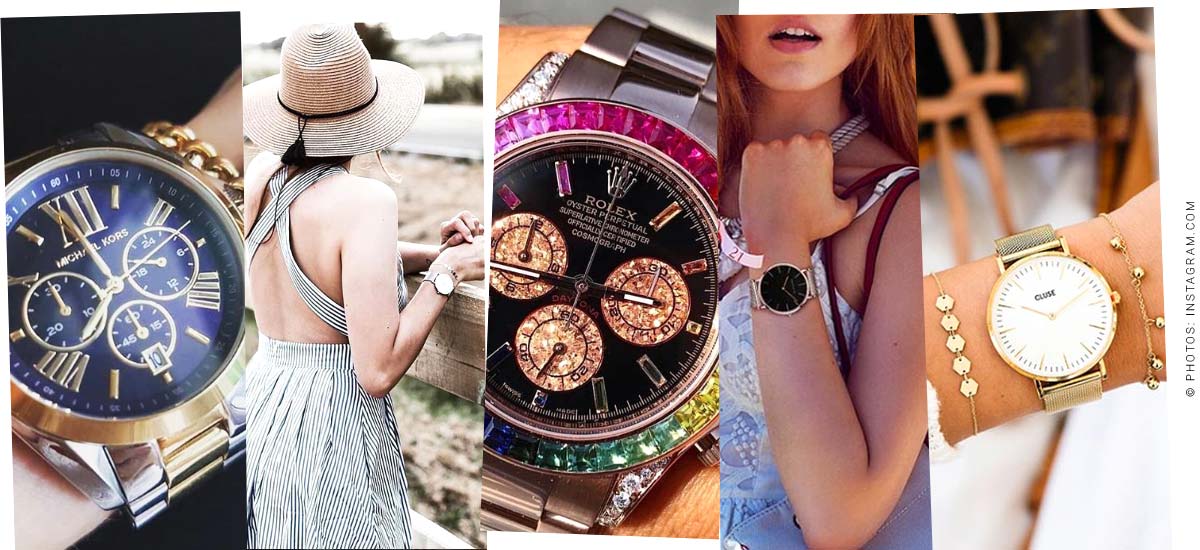 In 1810, Breguet invented the wristwatch. Since then, they have been available in a wide variety of variants. Whether digital, analog, with a leather or a stainless steel bracelet, the wristwatch now belongs to almost every outfit. So that you can find exactly the watch you are looking for, here is a compilation of the best ladies' watches.
Luxury ladies watches – the right thing for every budget
There are so many different people in the world and everyone has a different taste. It's a good thing that the world of watches now also offers a huge variety. From expensive to cheap, everything is included. Here you can find out which watch might suit you best.
Watch type – Which watch suits you?
There are many different types of watches. There is not only the mechanical wristwatch or the Smartwatch. The pocket watch was particularly popular in former times. You can get these things at flea markets these days. Pocket watches are not only popular as tattoo motifs. At the flea market you can find great, unique pieces of jewellery that will make your outfit something special. The special thing about a pocket watch is that you can attach it to your clothes with a small chain.


Germany - Spain - USA
Then there's the automatic watch. The good thing about an automatic watch is that no battery can go empty. The energy for the watch is either gained from movements or there is a wheel on the side where you can wind the watch.
You're more of a sports guy? Then probably a chronograph watch is the right thing for you. With it you have several functions at your disposal. These watches still have a stopwatch function. A watch like this can be very useful, especially when you are highly motivated to play sports. Whether you need to measure time on push-ups or sit-ups, your watch ensures you can't cheat.
As the last watch type there is still the radio clock. With this watch, you don't have to turn the little wheel to set the time. It receives the correct time via radio at regular intervals.
Leather or wood – How do I protect my watch?
Once you have indulged yourself in an expensive watch, you often wonder where to put it now? Do I need an extra watch drawer in my closet? Do I treat myself to a watch box? Or a separate box for each watch? That's definitely a matter of taste! If you do not necessarily have the space to set up a drawer only for watches, a watch box is a noble alternative. There you can store several watches in a box and through the window in the lid you can also present them beautifully. Here you can order beautiful clockboxes from Christ.
Bargain hunting: reduced luxury watches
You always wanted to own a luxury watch, but you always lacked the money for something like that? Under this link you can fulfil your dream and save a lot of money: cheap luxury watches.  There's just everything. You can get a Tommy Hilfiger watch, which cost 189Euro before, here for less than 132Euro. If that's still too much, it doesn't immediately mean your dream of a luxury watch is over, because you can get hold of used brand watches that look like new on Ebay classified ads.
The most popular luxury watches
Here I have collected a few suggestions for you, so that you can orientate yourself a little in the brand world.
Something for every taste – Michael Kors, Rolex, Fossil
When you think of luxury watches, you immediately think of famous brands like Rolex, Breitling and Patek Phillipe. But what watch should you choose? Should it be something modern, like a Smartwatch with great features or would you rather have a vintage pocket watch to stand out from the crowd? Find what you are!
Smartwatch – the most modern of the modern
Smartwatch has been around for a few years. With some you can set music, receive notifications and with some even pay at the checkout. The Smartwatch is constantly evolving.
With this golden luxury smartwatch from Michael Kors you can take calls, plan appointments and view photos, among other things. The best part is she looks super good at the same time.  The golden design looks great with almost any outfit, because it is not overloaded with rhinestones, so the occasions when you can wear such a watch would not be fixed in any way.
Eyecatcher, Rhinestones, Silver – Rolex enchants
For most people it is important that a watch can not only show you the time, but also make a statement about yourself. So a watch can show the person likes it more conspicuous and tall or rather filigree? How does the person see himself ?
This Rolex watch is a real eye-catcher! Due to the many rhinestones and the pleasant size, this watch will certainly not remain undiscovered by anyone. If you don't like it so much in everyday life, you can get the watch out on special occasions and give your outfit that certain "something".
Simple Elegance – The Secret Weapon of Fossil
The Fossil brand is famous for watches with beautiful, simple leather straps in a wide range of colours. Leather wristbands have the advantage that they sit particularly comfortably on the wrist. In addition, the costs for the watches at Fossil are kept within limits. You can get a great, high-quality watch for a little money. This watch is an elegant blend. It can be worn and combined in everyday life and is also a great accessory on festive occasions.
https://fivmagazine.com/wp-content/uploads/2018/10/beitragsbild-luxus-uhren-damen.jpg
550
1200
Lisa-Marie
/wp-content/uploads/2023/08/fiv-magazine-logo-news-influencer-fashion-interior-travel-real-esates.svg
Lisa-Marie
2018-10-23 17:00:37
2020-11-11 12:15:35
Luxury ladies watches