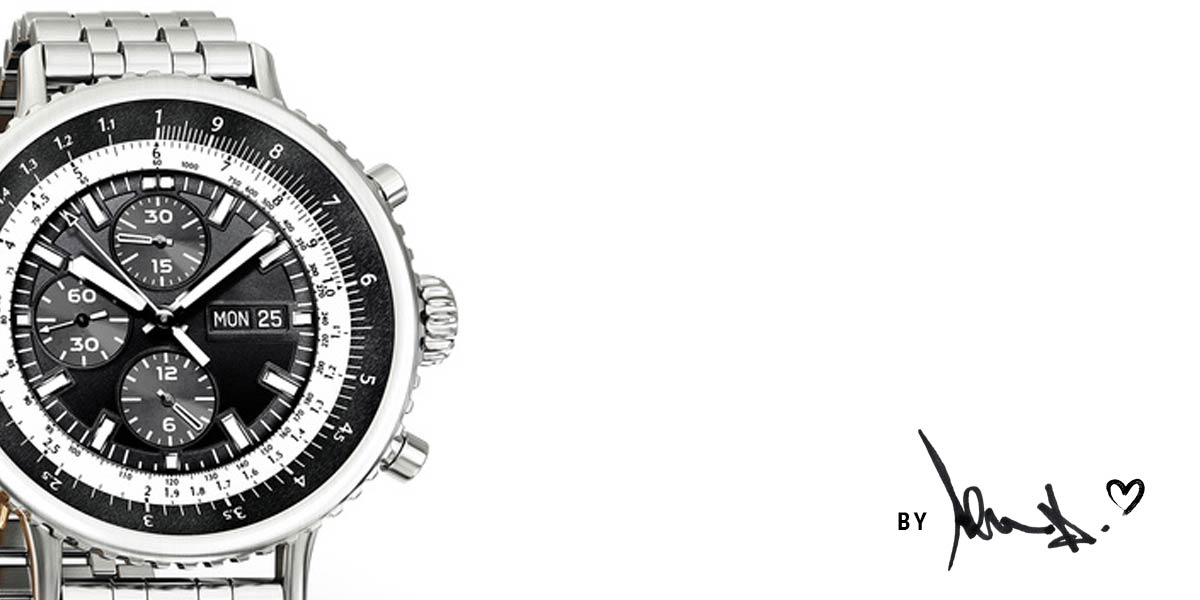 Men's watch – The discreet statement for dates and business appointments
Especially for dates and special occasions, the men's watch is an essential accessory. It makes a statement when it comes to impressing on the first date. Although many say that it's all about the inner values and staying true to yourself, we all know that wearing the right fashion accessories helps in finding partners for life or for new, interesting business. That's why on the first, second and third date it's important to wear a watch that says "Hello!" I'm here. It's best to go with models like Rolex, Patek Philippe and other luxury watches.
Business meetings with style
This can be seen as a fairly simple and a clever means to seduce the favor of a woman, but you can also say that it is simply a means to represent yourself and your own personality and individuality in the form of a shapely and high-quality men's watch. When I have my last money I really wanted to impress and ordered a great black minimalist watch on the internet, as a cheap watch it was sold to me, but I thought if then it must be something better, so I ordered the original for over 500 euros. Already at the beginning of the date I thought to myself, OK, take your chances and so it begins.
MVMT – Lucky for me, I had the perfect watch for a date!
Already before the restaurant I may forget that fully a look at my watch, the beautiful new, minimalist, black watch about 500 euros. Alone that gives a good feeling when it comes to drink a simple coffee.
Five more minutes, two more minutes and there she was. At the end of the road are her blond hair and knew okay now it goes. Only a few minutes later we sat in the coffee and I was at the first look at my new watch. She shines you so beautiful. It was really wonderful. And I don't mean my new super gorgeous watch, I mean the girl sitting in front of me. She was a little shorter than me just getting to know women, but I liked her and I got to know her really well. The nice thing was, whenever we and frag would not do more for tonight, I could take a look at my new watch.


FragranceTip.com by FIV
Of course, I knew she would notice that I was taking a look at my watch. And so it was clear to me, of course, that she says that I had a fancy watch on especially for her. Just as women can score points on dates by wearing certain accessories, so can we men. Just have to dare us, and they set accessories get, maybe a few tips from friends this better with fashion have, and already we can on a date with women smallest. and how was the right only, is thereby one of the easiest ways. Why? It is so easy to grin with a single accessory. We have women often have the problem of combining different accessories with their outfit, men can rely on a single accessory, the watch.
Inspiration: Chic men's watches for the evening
Women have it hard, men have it easy
Find watches for dating: Cheap but classy
She had felt twenty accessories, she had to constantly check whether her gold bracelet still sits correctly, whether the gold chain is still right or whether the Italian top is already slipping. I only had to take care of my new watch – everything I needed for the date with the perfect woman. This was quite easy and very pleasant, I could fully concentrate on the conversation and get to know her super. Therefore, we are already how easy it is to start as a man with a small house is warm, the earth only on, and really make an impression on the woman of the world. My first date went great, the second went perfect, and by the third date we were together. Do I have my watch to thank for that? Maybe think about it.
https://fivmagazine.com/wp-content/uploads/2015/09/schmuck-gold-silber-uhr-maenner-blog-mann-outfit-styling-03.jpg
600
1200
Stephan
/wp-content/uploads/2023/08/fiv-magazine-logo-news-influencer-fashion-interior-travel-real-esates.svg
Stephan
2015-07-22 12:22:15
2015-07-22 12:22:15
Men's watch – The discreet statement for dates and business appointments