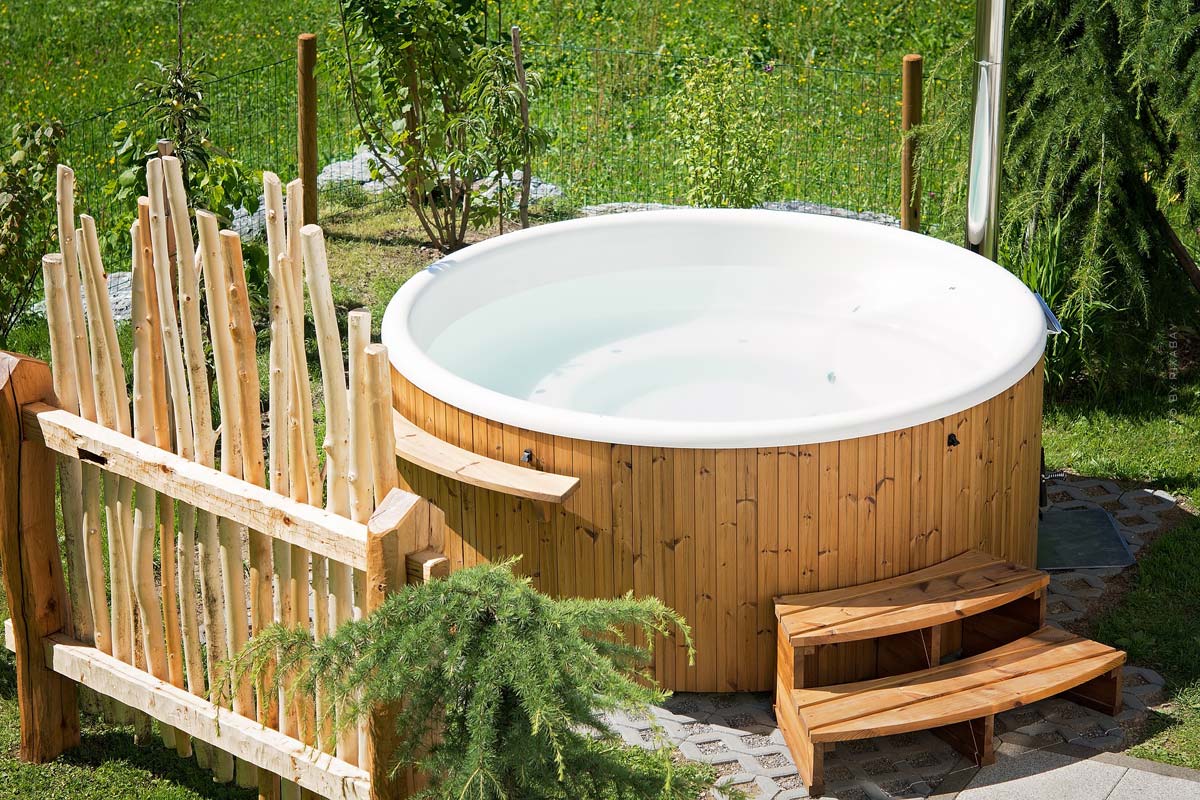 Whirlpool MSpa Tekapo: manual, functions, filters & test- is it worth the investment?
MSpa Tekapo hot tub: Who wouldn't want to have their own hot tub at home to relax in after a hard day in the warm water? If you are looking for your own small pool, you can read many reviews in advance. A hot tub is a small investment and should therefore be particularly durable. In this article you will learn everything you need to know about the MSpa Tekapo hot tub. In addition to facts such as size and weight, you will find information about the functions, hygiene, accessories, winter use and instructions for installation and cleaning. Choose your favourite from the wide range of whirlpools and create your personal wellness oasis in our home. The MSpa Tekapo hot tub is currently the No. 1 bestseller and available for €649.95 on Amazon.
Whirlpool bestseller: TÜV/GS certified
The MSpa Tekapo whirlpool is available on Amazon, is considered a bestseller and is TÜV/GS certified . The product has been successfully tested and has received the test seal "Tested Safety". Therefore, it has a very good price-performance ratio and can not be compared with other objects in the same price range. The shape and size is also ideal. The square body therefore fits perfectly on terraces, balconies or even indoors. Furthermore the material of the whirlpool is very resistant, robust, as well as weather and tear resistant, which makes it ideal for summer and winter.
TÜV-tested: Safety when relaxing
The whirlpool is TÜV/GS tested and therefore very good and above all safe. In the production and processing was set on particularly high quality and durable materials, which is why this pool stands out compared to other products in the same price range.. Especially with a whirlpool safety is the A&O. The risk of injury when getting in and out is very high, which is why a good coating is important and necessary.
Bestseller No.1 on Amazon
Shape, Size & Weight: Terrace, Balcony or Interior
The MSpa Tekapo hot tub has an ideal size and it can accommodate up to 6 people. The pool is square and measures 185 x 185, which makes it perfect for small terraces, balconies or even for the interior and can be placed as desired and useful. The weight is 23 kilograms without water, which is why the assembly and disassembly or a change of location is uncomplicated and easy.
185cm x 185cm

23 kg (without water)
Price at Amazon: very good price-performance ratio
The price for the MSpa Tekapo whirlpool is € 649.95 on Amazon. This price is average compared to other products. However, the price-performance ratio of this model is very good, which is why the MSpa Tekapo whirlpool is a bestseller.
Total power: watts, heating, massage jets
2.100 Watt, 1.500 Watt heating, 600 Watt massage jets
Material: high quality, robust and resistant
The whirlpool is particularly robust and can be used all year round. Due to the special 6-layer material technology, this is very durable and the material technology is even used in the marine industry. The coating is UV and frost resistant as well as weather and tear resistant. Dhe pool also has a 1cm thick anti-slip bottom, which makes it easier and safer to get in and out of the pool.
6-layer material technology

UV and frost resistant

Weather and tear resistant
Features: Massage jets, LED remote control & automatic heater
There are several Special Features in the MSpa Tekapo hot tub to help you have a relaxing evening. These include, among others: Massage jets, an LED remote control or an energy-saving heater. Make yourself comfortable in your whirlpool after a long and tiring day and enjoy these hours. Release tension in the warm water and create your own personal wellness oasis in your home.
Massage jets: 132 360° air jets
The MSpa Tekapo hot tub has 132 bubble massage jets that are ideal for resting and relaxing. The 360° massage jets provide a distributed massage experience. This technology allows up to 6 people to sit in this pool and all relax equally.
132 air bubble massage jets
LED remote control: waterproof and easy control
With the waterproof LED full function remote control you have the possibility to control all jets from the pool and operate everything according to your wishes. You the water temperature, the UVC generator and the filter system on and off. The display is easy to operate and therefore perfect to use in the pool.
Smart-Touch remote control for control (nozzles, temperature, filter, UVC)
Heating: temperature range and energy saving timer
You can heat the whirlpool between 20°C and 40°C as you wish. This means that it is ideal for cooling off in the summer and keeping warm in the winter. The adjustable energy-saving timer gives you the possibility to keep your pool at a certain temperature at a certain time. Once your desired and set temperature is reached, the heating automatically switches off, so no more energy is generated and electricity is saved.
Temperature range: 20°C-40°C
Hygiene: filtration, disinfection generator & pool fabric
The most important thing in a hot tub is hygiene. In the MSpa Tekapo hot tub are some features included to keep the pool extra durable and high class. Here you will find the most important aspects to pay attention to when it comes to hygiene and which features are included from the start. Take care of your pool so that you can enjoy the product for a long time. A unique feature of the MSpa Tekapo hot tub is the new UVC disinfection generator. This is already built into the pool and ensures increased water hygiene.
Filtering: automatic or controllable via screen
The filter function should also be very good in a hot tub, so that a certain standard of hygiene can be maintained. With the MSpa Tekapo hot tub, the water is often filtered and thus protected from impurities. This function can be controlled via the LED remote. Also the pump has more suction power in the latest model and is therefore more intense.
Filtering controllable by remote control
Pump more suction power
UVC disinfection generator: new special feature
This function is new and very special. The UVC disinfection generator is an ultraviolet light that repels up to 95% of bacteria and pathogenic germs. Therefore, the spa is cleaned and kept clean during use.
Ultraviolet light for germ defense
Pool fabric: Antibacterial for a hygienic water environment
The pool fabric is antibacterial, which means that bacterial proliferation is reduced by up to 99%. For this purpose, a special layer is located on the inside of the pool and helps maintain a hygienic water environment.
Tip: find the MSpa Tekapo hot tubs on Amazonhere !
Scope of delivery, additional accessories & starter set
In addition to the actual whirlpool, this product offers you a lot more. You will be sent a large scope of delivery with which you can start directly. In addition there is also a large assortment of starter sets including chlorine tablets, additional filters or other chemical aids that you need for a clean and long-lasting pool. If you prefer even more comfort, you can invest in additional accessories. The range is very large. Create your relaxing evening in the hot tub including drink holder, seat cushion or neck support.
Scope of delivery of the MSpa Tekapo hot tub
Whirlpool

Full function remote control

Insulating cover with quick release fasteners

2 filter cartridges with mesh cover

Inflation hose with pressure gauge

Garden hose adapter

Repair kit
Starter Set: Chlorine tablets, replacement filter & Co.
If you decide to purchase a hot tub, you will need some chemical supplies to keep the pool durable and sanitary. There is now a wide selection of chlorine tablets and pool starter kits that you should purchase to get started. Look for the right information and get advice on how to take care of your hot tub. Depending on the amount of water and size, you will need a certain amount of chlorine. This is determined individually and should be clarified before use.
Additional accessories: headrest, cup holder & seat cushion
There is also a wide range of additional accessories that make your pool experience even better and more relaxed. Here you will find a selection of possible gadgets, which you should ideally purchase directly.
Replacement filter

Neck support

Drink holder

Inflatable seat cushion

Weather protection hood

Floor mat

Thermal cover

Ozone generator (more natural water quality)
Winter operation: anti-frost technology & handling
As already mentioned, it is possible to use the pool in winter. This is due to the frost protection system. The prerequisite for this is that the pool is switched on or in stand-by mode.. Here you will now learn what the special technology of the pool is, how it heats in winter and at what outdoor temperatures it is better not to use the hot tub.
Heating in cold temperatures: What you have to pay attention to
In winter it is unfortunately more difficult to heat up the pool, as it does not contain water that has already been heated and the heat is released into the environment more quickly. Different factors such as air/ground temperature or the wind also make heating difficult. As the temperature can be very low in winter, it will take a long time to heat up the pool to 40°C. To counteract this, it is worth adding preheated water to the pool. Ethermo cover and a floor mat for insulation will help to keep the water in the pool warm for a long time.
Relaxing in winter: When is it too cold?
When the outside temperature is below 4°C, the initial start-up of the pool is not allowed. Furthermore use at an outside temperature of -10°C is also not°C is also not recommended, as this has a negative effect on the longevity of the pool. Another tip is to regularly clear the pool of snow and ice, as this will protect the material and make it last longer.
Anti-freeze technology: automated heating
To ensure that you can use the pool all year round, there is anti-freeze technology. If you want to leave your hot tub set up in the winter, the heater ensures that the water does not freeze and the pump, heater or pipes are not damaged. If the water temperature has dropped below 1°C, the heater will raise the temperature to 3°C to prevent frost.
Pool construction, cleaning & testing: Is it worth the investment?
Some questions asked when buying your own hot tub are: How do I set it up properly and how do I clean it ideally? In the following videos you will learn everything important around these two questions and can prepare yourself ideally.
MSpa Tekapo hot tub: How do I set up the pool?
Watch this video for instructions on how to build the 2021 Delight Series:
MSpa Tekapo Hot Tub: How do I clean the pool?
In this video you will learn everything about cleaning the pool:
Test and conclusion: Is it worth the investment?
You are still unsure about the purchase and want to see if the investment is worth it? Here you can find an interesting YouTube video including setup, test & conclusion.
https://fivmagazine.com/wp-content/uploads/2021/02/whirlpool-kaufen-tipps-aufbau-reinigen-terrasse-jucuzzi.jpg
800
1200
Lisa-Marie
/wp-content/uploads/2020/07/fiv-magazine-news-instagram-youtube-tiktok-influencer-fashion-interior-jewelry-real-estate-tips-help-logo.png
Lisa-Marie
2021-02-25 16:47:40
2021-02-25 16:47:40
Whirlpool MSpa Tekapo: manual, functions, filters & test- is it worth the investment?