Basic rules for great looks in Plus Size for every occasion
Dear ladies, just because you are built a bit more voluptuously, does not mean that you have to hide your curves. On the contrary! Stars like the German Angelina Kirsch or the lush Kim Kardashian, who even had her butt enlarged, are causing a paradigm shift. Not only the very thin women are considered beautiful anymore, but also the very normal figures, which are well padded in one place or another. This is also long overdue, because very few women have figures like the models you see scurrying across the catwalk with most designers. But the "normal" women are usually the customers of the fashion label and are supposed to wear the clothes later. So it's no wonder that finally more and more models with slightly more voluptuous bodies can be seen on the catwalks. So the first step for a self-confident appearance and a good body feeling is that you love yourself!
How to find the right look for every occasion?
As a Plus Size woman, it's enough to know the basic rules to bring out your best features and let the unwanted take a back seat. With this knowledge, it is easy to put together the right outfit for any occasion. We have listed the most important rules
Better to buy Plus Size than "one size bigger
Of course, it's up to you where to stock up on clothes, and many garments are available in both XS and XL. However, these are more often embarrassing solutions, and such items do not have to look as good in the large size as they do in the smaller size. It makes much more sense to look at the larger sizes straight away, because the garments are designed specifically for rounder figures. It's not enough to just add a few centimeters all around, Plus Size requires a special cut so that everything fits perfectly.


Germany - Spain - USA
Good quality clothing has a positive effect
The fashion carousel rotates constantly, shapes, colors and patterns come and go. But what always remains is the special aura of high-quality materials. A portion of cashmere in a sweater, a blouse made of silk blend, fine, combed cotton that falls easily and whose beautiful pattern attracts attention – it is always worth investing in high-quality pieces. You care for and wear it for a long time and feel especially comfortable in it.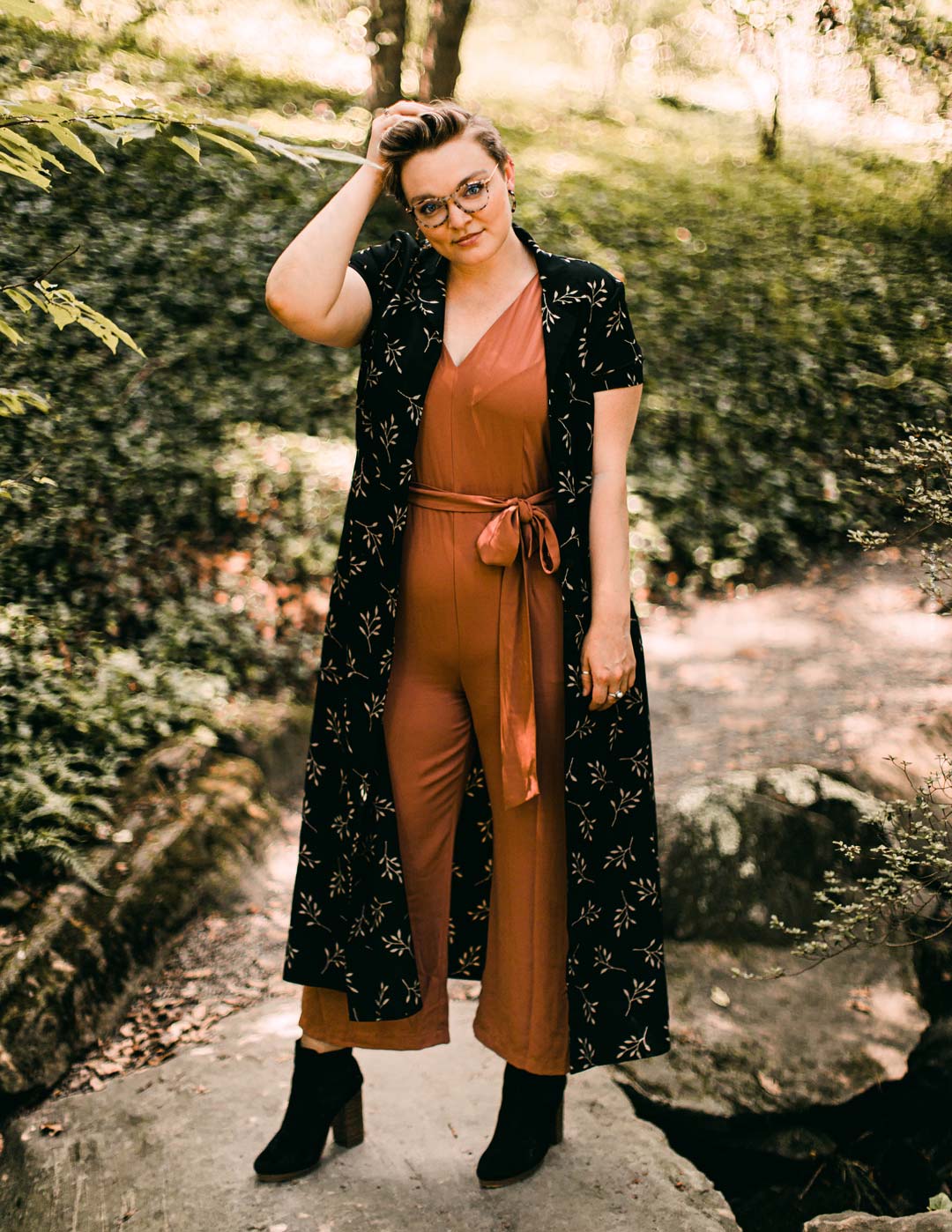 Emphasize and conceal with colors and patterns
One of the basic rules when putting together an outfit is that colors and patterns can be used to direct the viewer's gaze more or less as desired. This means that those parts of the body that should be in the background are hidden and others are emphasized. There is an interplay between these two measures that should not be underestimated.
How do you conceal?
Muted, dark colors and subtle patterns have a concealing effect. A simple cut allows the corresponding areas to fade into the background. Fabrics should be matt.
How do you emphasize?
Light and bright colors, large patterns, shiny surfaces and anything unusual attracts the eye magically. With these details, areas of the body are brought to the fore.
On the one hand, you should definitely emphasize if you want to conceal something else. If you dress discreetly from head to toe, the effect is lost. So you emphasize the parts of the body you find beautiful and let the others look less important.
If you have a round belly, wear something loose that reaches to the hips and combine it with a pencil skirt or skinny jeans and pumps. If you have a nice waist, you should by no means hide it under loosely falling clothes, but on the contrary wear something waisted and maybe even tie a belt around the waist. If you have a big bottom and wide hips, you can balance it out with lavishly patterned tops, flounces and frills on the blouse or a Carmen neckline, because this brings the upper part of the body into focus. Opulent women should not wear bags that are too small, shoes that are too pointed or jewelry that is too filigree, because this makes them look fuller.
How do you look slimmer and slimmer?
There is a trick to creating an outfit that makes you look slimmer and slimmer, whether you're creating a casual style or styling for an evening event. And it's all about layering! With it you can quickly conjure away a few pounds, if you want to. Layering means nothing else but that you put several layers on top of each other. The trick, however, lies in how they are made! The lower, body-hugging layer should have the same color on the top and bottom. If you don't have an hourglass figure with a pronounced waist, avoid using a belt to emphasize the middle of the body.
Layering conjures unwanted pounds away in no time at all
The continuous color creates a long line for the viewer. This can be further emphasized by a V-neck. The shoes are best worn in the color of the legs, i.e. nude or black, if you wear the corresponding stockings. This long line makes you look taller, but how do you look slimmer? Simply by adding a second layer, for example in the form of a cardigan. If it is in a contrasting color, the middle long line will automatically appear narrower and you will look slimmer. This works with almost all outfits!
https://fivmagazine.com/wp-content/uploads/2020/09/grundregeln-plus-size-tipps-betonen-kaschieren-junge-mode-fashion-frau-strand-kleid-sonnenuntergang.jpg
700
1200
Laura
/wp-content/uploads/2023/08/fiv-magazine-logo-news-influencer-fashion-interior-travel-real-esates.svg
Laura
2020-09-25 10:19:12
2020-11-10 15:11:34
Basic rules for great looks in Plus Size for every occasion