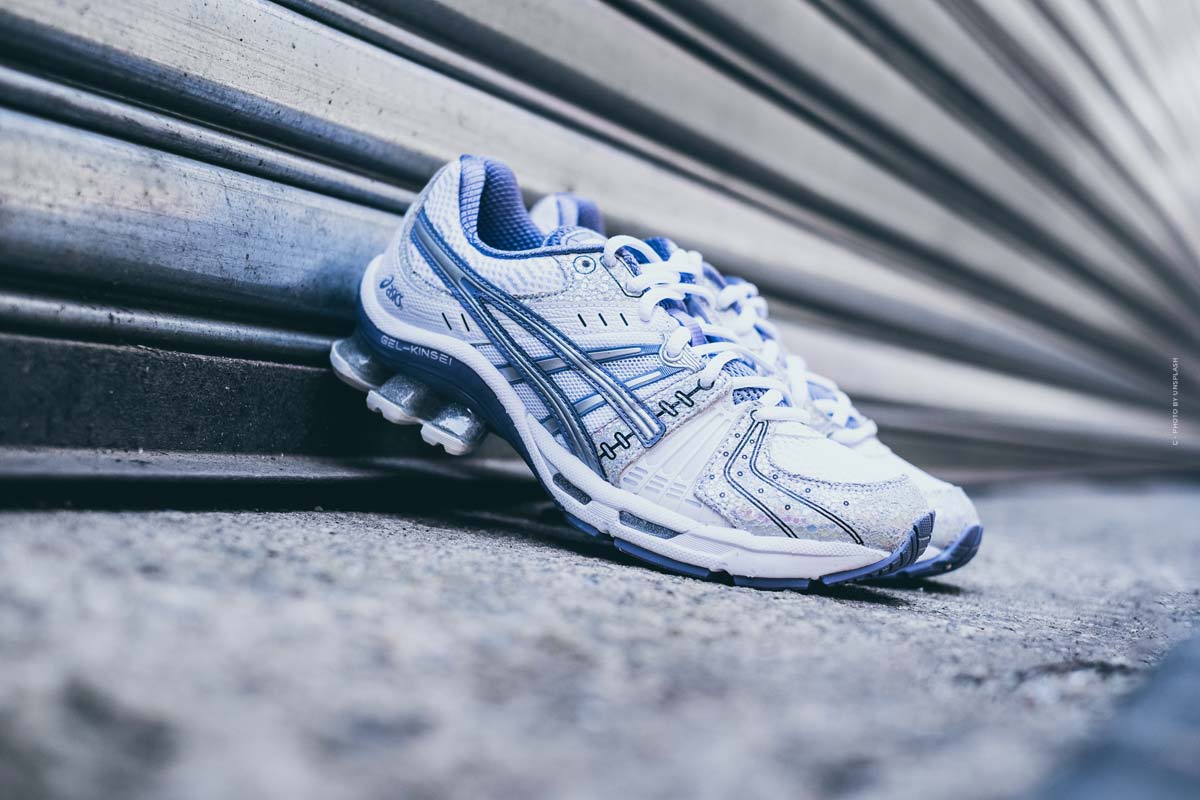 Asics: running shoes, sportswear and popular sneakers for women & men
Asics – The Japanese brand Asics has long made a name for itself, especially among runners, but sneakerheads also find something among the many models of the brand. Besides shoes, Asics offers clothing for women, men and children. Although running shoes are what Asics is known for, the label offers equipment for a wide range of different sports. Making sports and exercise as comfortable as possible for people has been the goal since the company was founded in 1949. If you are looking for the latest sneaker models, we can help: Here we have summarized coveted sneaker models of different brands at a glance.
Asics: running shoes for men and women with gel sole
When Kihachiru Onitsuka began producing shoes in 1947, his goal was to inspire young people to take up the sport and thereby increase their self-esteem. He probably never dreamed that his label would grow into an international, listed company in the future. Nevertheless, this is the reality of Asics today.
And things look good for the Group in the future as well. Statista, for example, forecasts a market volume of 93.19 billion US dollars for the sports shoe market in 2025. That would be an increase of 6.26 billion US dollars in value compared to 2019 – that is over 1 billion US dollars per year. With average annual sales of 3167.56 million euros until 2019, Asics ranks among the leading sporting goods manufacturers.
So it is fair to say that the sports and fitness market is booming and Asics is at the forefront. What began with a basketball shoe in a suburb of Kobe, a Japanese city with 1.5 million inhabitants, is now represented worldwide. Nevertheless, the company's headquarters in Kobe will remain.
Asics Logo: Running Track & Innovation
The name Asics stands for the Latin phrase 'anima sana in corpore sano', which means 'a healthy soul in a healthy body' or 'a healthy life in a healthy body'. The sentence is a variation of the sentence 'mens sana in corpore sano' which goes back to the ancient Roman poet Juvenal. He used the phrase in a list of aspirations in life. The symbol in the logo, next to the word 'Asics', is a stylized 'a', which is dynamic and reminiscent of a running track in a stadium.


FragranceTip.com by FIV
Tiger Onitsuka: Phil Knight for Nike vs. Asics
The Nike brand is an absolute sports and streetwear giant. But did you know that co-founder of the brand Phil Knight travelled to Japan after his studies at Stanford University to make a deal with Asics, then known as Onitsuka Tiger. The quality of the shoes had convinced him. Knight was allowed to import Onitsuka Tiger products into the USA from 1964 and sell them there. He invested 1000 US dollars in the shoes at the beginning and sold them at a profit.
The break came in 1973 when Knight and Onitsuka Tiger sued each other. Knight was able to negotiate a settlement payment of $400,000 and the rights to the name of several shoes during this trial. With this, Nike got wind in its sails and developed independently from Asics or Onitsuka Tiger into the billion dollar company it is today. But what became of Onitsuka Tiger? The brand's main line was given the name Asics and continued to produce high-quality sports shoes. Today you can buy Onitsuka Tiger shoes again, but they are distributed by Asics.
Gel technology: world famous running shoe innovation
Many athletes know that good running shoes not only protect the foot from wind and weather, but that they are a sophisticated orthopedic construction with the purpose of optimally supporting ligaments, tendons and muscles to prevent injuries. A comfortable shoe can also be crucial for success, because being uncomfortable limits your performance.
The wearing comfort of Asics shoes is achieved through the gel technology that has made the brand famous worldwide. Two gels are used in the shoes, which are supposed to have a springy effect. This is done in combination with several layers of foam in the footbed and in parts around the foot. The optimal combination stabilizes the foot and allows wearers to cover longer distances without problems.
Video Asics Gel Technology
Asics running shoes are known for their enormous comfort. This is mainly due to the design and development of Asics' famous gel technologists. This video will show you exactly how this works and what makes Asics shoes so interesting for athletes.
Durability of Asics running shoes: How many kilometers before a new pair?
First of all, the durability of sports shoes always depends on the frequency and length of use. If you are preparing for a marathon, your shoes will run out faster than if you wear them moderately. In addition, it is especially important, especially with intensive use, that the foot is optimally supported and sprung to prevent injuries.
Although the load on the running shoes depends on the individual wearer, one of the safest indications for the durability of running shoes is how many kilometers you can run in them. Generally, the following is assumed for running shoes:
Minimum value: 500 km
Average value: 750 km
Maximum value 1000 km
absolute maximum 1200 km
Special case: competition shoes
More precisely, this means that a running shoe should accompany you for at least 500 km. Normally, however, you would expect to run 700-1000 km. Depending on your running style and shoe model, 1200 km are also possible in some cases. The best guideline in running shoes is always your own feeling during and after the sport. If you experience increased pain after a while or if running in shoes becomes more uncomfortable, it may be time for a new pair of running shoes. Especially since Asics is one of the leading manufacturers in the field of running, a higher running performance can be expected. An orientation to the value of 800-1000 km is appropriate here. The selected model also plays a role.
Asics collections for everyday life and sports
Without diversity, Asics would probably not have been able to develop into the company it is today. The brand offers different collections for every day situation and a variety of sports.
Sport Style: Sneakers from the running shoe label
Asics stands for comfortable, well designed shoes. Exactly what you need in everyday life. In its Sportstyle collection, the brand offers shoes that remind us of those Asics grew up with. Designs from the eighties and nineties, paired with the latest Asics gel technology.
The Sport Style collection includes a variety of models. These are the most popular ones:
Gel-Lyte III OG: 90s inspired design with suede applications
Gel-Kyrios: A classic design from the 2000s brought to new life
Novablast SPS: Reinterpretation of the shoe from the Performance Line in terms of street style aesthetics
Most popular running shoes from Asics: run longer thanks to gel sole
The Länger Laufen collection includes the most popular models of the Asics brand. These are the shoes that hobby and competitive runners alike trust. The collection is divided into supported and neutral shoes. The best way to find out which ones are suitable for you personally is to do a treadmill analysis at your trusted running shoe store.
Supported shoes are divided into models for overpronation or supination. The type of running that applies to individual runners can be determined by whether you bend inwards or outwards when running. The tendency to run inwards is called overpronation and the tendency to run outwards is called supination. Experienced salespeople and runners can sometimes see the running style with the naked eye, but the determination is often supported by video analysis.
Neutral shoes are for runners who have normal pronation, i.e. no tendency to over-pronate either inwards or outwards.
The 5 best sports shoes from Asics?
Which pair is the most popular of the brand? Of course, many people ask themselves this question, after all you want to get the best out of your purchase. Unfortunately, there is no universal answer to this question because, as we have already seen, preferences for running shoes are something very individual. Nevertheless, we have summarized below the most popular shoes of the brand with which runners all over the world have had good experiences.
Gel-Cumulus 22 (neutral):
Gel Nimbus 22 (neutral):
GT 1000 9 G-TX (medium stability): For overpronators with Gore-Tex
Gel-Kayano 27 (medium stability): support and suspension for overpronators
GT 800 (medium stability): minimalist model with support for overpronator
For more detailed advice, Asics also offer a shoe finder on their website.
Asics Collaborations: designers & stars like Vivienne Westwood and Co.
As seen again and again in the fashion world, Asics collaborates with designers and personalities to offer fans very special shoe models. Even if Asics is not necessarily associated with the sneaker market, these models also have a large following.
Asics x Sean Wotherspoon x Atmos: Video
One of the most popular collab models from Asics among sneakerheads is the collaboration with Atmos and Sean Wotherspoon. Designer, businessman and internet personality Sean Wotherspoon has teamed up with Asics and Atmos to create a shoe that combines soft floral colors with the urban feel of Tokyo to capture the essence of the collaborators.
The special feature of the shoe is the interchangeable appliqués with which the shoe is delivered. The shoe is available with Asics stripes in five different colors. Other components of the shoe can also be removed and reattached depending on your mood.
Asics Tiger x Vivienne Westwood: Video
This is the second time Vivienne Westwood has teamed up with Asics. First, the British designer, known for her punk couture, reinterpreted the brand's hyper-gel LYTE model and then she turned her attention to the popular Kayano 26 model. The latter not only received a new coat of paint under her, but also individual components were modified and added. For example, the model has no laces, but is adapted to the foot by an elastic band.
Asics x Kiko Kostadinov: Video
Kiko Kostadinov is a Bulgarian-born designer who produces mainly menswear. He is alumno of the renowned Central St Martins College of the University of the Arts London. Kostadinov has already met twice with Asics to breathe new life into the brand's models. Rita Ora, for example, was seen with one of Kostadov's creations for Asics on her feet.
Sportswear from Asics for Men and Women
Even if the shoes are what the brand is known for, there is no shortage of those who are looking for sportswear. Asics produces running and sports shoes as well as high-quality and efficient sportswear. You can find out here what this is and what makes it so special.
Ladies running wear: These are the most popular pieces from Asics
This search for the right running clothing can sometimes be exhausting. Leggings are too transparent, jackets not warm enough. Asics stands for quality and these are the most popular clothes you can buy at Asics.
The Icon Tight: opaque leggings with high waistband and reflectors
Race Seamless Shirt: fast drying shirt without rubbing seams
Road 3.5in Shorts: running shorts with high waistband and cell phone pocket
New Strong Bra: Bra with extra secure support for longer workouts
Accelerate Jacket: Provides warmth and visibility
With these five favorites, the running outfit is perfect. The only thing missing is the matching one for which this article has hopefully already provided some useful hints.
Men's outfit: The marathon outfit from Asics
Finding suitable clothing for a marathon is not so easy, but there are a few things to look out for when buying. For example, friction points should be reduced to avoid chafing. You should also wear clothes and shoes in advance to detect possible problems early on. Clothing from Asics that is also suitable for longer distances is the following:
Race Seamless SS: seamless, quick-drying running shirt
Winter Vest: for long distances, a long-sleeved vest combination is suitable for good acclimatization
Race Seamless LS: Seamless Long-Sleeve for under the vest or jacket in cold weather
Silver Tight: seamless running pants made of quick-drying material
Katakana 5In Shorts: optimal for warmer days
Asics with the stars: Emily Ratajkowski, J-Lo and Emma Watson
We've already mentioned that Asics is a favorite runner, but did you know that the stars also like to use the brand? We'll show you who wore which model and, most importantly, on which occasion. It's great that stars also rely on affordable sports shoes.
Onitsuka Tiger Mexico 66: Stars like Uma Thurman & Bruce Lee wear it
The label's vintage model is still sold today under the old brand name Onitsuka Tiger. The Mexico 66 model of the brand was already worn by Bruce Lee. However, the shoe achieved final cult status as part of Uma Thurman's costume in Kill Bill. As the vengeful Assasine 'The Bride', after an attempted murder in which she lost her unborn child, Uma Thurman slaughters in stylish Mexico 66's in gold-black.
Asics Gel-Kayano
With different versions of the model some stars and starlets have already been sighted. Who exactly was that? Here we reveal it:
Reese Witherspoon: Gel Kayano 26
Nina Dobrev: Gel Kayano 26
Emily Ratajkowski: Asics x Naked Gel Kayano
Katie Holmes: Gel Kayano 20
Asics gel cumulus
If you are looking for a combination of casual street style and comfortable everyday cushioning, this Asics model is the perfect choice. The following stars probably thought so, too:
Lady Gaga: Gel-Cumulus 19
Emma Watson: Gel-Cumulus 12
Britney Spears: Gel-Cumulus 15
Reese Witherspoon: Gel-Cumulus 17
Asics Gel Nimbus
Especially Reese Witherspoon seems to be convinced of Asics. She is always seen in public with different models and designs of shoes. But other stars also own shoes of the label:
Eva Longoria: Gel Nimbus in black
Gwyneth Paltrow: Gel Nimbus 16 & 17
Jennifer Lopez: Gel Nimbus 14 & 16
Meghan Fox: Gel Nimbus 12
https://fivmagazine.com/wp-content/uploads/2020/11/asics-laufschuh-damen-herren-sport-preis-gel-1.jpg
800
1200
Lisa-Marie
/wp-content/uploads/2023/08/fiv-magazine-logo-news-influencer-fashion-interior-travel-real-esates.svg
Lisa-Marie
2020-11-13 17:00:14
2020-12-05 15:29:15
Asics: running shoes, sportswear and popular sneakers for women & men