Paris Fashion Week Men´s Spring/summer 2020: The highlights
The spring/summer men's prêt-à-porter fashion week took place from June 18 to June 23, 2019 in Paris. Every year, it brings together the best French and international designers to present their new collection. This year again they all presented different universes with a strong passion for materials with coated and varnished effects. The future, music, their origins and dance have inspired their creations. FIV Magazine has made a selection for you and give you an overview of the Fashion Week Paris SS20 Men.
Music and fashion Show: Balmain & Angus Chiang
Balmain festival: Live Music & Balmain spring/summer 2020 Men´s show
For the music festival, Olivier Rousteing organized the Balmain festival in partnership with the RED association which fights against AIDS. The first part of the festival was dedicated to the new Balmain 2020 spring/summer collection and the second part was dedicated to concerts during the music festival. The models paraded on stage at the jardin des plantes in Paris in a festive atmosphere. Black, white, silver, pastel and jeans were the colour codes for this extraordinary show where 104 male and female looks were displayed.
Angus Chiang: Love hits the Songs
Angus Chiang Spring/Summer 2020 is inspired by music to create his collection. He revisits the CD forgotten by the new generation and highlights it through his creations. He also uses the colours of a CD which are purple, green and blue. Summer colours such as yellow or orange inspire to colour your collection. Angus Chiang wanted to reinterpret Chinese music and the culture of the 90s.


Germany - Spain - USA
The iconic Dior show:
Tricolor show: Rynshu
This year, the Rynshu collection is entitled "Tricolor" and is directly inspired by the three colours of the French flag. The Japanese designer has created his spring/summer 2020 man's collection to pay tribute to these three colours of equality. It was therefore quite naturally that he came up with the idea of creating a unisex collection. The looks of her collection were chic and original with costume sleeves to rework with creativity and simplicity. The choice of materials and motifs allowed Rynshu to reflect the vision of France. The designer has also chosen an emblematic location in the capital to present his new collection. This is the Monsieur Bleu restaurant overlooking the Seine and the Eiffel Tower.
New designers: Gab+Riel & Tatras
Gab+Riel: a new modern and luxurious brand
The Parisian brand Gab+Riel presented its first fashion show at Hôtel Alfred Sommier in the 8th arrondissement of the capital. The designer of this new brand is the former famous PSG footballer: Lass Diarra. The setting of the show was in perfect harmony with the theme of the collection: a couture garment based on the French heritage and cuts that were both luxurious and relaxed. Gab+Riel is also inspired by the sportwear in vogue this season. Both modern and functional, GAB+Riel is an ode to craftsmanship.
Tatras: first catwalk of the Milanese brand in Paris
"I do not like popularity based on lies. My dream has always been to have a reputation based on Truth." Masanaka Sakao, Tatras creative director.
Tatras chose the famous Salle Pleyel in Paris, where the last Oscar ceremony took place, to present its new Spring/Summer Man collection entitled "Lies & Truth". Skaters introduced the show with skateboard demonstrations. This new collection is inspired by sportwear was in collaboration with Steve Berra, The Berrics and Nick Walker. Transparent and waterproof materials were part of  materials in the Tatras looks this season. 3 Themes are addressed during the show. A part is urban, mainly black, ultra-light, with a technology patented in Germany. A military atmosphere is also one of the themes of the collection. Indeed, we can notice the contrast between technical mountain clothing and vintage military clothing. Finally, there is a Californian atmosphere composed of fine Japanese nylon clothing and a palette of soft and delicate colours: sage, coral, butter, butter, sand, light blue and celestial.


Japan inspiration show: Auralee & Christian Dad
Auralee: Fashion prize of Tokyo
Auralee´s designer Ryota Iwai was born in Kobe, Japan. His collection is in perfect harmony with the Japan spirit. The Spring/Summer 202 Men´s and Women´s collection are in keeping with the Japanes label´s commitment to quality exigence and purity of style. The color palette has a soothing calming quality yet feels expressive, in graduations on neutral offset by white, pale blue, orange and contrasting dark colors for vibancy. Auralee´s spring/summer show was relaxing and in accordance with the setting and atmosphere.
Christian Dada: Spring Spring Summer 2020 "Pilgrimage"
Japanese designer Masanori Morokawa, for his 10 years of creation, has decided to immerse himself in his personal history to revisit through his collection the ancestral Japanese traditions of pilgrimage. It is inspired by the traditional pilgrim's outfits for this spring/summer 2020 collection. Kimono-inspired jackets are made with details of jacket sleeves or military jackets, and are worn with large bermuda shorts and conical hats fully covered with a coordinated fabric. Masanori also uses pieces a little more sportwear inspired by hiking clothing. A soft tropical atmosphere emanates from these interpretations of Asian outfits that bind in flowing silk brocade or organza shirts, worn over dark trousers or superimposed under sportswear pieces. The summer shirts, which look like Hawaiian shirts, are printed with photos of amaryllis flowers, symbolically associated with mourning, created in collaboration with Nobuyoshi Araki.


Future Show: Walter Van Beirendonck & Andrea Crews
Walter Van Beirendonck: Witblitz
Walter Van Beirendonck has chosen the name "Alien Vintage" for his Spring/Summer 2020 collection. He was inspired by small extraterrestrial figurines to imagine and create the looks of his new collection. He also played with shapes and colours to give a futuristic dimension to his creations. His collection also bears the name "Witblitz" which means White Lightning. As a result, there are lightning flashes on several of his creations. Transparent and stretch fabrics are among the main materials in her collection.
Andrea Crews: Momentum
Andrea Crews, presented his new Spring/Summer 2020 collection called "Momentum" at the Palais de Tokyo as he did in 2002. It is a collection that celebrates in the same jubilation the anathemas of the century by refusing to overproduce them: Back to future, it is the return of upcycling. Andrea Crews is known in the fashion world for diverting fashion codes, thanks to her innovative ucycling approach and her streatwear couture style. Andrea Crews' style is oversized, unisex, colourful and bold, he plays with mixed materials, strong prints but also with the misuse of dress codes. This year the designer has developed a partnership with the right place for his new Momentum collection. 25 unique pieces from his collection are for sale on the right place.
Fashion & dance performances :

Thom Browne & Pigalle Paris
Thom Browne: My secret garden
Thom Browne called upon the star dancer James Whiteside of the New York City Ballet to open his parade. James Whiteside's performance was in pointe and tutu. Thom Browne wanted to surprise his audience by combining dance and sport with the Marie-Antoinette style and navy prints. The parade took place at the École des Beaux Arts de Paris, a grand hall in harmony with the style of the collection. The New York designer has given the balloon a new function such as a bag or shoe, and has revisited the 17th century outfits with more modern prints and shapes.
Pigalle Paris: Crafting the future
This year, designer Stephane Ashpool for the brand's 10th anniversary, chose to create a fashion show as well as a contemporary dance performance at the same time. It is on the roof of Paris with a panoramic view of the capital with Mr. Ashpool combining dance and fashion. The Models were in perfect harmony with the dancers, which made the performance even more spectacular.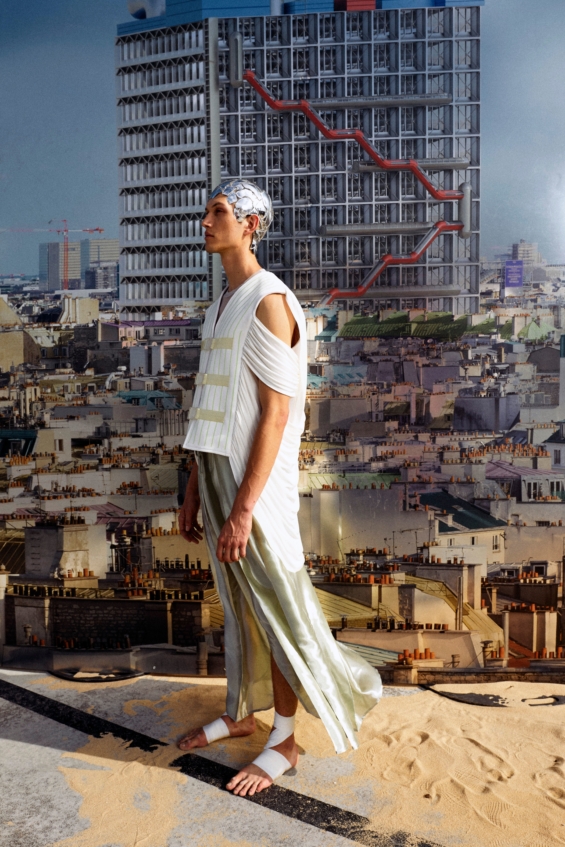 https://fivmagazine.com/wp-content/uploads/2019/06/paris-fashion-week-pret-a-porter-paris-france-designer-model-job-runway-louis-vuitton.jpg

500

1000

Clemence

/wp-content/uploads/2023/08/fiv-magazine-logo-news-influencer-fashion-interior-travel-real-esates.svg

Clemence
2019-06-28 07:00:57
2020-11-10 12:25:20
Paris Fashion Week Men´s Spring/summer 2020: The highlights