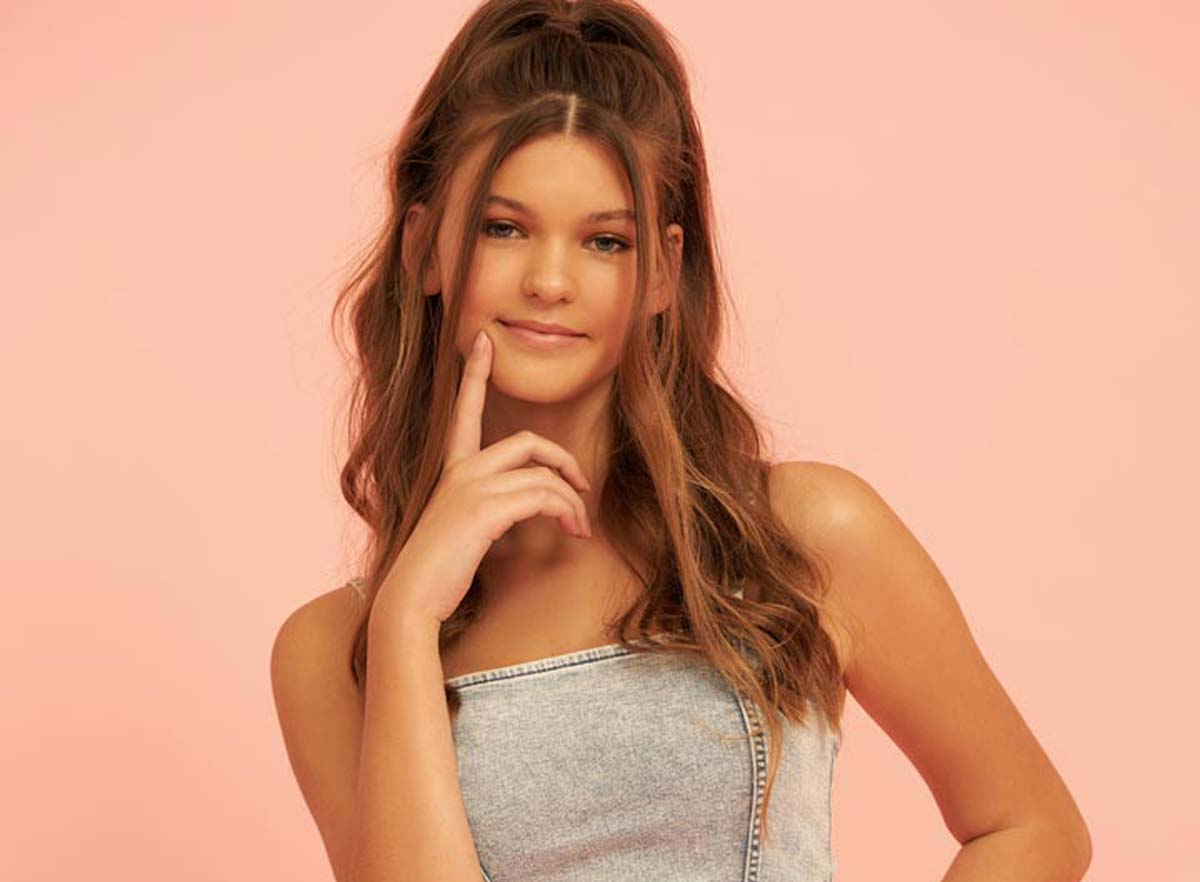 Laura Offermann – The 17-year-old has been on Instagram for a few years now and has built up a great community in a short time. Recently, the newcomer model has also stormed the TikTok scene and convinces with a strong and cheerful personality. We met Laura for an interview and found out how she balances school and job and how she defies envious people thanks to her self-confident manner, so that nothing stands in the way of her successful future.
+ AD + Kennst Du schon?
Positive Vibes on Instagram & TikTok
FIV: You are not a typical 16 year old girl. How is it possible that you've built such a huge reach at such a young age?
Laura: I had many different shoots with different photographers, accordingly many different photos and outfits, therefore also different style – variations and therefore I have gained a large reach. Of course, I was also able to strengthen my reach through collaborations with brands on Instagram. For example, I've already had a cooperation with KidsBrandstore or Daniel Wellington and because other photographers or brands repost me, the range of those in turn also jumps over to me.
FIV: What topics appeal to you most or what do you like to post about?
Laura: What I like to post the most are probably portraits. That gets the best response and I actually like that the most.
FIV: Again, what appeals to your community the most? What are girls and guys your age into? Your target audience tends to be younger, what's most popular? TikTok Dances?
Laura: My community is most into swimwear pictures and also beach pictures from vacation. I think it's because people like to go on vacation, especially now in Corona times. When I post pictures from last year still, a lot of positive vibes come across and that definitely appeals to most. IN regards to TikTok Dances, I used to do Renegate a lot or the Savage dance. I don't even know what they're all called exactly but I think Renegate and Savage are pretty good there.
FIV: Besides Instagram, you've discovered TikTok. What do you prefer to do: post a photo on Instagram or record a TikTok dance?
Laura: In the end I like both the same, only a TikTok Dance is rather more elaborate than a photo. Unless it's a professional shoot with elaborate make up or hair. I actually like both equally. Although I think I'm leaning more towards the photos then.
Calvin Klein, Philipp Plein & Co., thanks to creativity & discipline
FIV: Besides exciting jobs for various brands, you also take on some collaborations. What has been your favorite collaboration so far?
Laura: My favorite Instagram collaboration was definitely with KidsBrandstore, they're called the same thing on Instagram. I've been doing it for almost two years now, I think, or a year and a half. Every now and then, if I want, I get sent clothes that I can then shoot and of course keep. There are exciting brands like Calvin Klein, Philipp Plein, Tommy Hilfiger and so on. And that's why I like the cooperation so much, because the clothes are also very high quality and of course very appealing to my age group. In addition, everyone there is totally symphatic, very sweet and very generous.
FIV: What do you like most about your job or what aspect of your job do you like the most? Photo shoots, runway, Instagram, Tik Tok?
Laura: I personally like the photo shoots and my Instagram account the most. I can create the Instagram account myself how and when and where I want. I can make stories and posts. I have no guidelines there and can let my creativity run free. And of course I love the photo shoots because you always meet nice makeup artists and photographers. You meet new people and it's always quite funny. I've never had a worse experience with photographers who were unpleasant or didn't come across as nice. That's probably why those are my favorite aspects.
School and a modeling career, is that possible?
FIV: How hard is it really to balance school and your job?
Laura: What's really hard about it is when I get offered jobs that take place during the week, for example, and of course school still comes first at the moment and I therefore have to turn down a lot. That also annoys me, of course. It's hard to reconcile school and my job because I'm at a grammar school and that's not exactly easy in Q1 and now I have to take the advanced courses as well. Everything I'm doing right now, every grade, every performance counts for the Abitur and that's why it's all the more important at the moment.
FIV: What bugs you the most about school? Your favorite subject?
Laura: My favorite subject is actually sports and biology, because biology is my LK and I just like sports.
FIV: Have you ever thought about dropping out of school and focusing on modeling?
Laura: No, I've never thought about dropping out of school because it's just too important for life. You don't always stay beautiful and you can't live from it if it goes badly at some point or you don't fit into the pattern anymore or I don't know what trends there will be at some point and I don't fit in anymore or I'm already too old. I can no longer look good at 23 and then you are ultimately already an old model and therefore it is very important that you have also made an education and can concentrate on something else.
Defying envy thanks to a strong personality
FIV: You are extremely dedicated and above all focused for your age. You work on many projects and are successful. How do your classmates react to your success? I'm sure there are also many envious people?
Laura: Well, first of all, thank you so much for making me come across as focused and successful. That makes me very happy. Of course, not everyone reacts so positively to it, because many are also envious of me. Many turn their envy into hate, in the form of hate comments. Meanwhile, not so many are written by people from my school itself, but rather from other areas. More from the recreational area. Before, when I started with Instagram, it was very very violent, it also went into bullying. The comments were no longer just on social media, but also at school itself. At some point, that was resolved, because I defended myself. But yes, unfortunately there are always envious people. But I'm fine with that and I don't really care anymore. They can say what they want. That says more about the person himself than about me.
Conquer the catwalks of the world after graduating from high school
FIV: You are in the final stages of your schooling. What do you want to do after that? Will you focus completely on modeling or is there another profession to choose from? What would be your dream or your profession if you were not so successful in social media?
Laura: After my A-levels I would like to concentrate on modelling for the time being, if that is compatible with Corona. Hopefully I'll have my A-levels in my pocket by then and I'd probably continue with that for the time being, if it goes well, and maybe take a little holiday with my parents or friends. Maybe even start a move, you don't know. But I wouldn't start immediately with a study or a job, because I think you need a little break after the Abitur. Of course not too long but as long as it goes well with the modeling and I can earn money, I would prefer that in any case first.
Private: PS4 & Just Dance
FIV: How do you spend your free time when you find time for your hobbies?
Laura: In my free time I play a lot of PS4, so Playstation with my friends or like to go shopping or do sports at home for myself. I play Just Dance a lot to keep fit and have fun at the same time. I talk on the phone with friends or use Face Time. I also see my Instagram account as a leisure activity, because of course it's fun for me. Otherwise, there's not so much going on at the moment, unfortunately, because of Corona.
We thank Laura for the great interview and wish her all the best for the future!
+
https://fivmagazine.com/wp-content/uploads/2020/11/laura-offermann-instagram-star-model-teen-beautiful-studio-oliver-rudolph-usa-oink-fiv-magazin-style-los-angeles-girl.jpg
882
1200
Carina Koch
https://fivmagazine.com/wp-content/uploads/2020/07/fiv-magazine-news-instagram-youtube-tiktok-influencer-fashion-interior-jewelry-real-estate-tips-help-logo.png
Carina Koch
2020-11-20 17:00:52
2021-07-17 17:41:47
Laura Offerman Interview: Focus, Commitment & Discipline – How the Model Defied Envy and Mixed Up Tik Tok