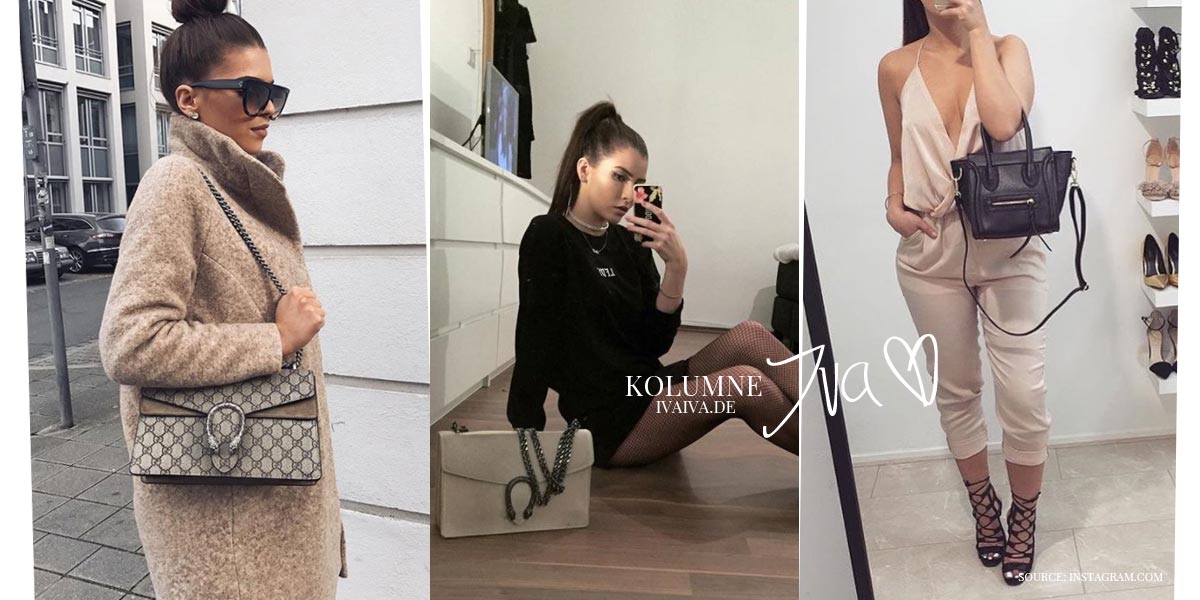 It-bags! Designer Bags Haul with Gucci, Celine, Hermes & Co.
Hello my love! Today I have something very special for you. Who does not know it. You can see her in town, on Instagram at his favorite blogger / blogger. We languish after them, but for most it remains an unfulfilled dream. Designer bags! Every woman knows it. Whether Louis Vuitton, Gucci, Celine, Chanel or Givenchy. The luxury brands are constantly bringing new bags to the market and one would love to fall in love with a piece that unfortunately costs twice as much as one's own rent. I have picked out my personal favorite bags of designer brands and found for you look a like alternatives that are still high quality, but still fit into the budget, because of cheap fakes, I'm absolutely no fan!
Gucci Dionysus GG Supreme Designer Bag
At the moment you can see this gem on every blogger on Instagram and of course I fell in love with the beauty of Gucci. Luckily I found a remedy – because the price of € 1,800 upwards is not within my budget – and bought me a Look a Like alternative from the Cologne store Kay's. If you want to get that piece of jewelry, you'll find great alternatives both at Kay's store on Ehrenstraße 104 and on the internet at www.imxprs.com/free/kayscgn/kays
Givenchy Antigona: News Must Have!
Also this bag can be seen everywhere at the moment. It is perfect for everyday wear as it is big enough to hold everything important in it. Even this original price of € 1,700 is not in the budget of most, so after a long search I found an alternative. The online store fashiondrug sells high quality Look a Like at a really affordable price. Influencers, such as madelinemercedes, prefer to buy the alternative instead of paying dizzying prices for the original.
Celine Luggage Multitalent: Small, Tall, Shopper & Clutch
This beautiful piece by Celine has been a topic of conversation for quite some time, but the trend remains as Celine brings out many different variants of the model. They are available in small in size as a shopper and as a clutch, in many different colors and materials. But since it is an expensive fun with 2,300 €, of course, there is also an alternative for them. Here, too, I found something at fashiondrug. Here you will find the alternative from 64.95 € and that in good quality. Also at the Cologne shop 'Jumeirah Store', you can buy the bag. You can find this in Pfeilstraße 24 in Cologne.
Luxury! Hermès Birkin Bag
Last but not least, I introduce you to this Hermès bag, which can mainly be seen at the Kardashian Klan. Because even this bag seems to be too expensive for 'normal' bloggers. The starting price of 8,000-9,000 € is probably only for superstars or the Kardashians affordable. But of course I have found an alternative for you here that looks deceptively real, but more than in the budget. Again, I refer you to the online store fashiondrug, because here you will find the Look a Like starting at a price of 89.95 € !!
These were my designer bags alternatives for you. I found myself in my search for Look a Likes in one or the other online shop, which can also be very interesting for you. So for example sassyclassy.de, the great look a Likes but also special own bags and parts have. The store fashiondrug, where I found most pockets, is also new to me, but I'm very excited and will soon be buying some new it-pieces myself. For the Cologne among you, I can only recommend the shops 'Kay's' and 'Jumeirah Store'. Great bags and great fashion is definitely there.
Next week I have a very special topic for you. Sustainable and Fair Fashion. If you do not know what it's all about, and what great new labels there are in the industry, check back on my blog next Monday! Until then, I wish you all a great week!
Your  Iva ❤
https://fivmagazine.com/wp-content/uploads/2017/03/teure-designer-taschen-clutch-haul-gucci-celine-hermes-it-pieces-frauen-damen-empfehlung-geschenk-mode-magazin.jpg
600
1200
Lisa-Marie
/wp-content/uploads/2020/07/fiv-magazine-news-instagram-youtube-tiktok-influencer-fashion-interior-jewelry-real-estate-tips-help-logo.png
Lisa-Marie
2017-03-27 20:05:51
2021-06-24 09:54:48
It-bags! Designer Bags Haul with Gucci, Celine, Hermes & Co.