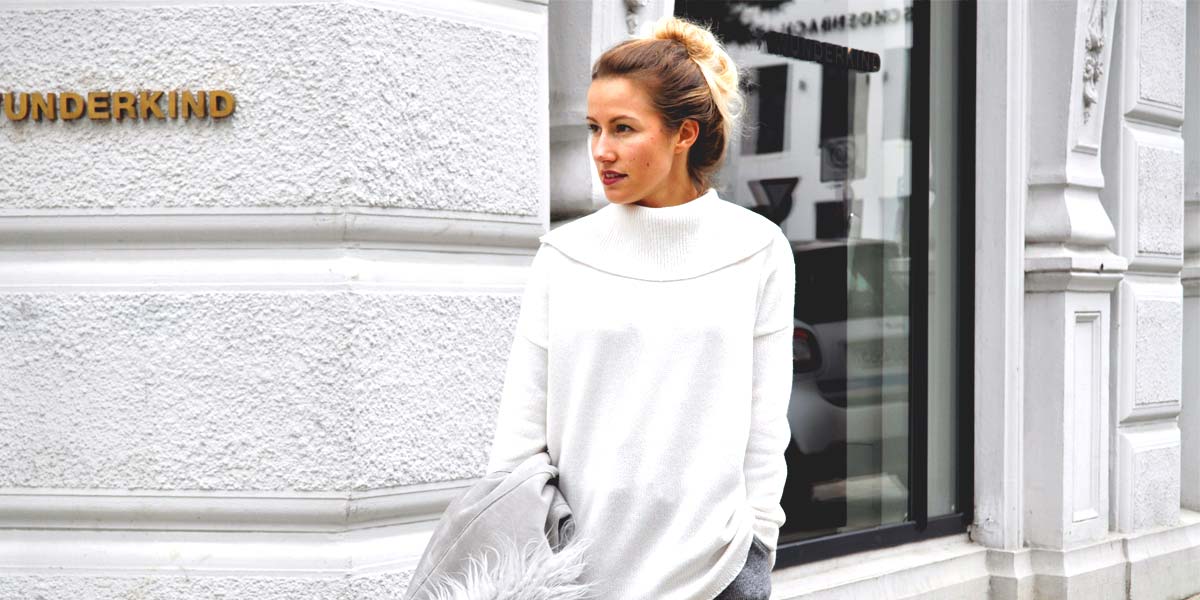 Fashion and travel blogger Dani on her special winter must-have! Dani
The incredibly down-to-earth and likeable Dani from Hamburg wasn't sure at first whether she should publish her blog "DANI NANAA by DANI" at all. Luckily she decided to do so, because her "online diary", in which she reports on her travels and regularly gives outfit tips, is very popular. I talked to her about impressive places, her fashion must-haves, future plans and wishes.
FIV: Dani, before you started your blog "DANI NANAA by DANI" you were worried that today's generation wouldn't give a new blog a chance. The way I see it, that fear was all for naught. On the contrary. I would argue that both your blog and Instagram account are doing very well with your readers. What was it like for you to see so many people like your posts?
Dani: Yes, I would even say that I thought about it for a very long time before I finally published Daninanaa.com. The fact that both channels are so well received by my readers makes me very happy and I am incredibly grateful that I get to share my pictures and thoughts with so many people. Sometimes I still can't believe how everything has turned out. Every kind of feedback enriches me and my work and also gives me the strength to continue doing what I enjoy and have fun doing.


Germany - Spain - USA
FIV: Readers of your blog know your public side very well, but don't know what you're like in private. Why don't you introduce yourself? What kind of person are you behind your posts and blog entries and how would your friends describe you in three words?
Dani: You have to keep a little bit of a private life. For example, I keep my boyfriend off Instagram for the most part, but he's been by my side for 9.5 years and has supported me since the beginning. That's such a typical ABOUT ME fact. Other than that, I'm a very determined, honest and direct person who is always in a good mood.
My friends would say always happy & sweet, helpful and strong.
"Collect moments not things"- Once around the world
FIV: The two main categories on your blog are fashion and travel. If you had to give up one of these two things for the rest of your life, would it be dressing stylishly or traveling?
Dani: I would rather do without fashion than travel. Traveling gives me strength and enriches my life. On every trip you take something with you and the memory/moment stays forever.
FIV: Speaking of traveling, I've seen you travel around the world a lot in the last two years. You've been to exciting cities like Stockholm, Nice, Amsterdam, Munich, Vienna, Barcelona, Florence, Prague, Berlin, London and New York but also to quieter places like Fuerteventura. Do you have another travel wish and which trip do you have the best memories of so far?
Dani: This year was amazing. I've seen so many great cities and met so many amazing people. For me, every city has something magical. I was totally surprised by Nice – I immediately fell in love with this small French city and can only recommend it to everyone. The best time I had with my boyfriend and our best friends was at X-Mas time in New York, when we listened to the "Kevin alone in New York" song and looked at the huge Christmas tree at Rockefeller Center. And London is for my boyfriend and me, like a 2nd home. At least 3 – 4 times a year we fly over.
On my travel wish list is still the following: New Zealand, Canada (fjords) and Tokyo.
FIV: Let's move on to your styling. One of your blog posts is called "How to find your own style". How did you find your own style and how would you describe it?
Dani: I tried out many styles in my teens until I could really identify with the look. Especially my hair had to suffer a lot. These typical girl looks (doll) have never appealed to me. I rather liked it cool & casual. The perfect look for me is still: jeans, oversize sweater/shirt, boots and leather jacket!
And in winter there is nothing better than FLUFFY- TEDDY – jackets.
FIV: You seem to be particularly fond of cozy jackets and coats in winter. Is there a particular piece of clothing that you can't do without in your wardrobe and do you have a particular fashion must-have for the winter? What do you think the perfect winter look looks like?
Dani: OH YES!!! I love jackets and coats of all colors and shapes. You could even say I have a jacket thing. I'm more into jackets than shoes. Anything fluffy and cozy belongs in my closet this winter. XXL teddy coats are definitely a fashion must-have for winter. Meanwhile you can find them in all colours and lengths. Important: FAUX FUR – NO FUR!!!!
My perfect look: bobble beanie, teddy coat, booties, skinny and xxl KNIT sweater.
FIV: Another one of your blog posts that you just recently published is called "Skincare: Scalp Care in Fall and Winter". Would you have a pair of tips for my readers to combat dry skin and lips in the winter? What are your top 5 beauty essentials that you would never make it through winter without?
Dani: Especially in winter, the right care is the be-all and end-all for radiant skin. I use an oil-free cleanser from Bioderma, then a Facial Tonic Spray and a cream with lots of moisture (LaMer). 1 – 2 times a week I do a moisturizing mask from DM. And once a month I go to a beautician for professional cleansing and care.
In winter, careful care of the lips is especially important, otherwise they become dry, rough and chapped. Here I do not use a typical lip care product, but a small greasy cream from the baby care department.
FIV: As a fashion blogger, you certainly have a lot to do with people from the fashion business. At trade fairs and events you get to see the most diverse stylings. Often there are also looks that you don't like so much yourself. Do you think you can wear everything in 2017 and combine all styles / colors / patterns with each other or are there certain no-go's for you?
Dani: Everyone should wear what they personally like. I think NO-GOS does not exist. Of course I don't like certain styles either. But I think that you should accept the taste of others. Every style is somehow also an inspiration.
"Behind DaniNanaa is a girl next door and since the beginning I've tried to thank her for every comment and message to give back."
FIV: With 116,000 subscribers on Instagram, you have a really big reach. Did it all happen "overnight" or did it happen gradually when you started your blog about two years ago?
Dani: I started with Instagram back then and since the beginning I've been very active to ensure a steady growth. Until half a year ago, I still had a full-time job with 40 h and sat every day until about 02 o'clock on the laptop and mobile phone to be able to meet all. Even now I work every day, because nothing comes from nothing.
FIV: As you wrote yourself, it's very hard to break through with a new fashion/travel/lifestyle blog these days. You have managed it. What do you think is the reason for that and what distinguishes your blog from others?
Dani: I think because I started with Instagram and I use my blog as a supporting medium. My main channel is definitely Instagram and that's where I see my strength. I want to inspire my readers, put them in a good mood and share special moments/travels with them. Behind DaniNanaa is a girl next door and since the beginning I try to thank for every comment and for every message to give something back.
FIV: It's a lot of work to be creative every day, to think of new topics and implement them. Do you have certain goals that you would like to achieve and where do you see yourself in 5 years?
Dani: I hope to continue writing, photographing and traveling next year.
In this job you can't plan anything, it comes as it comes. Of course you always want to get better, to grow. But in 5 years, family planning is also on the agenda for me, whether I will still be doing it in this way. Who knows.
https://fivmagazine.com/wp-content/uploads/2017/12/daninanaa-instagram-influencer-blogger-interview-hamburg-mode-trends-treppe-stadt-innenstadt-pullover-titelbild.jpg
600
1200
Lisa-Marie
/wp-content/uploads/2023/08/fiv-magazine-logo-news-influencer-fashion-interior-travel-real-esates.svg
Lisa-Marie
2017-12-11 18:00:59
2017-12-11 18:00:59
Fashion and travel blogger Dani on her special winter must-have! Dani