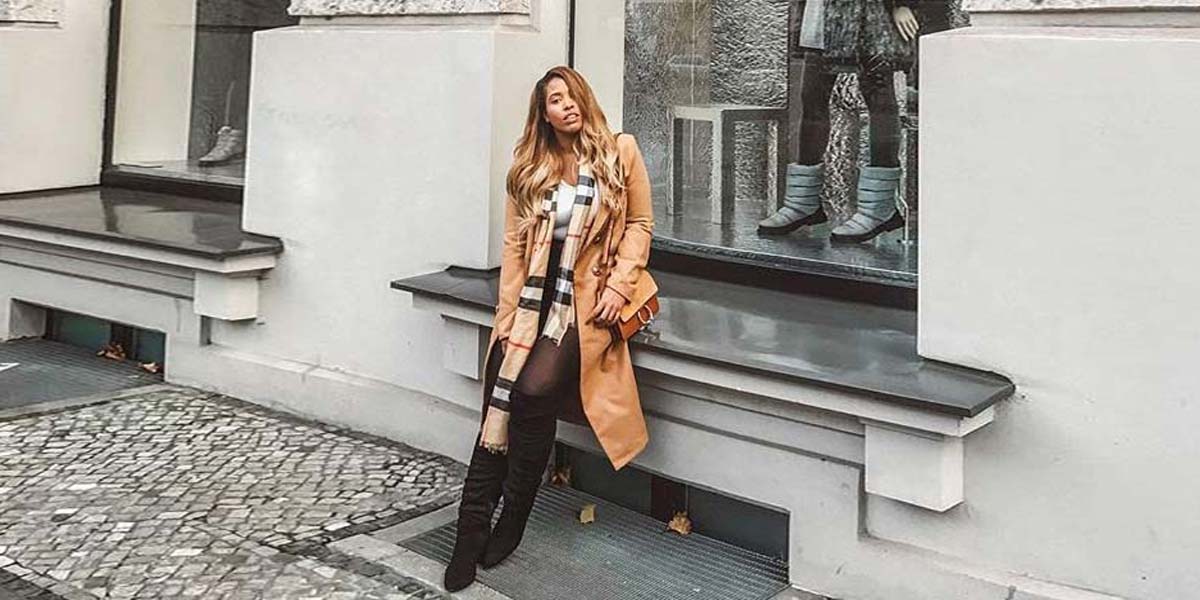 Blogger Chiara on her travel experiences, fashion must-haves and her job as a blogger!
The young Chiara from Berlin already had a fashion blog with her sister before her current blog "culturewithcoco". Her current blog focuses on her personal outfit ideas, the latest fashion trends, her travels and lifestyle topics. She answered my questions regarding her travels, her job and her style.
CultureCoco interview
FIV: Chiara, you are slowly approaching 1 million subscribers on Instagram. You are very successful with your blog "culturewithcoco" where you regularly upload posts about fashion, lifestyle and travel. How do you handle the attention of your readers? Do you want to convey certain values to them?
Chiara: It's an insane number and social media is something very special. It sounds very exciting to be able to say that my community will soon reach one million followers and I try to imagine as often as possible that so many people are interested in my life. The attention from readers and followers is just very flattering. I get so many messages every day about how much I inspire others and I try to answer all questions as often as possible and be as open as possible.


Germany - Spain - USA
I really find the relationship with my followers almost like a good friend. I share fashion tips & tricks, show off new creams I've discovered and talk about my travels. But I'm also not perfect and love to hear feedback from my followers on what I can do better. This creates a good community that helps each other. What I have learned over the years is that many people appreciate how you are as a person behind the anonymous account. Being aloof is not the goal.
"What I've learned over the years is that many people value how you are as a person behind the anonymous account – warm, down to earth and positive"
FIV: Your readers know your public side very well, but don't know what you're like in private. What kind of person are you behind all the hustle and bustle and the daily postings and how would your friends describe you?
Chiara: What few people know is that I'm more of a quiet, introverted observer type. I took pictures with the self-timer in my apartment at the time and I was on the internet a lot. Nowadays I go to a lot of events and meet new interesting people. My professional life has sort of forced me to become more social and I'm grateful for that. My friends would describe me as warm, down to earth and positive thinking.
Behind the perfect picture of a blogger is a lot of work
FIV: The life of a blogger always seems to be perfect on the outside. Pictures are perfectly positioned, you always wear the perfect clothes for every situation and travel to the coolest places all the time. Be honest, is all of that fulfilling for you or does being happy mean something else to you? A lot of young girls would like to have a life like yours. What advice would you give them to start their career as a blogger?
Chiara: Happiness is certainly not defined by the perfect picture (behind which there is always a lot of work). But surely there are more important things in life. To be healthy, to have friends and family – these are so driving forces that are very important. What's important to know is that as a beginner you very rarely have chances to monetize your blog/reach right away. I built my blog over 2 to 3 years back then. I had to invest my first money in my own blog first to get something back years later. There are also boring topics like SEO, search engine optimization and hosting & domains. You have to deal with that too.
The job of a blogger/influencer is not known to everyone, even in 2017. Not everyone knows exactly how much work is behind this job and what exactly we do. It is a full time job. Our life is very much work oriented in terms of time. It is very difficult to find an on/off restriction because I really work until late in the evening. If you can find this professional work attitude in yourself, you have the best chance to become successful. Diligence, professional appearance and of course a bit of luck are the main factors.
"The weather is really dreary enough, so please wear something lighter!"
FIV: On your blog there is the category "Fashion". This is again divided into four wide: Spring, Summer, Fall Autumn and Winter. So you have the perfect outfit inspirations for your readers for every season and know exactly which trends are current and how they can be combined. Tell us, do you have your personal fashion favorites! Are there any pieces that should not be missing in your wardrobe, especially in winter? When you spontaneously think of a perfect winter outfit for you, what does it look like and what clothes does it consist of?
Chiara: Well, I really have to admit that fall & winter are my favorite seasons! In fall and winter I definitely have my it-pieces that I couldn't survive without. One important point is that I try to avoid dark colors as often as possible. The weather is really dreary enough, so please wear something lighter!
The first it-piece everyone needs is a good wool coat. I found my perfect wool coat in a small boutique. It's beige, fitted and goes down to the knees. Add some well-fitting over-knee boots and the look is perfect. Underneath you can either wear a sweater dress with tights or a sweater with jeans. Smart gloves are also a must-have for the cold season.
FIV: When it comes to beauty, you are certainly a pro. You certainly have a few insider tips for us in the area of beauty and care. Without which beauty essentials would you not survive the winter?
Chiara: In winter my skin is very dry. So I have to put cream on my skin at least twice a day. I use a lot of products from Asam Beauty or Kiehls. A good tip that I have learned over the years is to always mix the foundation with my favorite moisturizer. Since I also care a lot about my hair, I use Living Proof products. They help to keep hair looking beautiful even when it's damp.
"Trends are constantly repeating themselves, so I have to say you can't go far wrong these days."
FIV: As a blogger you see different styles all the time and you don't always like them. Do you think you can wear everything in 2017 and combine all styles / colors / patterns with each other or are there certain no-go's for you?
Chiara: Trends are constantly repeating themselves, so I have to say that you can't do much wrong these days. I think that not every trend is made for every person. At a certain age you know what suits you and what does not. So I would always go by that. I have to say for me one of the trends in 2017 that was an absolute no go is jeans with overly large holes. If your thigh and lower leg was clearly visible underneath, it looked strange.
FIV: With 820,000 subscribers, you are a very successful international blogger. Did your success come overnight or was it more of an ongoing process?
Chiara: What many people don't know is that before Culture With Coco I had a fashion blog called fashionpaparazzis.com. I created it in 2010 when the topic of bloggers/influencers was not yet known. After that I started my project with culturewithcoco.com. The success was definitely not overnight, but it took over 4 years until it became what it is today.
Chiara once around the world
FIV: On your blog you also record your travels for yourself and your readers. You have already travelled in Europe and Africa and you still want to go to Asia, Australia, America, the Caribbean and the Middle East. This has allowed you to meet people from all over the world and see the most extraordinary places. Which experiences from your travels have stayed in your memory and which people have inspired you on your travels?
Chiara: I really have to say that travel is a big topic for me. I have some great memories of Petra in Jordan, Cairo, Egypt and Dubai. The impressive buildings, the culture and the people – absolutely fascinating. America is a country I would love to travel to in the future. I've been to New York and Chicago as a teen and loved it then. I would also like to discover Hawaii and Cuba. That's at the top of my travel list along with Asia. Seeing the Taj Mahal live or Bangkok and Singapore. So I have a lot of things planned. Visiting my home country too, of course: Africa. I lived in Zimbabwe for 12 years, in the south of Africa. From there, we were able to travel to South Africa, Mauritius and Mozambique in no time.
FIV: Blogging as a profession is becoming more and more popular and more and more people are using blogs to talk about their lives, inspire other people and share certain things with their readers. What makes your blog different from others and what is your recipe for success?
Chiara: I think it's great how many people are now interested in it, because I founded my blog/Instagram/Youtube back then because I wanted to address people who look and think like me. At that time I was looking for a lot of things, but found very little that appealed to me and then I developed this small market niche with my way of seeing things. Now I realize that many of my followers come from different countries, have a completely different culture and we do not even communicate in the same language. They just love my way of performing and I think that's really cool.
"I didn't make a five-year plan because you have to live as you go."
FIV: Working on your own person and especially on an online diary takes a lot of time and effort but is worth it in the end. Do you have specific goals you want to achieve and where do you see yourself in 5 years? And just between you and me, is there anything special planned in the near future?
Chiara: The profession of blogger/influencer has no guidelines. A five-year plan I have therefore not created because you have to live as it comes. Something besides "social media" is in the planning but not yet ready to speak. Otherwise I have the same goals as everyone else in life: to have a great job that is fun and to stay healthy.
https://fivmagazine.com/wp-content/uploads/2017/12/chiaracoco-culturewithcoco-fashion-blogger-influencer-mantel-schal-burberry-strasse-stiefel.-titelbild.jpg
600
1200
Lisa-Marie
/wp-content/uploads/2023/08/fiv-magazine-logo-news-influencer-fashion-interior-travel-real-esates.svg
Lisa-Marie
2017-12-15 18:00:08
2017-12-15 18:00:08
Blogger Chiara on her travel experiences, fashion must-haves and her job as a blogger!