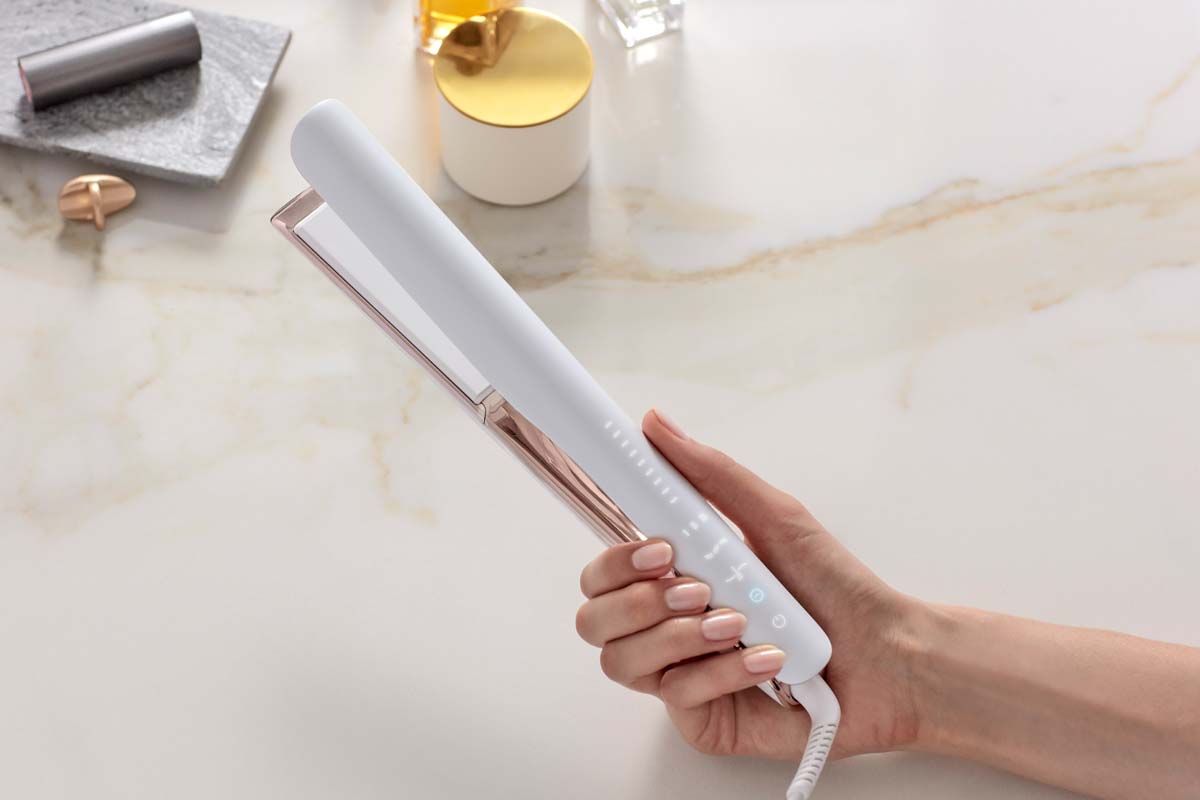 Straightener Lucea ID by T3 Micro: Personalized temperature for every hair type
Lucea ID – Behind this name is the latest Heat ID technology of the new straightening iron from T3 Micro. With the new technology, you can achieve smooth, relaxed hair styling for a silky smooth head of hair. Even styling experts like David Lopez and Josh Liu rely on the beauty wonder T3 Micro and its revolutionary styling tools. Thanks to the new Heat ID and Heat IQ technology, stressed hair and burnt ends are a thing of the past. We show you how to use the popular beauty tool here. Plus: Hollywood's star stylists share their styling tips with you. You'll find out at the end how they create voluminous waves with the straightener.
Straightener Lucea ID: The next generation of temperature management for every hair type
It's hard to imagine the styling world without the award-winning hair tools from T3 Micro. The white and rose gold curling irons, blow dryers and straighteners are known and loved for their combination of the latest technology and high-quality design with easy handling and reduced styling time! This year, the Californian company convinces with the straightening iron Lucea ID and the HEAT ID technology built into it, the first styling technology of its kind, which guarantees personalized heat management for each user.
Here are the latest technologies at a glance:


Germany - Spain - USA
T3 HeatID
T3 Rapid HeatIQ technology
ThermaTouch® technology
Correct temperature for your hair type
The question of the right temperature usually arises before styling. If you set the temperature too low, your hair will not straighten. If the temperature is set too high, you will quickly burn your hair and damage your hair structure. This is where the new Heat ID technology comes in and determines the right temperature for your hair based on your individual needs.
To determine the perfect heat for your hair type, the following inputs must be entered via an intelligent touch control panel:
Hair texture (fine, medium, thick)
Hair length (short, medium, long)
And whether the hair is color treated
Based on this input, the straightener now determines your optimal Heat ID and automatically sets the temperature. It can choose from 9 temperature levels. In this way, hair damage can be reduced, as there is no unnecessary heat stress.
Convince yourself here of the new T3 Lucea straightener:
Heat IQ: Shiny hair without frizz
For an extra shiny and frizz-free result, a second, innovative technology: the HEAT IQ. This means an intelligent microchip controls and regulates the power to minimize temperature fluctuations and ensure fast heat recovery. An integrated and powerful ion generator creates additional negative ions on the ceramic plates, for less static and to increase shine.
Less static and more shine thanks to negative ions
The HEAT ID and HEAT IQ technologies thus offer an individual styling experience at home, but also allow professionals to work quickly and safely on the set or tame any mane in the salon – even for VIP customers!
Innovative design, PrecisionControl joint & Co.
While the latest technologies in the beauty industry protect your hair during heat styling, the original design of the Lucea ID straightener helps you handle it. You can now style your hair faster thanks to the extended ceramic plates and the PrecisionControl joint allows you better styling control. What's more, if you prefer voluminous curls to the sleek look, the exclusive StyleEdge design allows you to create waves and curls in no time at all.
Styling Tips from David Lopez, Josh Liu & Kiyah Wright
Who wouldn't want the equipment of a professional stylist? The T3 Micro Straightener is a true professional styling tool that not only styles your hair professionally, but also does something good for your hair's health. Styling experts like David Lopez and Josh Liu share their experiences in the following videos and give you tips and tricks to never have a bad hair day again!
Better control when styling hair: The right handle
Hairstylist David Lopez is not only in front of the camera himself for some projects, but also regularly works with the who's who of Hollywood. His regular clientele includes Hailey Bieber and Ashley Graham. Here in the video, he shares his ultimate styling tips. Always on hand: the T3 Micro Lucea ID straightener.
Voluminous curls & natural beach waves
A common mistake when creating waves with a straightening iron is that most people apply too much pressure. But with the right tips, you can achieve optimal results – from voluminous curls in the evening to natural beach waves for everyday life. Learn the best way to do it in this video. Ariana Grande's stylist Josh Liu and Kiyah Wright share their tips with you.
Lucea ID: The professional tool also popular on set
Thanks to its gentle technology and fast heating, the straightening iron is especially popular on set. Whether it's a music video, TV show or photo shoot – the styling tool can be used to conjure up a variety of looks, saving space in the stylist's bag too. The tool is also regularly used before award ceremonies, film premieres and live shows. This way, the hairstyle can be refreshed shortly before the big performance with the refresh mode at reduced temperature.
https://fivmagazine.com/wp-content/uploads/2020/10/t3-micro-lucea-id-glaetteisen-technologie-lockenstab-haare-styling-tipps-tricks-design-hand.jpg
800
1200
Laura
/wp-content/uploads/2023/08/fiv-magazine-logo-news-influencer-fashion-interior-travel-real-esates.svg
Laura
2020-10-21 07:00:10
2020-10-21 07:00:10
Straightener Lucea ID by T3 Micro: Personalized temperature for every hair type