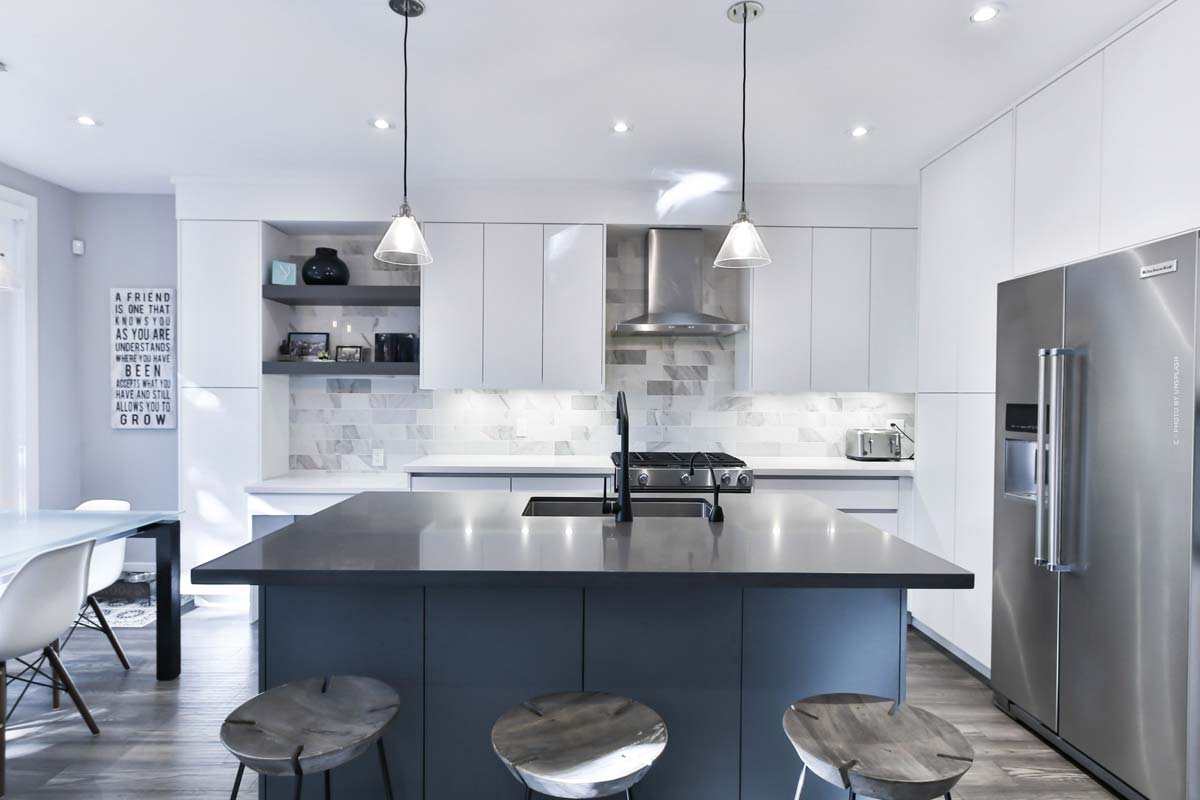 Poggenpohl kitchen: clear structures, custom-fit & individual
What type of kitchen will you choose? For example, the large open handle or the classic and structural variant? Suppliers of luxury kitchens all offer high quality according to individual requirements. This includes Poggenpohl, Germany's oldest luxury kitchen manufacturer. Poggenpohl's product line ranges from the Venvo series, with a completely individual kitchen solution, to Segemnto and Mood design for that special feel-good flair in your own four walls. The following video excerpts give you a special first impression of the elegance and high quality of the luxury kitchen manufacturer from North Rhine-Westphalia.
Venvo: individual for your needs
Freer, more playful, more informal: a kitchen that is initially unrecognisable as such. There is room here for everything and everyone. Venvo's individual kitchen design adapts to a wide variety of everyday situations. Simple and functional. With playful means to the highest precision. This is where ideas are born, a meeting place for the whole family and a place to feel good. The idea behind Venvo shows that a fusion between living and kitchen space can certainly succeed. A kind of flowing transition that marks your luxury kitchen as a special place.
Segmento: Concentration on the essentials
Without a lot of "ballyhoo" and "hocus-pocus", but with a lot of precision and elegance. Always with an eye on effective kitchen design that makes living easier for you. In minimalist style, seeing the big picture. Space for creativity. A place where you can relax from your stressful everyday life. Thanks to large work surfaces and optimised storage space, the Segmento concept offers a very special highlight.
Mood – Kitchen with feel-good character
The classic +Mood product range from Poggenpohl focuses on the feel-good factor. The kitchen, as a place of connection. The family comes together and plans the day. Stories are told. A special feature of Mood, is the possibility of free design. Always with a certain attention to detail. Everything follows a structure. Craftsmanship, precision and attention to detail are writ large here by Poggenpohl. This brings a very special kitchen vibe to your home.
Segmento Y: in black and white
In the Segmento Y kitchen collection, Poggenpohl mainly works with the colour combinations black and white. For the deliberately chosen eye-catcher in your luxury immobile. A clear structural layout and optimised use of space also make the Segmento Y concept a showpiece. A place where you can develop your personality. The maximum storage space is used to consciously make full use of the room. Already discreetly selected and additional accessories provide that one special "WOW factor" in the kitchen space you have created yourself.
In the summary
VENOVO – Custom-fit kitchen type for everyone
SEGMENTO – Simple and effective kitchen solution
Mood – Kitchen with feel-good character
SEGMENTO Y – Clear structures, conscious space
https://fivmagazine.com/wp-content/uploads/2021/03/kuche-einrichtung-tipps-teuer-kucheninsel-einrichtung.jpg
800
1200
Lisa-Marie
/wp-content/uploads/2020/07/fiv-magazine-news-instagram-youtube-tiktok-influencer-fashion-interior-jewelry-real-estate-tips-help-logo.png
Lisa-Marie
2020-05-03 12:31:19
2021-07-17 17:27:21
Poggenpohl kitchen: clear structures, custom-fit & individual