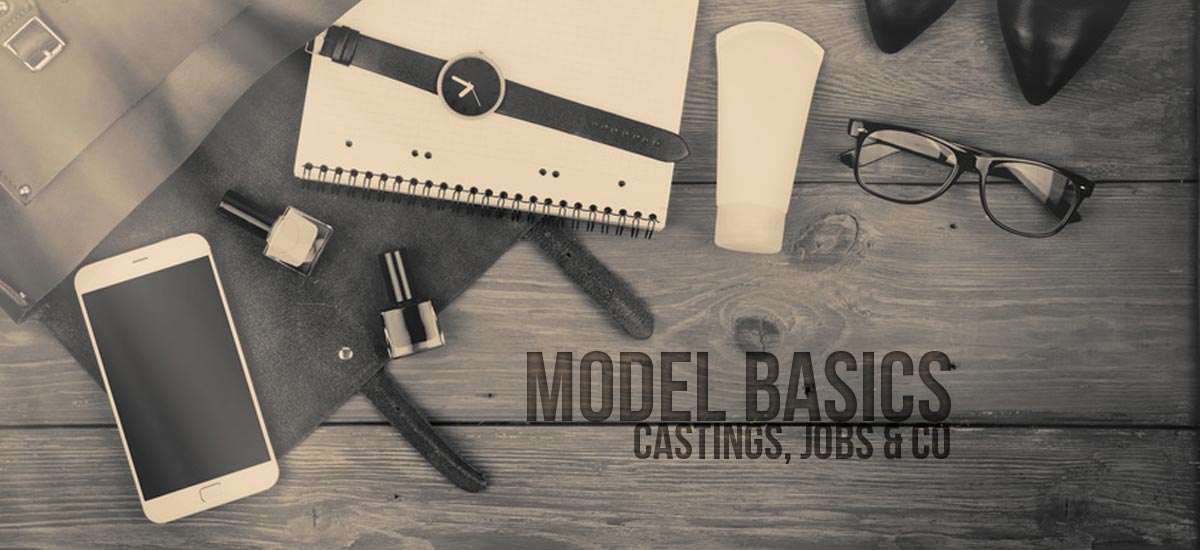 Model Basics: Outfits and Costumes for Castings, Travel and Jobs
What are actually the most important basic parts for models in Berlin, Hamburg, Munich & Co. We asked ourselves this question together with model Alena Heyn and compiled the most important must-haves for you. From a skin-colored push-up bra to a transparent cosmetics set for your next trip. The important thing is: If you go to the next casting as a model well prepared, you have the best chance of getting the job! Here you can find all the basics:
Outfit – Push-Up bras and panties for models


New super push-up bra, comfortable and underwired made of soft, elastic single jersey. Due to the absence of seams as well as the tucking of the straps and side parts with absolute comfort. Thanks to the high-quality microfibre, a pleasant feeling on the skin is guaranteed. The soft comfort multi-straps can be unhooked and worn crossed at the back.


Germany - Spain - USA
Push-up bra made of high quality microfibre in pure optics
Push-up bra made of high quality microfibre in pure optics
68% polyamide, 32% spandex
Push-Up
Care instructions: Hand wash
Model number: 81126
Skiny Ladies Push-Up – Buy now on Amazon
Rating (Amazon) from 24.04.16: "So I must say that I find this bra really great! Have ordered in 75A. Conjures with me ne körpchen size more and a great cleavage. Under tight tops he looks great because nothing stands out."

The hip-string by Schiesser for ladies, from the series "invisible".
Black thong for ladies
From the Schiesser "invisible" series
50% cotton, 40% polyamide, 10% spandex
Without intervention
Care instructions: Machine wash
Model number: 119196-100
Invisible, even under body-hugging clothing due to seamless processing
Velvet ribbon inside prevents slipping
In delicate, elastic single jersey quality
Ladies Slip Hip Thong – Buy Now on Amazon
Rating from 15.05.15 (Amazon): "A thong just can not sit better. This is just brand quality of Schiesser as always good and durable."
Beauty – Wellness before and after the job

Refined argan oil is naturally deodorized and filtered to remove impurities. It is a rich emollient that is quickly absorbed. The oil may be used for direct application to skin and hair, but is not a conventional skin care or hair care product.
Refined Moroccan Argan Oil. 100% pure (naturally refined, without chemicals).
Argan oil is a rich emollient that is absorbed quickly
Particularly rich in vitamin E and essential fatty acids that protect against free radicals
Helps with damaged and dry skin, wrinkles, acne, stretch marks and scars
Promotes healthy strong growth of hair and nails
Argan Oil Base Oil – Buy now on Amazon
Rating from 04.04.16 (Amazon): "Have very dry skin prone to blemishes! Have this treated wrong for life. Finally, I have captured my correct skin type and ordered me this oil. I really have to admit that the oil prevents the development of blackheads and acne. I have been using argan oil for 5 weeks now and I really have almost no problems anymore! Let's see how it continues, at the moment I am very satisfied!"

For skin that is particularly sensitive to light or prone to sun allergies. For very intensive sun exposure. For normal to dry skin, also suitable for atopic dermatitis. The Anthelios XL tinted sunscreen SPF 50+ with pump dispenser for the face with the innovative filter technology Mexoplex offers a higher UVA protection than the minimum recommendation of the EU. In addition, the Anthelios XL nourishing tinted sun cream SPF 50+ also contains skin-soothing thermal water from La Roche-Posay. The practical all-in-one solution: For daily maximum UV protection in a soft-melting, nourishing make-up texture.light to medium coverage for a natural finish.
50 ml cream
Without parabens
Photostable
Non comedogenic
Dermatologically tested
Roche Posay Anthelios – Buy now on Amazon

The Aok White Tea Sea Sand Almond Bran is a proven and versatile cleansing product for impure and combination skin for over 120 years. The prebiotic active complex reduces impurities and prevents the formation of new ones. The formula with white tea & ginseng extract removes dead skin cells and unclogs the pores with the help of finest sea sand.
Care formula with prebiotic active complex, white tea and ginseng extract
Contains no parabens
Cleanses the skin deep into the pores and visibly mattifies it
Removes dead skin cells and refines enlarged pores
Reduces pimples and blackheads and prevents new blemishes
Sea Sand Almond Bran – Buy now on Amazon
Review of 27.09.15 (Amazon): "I love the almond bran. You can use it as a face mask, exfoliating or for daily cleansing. It is natural and without any perfumes etc. Makes a beautiful smooth skin. There is no better way to cleanse your skin. I have the bran unfortunately no longer in the drugstore get, here gibts them with Prime equal to order in a 3-pack. Can't complain about that."
Make up & Styling – Natural cosmetics for stressed skin

Sisley Eye Concealer hides dark circles and signs of fatigue, beautifies the contour area of the eyes with fine lines. The concealer visibly smoothes and reduces puffiness, long lasting.
Sisley Eye Concealer – Buy now on Amazon


With this product you have absolutely natural ingredients and perfect results.
Alverde Eyeshadow Quattro Chocolate 37, 4.4 g
Natural Cosmetics Eye Shadow – Buy now on Amazon

The lipstick from alverde is also an absolute must for models. As with the eye shadow, you will find only absolutely natural ingredients, perfect for sensitive skin.
Alverde NATURKOSMETIK Lipstick Dusty Pink 27 (4,85g -1 pc)
Natural Cosmetics Lipstick – Buy now on Amazon
Travel – Suitcase, Power Bank and Cosmetic Travel Sets

For straight-line travelers, Eastpak Spins has multiple pockets, and the U-zip allows for easy packing. The telescopic handle also makes it easy to carry. The handles can also be used as shoulder straps, making this bag the perfect carry-on. Spins is available in a wide range of great colours and designs so you can always travel in style.
Travel trolley with U-shaped zipper opening. Large front zipper pocket
Side zipper for quick access. Rolling system with telescopic rod (stowable).
Zippered pockets inside. Carrying strap, due to the length also usable as a shoulder strap
Loop for lock
Suitable for hand luggage for almost all airlines
Eastpak Suitcase – Buy now on Amazon
Rating from 27.08.15 (Amazon): "This bag is the hammer! Super sturdy and extremely practical and stylish. This bag accompanies me on all trips that go from a weekend to a week. Everything fits in it for that period of time. I love it and will get it in other sizes if I ever go/fly somewhere else. Plus, this small model is allowed on all planes as carry-on luggage."
The iProtect Slim Powerbank provides additional power for your Apple devices, such as iPhone 5 5s, iPhone 6 6s Plus, iPad Pro iPad Mini, iPod and other mobile devices that are charged via Lightning connector.
The powerbank is very slim and small – fits in a wallet! In the color metallic black
Practical and handy, ideal for travelling and on the road -extend the battery life of your smartphone (lasts for approx. two battery charges)
with battery status LED's
Elegant flat design and easy handling – Available in several colours
iProtect Slim Power Bank – Buy now on Amazon
Rating from 17.04.15 (Amazon): "Very good product. Super processing and good price-performance ratio. I work a lot with my iPhone and would not want to miss the Power Case more. Even if the iPhone is empty, it can be charged completely with the Power Case."

The cosmetics travel set is really extensive, it fits a lot purely. Designed in three sensible, coordinated formats without frills. A good price-performance ratio with absolute clean processing.
Transparent PVC material, robust and water-repellent. Easy to clean.
Three different size bag, keep the better order. "Shipping through Amazon."
Large bag with medium zipper and two handles 30 x 10 x 22 cm
Medium size bag with medium zipper 24 x 5 x 20 cm
Small bag with zipper on three sides 18 x 4 x 14 cm
Transparent Cosmetic Travel Set – Buy now on Amazon
Review from 06.04.16 (Amazon): "You get a small bag for the typical utensils in the hand luggage, which you can only take in limited quantities and expressly only in transparent, sealed bags. In addition, you have two more bags that you can use in your main luggage to store suntan lotion and the like in a leak-proof way. Another good use for the large bag: here you can pack socks or bras in it, which you can fish out of the luggage with a handle."

A must for storing cosmetic brushes with the professional makeup brush collection bag
Approx. 20 compartments of for various cosmetic brushes and accessories
A removable mesh pocket for mascara, lipstick, eye cream or something else
Size: approx. 27x17x3cm, portable with one handle
Practical for travel
Multifunctional Cosmetic Bag – Buy now on Amazon
Rating from 01.06.16 (Amazon): "I have long been looking for it. It is difficult to safely store the brushes when traveling without damaging the tips or staining other things in the case with paint. It also fits longer brushes. I am satisfied and the price is also fair."

This extremely small and lightweight supermini pocket umbrella in a practical case is a pleasant companion even without rain. It is the perfect emergency umbrella in your pocket or in the glove compartment of your car. Its lightweight filigree aluminium frame with fibreglass components is consistently designed to save weight. The small Mini is wind-blowover-proof.
Tiny pocket umbrella in a case, suitable for ladies and gentlemen.
Umbrella colour: black – Material 100 % polyester
Pocket umbrella
Lightweight aluminium frame with fibreglass tips and five-piece telescopic rod (hand opener)
The perfect emergency parachute for the handbag, the work folder, in the light luggage and for the jacket pocket.
Because of its low weight, due to its light aluminium frame, this mini is certainly not the first choice in strong winds, but it is always with you.
iX-brella Mini Umbrella – Buy now on Amazon
Review of 19.08.13 (Amazon): "Looks neat, is good in the hand and the material feels light and pleasant but still stable. Smart is the idea with the case. The first heavy downpour he has also already survived very well. So the autumn can come."
https://fivmagazine.com/wp-content/uploads/2016/07/model-models-basics-koffer-kosmetik-power-pank-make-up-bh-slip-koffer-reisen-casting-jobs.jpg
550
1200
Stephan
/wp-content/uploads/2023/08/fiv-magazine-logo-news-influencer-fashion-interior-travel-real-esates.svg
Stephan
2016-04-15 11:53:53
2016-04-15 11:53:53
Model Basics: Outfits and Costumes for Castings, Travel and Jobs