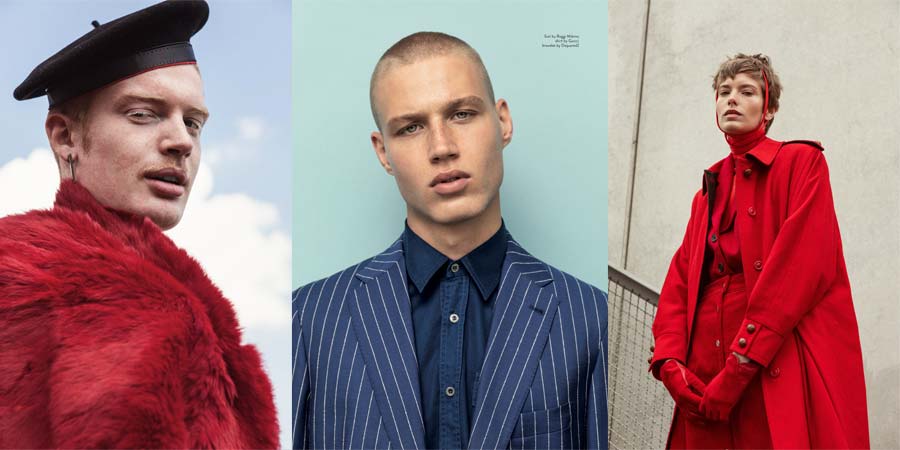 Luise Reichert: Shootings, beauty & fashion photography – Interview with a commercial photographer
Luise Reichert is a fashion and commercial photographer based in Vienna. With 18 years she discoverd her love for photography. She already wins her first international competition, successfully asserting herself against 6000 applicants and becomes "Student of the Year 2011" of the "Professional Photographer of the Year Award". Further publications of her work in various magazines and on online platforms follow. Her passion, however, is clearly beauty and fashion photography. The FIV Magazine did an interview with the fashion and commercial photographer, talking about her development as a photographer, the course of her shootings  and her plans for the future.
Luise Reichert: Instagram
Luise Reichert: Website
Personal information: childhood, Vienna & interests
FIV: When I think of Vienna, the three words Amadeus, Falco and Sacher Torte immediately occur to me and a picture of magnificent buildings emerges in my head. How do you see Vienna? What 3 things come to mind when you think of Vienna?
Luise: I was born and raised in Vienna so the city is my home base. My safe place. All of my family and friends are here. Sure, it's nice to leave the city for a few weeks or months, but it's always a pleasure to come back home. I really admire how clean, safe, and beautiful my hometown is. Three things that Vienna brings to mind is "Warmth", "Safety", and "Spritzer".
FIV: When you see your work today, the thought suggests itself that your creativity and perhaps even your affinity for photography could be noticed in your childhood. Is that so or how do you remember your childhood?
Luise: I grew up in a really creative family. My father runs a small art school, so I was surrounded by art almost every day of my childhood. When I was 14 I held a presentation at school about photography. To be honest, I copied the presentation from my older brother. But thanks to him I began being highly interested in the art. Within the next few years, I had cut out hundreds of photos from VOGUE, ELLE, etc., and placed them in a folder. At this age, I hadn't yet imagined myself as a fashion photographer but when I turned 18 I received my first camera as a birthday gift. Since that day, I loved seeing the world through its lens. I began shooting portraits of my closest friends and quickly became fascinated with fashion. As a result, I decided to follow my passions and become a professional fashion photographer.
© styling @silatsaeva | make-up & hair  @chloe_tllx
Way to professional photography: shootings & team
FIV: Which way did you go to work as a professional photographer today? Have you completed an education or a study? Or did you train yourself and learn through experience?
Luise: I studied Photography and Audiovisual Media at Grapische Vienna. But I also gained a lot of experience from completing different tutorials and assisting other photographers. I feel as though photography is a constant learning process, and I definitely learn something new at every shoot.
FIV: Meanwhile you mostly photograph with a team of make-up artists, lighting technicians and of course models. Do you organize the shootings completely on your own and how does such a classic shooting day work for you?
Luise: It honestly depends on the client I'm working with. Some clients organize literally everything. Other times, it's part of my job to book the studio or location, cast the models, find the right makeup artist and the correct stylist, etc. The day before the shoot, I prepare all of my technical equipment and pack all of the materials I need. A typical shooting day starts with me and my assistant transporting everything to the shooting location and meeting everyone else involved in the production. While the makeup artist and stylist are doing their job, I'm analyzing positions, setting up the equipment, and creating appropriate lighting to prepare for the job. During shooting, there are occasional makeup, styling, and background changes which gives me time to have a peek at the photos, see what is working, and select my favorites. After all the styles are shot, the team packs up their equipment with a hopefully successful shooting day completed.
FIV: Behind really good pictures there are often many more people than you might guess at the end. Do you have a team that supports you regularly? Your own retoucher? Or on what basis do the teams meet for your shootings?
Luise: I do all retouching myself but I do have a shooting assistant who is always supporting me and a few makeup artists and stylists that I work on a regular basis. But I am quite openminded when it comes to working with someone new. I usually find artists to collaborate with via social media or through personal referrals and create a team for specific shoots.
© make-up & hair  @jody_cuberli
Photography: commercial & editorial shootings – the most impressive shoot
FIV: What is the difference between a commercial shooting and an editorial shooting? You have already done both on a very professional basis and are now an expert in both areas.
Luise: The specifications are usually much more detailed when commercial shooting. Some clients have strict colors and themes, some always want the same model, and some need to work with special props. I can express my creativity much more when shooting a fashion or beauty editorial. Of course, there are also special requirements for those shoots but all in all they provide more freedom.
FIV: Which areas of photography have you tried so far? Have you ever been a wedding photographer or taken classic studio pictures? How did you finally come to specialize in editorials?
Luise: I've previously done interior design shoots and occasionally took photos of employees, but my real passion for photography burns brightest when shooting editorial or commercials. I shot a wedding once, but to be honest I didn't really like it. Fashion is my passion!
FIV: As a fashion magazine, we know that there are sometimes disagreements at work in the creative industry. What type of people do you prefer to work with and what are NO-Goes when it comes to working with you?
Luise: I myself am a shy, calm, and cautious person. I don't really like to work with loud or bossy people or someone who has affectations. Luckily, I don't have any problems making arrangements with a wide variety of different characters.
FIV: You have shooted in many places in the world that are worth seeing. What was the most extreme or impressing shoot of your career so far?
Luise: In Autumn of 2016 I did a shoot with a parachute on the beaches of Normandy. We drove a car from Paris and arrived on a cold and very windy day. It was truly a struggle to take control of the parachute while trying to get the right shot. I think it was the most exhausting shoot I've ever done, but the outcome was definitely worth it.
FIV: You have already achieved a lot at your young age. What is your plans for the future? Do you as a photographer want to keep up the pace or would you rather start a family soon? Maybe you will do something completely different and become a ski instructor.
Luise: I'm just at the beginning of my career as a photographer. So I definitely want to keep taking pictures, improve my skills, and connecting with new clients. A family is also definitely an option for me as well, but I'll never stop shooting. If I weren't to be a photographer, I might be something like an undertaker, crime scene cleaner, or a greif/death counselor. It sounds really weird but I've always been intrigued by the end of life.
© styling @kikstastic | make-up & hair  @juliamarinics
Luise Reichert: Instagram
Luise Reichert: Website
https://fivmagazine.com/wp-content/uploads/2020/03/luise-reichert-title-pictue-male-model-shooting-men-outfit-posing-1.jpg
450
900
Lisa-Marie
/wp-content/uploads/2020/07/fiv-magazine-news-instagram-youtube-tiktok-influencer-fashion-interior-jewelry-real-estate-tips-help-logo.png
Lisa-Marie
2020-04-08 07:00:32
2021-07-07 10:13:56
Luise Reichert: Shootings, beauty & fashion photography – Interview with a commercial photographer