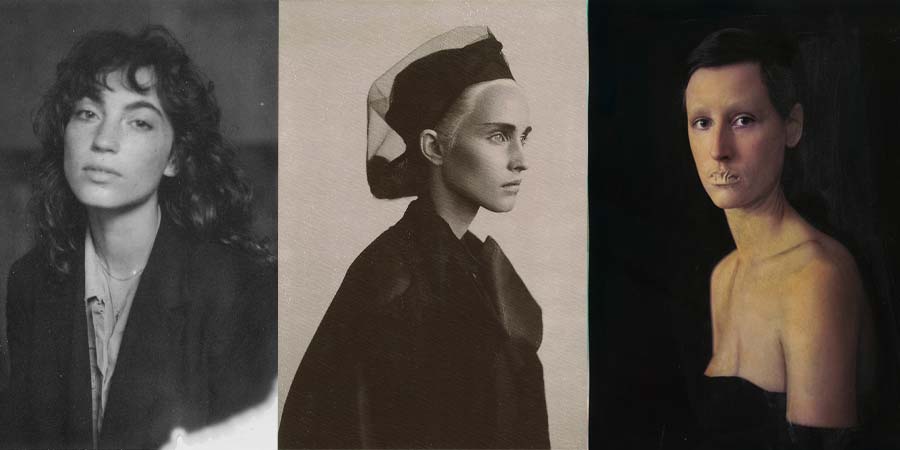 Stefan Milev in an interview: Artist & photographer – Shadow & light photography
Stefan Milev is a German fashion and portrait photographer. He likes to play with light and shadow and focuses on black and white photography. Thus he always gives his pictures something mystical and mysterious and combines photography with painting. The FIV Magazine has made an interview with the photographer, talking about his career as a professional photographer, his work and works and plans for the future.
Stefan Milev: Instagram
Stefan Milev: Website
Way to professional photography – Tips, role models & work
FIV: In times of the Internet and social media, photographers are indispensable and can be found in almost every niche. How did you come to your field? Is there a story how you came to become a photographer?
Stefan: I call my niche simple craft, photography. Not everybody is able to do that, although it seems that the whole social media is made up of photographers.
"Bobo – My mother's childhood friend" is my story. We had many photos lying around at home, one was very special – a self-portrait double exposure of my mother and him – that was the foundation for my photography.
FIV: As a photographer, you are often under time pressure or in a hurry. What tips can you give us to help you get through the whole thing?
Stefan: You cannot turn the clock! Most of the time I am very absorbed in my work and I don't like to be put under pressure. It is best not to pay attention to the time. And if there is not enough time, there is a new day.
FIV: Your paintings seem to have a certain style. Do you have a role model or what do you get inspired by? What do you want to express with your work?
Stefan: My work consists of many thoughts, dreams, personalities, fantasies and moments, the expression is the photo itself. I don't know if this can be called "style".
FIV: What exactly do you do in your work and what things should you pay special attention to? Would you say that work can become monotonous? What do you find appealing in your work and what is your recipe for a lack of drive?
Stefan: My work ties in with the interface of modernity, in which I search for and open up new possibilities of representation and ways of doing things through the invention of photography and the examination of this technique.
Special attention: Motifs and possibilities of representation from Surrealism, Abstraction, Expressionism and Naturalism, but also from early photography and silent film cinema, return. Despite the visible inspiration and references to art historical models, my works are not mere imitations or replicas. Rather, I succeed in taking up the aesthetics and transferring them to current pictorial themes. In doing so, my pictorial language is used in its mode of action to focus on levels of the dream, the grotesque and the subconscious. Thereby temporal levels are inscribed in my works, which link the past with the present and stimulate fantasies and visions with their visionary character.
Or, to describe it in simplified words: "Mental freedom is the air I breathe. In general I am influenced by life, I feel myself as an observer and visualist who loves simplicity and time". Limitation and standstill feel incredibly unnatural to me. Perfection is very important to me, and when I have achieved it, I show the imperfect to potentiate the perfect, it can't get monotonous.
FIV: Stefan, would you say that being a photographer is a normal job like any other, or does a photographer sacrifice a part of his free time?
Stefan: My free time is very important to me, I use it consciously to reflect, to recharge my batteries and to feel. I would never sacrifice my free time, because it is a very important good, we all should appreciate that more, just like boredom!
FIV: When you think about the future, where do you see yourself in 5 years? What are your plans? I'm sure you already have some projects lined up.
Stefan: To answer this question adequately, I will probably need 5 years. Currently I am working on a project called "SMPH" which consists of many different series. There are many artists involved, the project lives on/with the time. Beyond that there are further plans, so answer follows in 5 years…
FIV: There are many good commercial photographers in almost every industry, how would you say your work stands out from the competition?
Stefan: Everything they can do, I can do better
FIV: Becoming self-employed is always a risky business and a big step. Where did your self-confidence for this step come from? Did you get support from someone special?
Stefan: The encouragement comes from my mother. The support always comes from my wife.
FIV: We know that the job of a photographer involves a lot of work. Do you work alone or do you have employees or partners who support you in your work?
Stefan: Basically I do everything alone, but this would never be possible without my helpers, assistants, friends and family.
FIV: Your style is very artistic. You bring elements into your photographs, such as flowers or shadow plays. How do you know how you want to portray the model, where do you get your creativity from?
Stefan: Many elements are used consciously, others are the result of mistakes. Mistakes bring me forward.
FIV: Under your pictures (sometimes even in the picture) there are quotations. What do you associate with these quotations? Or in other words: How do you come up with the titles of the photo series?
Stfean: The quotes/titles reflect my personal feelings, my emotions.
FIV: Last but not least, what would interest me very much is: what has been your greatest success so far? How did you feel about it?
Stefan: Photography is my life, it is happening now and yesterday is memories, my photographs. The morning, are my thoughts and my dreams, they are uncertain and free
https://fivmagazine.com/wp-content/uploads/2020/04/stefan-milev-title-picture-black-white-shooting-woman.jpg
450
900
Lisa-Marie
/wp-content/uploads/2020/07/fiv-magazine-news-instagram-youtube-tiktok-influencer-fashion-interior-jewelry-real-estate-tips-help-logo.png
Lisa-Marie
2020-04-01 07:00:09
2021-07-07 10:13:57
Stefan Milev in an interview: Artist & photographer – Shadow & light photography