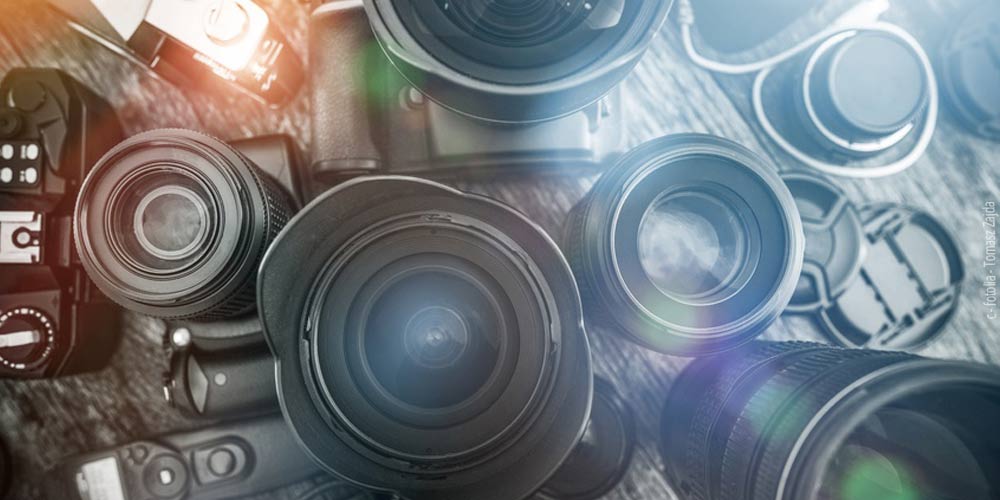 Focal length and lens – When do I use which lens?
The focal length is probably the most technically difficult term to explain when photographing and the better the explanation is, the less most people understand what it is about. It defines the distance of a focal point by collecting the rays from the main plane of the photo lens, where the rays arrive parallel to the visible axis of the lens. Those who don't understand this can still take excellent photos and should simply be satisfied with the fact that the focal length is given in mm and a few other facts:
Key Facts for setting the focal length
If you use a short focal length, you need to get as close to the subject as possible so that it can be seen completely in the photo
With a long focal length, the photographer can also be far away if he wants to shoot the whole subject
With a zoom lens, a photographer can fix the focal length variably
A fixed focal length is a fixed focal length
At the right time in the right place: Using lenses correctly
All lenses have a certain focal length and can only be used for this range and there is no lens that includes all focal lengths. Therefore, many photographers have multiple lenses, each with a specific focal length:
telephoto lens – 70 mm – 300 mm
Range lens – from 300 mm
Fisheye lenses – ca. 8 to 10 mm
Wide angle lens – up to 35 mm
Normal lens – 35 mm – 70 mm
Fisheye lenses of 8-10 mm are only suitable for certain areas of photography anyway. Wide-angle lenses are excellent for landscapes or panoramic photos, but they can also do a good job indoors. Normal lenses are practical for portraits as well as any street scenes. The telephoto lens is also good for portraits as well as all sports photos and a telephoto lens is suitable for animal and sports photographers. But these statements are only rough clues and experimenting around a little is never wrong to learn and make new experiences.


Germany - Spain - USA
Fisheye lens, telephoto lens & co. – Advantages of different camera lenses
The Fisheye lens is very special and takes excellent pictures and allows a nearly 180° panorama similar to a fisheye, but is more suitable for ambitious photographers. Wide-angle lenses are great if you want to capture a lot of subject in your photo. You can take panoramic photos from an elevated position or capture a wide landscape that a normal lens can't capture.
However, this also applies to interiors, where this lens can capture as many objects of the room as possible. It photographs detailed pictures of interiors. If you want to do a portrait, however, it is completely out of place, as it would make some body parts appear larger than necessary.
The standard lens is the most versatile lens because it shows the subject as it is and has no bells and whistles. They are important for portraits, but are also suitable for landscapes or macro photography. The telephoto lens is also quite versatile, although it is also well suited for portraits. But it is also good if you want to take pictures of something without being very close to it. That's why it's good for wildlife or nature shots. Telephoto lenses are also popular for sports events. The most extreme telephoto lens is the long-distance lens, which is used by professionals. It is very heavy and extremely expensive to purchase and is used, for example, at sporting events and animal photography.
Choosing the right lens for a subject is easier than it sounds here, and most beginners quickly learn to use the right lens at the right time. And not all lenses are needed either. This is why it is sufficient for beginners to first obtain the most necessary accessories and only purchase additional lenses that they can use if they are genuinely interested.
Focal range, shutter speed, and motion blur – Video tips
Photography Basics: Iris, Focus and Depth of Field
https://fivmagazine.com/wp-content/uploads/2018/09/fotografie-tipps-tricks-anfaenger-tops-flops-grundlagen.jpg
500
1000
Lisa-Marie
/wp-content/uploads/2023/08/fiv-magazine-logo-news-influencer-fashion-interior-travel-real-esates.svg
Lisa-Marie
2019-08-11 07:00:16
2020-11-10 15:56:03
Focal length and lens – When do I use which lens?