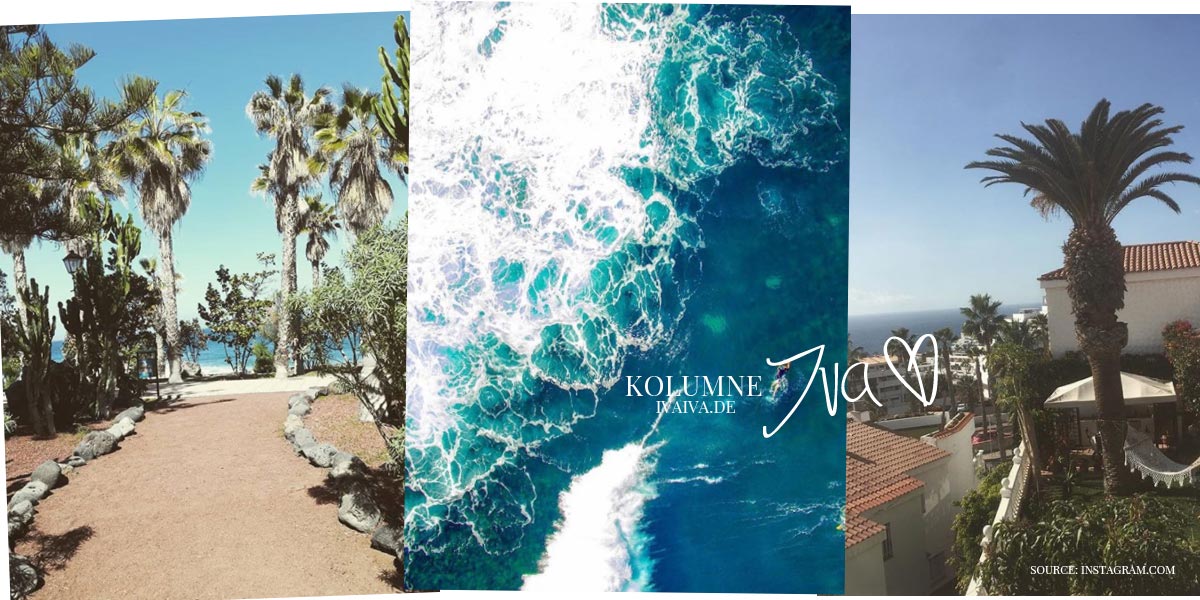 Travel Guide – Tenerife's best beaches and restaurants
Hello my dears! Since I usually only keep you up to date with the latest fashion trends, I thought I'd make sure there's a bit of variety and write a little about travelling for you. Today it is about the island of Tenerife. It is a Canarian Island, to which for example Gran Canaria, Lanzarote or Fuerte Fuentura also belong. It lies north-west of Africa and is about 4 1/2 hours by plane from Cologne. Since my parents lived there for 2 years and my sister was born there, I went there every year as a child, also to visit old friends. Since I have many childhood memories of this island, it has become like a second home for me. After my Abitur last year I decided to spend a longer time there, because I haven't been there for a long time. I spent the whole of August on the island and lived in the house of a famous one. I spent the time there with my best friend who accompanied me on the trip. It was also very nice to show her the island and many places where I had spent my childhood.
day trips – what Tenerife has to offer
Tenerife is very small. One can drive with the car within 3h once around the complete island. The tourist strongholds are in the south of the island, as also the airport. There are also many possibilities to party or to go jet skiing for a very reasonable price. In the north, where we also lived, the locals are more at home. Here you will find great traditional food, beautiful white and black beaches and a great old town. The house we lived in is about 10 minutes by car from the city of Puerto de la Cruz.
Loro Parcque: World famous zoo
Here is also the world famous 'Loro Parcque' where you can admire many exotic animals. It's like a zoo in principle, but here you can dive into a whole new world and admire penguins, white lions and dolphins. The park is also famous for its great shows with seals, dolphins and even the huge orcas. Also there I was very often as a child.
Siam Park: Tip for the day trip
Another great day trip is to the south of the island. The 'Siam Park'. A huge park with endless water slides. From wild rides in big rubber tires to an exotic and comfortable river on which you can let yourself drift, you will find everything here. For all those who are here for the first time I have a very special recommendation – be sure to buy the Fast Pass. This is a ribbon that allows you to pass the rest of the queue on each slide and believe me, it's worth it, because if you're unlucky (especially on weekends) you'll stand in the sun for an hour or more. Also good to know. Be sure to put some cream on it! One underestimates the sun, especially if one has fun all day long 🙂
Culinary delights on the Canaries
If you want to experience culinary delights with traditional Spanish and Canarian cuisine, you should definitely visit these two restaurants! The first is ' La Bodeguita de Enfrente' in the Ctra Provinvial del Norte 2015 in 38390 Santa ùrsula and the second is ' Tito's Bodeguita' in the Camino del Durazno 1 in 38400 Puerto de la Cruz! There you will find the best local food from fish to meat and tapas, there is everything your heart desires!
Delicious breakfast? My tip: Mesón El Monasterio
Another great tip, especially for breakfast or brunch is the 'Mesón El Monasterio'. The principle there is unique. It is a very big complex with different restaurants, but they all belong together. One can have a wonderful breakfast there and the special fact is that as the restaurant is located in the mountains, one has a wonderful view to the whole Puerto de La Cruz and to the sea through an open glass front. On the other hand, there is also a great restaurant for lunch and dinner. It is very 'rustic' there, but in the charming Canarian way. Especially here is that right next to the restaurant there is a kind of pecker zoo. Goats and donkeys are there in a walk-in enclosure. Chickens, chicks, ostriches etc. run around freely on the area. So described it sounds very adventurous, but there is a wonderful atmosphere with great flowers and palm trees fenced in. In any case it is worth a visit here!
Travel Vlog Tenerife
Christiana Moons made a wonderful Travel Vlog of Tenerife in 2017 – 10 weeks alone in Tenerife:
The best beaches and real insider tips!
But now to the tips that are decisive for a holiday. Where are the most beautiful beaches? The most famous and also most beautiful white beach in Tenerife is 'Las Teresitas' which is located in the north of the island near the city of Santa Cruz. It is a very long white beach, with palm trees and crystal clear water. It feels like being in the Caribbean. There you won't find the huge waves that are usual for Tenerife, because the beach is shielded by some stones about 50 m away from the beach.
beach, waves and the sea
There, the waves bounce off and the water right at the beach is therefore very calm and clear. The beach is probably one of the most famous, so there is always something going on there. But it is never crowded. You can rent sunbeds from 2 Eur per day. Now to an insider tip. This beach is also located in the north of the island but near the city of Puerto de la Cruz. It is the 'Playa El Bollullo'. To reach this beach is a little bit adventurous. First, one drives through a street between banana plantations where there is only room for one car. Nevertheless, there is traffic on both sides. Once one made it to the parking place of the beach, a little walk down the rocks is waiting for one.
Tip: Beautiful black sand beach
But once you have reached the bottom, a beautiful black sandy beach awaits you, situated between big rocks. Here, there is also a small restaurant where one can buy some cold drinks and little things to eat. But one should be careful here. The waves here are partly very big. One should not underestimate them! Also a very important tip for this beach and generally black sand beaches. It is indispensable to have shoes or flip flops with you! After a certain time the sand is so hot that one burns the sole of one's foot when walking on it.
XXL Saltwater swimming pool in Puerto de la Cruz
For those who have enough of sand at some time, I can recommend the salt water swimming pool in Puerto de la Cruz. It is a very big outdoor pool, with super beautifully made pools, so that the feeling of the normal outdoor pool in Germany does not arise at all. The water in the pools is from the sea and therefore salty. Because the pool is directly at the sea, huge waves slosh into the pool again and again. A real spectacle to watch. So the swimming pool has a lot of great and extraordinary facts that tempt you to visit.
I hope I could give you a little insight into what this beautiful little island has to offer. A visit here is worthwhile in any case. I will be there again this year in August and visit all the great places I have described here. If you have any questions, remarks or even more tips, feel free to write them in the comments. Until next time I wish you a wonderful week! If you want to read a travel guide for the beautiful city of Cologne, please have a look at here.
Yours truly, Iva ❤
[shortcode variables slug="adsense"]
https://fivmagazine.com/wp-content/uploads/2017/05/travel-guide-teneriffa-vlog-reise-tagesausflug-blogger-video-tipps-backpack-kolumne-mode-magazin.jpg
600
1200
Lisa-Marie
/wp-content/uploads/2020/07/fiv-magazine-news-instagram-youtube-tiktok-influencer-fashion-interior-jewelry-real-estate-tips-help-logo.png
Lisa-Marie
2017-05-17 12:38:16
2021-07-08 09:25:27
Travel Guide – Tenerife's best beaches and restaurants