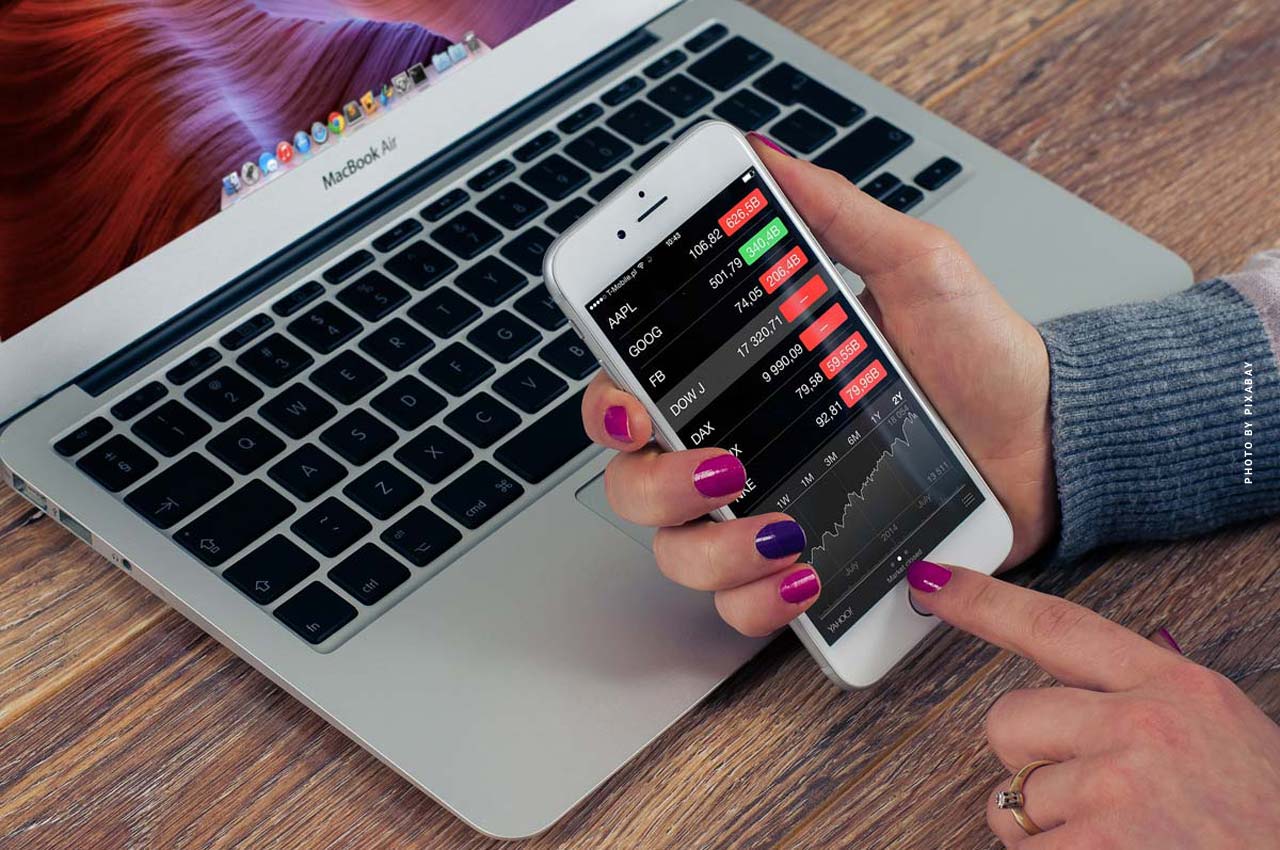 Investment share: buy, sell, ETF and direct bank
Shares are the investment object in many countries, such as the USA. Whereas in countries like Germany, people tend to fall back on traditional savings books and savings deposits. Shares are generally considered risky and speculative. But there are also differences in trading with securities. For example, active investors with individual securities and cautious investors (passive) who focus on ETF (index funds such as DAX, NASDAQ & Co.). Today we take a look at the topic of shares as an investment. We highlight advantages, disadvantages and risks, but also take a look at trader types as well as facts and figures, such as the largest stocks and the increase in dividends, a trend that has continued for decades. If not now, when? Tip. Want to trade less speculatively? Check out our article on stock mutual funds (ETF) here, too.
Back to the Capital Investment editorial.
Access to shares is easy for everyone, online or in the bank branch. Every bank offers such securities accounts, some also charge securities account management fees.


Germany - Spain - USA
For laymen, there is always a risk, because trading is confusing. Stock tickers, news, tweets, many things have an influence on prices and developments. The (daily) trading with shares requires competence and experience. When speculating, high losses are immediately possible. Thus, the risk but also the loss in case of doubt is medium to high. Who wants to start safer in the trade, which should fall back to ETFs. Where there is shadow, there is also sun. Thus, the returns of shares are just as medium to high compared to traditional investments such as savings account, time deposit or overnight money. You can read more about this in our article on index funds (ETF).
The most important 3 facts about shares as an investment:
Know how required
High risk (complete failure also possible)
Purchase fees must be taken into account in the volume
Stocks offers great returns, as we also show in the dividend payout example on our article. It is only important that you study the subject of shares in detail before you make your first purchase. We tell you what you need to consider in the first steps.
Advantages
Easy access via banks or direct banks (online)
High yields are possible
Tax advantages
Disadvantages
Many banks charge custodian fees (tip: direct banks, you often save a lot of money here, even when buying. Read more: Buy shares direct bank)
Unclear trade, especially for laymen
Price fluctuations in real time
Before buying your first securities, you should check which type of investment you are. Basically, you have two options.
Passive investor (ETF, index fund)
Active investor (share)

Passive (ETF) or active investor (stock)?
Both forms offer advantages. Trading individual stocks provides for higher price breakouts, thus potentially more profit (and loss). The risk increases. If you want to trade more cautiously, you can buy index funds (ETFs).
Passive investor
The word ETF portfolio stands for "Exchange Traded Fund" and is an exchange-traded index fund. This index fund tracks the performance of an index, such as the DAX in Germany or the NASDAQ in the USA. But these are only the best known representatives. As you will see in the list of the best, biggest and cheapest funds.
New York Stock Exchange

At their core, ETFs combine the advantages of stocks and funds into one product, so you can invest money directly in entire markets through ETFs. A real advantage.
Active investor
In contrast to funds with manageable risk, you can also act as an active investor in trading. As an active investor, you invest in individual stocks. This costs time, because it is about analyzing individual companies to determine which paper you want to buy.
As an active investor, you will be affected more quickly by price fluctuations. Even one piece of bad news in the morning about a single company can greatly minimize your capital if you don't diversify.
Source: IhrHausverkauf.de(Buy Stock)
Difference between house bank and direct bank
With the bank you have two options, either you go through the classic house bank, such as Volksbank and Sparkasse. Here you can make the purchase directly through the banker or your second option, the buy your shares or funds online, at a direct bank. Direct banks are better known providers such as comdirekt or degiro but also others.
What is the advantage of a direct bank? As a rule, they are significantly cheaper than in a traditional branch bank. Direct banks save on the branch network and employees. The difference between a traditional branch bank and a direct bank is clear: In the branch bank you have a direct contact person and you get advice if you want. You don't have this direct contact person at a direct bank.
If you prefer to go to a local bank, then you should make sure that it has a well-developed network. Especially if you sometimes travel or have business appointments in other cities. Which banks have the most branches?
Deutsche Bank AG (2,984 branches)
Commerzbank AG (1,530 branches)
Postbank AG (1,092 branches)
Unicredit Bank AG (933 branches)
Wüstenrot Bausparkasse AG (500 branches)
Targobank AG (351 branches)
Santander Consumer Bank AG (324 branches)
Source: IhrHausverkauf.de(buy stock, as of Jun 30, 2019)
How many shareholders are there in Germany? In 2018, Germany recorded an average of around 4.55 million direct shareholders. The current figures for direct shareholders in Germany from 1996 to 2018 (in millions):

Source: Statista
Berkshire Hathaway
US Holding with €242,784.90 and a market capitalization of €399.02 billion.
Lindt & Sprüngli AG
Swiss Chocolate with €58,375.96 and a market capitalization of €12.9 billion.
Sika AG
Swiss specialty chemicals with €6,363.68 and a market capitalization of €6 billion.
Zoological Garden Berlin
Zoo with 5,703.01 and a market capitalization of €62.73 million.
Saxon Milk Inc.
belongs to the Theo Müller Group with € 5,025.01 and a market capitalization of € 50.25 million.
Cantonal Bank of Zug
Swiss bank with €4,592.51 and a market capitalization of €62.73 million.
Mortgage Bank Lenzburg
Swiss bank with €3,852.89 and a market capitalization of €277.3m.
Metal Zug AG
Swiss Household Appliances, Infection Control, Wire Processing and Real Estate with €3,171.31 and a market capitalization of €1.1 billion.
SGS SA
Swiss testing, inspection, certification and verification company with €2,121.68 and a market capitalization of €16.2 billion.
A.P. Moeller Maersk B
Danish shipping company, gas & oil production with €1,633. Market capitalization33 billion €.
Source: Finanzen.net
If you hold shares for a long time, you will receive dividends at the end of the financial year if you are successful.
271.1 % Increase in dividends in 15 years
In this chart you can see very impressively how dividends increase year after year, billion after billion. This is the development of the dividend payments of the DAX companies in the years from 2003 to 2019 (in billions of euros). Just the jump from 2004 to 2019, which is 15 years, added 27.8 billion euros in annual payouts. An increase of 271.15 % compared to the same year.
2003: 10.3 billion
2005: 15.2 billion
2007: 23.5 billion
2009: 22.1 billion
2011: 26.0 billion
2013: 28.0 billion
2015: 30.1 billion
2017: 32.1 billion
2019: 38.6 billion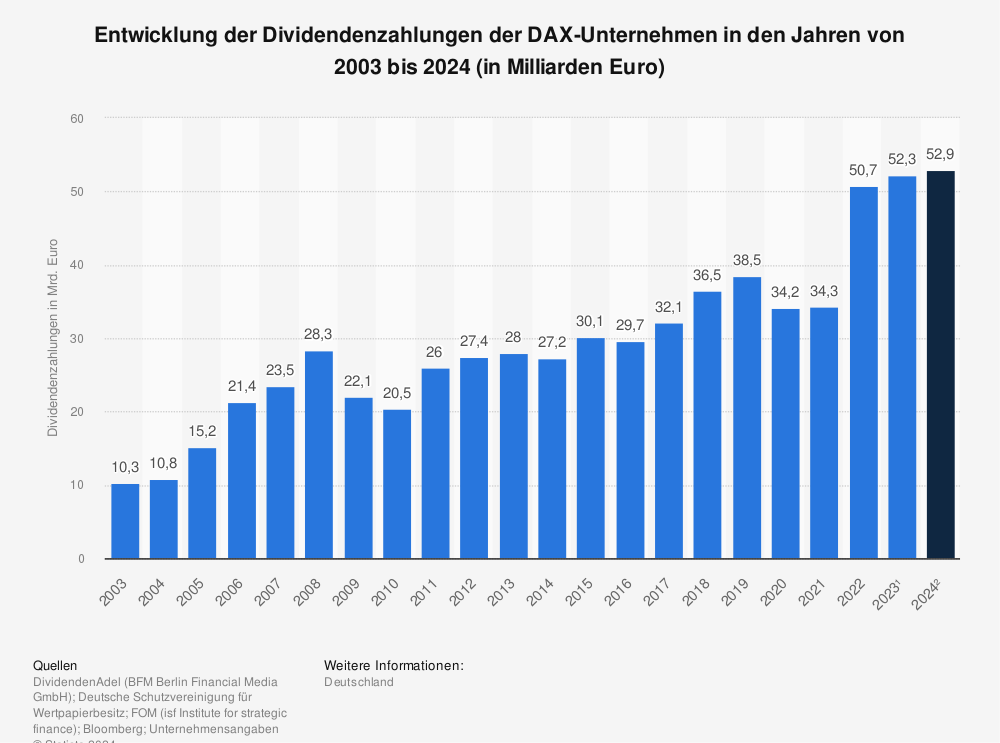 Source: Statista
If you are interested in buying shares, you will find many different pricing models online, each broker has its own. Here, the individual prices per package purchase depend on your online broker.
The standard fees for the purchase of shares are usually five to eight, maximum ten euros. In addition, there is a fee of 0.25% depending on the trading amount. The fee per purchase is usually limited to an upper maximum amount.
If you are online a lot, you will quickly find alternatives via search engines and comparison portals. Flat-fee offers from various established discount brokers such as onvista are attractive, for example.
Equally interesting are promotional offers, where at certain times the volume-dependent fee or the entire fee is waived completely.
Fees and costs for the purchase of shares summarized:
Purchase fee of 5 – 8 Euro, maximum 10 Euro
Trading amount mostly 0.25 % of purchase
Tip. Flat-free offer like at onvista
First stock purchase? Should you invest a lot or a little? Read more on the topic here with a stock purchase example calculation.
https://fivmagazine.com/wp-content/uploads/2020/01/aktien-fond-handel-direktbank-online-smartphone-live-kurs-ticker.jpg
850
1280
Stephan
/wp-content/uploads/2023/08/fiv-magazine-logo-news-influencer-fashion-interior-travel-real-esates.svg
Stephan
2019-12-20 12:36:45
2019-12-20 12:36:45
Investment share: buy, sell, ETF and direct bank