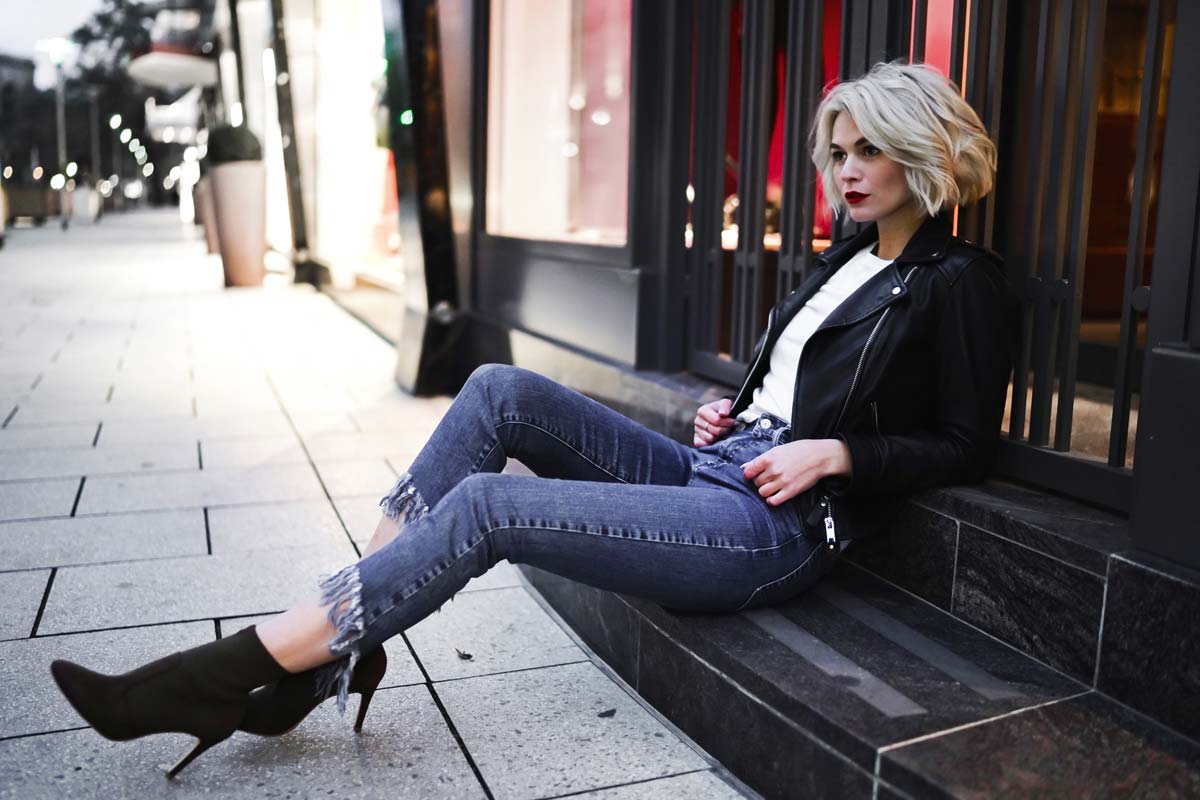 Interview with Louisa Mazzurana: Fashion, tips for modeling & her little dog Cassie
Louisa was a contestant on Germany's Next Topmodel a few years ago. She even made it to the Top 5! Thus, she has been in the modeling business for several years and was able to gain some experience in the modeling world. Today she is active on Instagram and shows her followers insights from her life. Whether at dinner, at her home or in Hamburg at the Jungfernstieg: Louisa shares her super chic outfits with her followers. But who also can't be missing: her dog Cassie. In our interview with Louisa she tells us a lot about modeling, fashion and of course her little dog.
Louisa Mazzurana: GNTM, Fashion & Tips for Modeling
Louisa told us that Cassie is a great dog and is already 14 years old. She still likes to keep various memories from her GNTM time. These include meeting Cindy Crawford or moments on the catwalk in Los Angeles. Louisa also has some tips for future GNTM contestants. In the development of the modeling industry, she has particularly noticed that there is no longer just one specific ideal of beauty.
FIV: Louisa, many know you from television as a model. On Instagram you like to take your followers with you. There you regularly prove in your stories or in your photos: fashion is your thing. Because as a model you know how to create a beautiful outfit. You've already been allowed to do one or the other cooperation. But who shouldn't be missing from your pictures: your little dog. She looks really cute in your photos. Has she been able to pick up some modeling tips from you? How old is she?
Louisa: Thank you for the kind words, Cassie really is an angel and so easy going. In fact, I've often been asked if I could bring her to the set for a few shoots. However, since she is an old lady at 14 years old, I always make sure that it doesn't get too stressful for her. She's a bit too old for the big modeling career, so to speak, even if she still looks like a baby.
GNTM & Tips for your GNTM application
FIV: You took part in Germany's Next Topmodel a few years ago and made it very far – into the Top 5. What moment in the show do you always remember fondly?
Louisa: I have countless moments in my head that I will never forget. The time was an incredibly exciting journey, I would not want to miss a single moment. Every place, every encounter, every shoot and make-up was special. Not to mention the time spent with the amazing girls that I have forever taken to my heart. Of course there are a few events that were especially nice like the circus shooting of Kristian Schuller with the elephants, a dinner together with Eva Longoria and Heidi Klum, my runway job in Los Angeles or the meeting with fashion icon Cindy Crawford.
FIV: It's not too long until the next season. And surely this time a lot of girls have the dream of modeling again. What are your top 3 tips for future GNTM applicants? And what tips can you give to those who are maybe a bit too small according to some guidelines?
Louisa: Tip 1: Be yourself! Ultimately, you convince through something unique, visually as well as character-wise. You will never be remembered if you try to be like someone else. On my hand I have the word "muse" tattooed. To me, everyone is a muse in some way and inspires others. Find out what special muse is in you and show it to the world!
Tip two: Have fun! Whether as a background dancer, model or make-up artist, for me fun was always the first priority besides professionalism. I was passionate about every job, I felt and enjoyed the moment. For me, GNTM was a journey that I inhaled without thinking. If you love something, you're good at it, I firmly believe that!
Tip three: Don't give up! No matter how hard it is sometimes, if you really want something, keep going. Then, if it didn't work out, reorient yourself without completely giving up on your dream. A healthy mix of ambition, dreaming and realism has always been important to me. Especially if you are not "perfect", you always have to fight a little bit more than others. That might be harder, but it also makes you more mature and stronger.
My tip for those who want to live their dream but don't have the "ultimate" measurements: Just try and be confident! What do you have to lose? Of course you can fail…but even then you will take a lot of experience and knowledge with you for the future. You can only win!
Louisa about the transformation of the model business
FIV: You started modeling about ten years ago. Has the modeling business changed over time from your point of view? If yes, how do you find this change?
Louisa: Definitely! Today, individuality and character count much more than in the past. Of course, back then you could score points with special features, but there was always this certain image of beauty. Today you can have rough edges and be appreciated for it, it makes you interesting and approachable. I think this development is great, beauty has so many facets after all! If the industry had been like it is today, my size probably wouldn't have been such a big problem and I could have achieved a lot more.
FIV: Over the years you must have gained a lot of experience in the industry and met some interesting people. Who is your current role model in the fashion business and why?
Louisa: There are so many women who inspire me. Starting with icons like Marilyn Monroe, Brigitte Bardot and Edie Sedgwick. My favorite model in this day and age is definitely Rosie Huntington-Whiteley. She is beautiful, classic, has style and that certain something. I love her work as a model and also her brand Rose Inc – Rosie is a real power woman. I'm a sucker for power women! In general, I love women who do their thing and are different, so have something special.
Louisa's Style & Jewellery with Meaning
FIV: Social media gives models a lot of different opportunities. There are some former GNTM contestants who like to keep their fans up to date on Instagram after the season. In the process, there are often collaborations that come about. Earrings, watches & Co.: Whoever follows you on Instagram sees that you wear jewelry from time to time or even have a cooperation in this area. What are your favorite jewelry pieces and why?
Louisa: My main areas on Instagram are beauty and fashion and of course jewelry is one of them. I love delicate jewelry, most often I wear earrings and you almost never see me leave the house without several rings. I do have a few statement pieces though, like a wide gold ring from my mom. When pieces of jewelry tell a story, I think it's especially beautiful. For example, I always buy a delicate ring at markets in other countries, they remind me of the beautiful moments there. Every time I've been to another country, I've had a certain feeling there that made me happy in a special way. I bring this feeling home so that I never forget it and can escape from everyday life for a few moments whenever I want.
FIV: On your posts on Instagram you are often seen in beautiful outfits. How would you describe your style? Do you have any styling tips? What do you think everyone should have in their wardrobe at home?
Louisa: When people ask me about my style, I always say: Jumpy. I love trying new things, I get bored quickly. Fashion should first and foremost be fun and please you, not other people. Our clothes reflect our character. I feel like I'm constantly changing and you can see that in my clothes. Nevertheless, I hold on to values and love the simple and small things in life. So although my style is erratic, it is always a bit classic and simple. A few good basics should not be missing in any wardrobe, everything else is a question of type. My current favourite piece are olive coloured rubber boots. I like to wear them with a dress, an oversize sweater, a trench or a thick winter coat.
"Planning is nice, letting go is nicer!"
FIV: When you gain so many experiences and can try out new things, time certainly often flies by. Where do you see yourself in five years?
Louisa: I have no idea. I always live in the here and now and try to enjoy every day. With me, everything always comes differently than I thought it would. The unexpected moments are the ones that make us really happy and that we will never forget. Planning is nice, letting go is nicer! But I firmly believe that many more exciting moments await me in my life and hope that I can continue to live my dream.
FIV: Thank you Louisa for the interview, FIV wishes you all the best for the future!
Louisa: Thank you for the great interview!
Now also in the magazine: Louisa Mazzurana
You can also find the interview with Louisa Mazzurana in the magazine! Now on fivmagazine.com, read the whole magazine online:

https://fivmagazine.com/wp-content/uploads/2020/10/Credit-to-mf-mgmt-_-Shino-Photography-3.jpg
800
1200
Lisa-Marie
/wp-content/uploads/2020/07/fiv-magazine-news-instagram-youtube-tiktok-influencer-fashion-interior-jewelry-real-estate-tips-help-logo.png
Lisa-Marie
2020-11-05 16:00:03
2021-10-18 12:18:47
Interview with Louisa Mazzurana: Fashion, tips for modeling & her little dog Cassie